Who doesn't love fireworks?! Now you don't have to wait until dark! I've been working on this project for a while to come up with the best way to do this and I think I FINALLY got it! I thought this would be a really fun way to recycle and reuse water bottles and spruce up our homes for the upcoming Fourth of July holiday! Good for the environment and a great way to spend some time crafting with the kids, or a cooperative husband! If you get the outdoor twinkle lights, they are also weather-safe!
It's an easy craft and here is the video tutorial incase I don't explain myself clearly enough:
Materials:
Twinkle lights
Empty and clean water bottles
Scissors
Permanent markers in red and blue
Heat gun
Rotary tool or drill
Spatula or something flat that can handle a little heat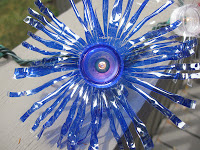 Directions
1. Clean water bottle and remove label.
2. Take cap off of water bottle and cut water bottle 2-2.5 inches from the top (see video)
3. Take red or blue permanent market and color the outside of the water bottle and the inside of the cap.
4. Cut strips down the side of the bottle, but don't go too far down.
5. Take a spatula or something heat resistant to keep hold some of the strips down. Bend them on the edge of the table and holding down the strips, quickly heat with a heat gun, just until they bend and are set. It's a very short shot with the heat gun. Do that around the whole bottle.
6. Heat the upper portion of the strips – again it's a quick shot with the heat gun.
7. Take a drill or rotary tool and drill a hole in the cap. You want to take one of the twinkle lights out of its socket and see that the bottom fits through the hole in the cap. I eyeball it.
8. Put the cap on the twinkle light and sandwich the cap between the light and the socket. (I think it's called a socket).
9. Screw on the firework portion of the bottle and hang up and decorate!
Have a Happy and Safe Fourth of July!
Remember: Life's too short not to shimmer, so grab your glue gun and your glitter!™ Stay safe!
Mona