Have you ever wanted a large wall art statement piece for your home? I'll show you how to make large Sea Turtle wall art that will have everyone snapping to get their hands on it!
This piece was originally used in a home we used for seasonal rentals. It was a great house but a little BLAH! There was a big blank wall just screaming for something big.
It needed a WOW FACTOR!
It was also an opportunity to add color to a sea of white and beige.
We went with a coastal decor theme in the form of a sea turtle but you can match it to your home decor in both size and style!
After seeing ours, our friends made a large pelican for their formal dining room!
It looks AMAZING!
It doesn't have to be coastal, it can be ANYTHING!
I mean ANYTHING!
If you haven't shopped for shower curtains lately, you are going to blown away by what is available!
Here are a few examples of subject matter from grown up, to kids, to funny:
Oh, they have holiday shower curtains now too!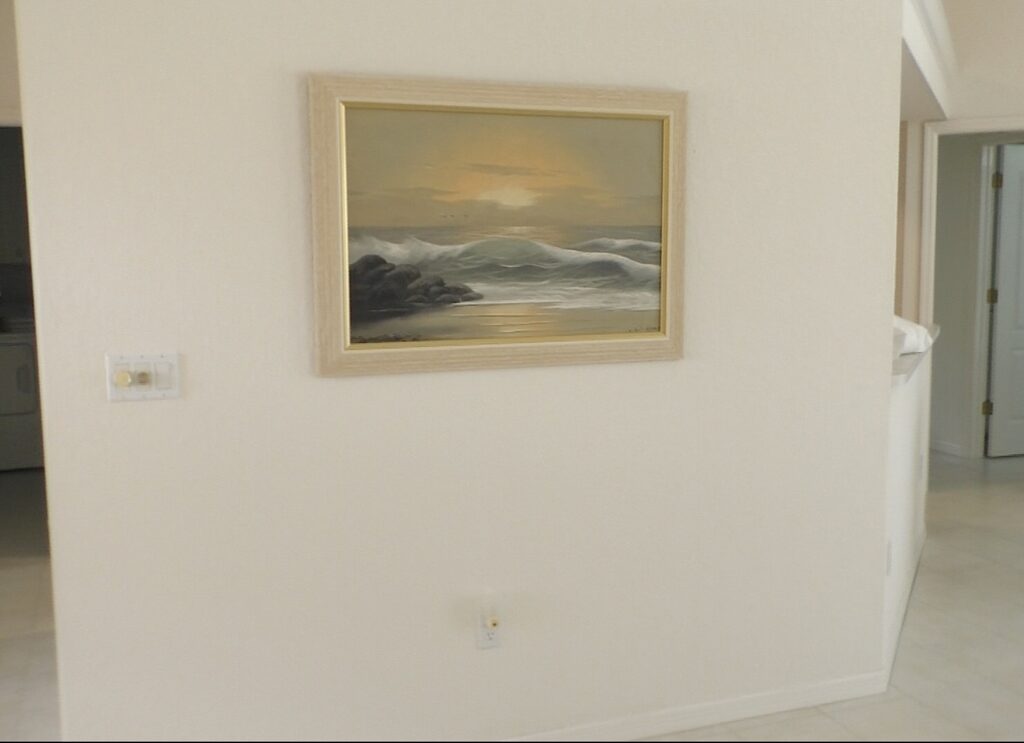 The house is in Florida, so a turtle theme seemed appropriate.
When finished, the sea turtle wall art was a large enough piece to fill up the wall!
When my parents purchased the home from us, they had furniture to go in its place and the turtle was evicted.
I was secretly hoping that would happen because I wanted it in our home.
Luckily, it worked out great for us because now it really creates a WOW factor at our house!
Also unplanned…the colors match our house perfectly too!
Quickie Video Tutorial
Here's a quickie video tutorial, so you can see how it came together. It'll just take a minute!
I have the FULL video tutorial, so you can get the complete explanation, at the end of this post! Be sure to check it out!
The size will vary depending on the size of your wall and the design on your shower curtain. I was going for maximum impact so we made it approximately 61″ x 61″.
You can go square or rectangular. The materials will be the same, you just need to customize the shape and size to fit your space!
Supplies for the Sea Turtle Large Wall Art
*This blog uses affiliate links. As an Amazon Associate I earn from qualifying purchases.
TIP: When selecting a shower curtain, make sure it is NOT plastic. It needs to be a polyester fabric shower curtain to work!
*I wish I had come up with this idea myself, but I didn't. I want to make sure to credit the project that inspired us!
We changed it up a bit but you can find the original inspiration HERE!
Sea Turtle Art Directions
Step 1
Find a shower curtain with a design you like. You do not want a plastic shower curtain. You want a fabric/polyester type of shower curtain.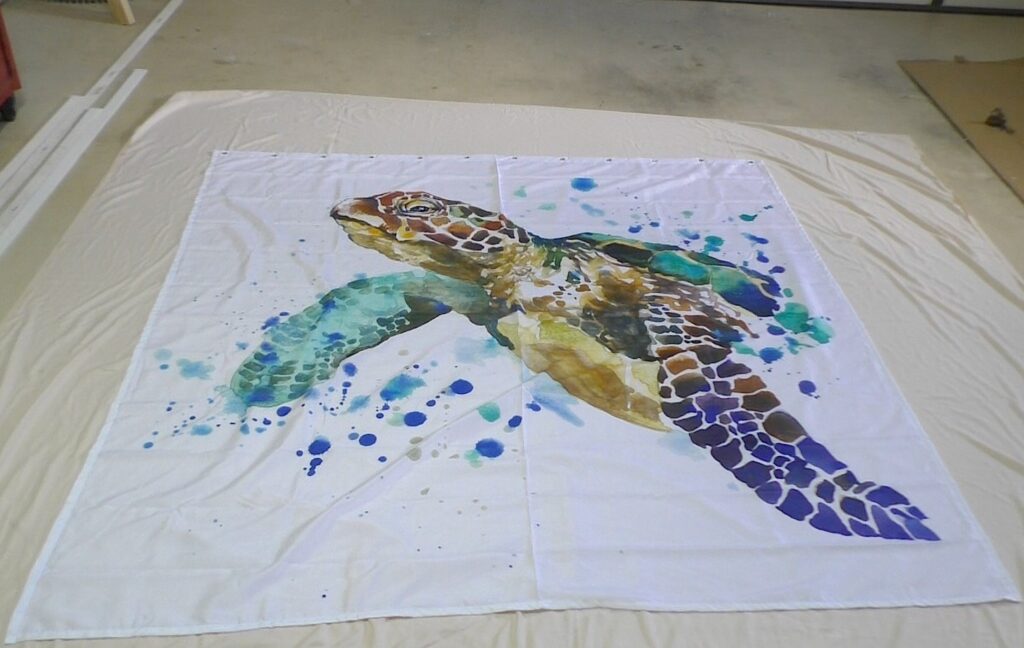 Step 2
Next, you want to build a frame out of 1″ x 2″s. As I mentioned before, customize the size to your decor and design. Cut the pieces to size.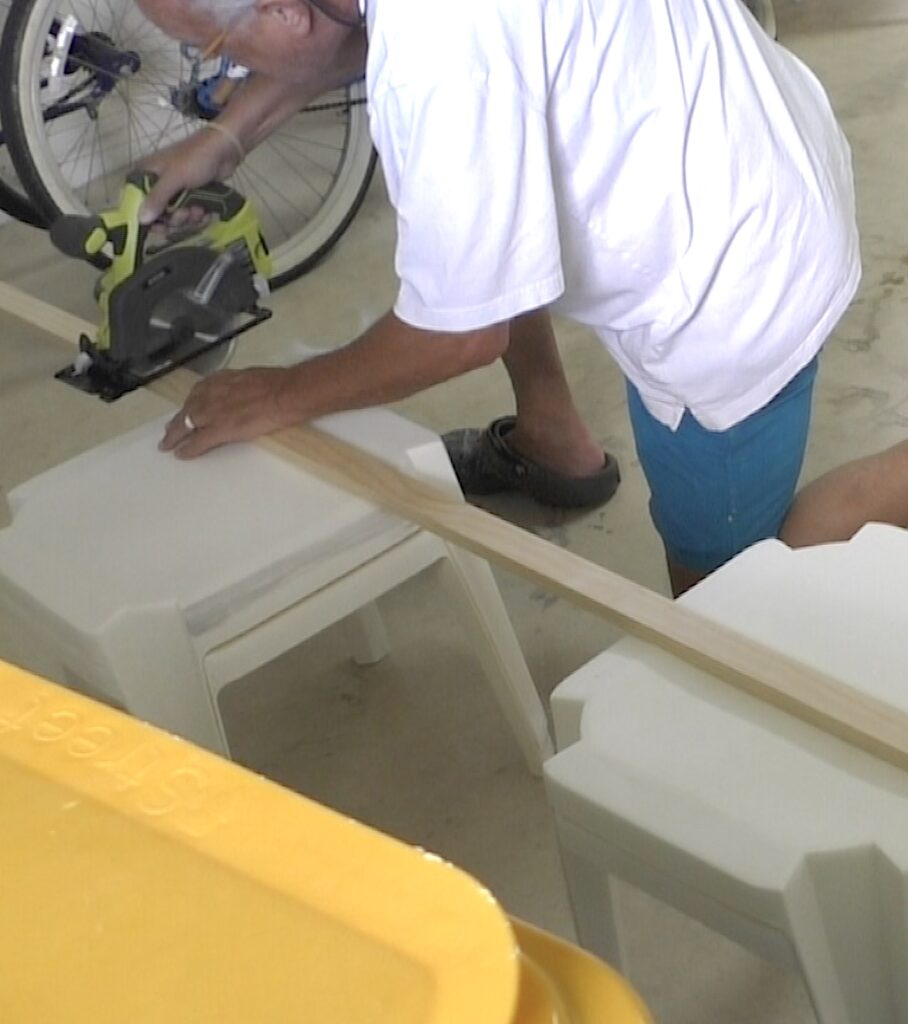 Step 3
Glue and screw the frame together.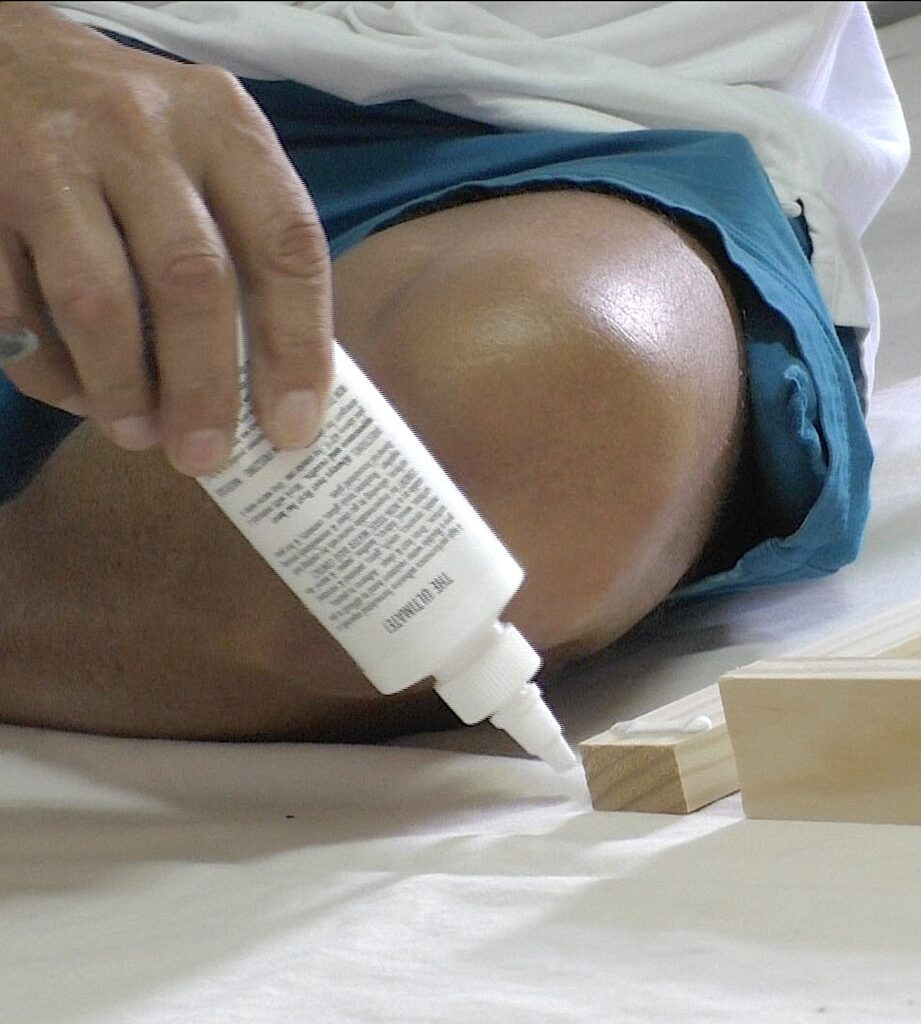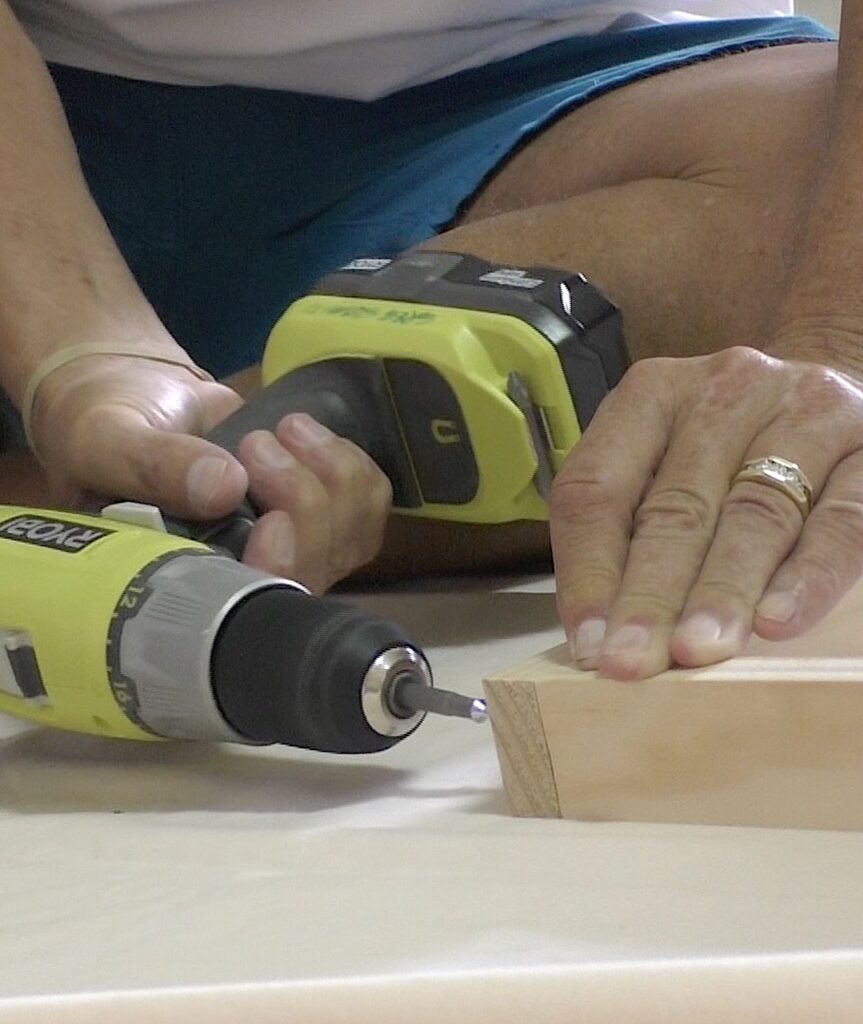 Ours ended up looking like this.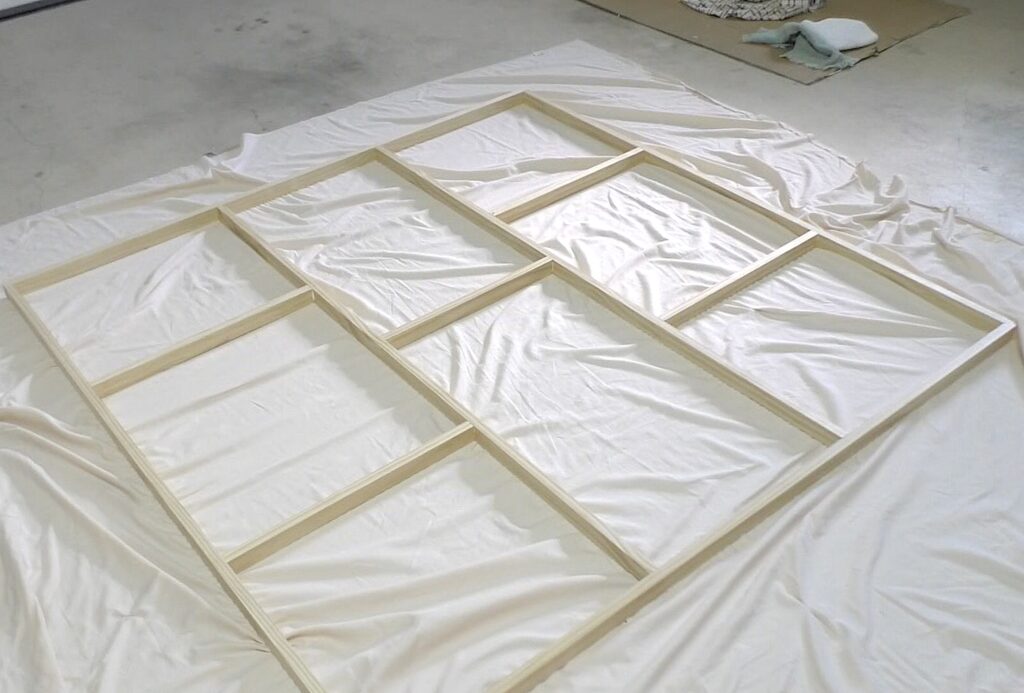 We added support pieces to make sure the frame was square and sturdy.
Step 4
Once we had the frame built, we realized the shower curtain fabric was a little thin and you could see the frame through it. We decided to get an inexpensive white sheet and apply it to the frame first. Another option would have been to paint the frame white. We stapled it on and cut off the excess.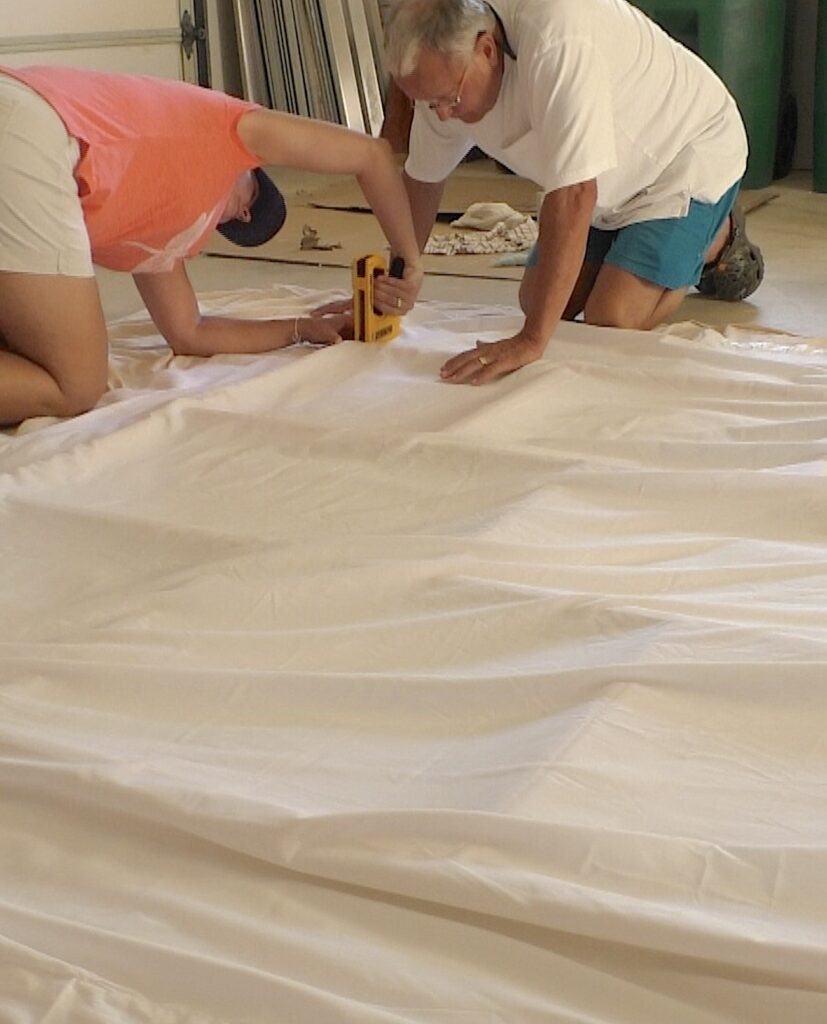 Step 5
We repeated the process with the shower curtain. Take your time with the corners to make them neat. You will want to cut off the excess.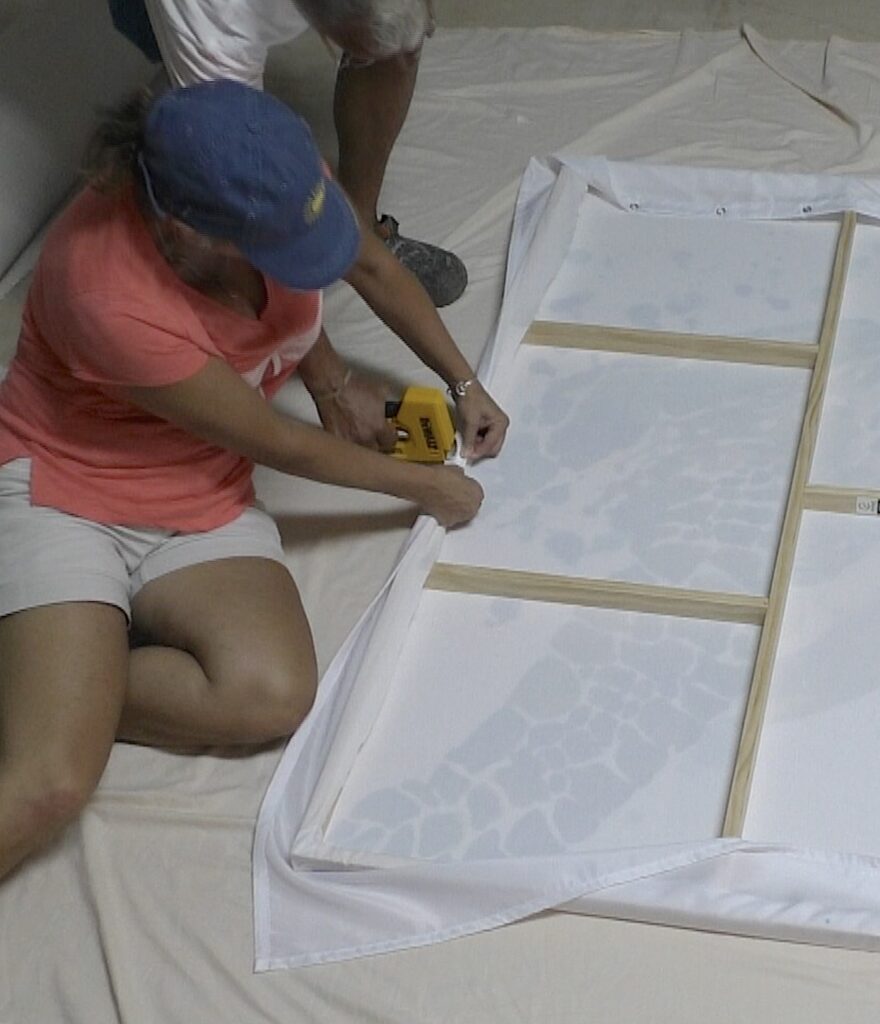 Step 6
We were worried that it might get dirty and be hard to clean. So, I used a sealer, to help protect it. I thought it might make it stiffer, but it didn't seem to change the texture at all. It also did not change the color.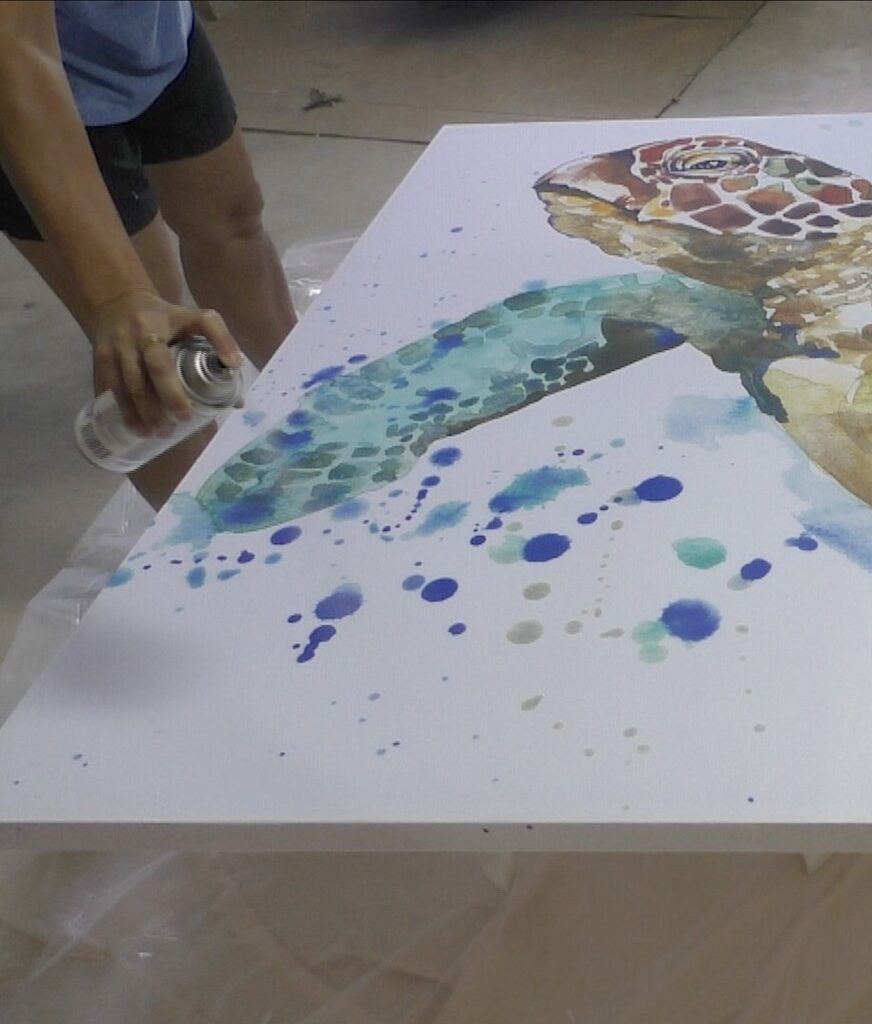 I did several coats.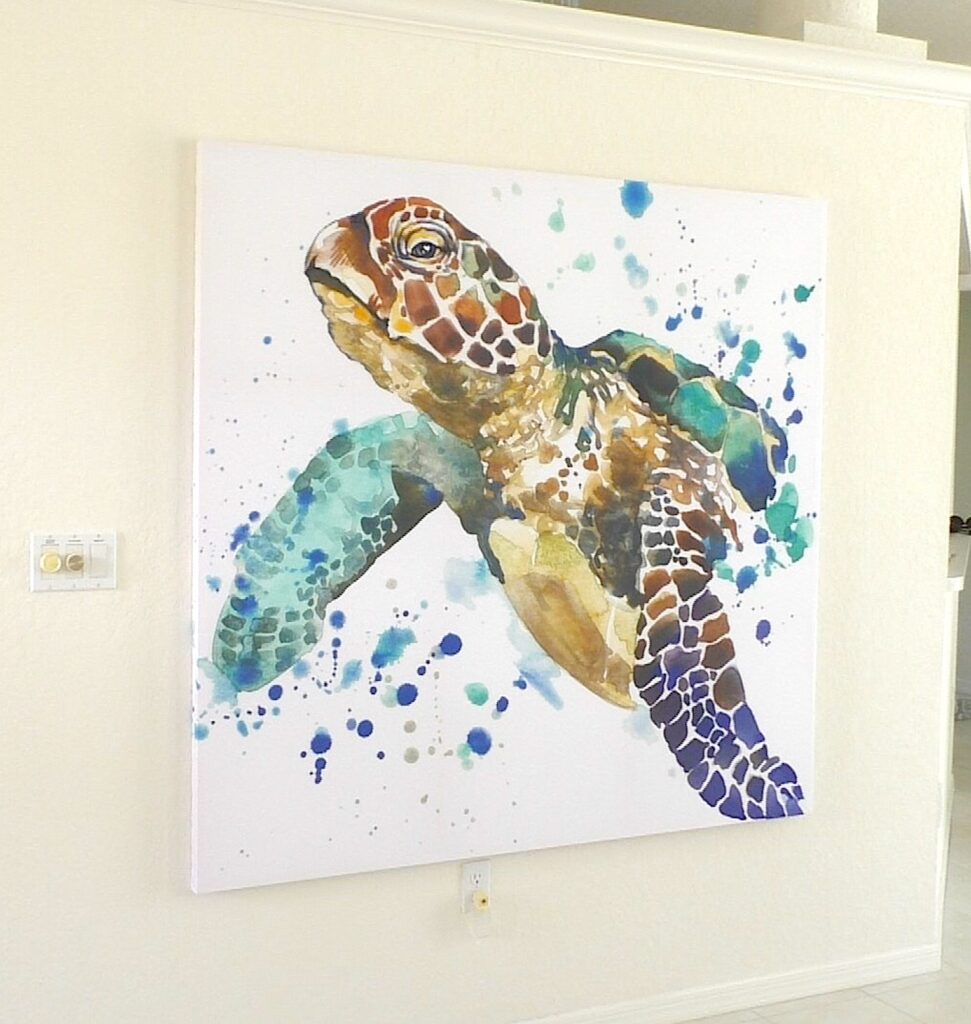 Here it is up! It had just the impact that I wanted it to have and it brought some additional color to the room! Double win!
This project is easy and inexpensive!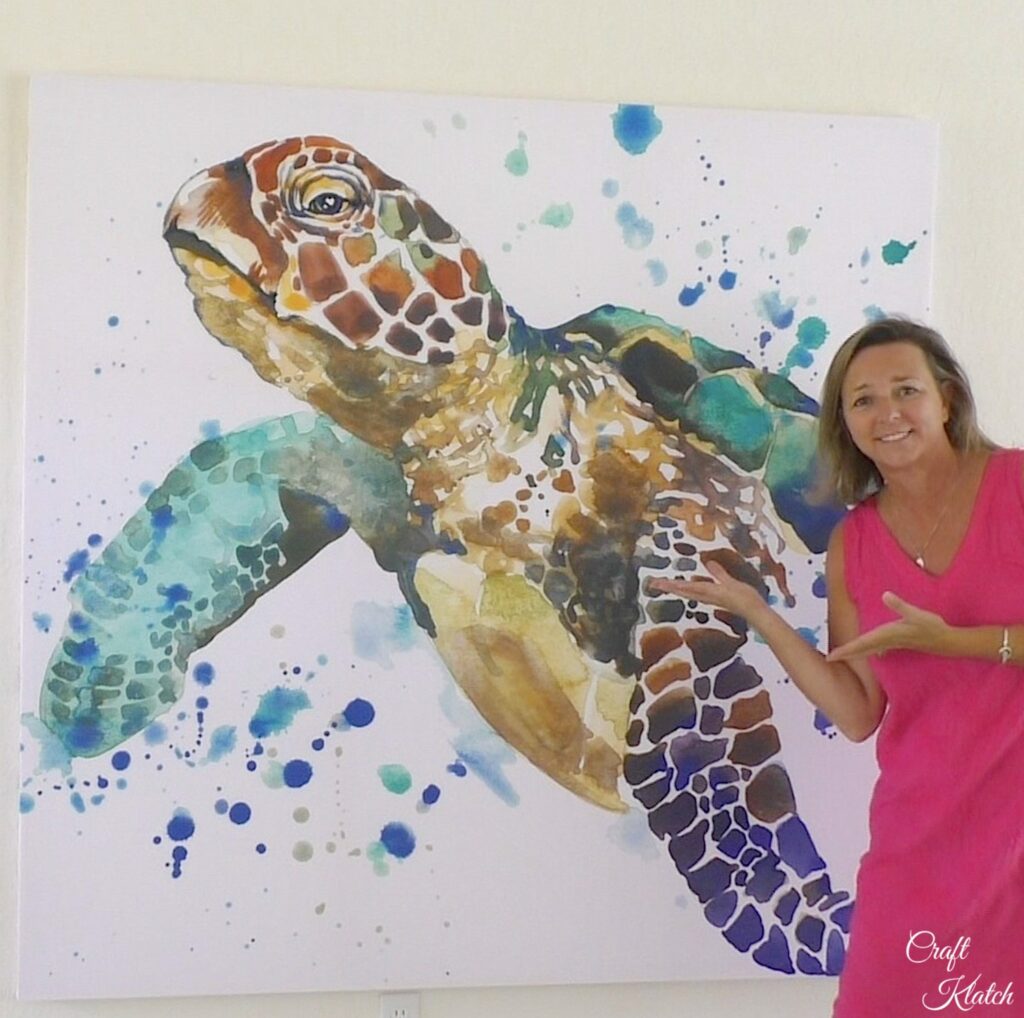 When Mom said the turtle wasn't going to work for them, I quietly cheered and wasted no time dragging that puppy across our backyards and right into our house!
I had it at our house for about a week and drug it into the hallway, to the master bedroom, across the house to one of the other bedrooms, to the living room, then the family room, then back into the bedroom…
Greg would roll his eyes when he would see it leaning up against the wall in a new location.
Then…it hit me!
AHHHHH!
THE DINING ROOM!!!
Off I went dragging it to yet another room!
This is how it looks now in our dining room!
We don't have enough room for a buffet, which would be more functional.
But this gives great impact without taking up any space!
**Let me know what you think down in the comments below!**
Have fun with it! I'd LOVE to see what you make! Be sure to share it over on my Craft Klatch Facebook Group! It's Free! ❤️
Coastal Decor & Turtle Projects
I love coastal decor and I've done a few other projects with a coastal theme that I believe you will love!
Turtle Decor
If you love the turtle and want other turtle decor options, I have some great ones for you!

Sea Turtle Large Wall Art DIY FULL Video Tutorial
As promised, the FULL video tutorial! See exactly how we made it!
That's it! I hope you like it and give it a try! Remember: Life's too short not to shimmer, so grab your glue gun and your glitter!™ Stay safe!
Mona
Be sure to PIN IT for later!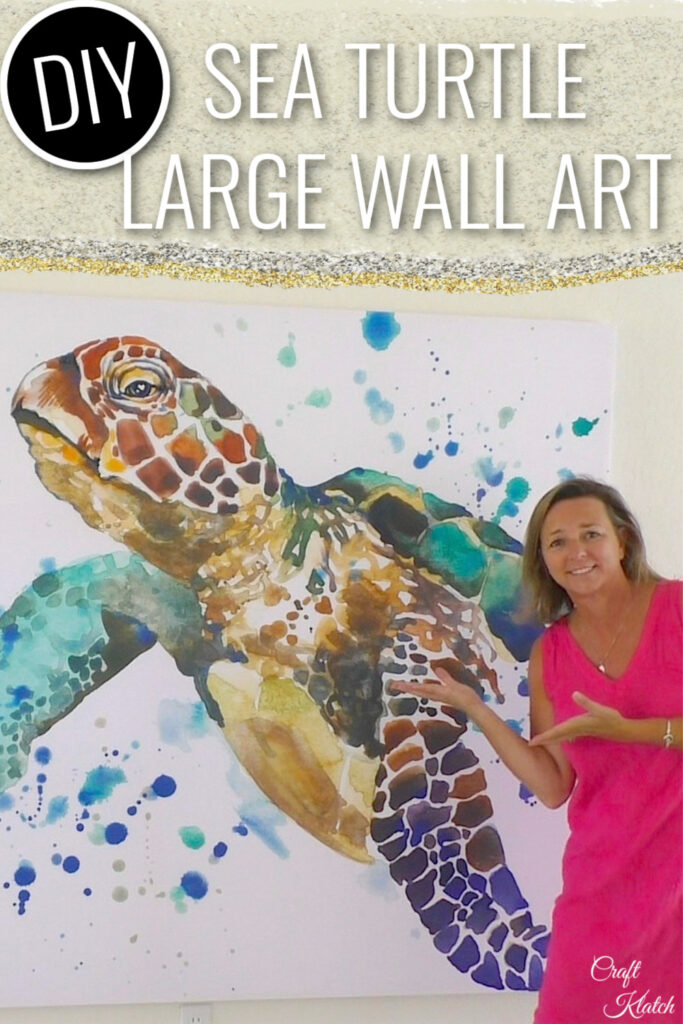 Be sure to PIN IT for later!