Do you have a favorite horror movie character? One that really creeps you out? Well, I have the perfect resin coasters to make your skin crawl!
That's right! I'm going all out HORROR!
When we were younger, my sister and I LOVED horror movies!
I remember waiting in an endless line to buy tickets ON Friday the 13th for the opening night of one of the Friday the 13th movies!
Can it even get better than that?!?!
I'm not saying we were…but we may have been underaged…
Shh! Don't tell!
We were in line and we were worried that we wouldn't get in.
There was a mom and some teenage boys in line in front of us. When we got to the usher, she out of the blue vouched for us.
No…we did not know her.
As a parent, that's one you keep under wraps because it's a do as I say, not as I did moment.
Back then, we thought she was pretty awesome for helping us out.
Have you ever seen a horror movie on Halloween or on Friday the 13th?
Okay. Back to the horror movie characters…or should I call them horror creatures…or does it depend?
Different Horror Movie Character Coasters
Because there are so many characters to choose from and some are clearly horror creatures, I decided to do four coasters in total.
Though, I feel like I could have done 100.
Blood Spatter
The first is an easy blood spatter coaster. It's to pay homage to all horror movies and slasher movies past and present.
Nosferatau
The second is old school vampire, Nosferatu. I was introduced to that creepy little dude in high school German class.
Frau Plank made us watch the creepy horror creature…I feel like the term creature fits in this instance.
The movie was from 1922 but that did not make him any less weird and disturbing.
Classic Halloween Movie…Michael Myer or is it Michael Myers?
The third is the classic Halloween horror movie character, Michael Myers.
If I remember correctly, the original classic Halloween movie, with Jamie Lee Curtis, was the first slasher movie I saw. All I know is, that I was too young to be watching it.
I remember feeling so freaked out that he just…WOULD…NOT…DIE!
Yes…I do realize that is what they were going for…
The Walking Dead
The fourth is more recent and not a movie…The Walking Dead! I have not watched it but I know millions of people were die-hard Walking Dead fans…including my sister.
What's the harm in a little zombie action? Zombies scream classic Halloween!
Materials You Will Need to Make the Horror Movie Character Coasters
*This blog uses affiliate links. As an Amazon Associate I earn from qualifying purchases.
Resin
When deciding on which resin to use for your coasters, you need to keep in mind whether you want it just for cold cups or for hot ones as well.
If only for cold drinks, you can be flexible and use whatever brand you like:
If you want it to work for both hot and cold drinks, you need to look for a heat-resistant resin, like these:

FX Poxy

~ According to the manufacturer, this one is heat resistant to 500° F.
Before we get into making the coasters, be sure to check out my 5 Reasons Your Resin Coasters Are Not Curing! I think you will find it helpful.
I WANT TO KNOW!
Just a few things I want to know:
The best horror movie or slasher movie (and why)
Your favorite horror movie character or slasher movie character (and why)
Do you prefer a classic Halloween movie, or something newer (and why)
The Best Horror Movie Character Coasters Video Tutorial
I have full written directions below but sometimes it's easier to see it in action, so here's the video tutorial:
Directions for Horror Movie Character Coasters
Step 1
Select the colors you want for the backgrounds. You need one ounce of resin for the base of each coaster.
Be sure to, mix your resin according to the package directions and then mix in your colors. Pour them into a coaster mold.
Then, allow the resin to cure for a minimum of 12 hours.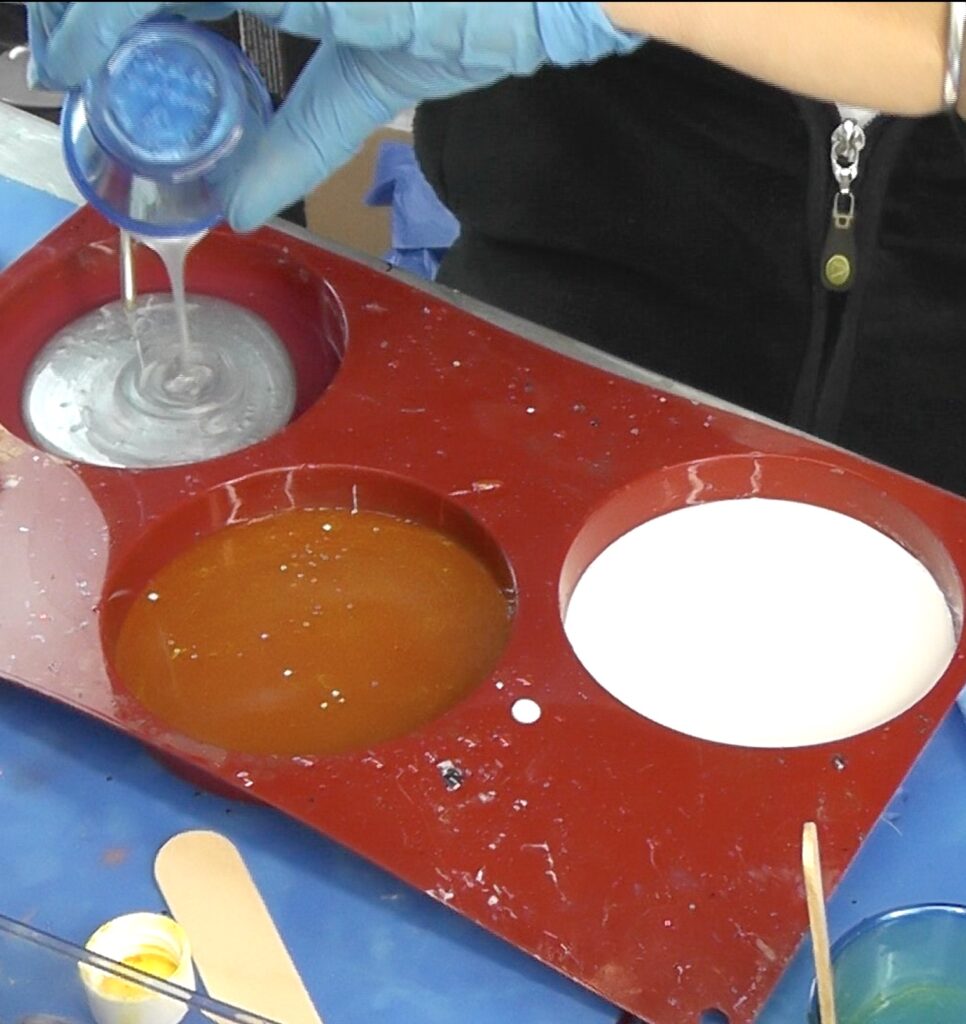 Colors I Chose and Why
I used white resin pigment for the classic Halloween, Michael Myers coaster because I wanted the house to be clear.
For Nosferatu, I did the yellow India ink. I wanted it to have that creepy old-timey feel. Slightly off-color.
For the walking dead, I wanted to give the forest some movement so I used a metallic silver pigment powder. It leaves a little bit of a swirl look and I thought that would give it a more interesting and eerie feel to the forest background.
Step 2
Print your images on transparency film and cut them to fit in the coaster mold. I have my cutter set to just under 4 inches.
Be sure to pick the creepiest horror movie character you can think of, these were just my personal choices.
Step 3
Once the first layer has set, mix another ounce of resin for each coaster.
When you have added the ounce of resin to the coasters, you can slide in your first image.
Slowly slide it into the resin and press it down with the stir stick.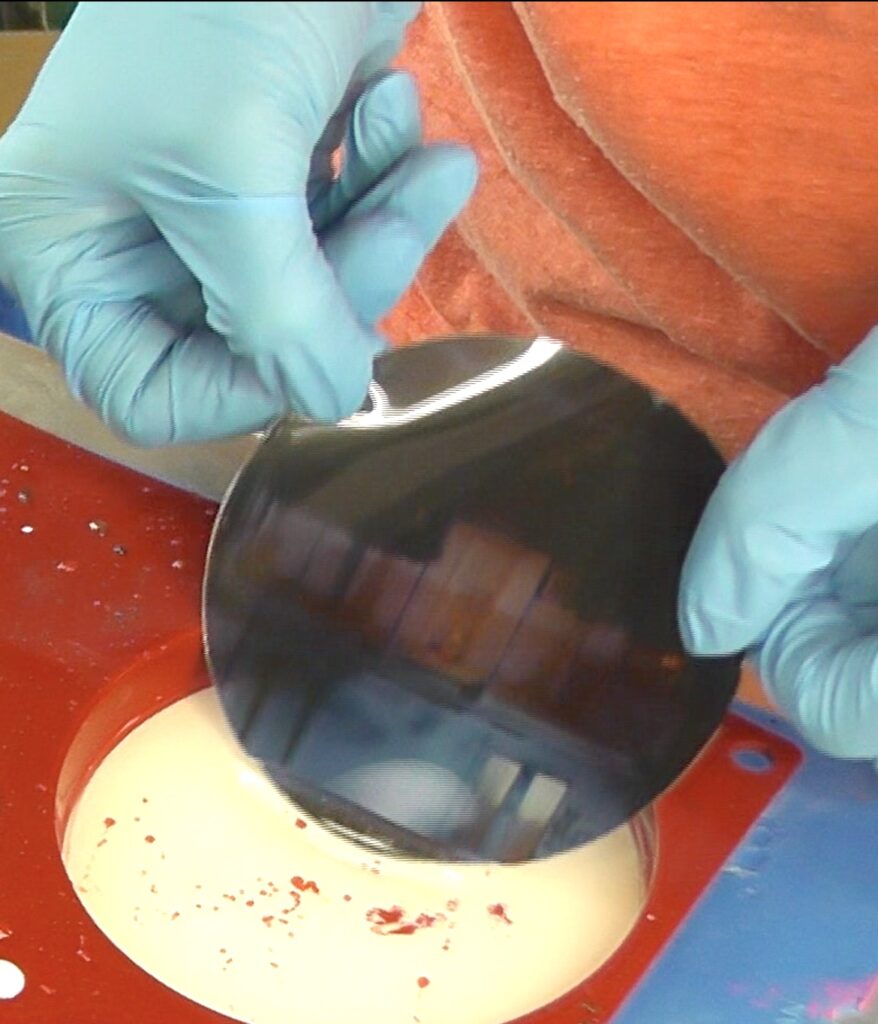 Make sure all of the bubbles are out from under the image and pop them with a lighter. Allow the resin to cure.
Step 4
The base color of the coaster was the first layer. The background image was the second layer. Then, I added another layer to the coasters by actually adding the horror movie character. Before adding them, I painted white on the back sides where the people or creatures were located.
The rest I left clear.
Remember, we are working with transparency film. If I did not do this, the background would bleed through the image and the character would not pop.
You will definitely want to do the same with your coasters.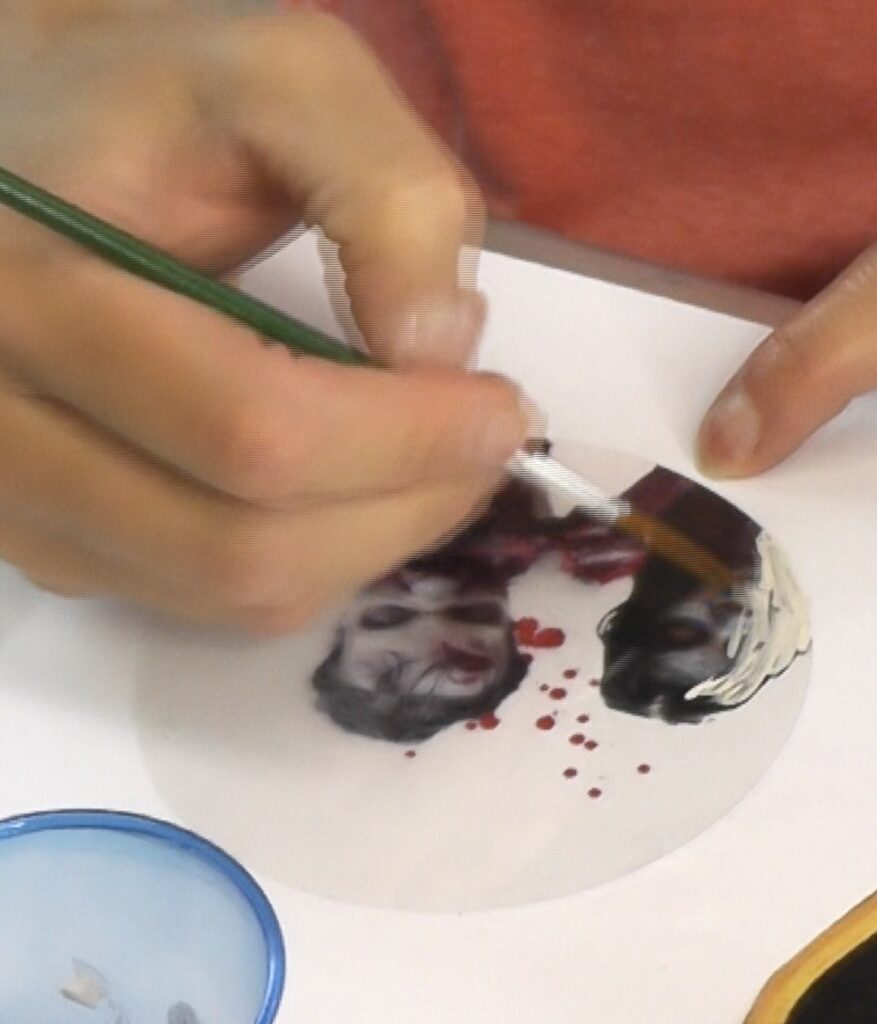 I did…
Michael Myers out in front of the house on Halloween.
Nosferatu in front of the red treed background.
The Walking Dead zombies are out in front of some creepy trees.
You want to add one ounce to each of the coasters and slide in the final images and press them down with a stir stick and pop the bubbles with a lighter.
Then, allow them to cure another 12 hours before removing them from the molds.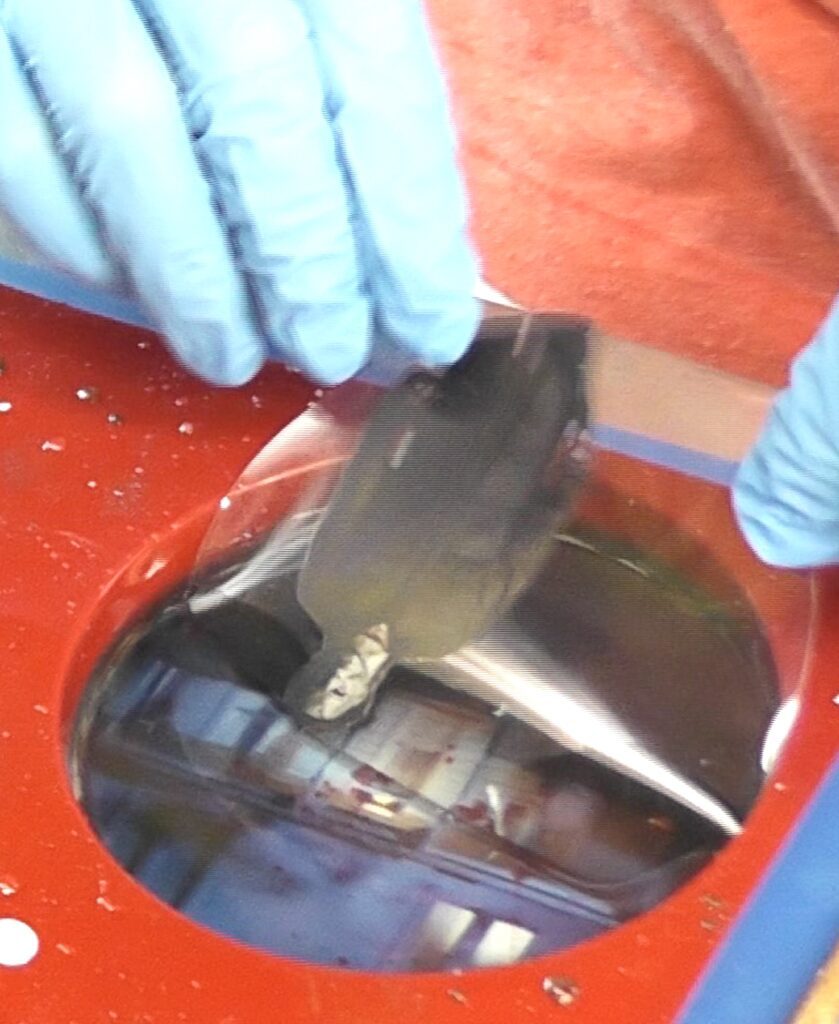 The Coaster Reveal!
Finally, the big reveal! The most exciting part of resin crafting is the reveal! You never know exactly how a project will turn out but usually, they are pretty spectacular!
The Blood Spatter
The blood spatter did not require multiple layers.
Nosferatu
As creepy as I remember from high school German class.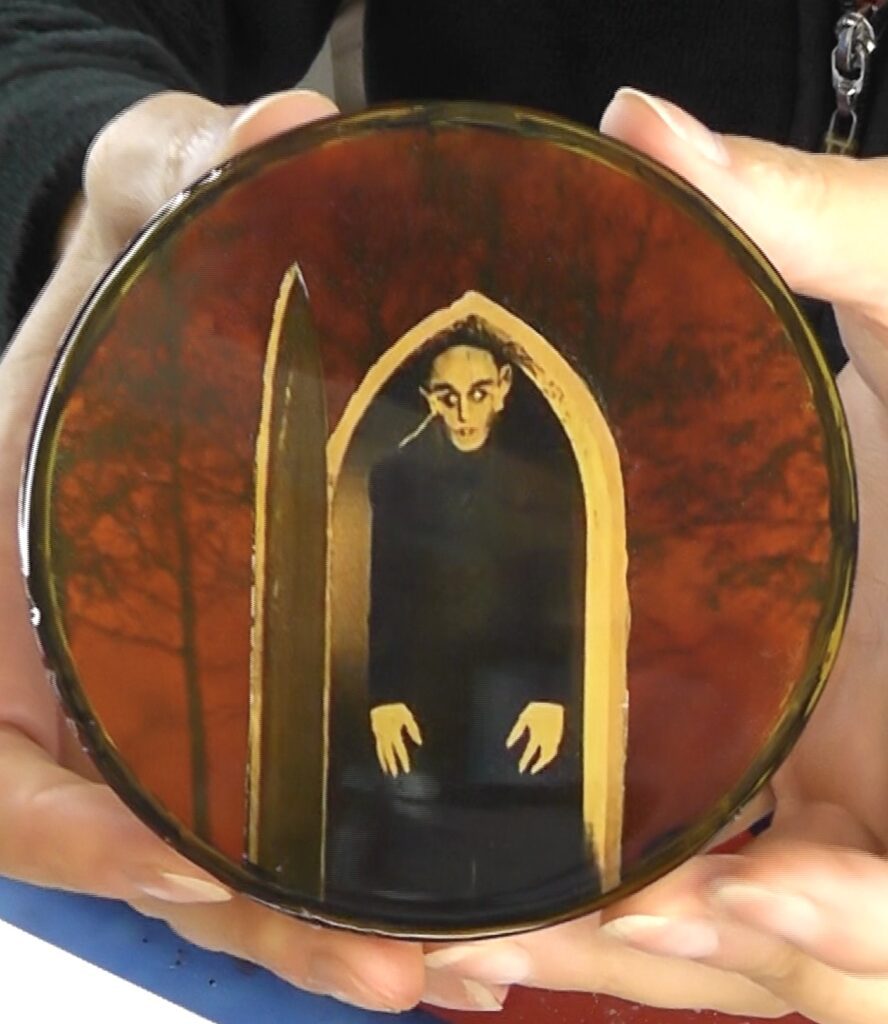 Michael Myers
The iconic slasher movie/horror movie character. Creeps me out just thinking about him.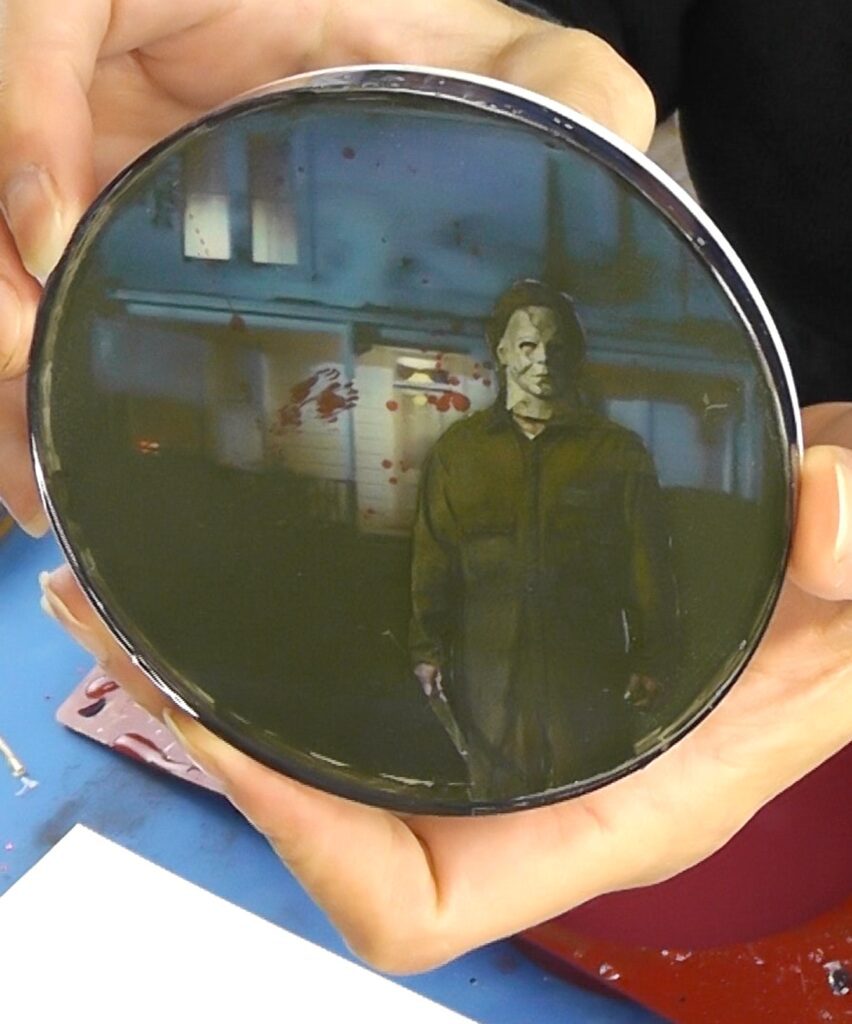 The Walking Dead
Last but not least, we have the flesh-eating zombies. It's like they are popping out of the coaster to get you!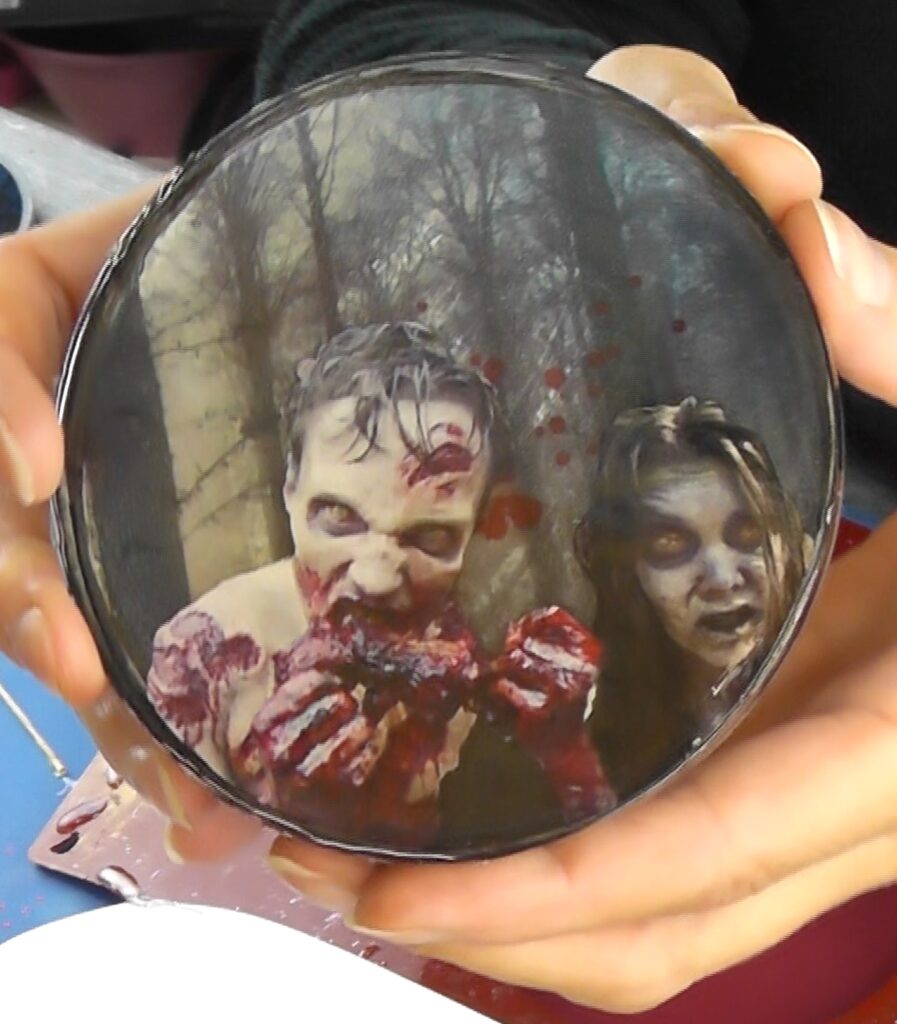 They look really amazing in person with all the layers and depth. You might be able to see it better in the video!
Other Halloween Projects You Will Love!
Horror Movie Creatures Stuff You Can Buy

Thanks so much for stopping by!
I WANT TO KNOW
If you had to pick just one, which horror movie on Halloween would you watch?
Remember: Life's too short not to shimmer, so grab your glue gun and your glitter!™ Stay safe!
Mona
REMEMBER TO PIN IT FOR LATER!