I was contacted by Holly, who is in the Marines and serving overseas. She asked if I could make a coaster with a patch. Seeing as it was Veteran's Day earlier this week, I thought it might just be the perfect time. My husband, being a Navy veteran, ran out to an army surplus store and got me a patch. I had some Navy stickers on hand and since the Marines and Navy are related, I knew what my coasters were going to be!
Supplies You Will Need
*This blog uses affiliate links. As an Amazon Associate I earn from qualifying purchases.
Resin

When deciding on which resin to use for your coasters, you need to keep in mind whether you want it just for cold cups or for hot as well.

If only for cold drinks, you can be flexible and use whatever brand you like:
If you want it to work for both hot and cold drinks, you need to look for a heat resistant resin, like these:

FX Poxy

 ~ According to the manufacturer, this one is heat resistant to 500° F.
Here is the Video Tutorial.
Directions
1. I prepared approximately 2 ounces of resin, according to the package directions.
2. I split it evenly, in three different cups.
3. I mixed red glitter in one, blue in another and white in the remaining.
4. I started with the white, in the middle.
TIP: Depending on how runny your resin mixture is, you might want to work somewhat quickly, as the resin will spread.
5. Then I added the blue and red on either side.
6. Allow to cure at least 12 hours.
7. Once cured, glue on the patch. Be sure to use clear drying glue and let it dry completely before pouring more resin.
8. Add stickers to the other coaster.
9. Prepare more resin and pour over both. You will have a lot of bubbles coming up from under the patch, just keep checking until they stop. Use your lighter to pop them.
TIP: If your glitter layer is too lumpy for your stickers, just add a thin layer of clear to even out the surface. Once hardened, then you can add your stickers and put on the final layer of resin.
That's it!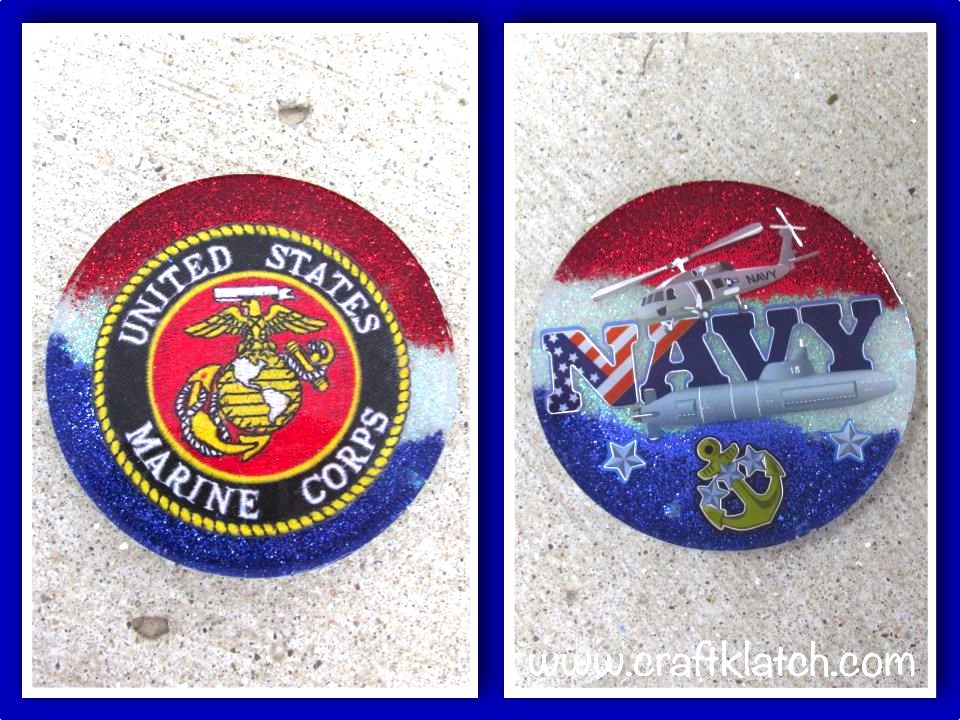 Other Coaster Crafts
Military Coaster Alternatives

Thanks for stopping by and remember: Life's too short not to shimmer, so grab your glue gun and your glitter!™ Stay safe!
Mona