I received a wine cork trivet, as a gift from a friend many years ago. We still use it all the time and it has withstood all the use very well. Now, that one was completely handmade from the frame to the corks being from actual bottles of wine they drank.
Mine is a little less authentic than that, but I am neither a woodworker nor a heavy wine drinker, so I had to make do…despite my shortcomings.
Materials You Will Need
*This blog uses affiliate links. As an Amazon Associate I earn from qualifying purchases.
Wine corks – You can probably get them at a number of places, or if you wanted to make them from corks of a particular wine to personalize it, then start drinking! Otherwise, mine are from

Oriental Trading Company.

The package came with two different sizes. Here are some on Amazon:

https://amzn.to/2DUD7cg

Frame:

https://amzn.to/2H6Vxbr

Strong glue: https://amzn.to/2VZg1eR
Wood stain, or watered down acrylic paint and a good sealer/varnish/polyurethane topcoat: https://amzn.to/2YhLje3
Filler pieces – this might be optional, depending on the frame and cork sizes you use. I had a little room left over after I had the corks placed. I found some wood pieces at the craft store, cut them down, stained them and they fit right in. I think it looks like a decorative accent, so it all worked out: https://amzn.to/2Ydnd4f
Here is the Wine Cork Trivet Video Tutorial
Directions
1. Prep your frame. You can build your own, or buy a premade one as I did. I couldn't find a small can of black stain and didn't have any need for a large one, so I watered down some acrylic paint, let it dry, and went over it with a good topcoat.
2. Arrange your corks. This might take a little time until you find out a good configuration. You may need to get creative with filler pieces like I had to.
3. Glue in your corks.
4. Let everything dry really well.
That's it! So easy!
Be sure to PIN IT for later!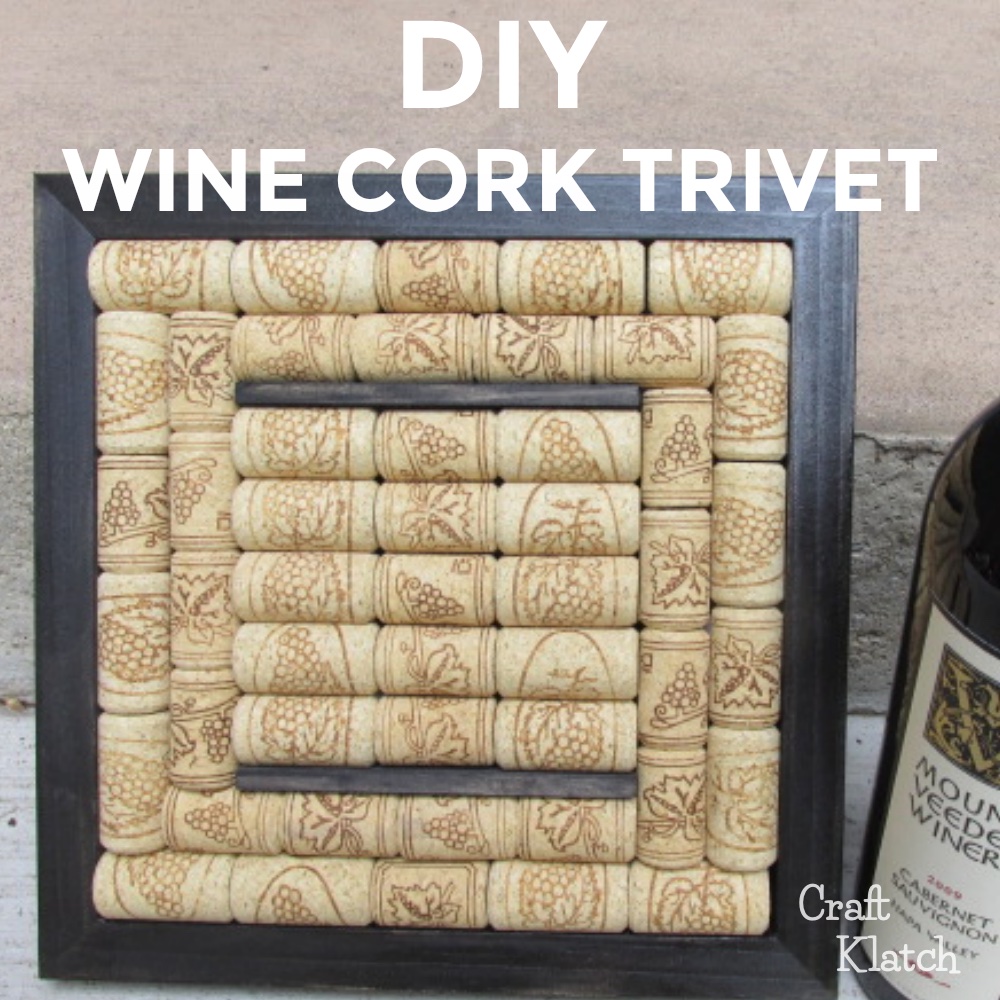 If You Love Wine Projects…
I have a few others you will LOVE!
Incase You Need a Wine Gift…
Incase you need a wine gift, but don't have time to create one, here are some great wine gift ideas!

Thanks for stopping by! Remember: Life's too short not to shimmer, so grab your glue gun and your glitter!™ Stay safe!
Mona