Let me tell you…I am excited! I mean…I'm really excited! If you like to make jewelry pendants and enjoy trying different mediums, alcohol ink on glass is the bomb! You can make alcohol ink jewelry and strut around like you are wearing the crown jewels!
Oh, the compliments you will get!
It is an easy craft and inexpensive! Oh! Did I mention, beautiful? In this case, I am making alcohol ink pendants, but you can turn them into rings, bracelets, magnets, or a gosh darn tiara!
Let's start with the essentials!
Glass Gems
*This blog uses affiliate links. As an Amazon Associate I earn from qualifying purchases.
The first time I used these glass gems, I made Nail Polish Jewelry.
Talk about an addictive craft!!!
I loved it so much, I came up with a few different versions! Oh my gosh! With so many nail polish colors, where do you stop?
It's one of my favorite crafts that spans the generations. Great for kids, teens, and adults.
I've since made around 17+ projects using the glass gems and I suspect there will be many more in the future!!
The glass gems come in all shapes, sizes, and colors and can be used for WAY more than just jewelry, or as the vase filler, it was originally intended to be!
For example, I made Mosaic Gem Drink Coasters and I also put them in concrete for a Mother's Day Stepping Stone!
That barely scratches the surface of glass gem crafts!
Alcohol Ink
Like the glass gems, I have used alcohol ink on a number of projects from coasters to jewelry to artwork. I love how vibrant the colors are and I love that they can be used on a number of different materials and they even work on hard, slick surfaces, where a lot of mediums do not!
It actually sticks to the glass!
Different surfaces will give you different effects and results, which makes it even more exciting!
The most common brand of alcohol inks you will find is Tim Holtz alcohol ink, which is an amazing product, but you can find some others too.
Here is a quick video alcohol ink YouTube tutorial to see how I made them: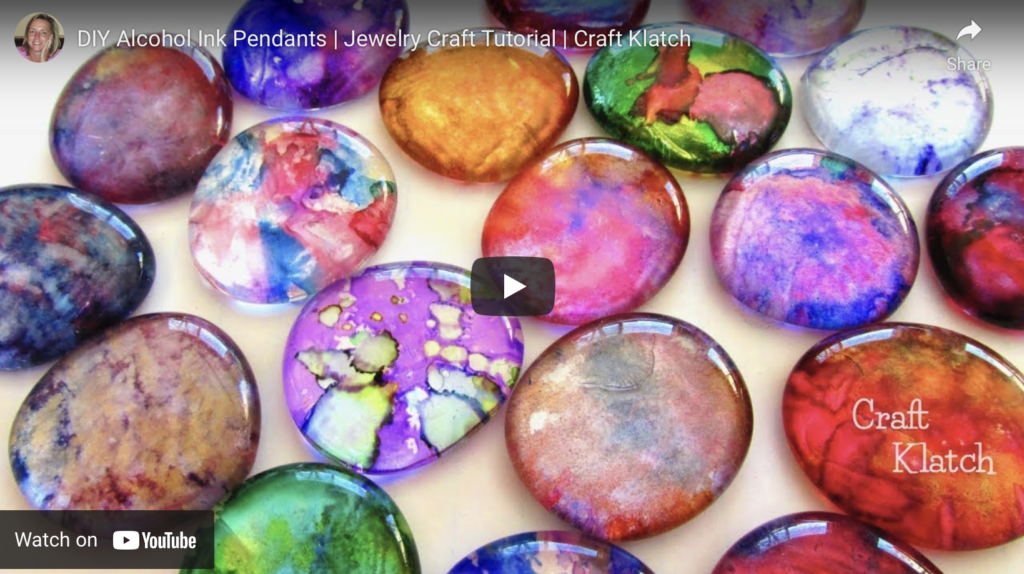 Materials You Will Need
From the glass gems to the alcohol inks, to the glue on jewelry bails, you can find the items I used to make this project here:
Directions:
Step 1: Get Out Those Gems!
I started with the round, clear glass gems. If the gem is lumpy or imperfect, don't worry, it won't matter. Also, if they are not perfectly round, don't worry, it just makes them more interesting!
I used the larger gems for the alcohol ink pendants, but you can use smaller sizes for this as well. The smaller ones might make a fun ring, on a bracelet, or…ahem... a piece for your tiara!
Step 2: A Little Cleaning Goes A Long Way!
I took a little rubbing alcohol and cleaned them off. I like to clean them off because I don't want there to be any grease, oils, or dirt that might get in the way of the alcohol ink properly sticking and/or spreading.
The cleaner the surface, the better.
The rubbing alcohol dries very quickly, so this step won't even slow you down!
Step 3: I Made My Own Tool!
Let's not get too excited, I didn't invent the wheel or fire. I created a dauber. It's not pretty, but it was free and does the trick!
It consists of a strip of felt glued around a popsicle stick. That's all it is.
Why do I need it? It allows me to move the alcohol ink around.
You could use a cotton swab instead. If you do use a cotton swab, make sure you don't get any little lint pieces stuck in your project.
A makeup sponge would be another alternative. You could rip or cut the sponge for interesting effects too!
Step 4: Bust Out The Alcohol Ink And Let's Make Some Jewelry!
I started adding the alcohol ink. You want to work on the flat side of the gems. Simply drip the colors on the flat side of the gem and let them spread around.
By working on the flat side of the gem, when you flip it over, the effect on the other side is more beautiful, magnified, and shiny.
Step 5: Blending
The colors will blend! Wherever the colors run together, they blend and create new colors!
You can let them run together on their own by dripping the inks close to one another. You can also pick up the glass gem and tilt it, so the colors find each other and start blending.
The alcohol ink pendants don't look like much…yet…but wait until you see the fronts!
Step 6: Out Comes the Dauber!
On some, I used my dauber, which gave me more muted colors and additional blending. You get different effects depending on how you approach it and what look you are going for.
Step 7: And Then There Were 16!
I let them dry and kept making more!!! Once you get started, you won't want to stop! No two gems will be alike!
I LOVE IT!!!
Step 8: Jewelry Bails
Time for the jewelry bails, which are sometimes called pendant bails.
There are different kinds of pendant bails. These in particular are glue on bails.
I took jewelry bails and glued them onto the back of the alcohol ink gems.
You can seal them beforehand and I have a sealer listed above. A helpful article for sealing alcohol ink on glass can be found HERE!
Any glue that dries clear and will stick to metal and glass should do the job. My go-to glue is generally Ultimate Glue, but any glue that adheres to glass and metal should work.
Look how beautiful they are!
I have these set up as pendants, but you can easily use them as magnets, decorative table scatter, in a mosaic, in a coaster, etc.
Maybe you just enjoy looking at them! I do!
I was able to complete these 16 alcohol ink pendants in no time!
In case you don't have time to make any, here are some beautiful alternatives you can buy!
They make gorgeous gifts!

Let me answer some FAQs:
Where do you buy alcohol inks?
They are available at craft stores. Michaels has a good variety of inks and a few different brands, including Tim Holtz alcohol ink. They also carry accessories and tools to work with the alcohol ink, including an air blower, applicators, foil sheets, Yupo sheets, etc. It's a great place to stock up!
Of course, Amazon has EVERYTHING you have ever dreamed of related to alcohol ink, including beautiful books for inspiration! AND get this, they even have alcohol ink gel nail polish…um…WHAT?!?!
That has certainly piqued my interest…not for my nails, but for what else I can possibly use it on!
What is an alcohol ink?
In a nutshell, it's a high pigment, alcohol-based ink. It works especially well on non-porous surfaces, such as glass, plastic, ceramic tile, etc. They are waterproof, but depending on what you are using them on you may want to seal them.
It will smear if it comes into contact with certain chemicals, including alcohol. Some sealers will also reactivate the alcohol inks and cause them to smear. Read the article I referenced above, where different sealers were used.
Can you make your own alcohol ink?
Yes. There are a bunch of how to make alcohol ink youtube tutorials with rubbing alcohol and Sharpie markers. You have to soak the ink cartridge from inside the marker in rubbing alcohol. The alcohol and the marker ink mix and create an alcohol ink. I'm not sure if it is as vibrant as ready-made alcohol ink, but it is a cheaper way to get a large variety of colors. I have not made any, so I cannot attest to how well they work.
Can you use them to make alcohol ink jewelry? Sure, why not?
What can you use alcohol ink for?
There are so many uses. People have used them to dye fabric, do artwork on canvas and paper. I have seen people do wine glasses and I have used them to make Alcohol Ink Coasters. Yup, resin can work with alcohol inks, like in my Rainbow Resin Coasters.
Can you paint with alcohol ink on canvas?
Yes! A canvas is porous and the ink will soak right into the material. That might be an effect you like. Otherwise, you can prime your canvas with gesso, to keep the inks on the surface and be able to move them around for longer.
I used them on canvas as part of my Resin Fish Painting project.
Can you use alcohol ink on wood?
Yes, but like the canvas, wood is a porous material and it will soak into the wood and create more of a stain effect, which is still beautiful! You will use more alcohol ink on a wood project than you would on a glass, foil, or Yupo paper project, so you might want to keep the size in mind when you are planning a wood alcohol ink project. My wood Shark Coasters incorporated alcohol ink on one of the sharks.
I have two questions for you and I'd love for you to share your thoughts in the comments below:
Have you worked with the glass gems before? If so, what did you make?
Have you worked with alcohol inks? If so, what did you make?
I hope this helped inspire you to try something new if you haven't already!
Thanks so much for stopping by and remember: Life's too short not to shimmer, so grab your glue gun and your glitter!™ Stay safe!
Mona