Have you ever wondered how to make pesto for pasta? I have an easy pesto recipe that will have you growing basil just so you can make it fresh!
Let's talk basil…
I LOVE BASIL!
I mean, I really love it! Love the look of it and the wonderful aroma. Sometimes, I'll just crush a leaf to smell it.
Currently, I have a bumper crop of basil and I am thrilled! Up north, I had about a three-month season for growing basil. Some years were great and other years my crop was pretty disappointing.
Down in Florida, I can grow basil year-round!
Whoohoo!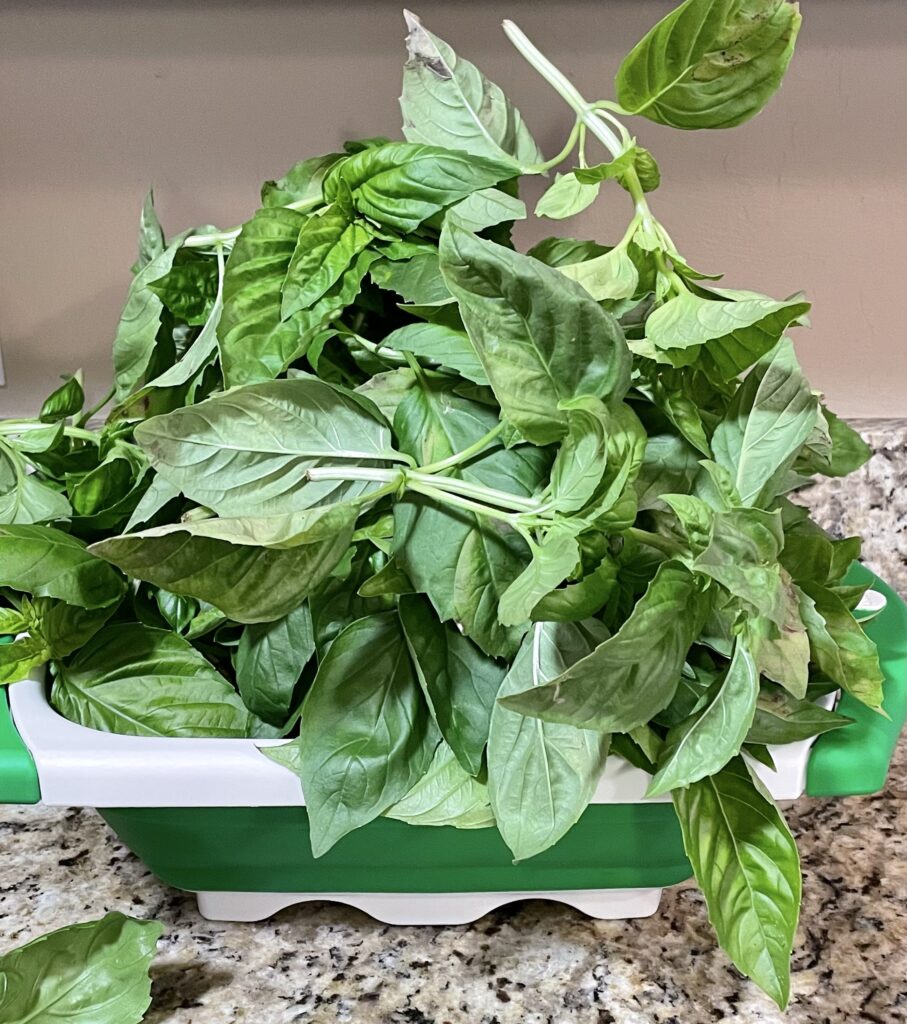 Basil Uses
There are so many basil uses that don't immediately come to mind. Here are some of my favorite uses for basil when I'm not using it in pesto pasta recipes:
Add it to a salad. You can spice up a green salad or a cucumber salad by adding some basil but my all time favorite salad is a caprese salad with fresh basil. Have you tried mixing basil with watermelon for a refreshing summer fruit salad? Maybe you should!
Add it to a drink. You can add it to lemonade or to your water by itself or with a slice of cucumber. Put it in a smoothie. A basil mojito is delicious but I absolutely love it added to a strawberry margarita!
Put it on a pizza. Whether you are making your own homemade pizza or baking a frozen pizza, liven it up by adding some fresh basil.
Add it to tomato soup. Canned or homemade tomato soup always gets better with some fresh basil.
Add basil to olive oil. Create your own gourmet infused olive oil.
Use it as a garnish.
Preserving Basil
Aside from the basil uses I listed above, you might want to preserve basil for future use. The easiest way is to puree it with some olive oil, put it in an ice cube tray and freeze it. Then, transfer it into freezer bags and you can pop out a cube whenever you need basil in a recipe!
How to Make Pesto for Pasta | My Favorite Pesto Recipe Ingredients
There are a lot of pesto pasta recipes out there that get pretty creative with their ingredients but I like to keep it simple with an easy pesto sauce that is so delicious.
I've seen it made with spinach instead of or in addition to basil and I have seen various nuts substituted for pine nuts. You might be asking:
Why are pine nuts so expensive?
Pine nuts are the traditional nut and my favorite nut to use in a pesto recipe. However, they can be expensive and you might be wondering why. From what I understand, it's a combination of a few different factors.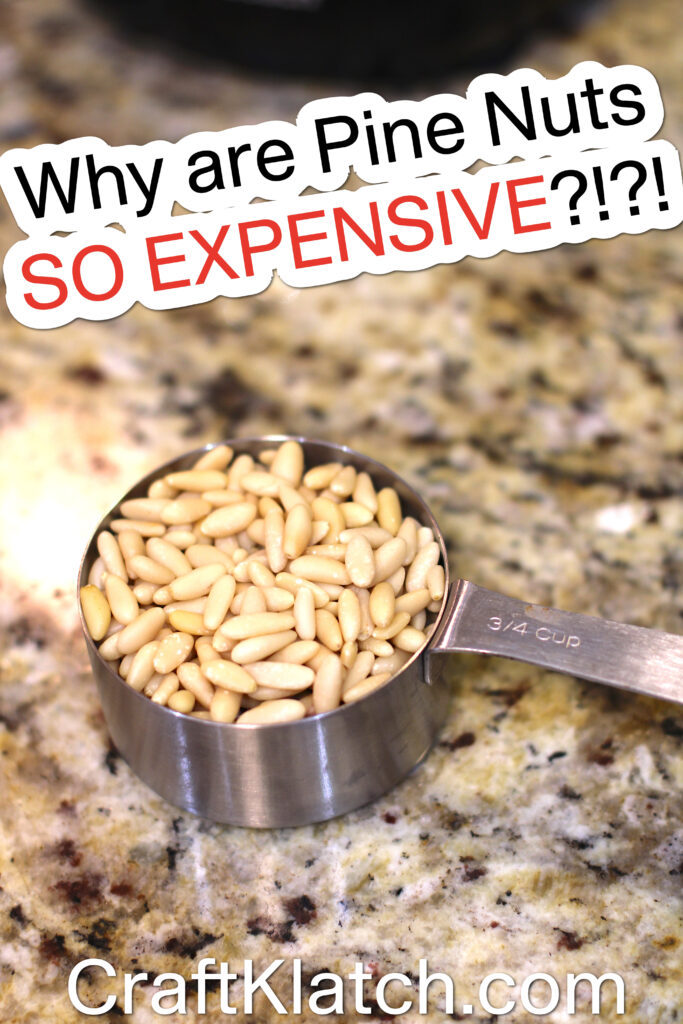 The pine trees take many years to mature before they can produce the pine cones
The pinecones take a long time to grow and reach the point where they can be harvested. I read 16 months on the low side to three years on the high side.
It's labor intensive to extract the pine nuts and then crack and remove them from their shells.
If you can't find pine nuts or would rather use a more economical nut, be sure to do a little research on the best nut alternative to pine nuts.
Pesto Recipe
When it comes to how to make pesto for pasta, these are the ingredients I use:
*This blog uses affiliate links. As an Amazon Associate I earn from qualifying purchases.
Ingredients
Helpful Items
You probably have most of these on hand.
When we moved, I got rid of my blender/food processor combo because the food processor attachment was too small. I just bought this 10 cup food processor which is the perfect size and it worked like a charm! When I was done, I just threw the parts into the dishwasher!
Easy Peasy!

Pesto Recipe Directions | How to Make Pesto for Pasta
Step 1: Basil & Olive Oil
Add the basil to your food processor along with a tablespoon of olive oil and blend it into a paste.
*Tip: I plucked the basil leaves off of the stems and washed them before putting them in the food processor.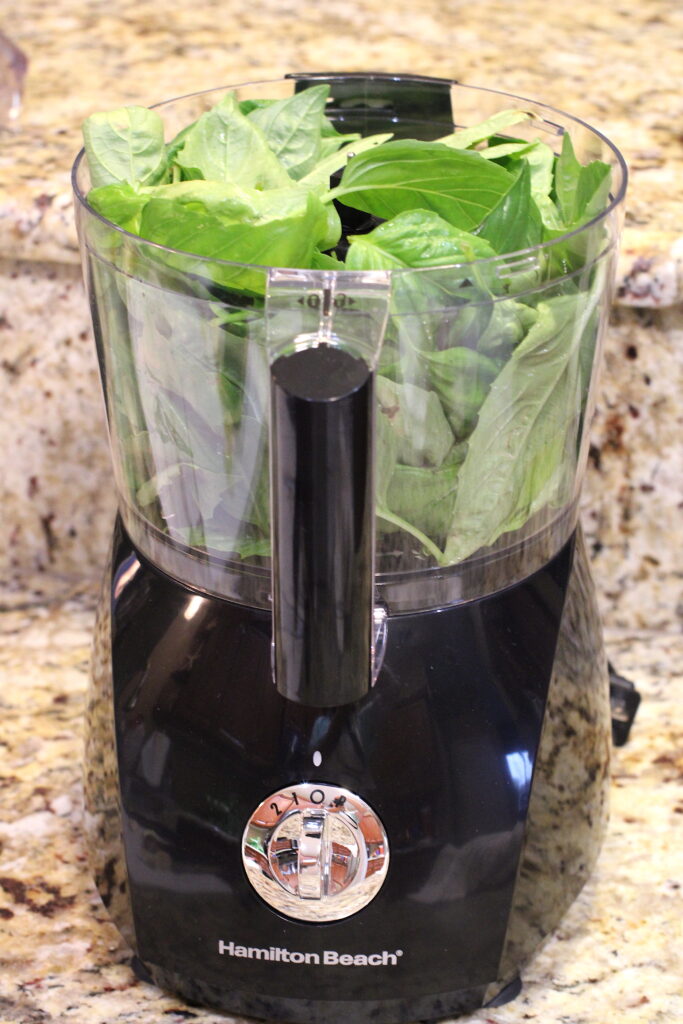 Step 2: Pine Nuts
Slowly add pine nuts to the basil and olive oil paste, while the food processor is running.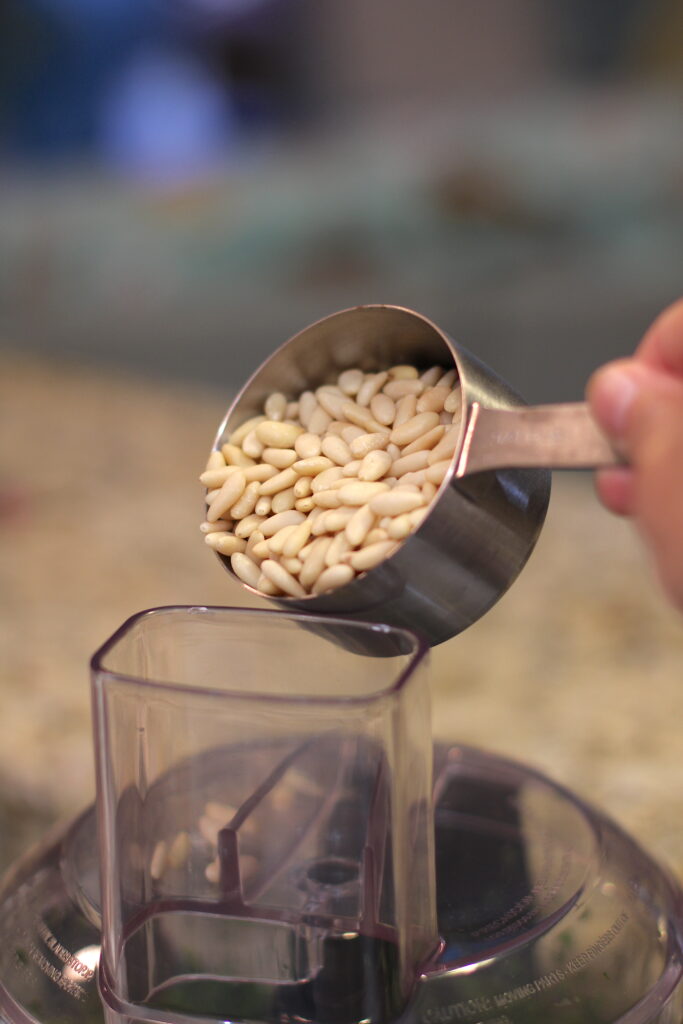 Step 3: Mmm…Mmm…GARLIC!
Add the garlic to the processor, one clove at a time. You can mince the garlic beforehand but I just drop them in and they get all chopped up perfectly!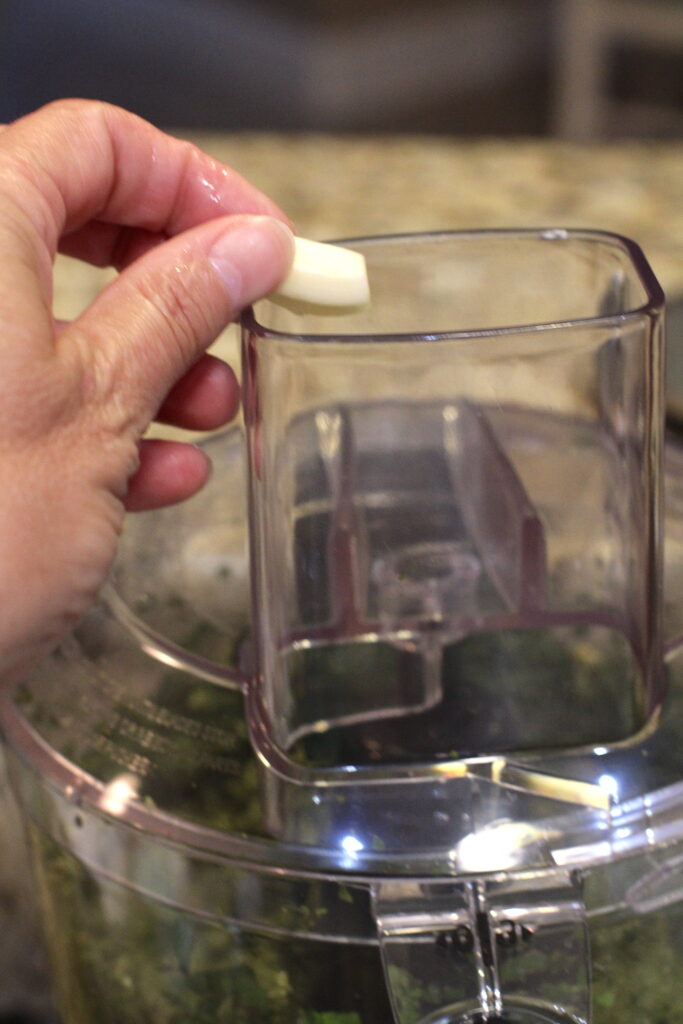 Step 4: A Little Parmesan
Add your parmesan cheese to the in-progress pesto sauce.
Step 5: Just a Pinch
Add a pinch of chili powder and keep processing.
Have you ever wondered, How much is a pinch?
I have. Now, with these awesome measuring spoons, I'll never wonder again!
Step 6: Add the Oil
Add the remaining olive oil and blend it until everything is chopped up and smooth…that is, if you want it smooth. If you prefer a chunkier pesto, do a little less chopping.
That's it! Make a bunch and freeze it! With this pesto recipe, you'll have pesto all year round!
Hot or Cold and Pesto Usage?
I've shown you how to make pesto for pasta…but there are still two burning questions:
Should pesto be served hot or cold?

Great question and a debatable topic. I've read that you should not cook pesto. I personally like it cold and not cooked…but I like it cooked too. My grandaughter won't touch it cold but loves it heated up. My grandson will eat it any old way. So, do it whatever way you like!

Is pesto just for pasta?

Absolutely not! Pesto goes with all kinds of stuff but we'll get into different pesto usage in a little bit.
Pesto Recipe and Pasta
My favorite way to serve pesto is with cavatappi (corkscrew) noodles, but I enjoy a good bowtie pasta too.
The amount we made in the pesto recipe above is enough for two boxes of pasta, depending on how saucy you like it. You may find that the pasta soaks up a lot of the sauce overnight, so you can add more pesto to fit how you like it.
Quick and Easy Pesto Pasta
Prepare two boxes of cavatappi or bowtie pasta. Once cooked to the desired softness, rinse pasta with cold water and drain in a colander.
Put it back in the pot and mix in the pesto sauce. The pot will still be warm and it will help everytihing mix. You can then put it in a container and eat it cold. Or you can warm it up and serve it as a hot meal or use it as a side dish.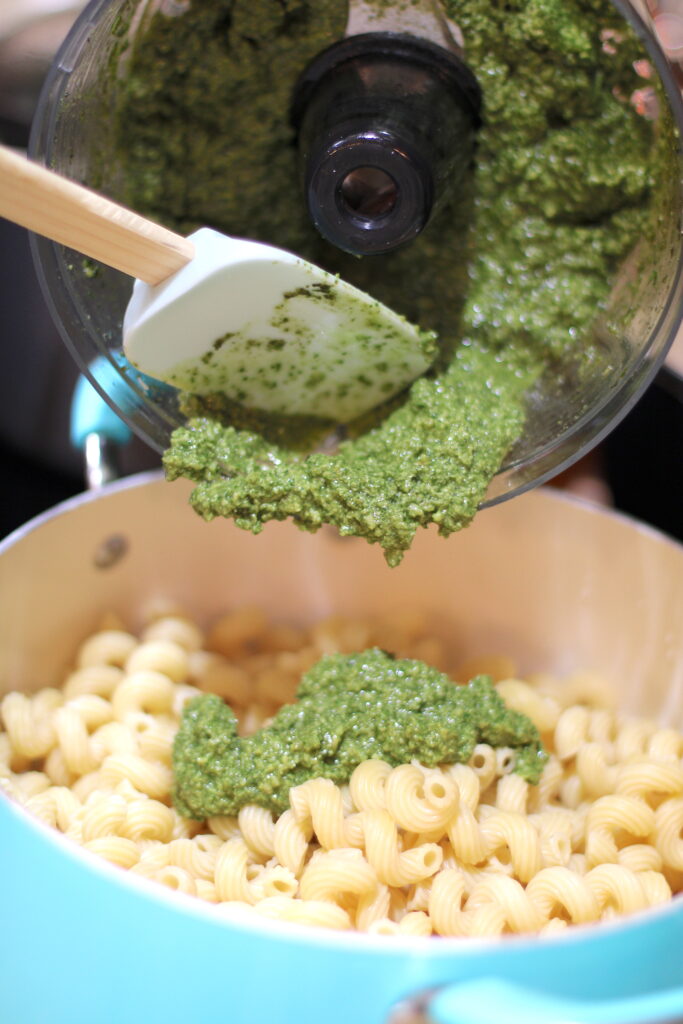 How delicious does that look?!?!
Pesto Recipe Troubleshooting
If the flavor of the basil or garlic is too strong for you…heat it on the stove and it will mellow the flavor. It will be perfect!
If the sauce is too oily, add basil.
Too dry, add oil.
If you want it creamier, add more cheese or nuts.
Pesto Usage
Don't limit your pesto usage to just plain noodles. It also works great as a sauce for:
Gnocchi
Tortellini
Chicken
To replace a red sauce on pizza
Salmon
and more!
It's great:
On a grilled cheese
Mixed with mayo for a yummy condiment
On bread
Used as a dipping sauce
In soup…tomato soup is a given but I also add it to my chicken soup
Be sure to let me know how you use your basil and your pesto!
Fun & Helpful Pesto Pasta Stuff!
Now you know how to make pesto for pasta, but here are some themed pasta and basil things that can be useful or just plain fun!

I've Been In The Kitchen Before…
In case you missed these posts, I thought you might enjoy them too!
Thanks for stopping by! Remember: Life's too short not to shimmer, so grab your glue gun and your glitter!™ Stay safe!
Mona
Be sure to PIN IT for later!