Do you need a low-maintenance plant for your garden? I have the PERFECT flower to add color and vibrance to your garden! It's the Angelwing Begonia a.k.a. Dragon Wing Begonia.
I was up north this past weekend doing some gardening.
When spring/early summer finally rolls around, things look so…blah!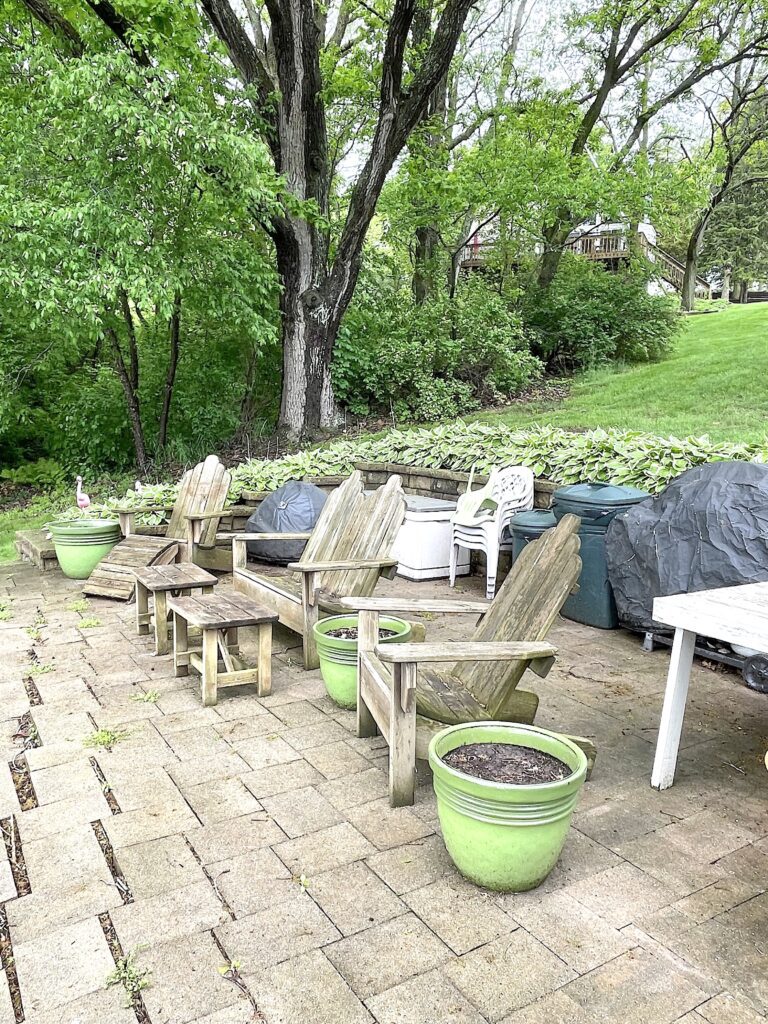 So, I was excited to get out with my trowel and get my hands dirty!
It's amazing how a few flowers can make a world of difference!
Greg and I have moved down to Florida full time but we still have a lake house up north, where we spend time during the summer.
Because we aren't there all summer long, I have to pick plants that allow me to be an absentee gardener.
The plants just don't get watered regularly. One year we might have a drought and other years flood conditions.
There is just no telling what Mother Nature has in store
Luckily, these plants roll with the weather conditions, come hell or high water!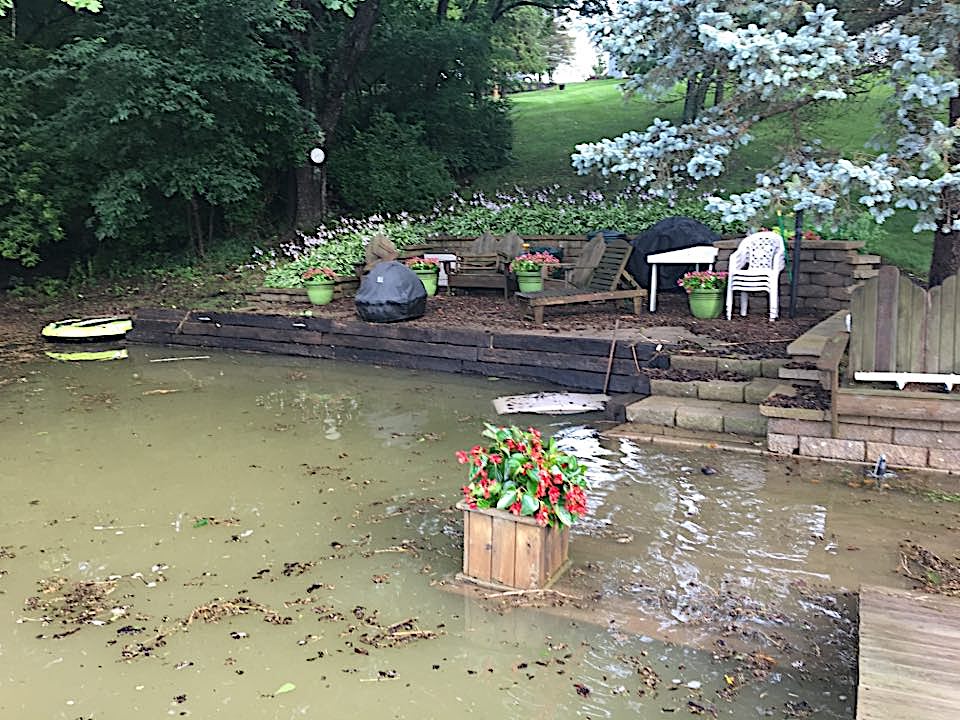 My Favorite Flowering Low-Maintenance Plant
We have tried so many different flowers, from marigolds to geraniums, and come mid-summer, none ever looked good. They looked leggy and dried out.
Often crispy.
Then, I discovered my favorite flowering low-maintenance plant…the begonia. There are many types of begonias and I use two regularly up north.
Angelwing Begonia a.k.a. Dragon Wing Begonia
The first is the Angelwing begonia, which also goes by the Dragon Wing Begonia.
I use it in red or pink, down by the lake and on the upper deck, where they get lots and lots of sun. According to the tag, they are also good for shade but I like to use them in full sun areas.
Because we are gone a lot, they are often very dry by the time we get back.
But because they are so hardy, they don't wilt or get crispy.
They survive well with long periods between waterings.
They don't require any special treatment. To plant, I just roughed up the existing soil in the planter…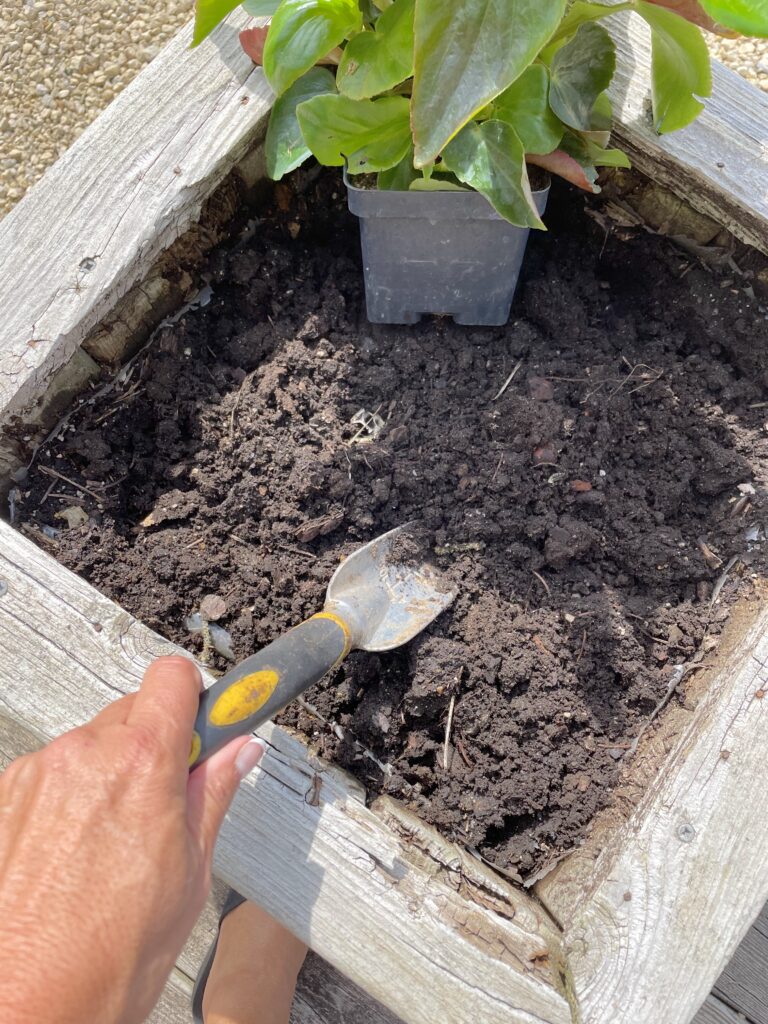 …then, plop it in.
I made sure the roots were covered with the soil and pressed down the dirt to keep them in place.
Here they are in pots up on the deck.
I put one plant in each of the smaller pots.
*This blog uses affiliate links. I may earn from qualifying purchases.
The red pots add a nice shot of color too!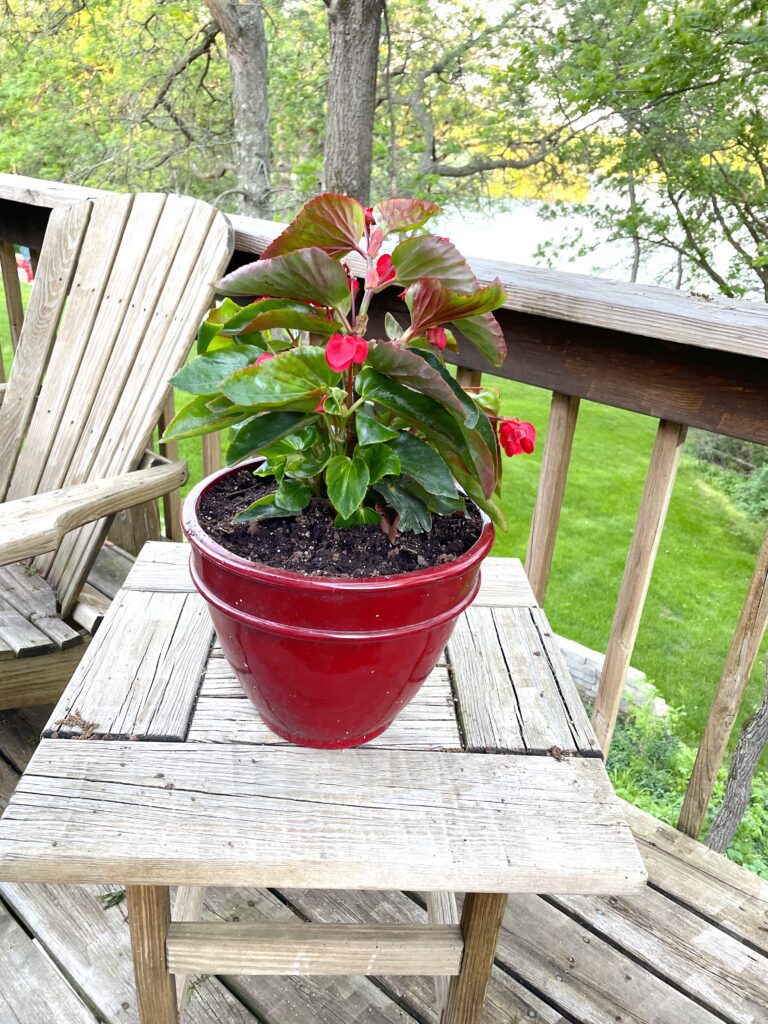 Flowers liven everything up!
For the cedar flower boxes, I did three plants each.
In a month, the Angelwing Begonias will be full and spilling over the edges of the flower boxes.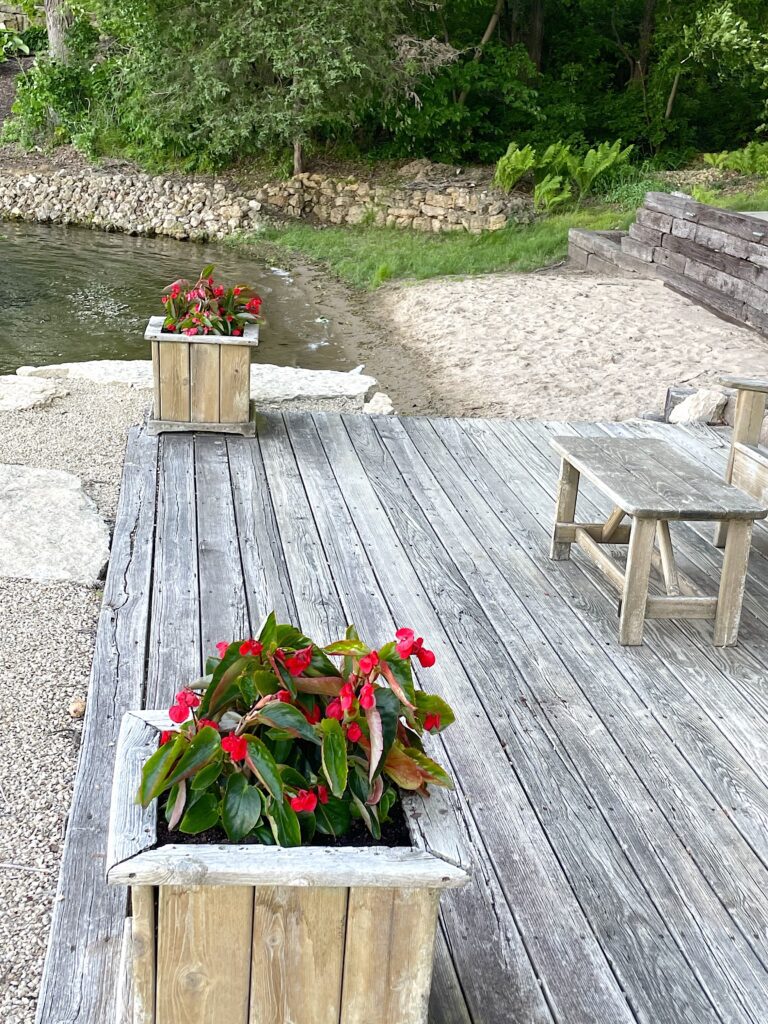 The Other Begonia (They aren't all Angelwing Begonias)
The other begonias I use are just called begonias.
They are a shorter plant than the Angelwing Begonias and grow in thick mounds. I like to use those in the partial shade areas as they are shade tolerant and drought tolerant.
I was not able to get enough of one color, at the small nursery up there, so I went with a combo of pink, white and red.
A little more digging and the flower pots were full!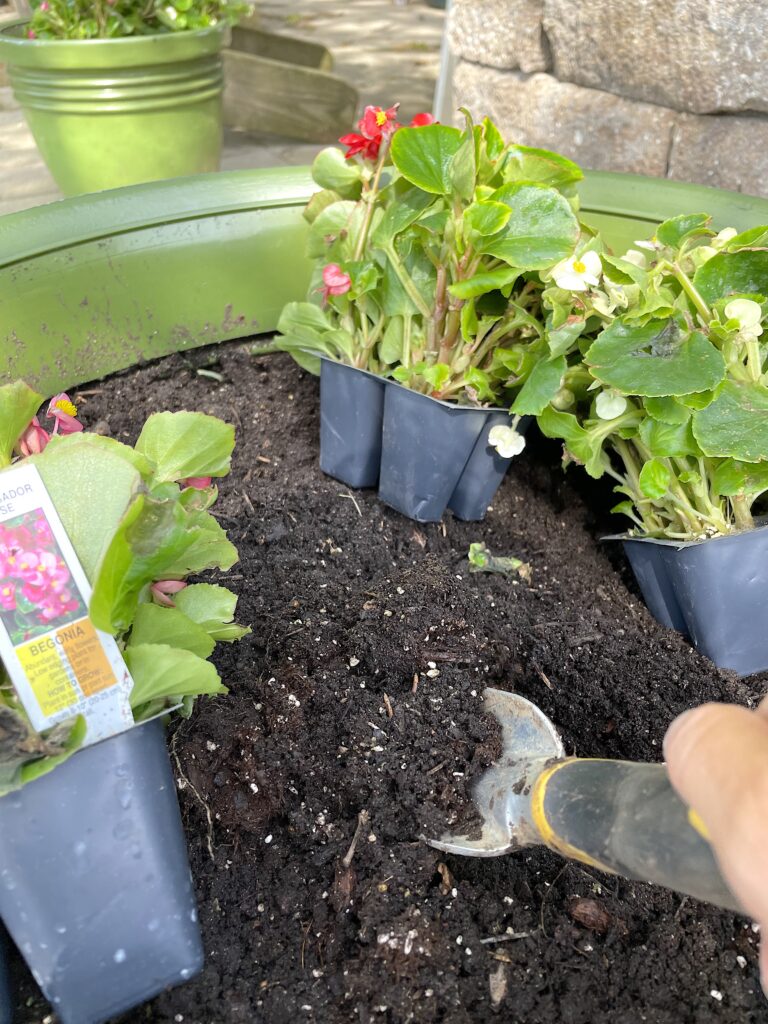 In a month, the pots will be overflowing with mounds of beautiful begonias!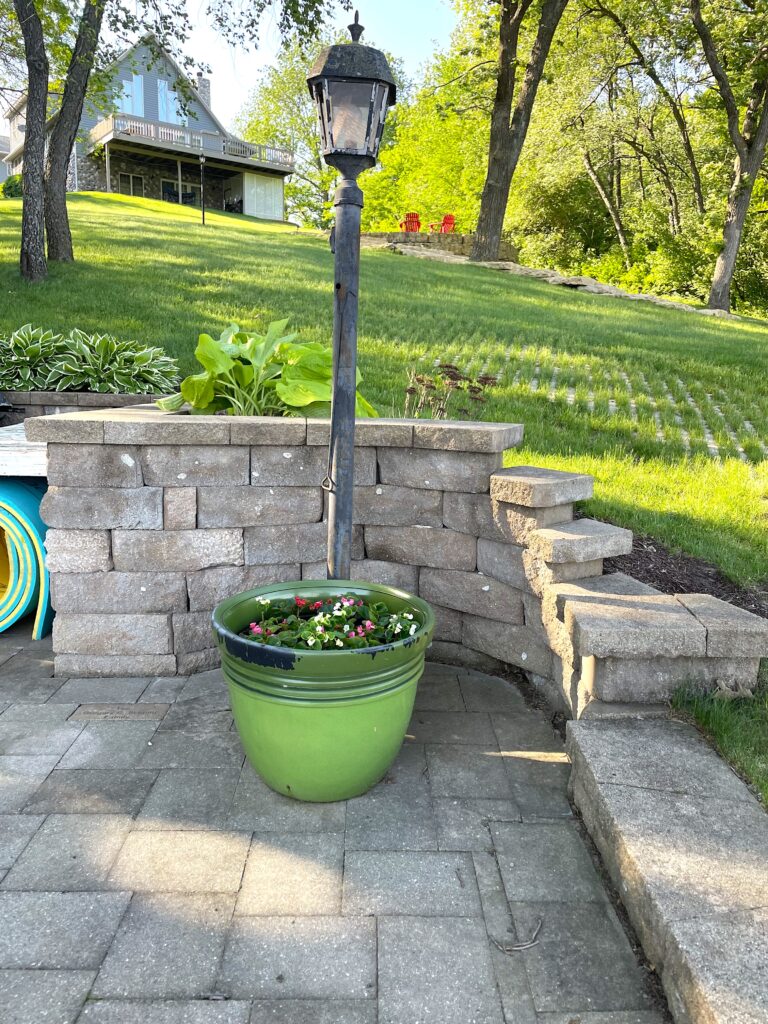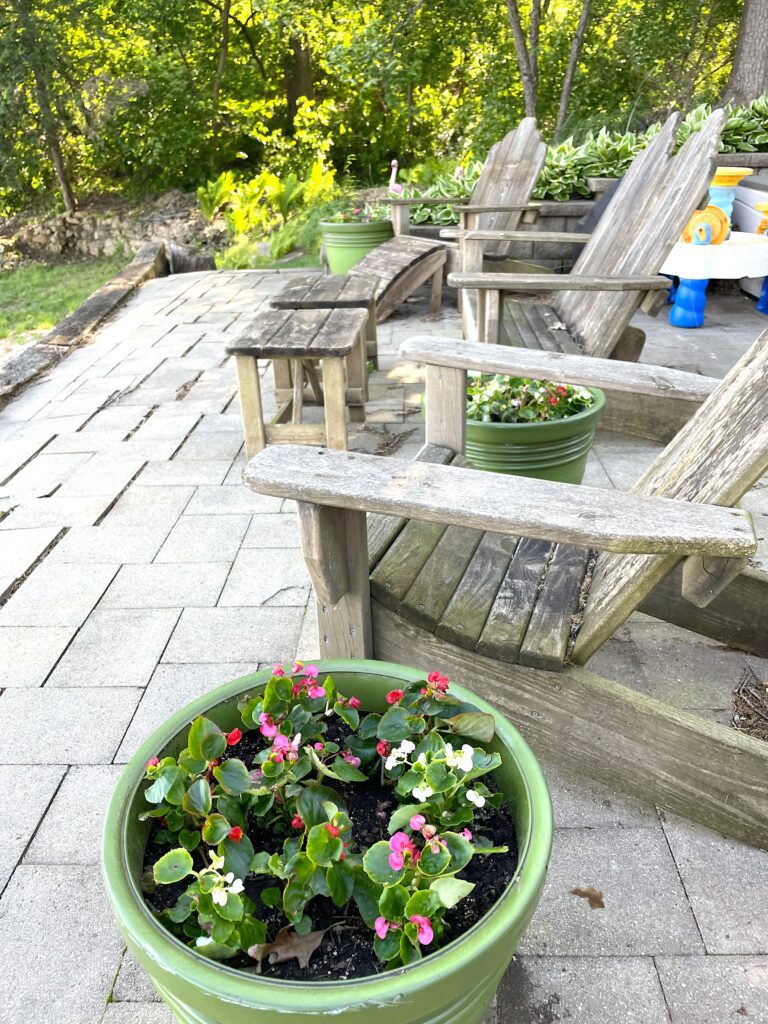 I'd LOVE TO KNOW, what you like to plant in your garden?
Have you ever tried growing the Angelwing Begonia?
Next, I'll share with you my favorite perennial that we have up at the lake!
On an unrelated note…
I just found out that you can grow garlic from cloves…HOW DID I NOT KNOW THIS?!?!
A friend of ours has a hobby farm up there and he planted garlic last fall. His little garlic patch is growing like gangbusters!
I have been inspired!
I plan on trying my hand at growing garlic, both down south and up north. I'll try down south this summer. Up north, I will plant in the fall for a July crop! So stay tuned for that!
Garden Projects
Here are some fun projects to enhance your garden this summer!
My Favorite Garden Tools, Dirt, Pots, and MUST HAVES!
Again, I'd love to know what you are planting! In case you are wondering, here are some of my favorite garden tools and stuff!

Thanks so much for stopping by!
Remember: Life's too short not to shimmer, so grab your glue gun and your glitter!™ Stay safe!
Mona
Be sure to PIN IT for later!