Learn how to make coasters using resin. This time we are going to color them with eyeshadow and give them a beautiful texture.
Resin looks amazing when it is smooth! It gives a nice, finished look to a piece of art or to a coaster.
HOWEVER…
Could resin also look cool if it is a matte finish?
And what about color…is there an inexpensive way to color resin that is still beautiful?
Um…YES and YES!!!
I found this textured silicone mat that had an intricate design of swirls.
It inspired me.
I fell in love with it and before I knew it, it was in my cart and on its way!
I just wanted to pour resin ALL OVER IT!
So…I DID!
How to Make Coasters Out Of Resin That Are Textured Video Tutorial
Check out the quick video tutorial, so you can see exactly how I made it!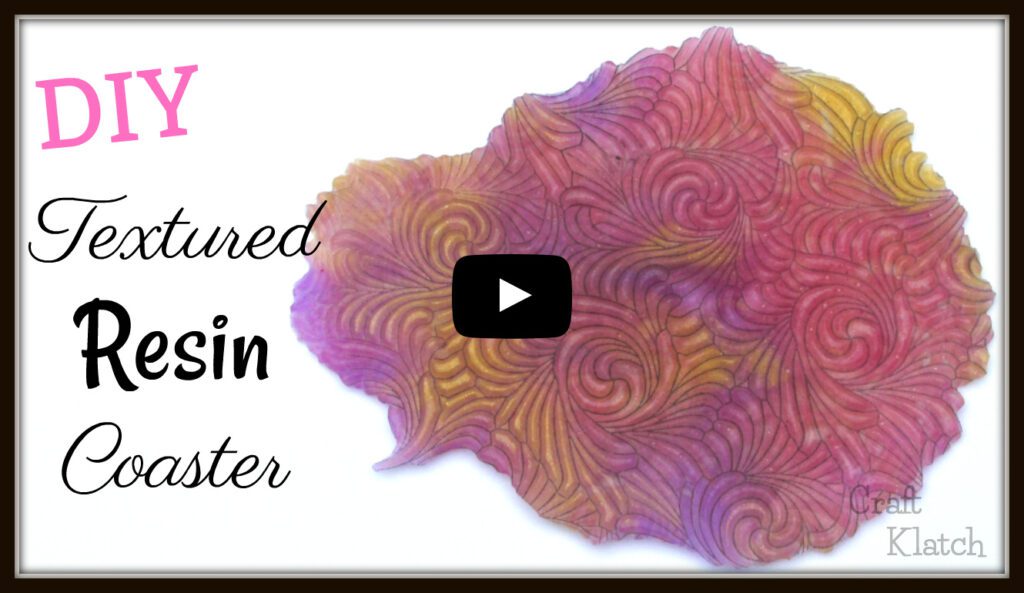 Supplies to Make Coasters Out of Resin
*This blog uses affiliate links. As an Amazon Associate I earn from qualifying purchases.
Resin
When deciding on which resin to use for your coasters, you need to keep in mind whether you want it just for cold cups or for hot ones as well.
If only for cold drinks, you can be flexible and use whatever brand you like:
If you want it to work for both hot and cold drinks, you need to look for a heat-resistant resin, like these:

FX Poxy

~ According to the manufacturer, this one is heat resistant to 500° F.
How to Make Textured Coasters Out of Resin Directions
Step 1
I found this silicone mat with a pretty swirly design on it and rubbed a black ink pad on it.
Step 2
Needing only an ounce to an ounce and a half, I mixed the resin. Then, I split it into three cups and added eyeshadow to color it.
Step 3
I poured each color onto the mat, where I used the ink pad. The colors overlapped and created a freeform shape.
Step 4
I used my lighter to pop the bubbles.
Step 5
After about 45 minutes, I folded the mat over the resin. This allows the pattern to be on both sides of the resin.
Step 6
After 12 hours, I unfolded the mat and peeled to coaster off.
You can see that by using the ink stamp pad, it gives the design a more defined look.
That's it! Thanks for stopping by!
Remember: Life's too short not to shimmer, so grab your glue gun and your glitter!™ Stay safe!
Mona