The family tradition…family traditions come in all shapes and sizes. We have a special one I would love to share with you.
Family traditions are a great way to build strong bonds, make memories, and it's something to get excited about year after year.
Maybe it's cooking a holiday meal together, having a family game night, or holiday shopping as a family.
It doesn't matter what it is as long as it brings joy.
Before I tell you about our family tradition, I would love for you to share yours in the comments at the end of this post.
The Beginning…
Our family tradition started about six years ago when our oldest granddaughter, Reagan, was two years old and our second granddaughter, Kinley, was just one.
Even by age two, I had had the opportunity to do a number of craft projects with Reagan. She had a definite appreciation for crafting and art.
Hoping the two current grandchildren and all who followed would enjoy craft projects too, I came up with The Fish Stick Tradition.
I'm not really sure how it popped into my head…as I usually don't…but it did.
The first year, Reagan painted her fish by herself, with some general supervision and suggestions, like
Make sure you paint the whole thing
You don't have to dip the paintbrush into the water everytime
Make sure to get the edges
Yes, you can paint it any color you want
This is Reagan's first fish.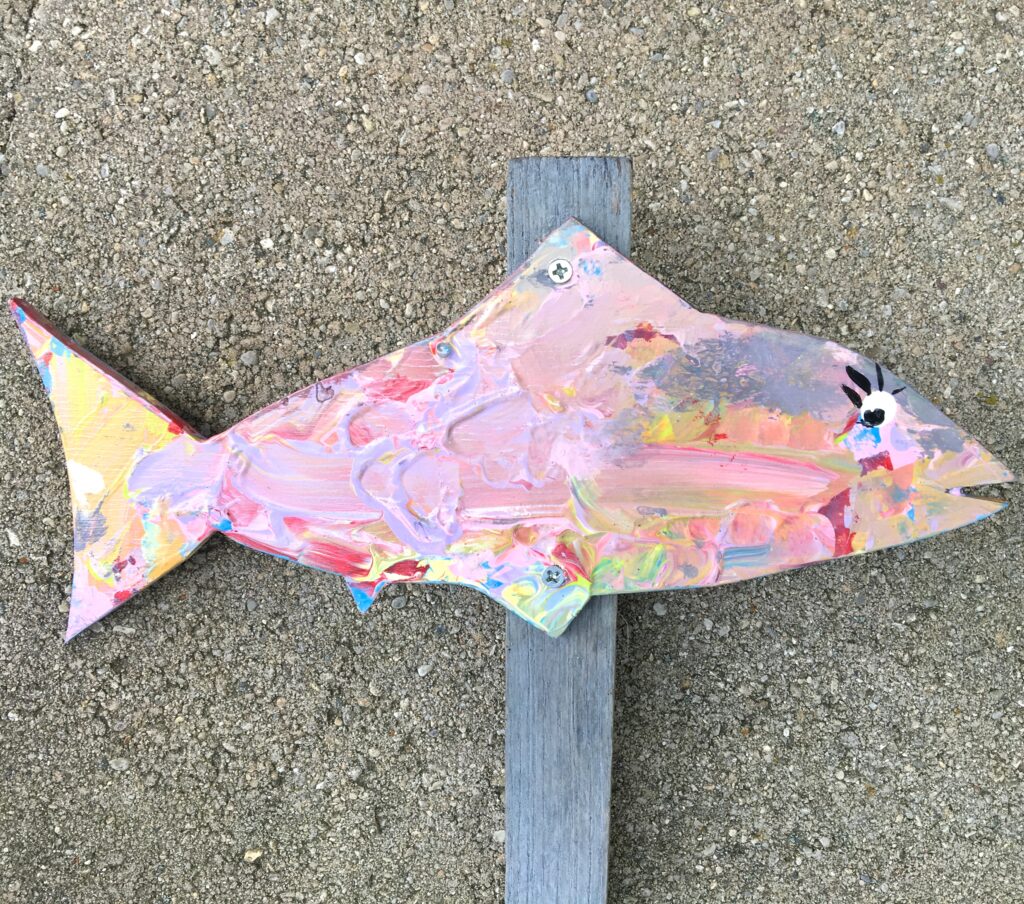 With Kinley being so young and unable to hold the paintbrush by herself, her mom helped her paint her first fish.
This is Kinley's first fish.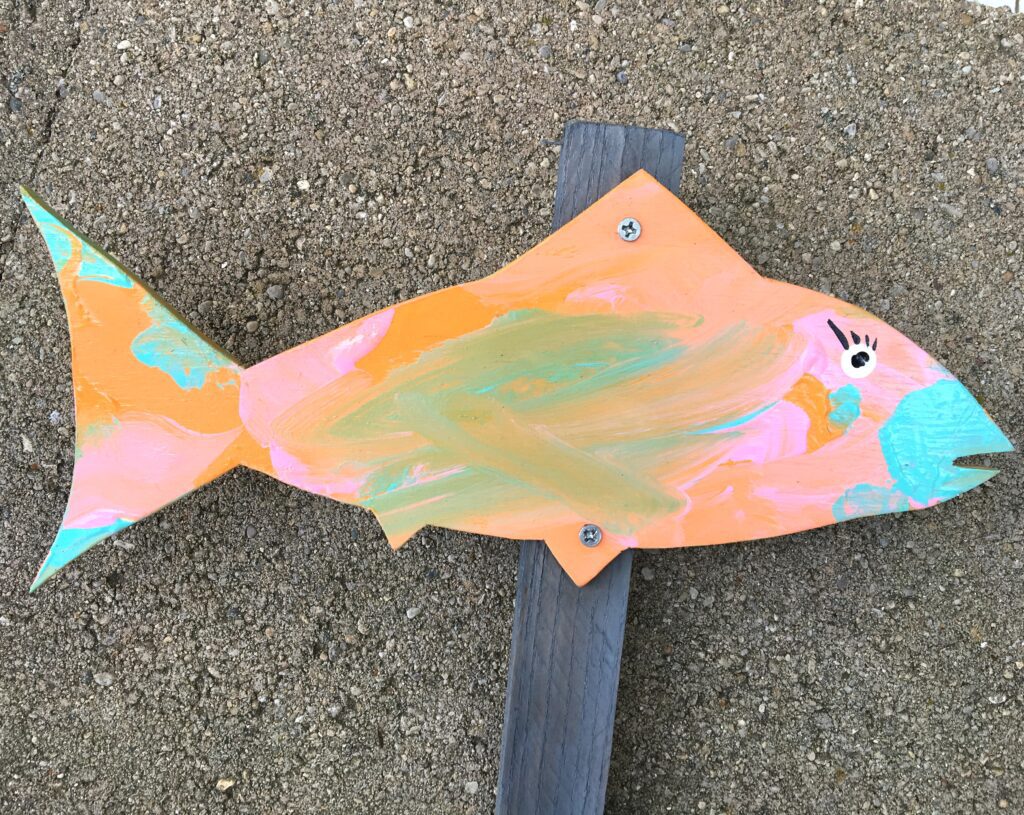 After seeing how much they enjoyed themselves, it was the official start of our Fish Stick Family Tradition!
The Family Tradition Continues…
For years, it has been our tradition to spend the Fourth of July at our lakehouse up north, with the family. It started with Greg and me and his two daughters and spouses.
Fast forward to the present day, the Fourth of July has the house full, with four grandkids, their parents, us, and our granddog.
One of the highlights for the kids is to paint their fish for the fish sticks.
Happily, all of the kids are creative and have the crafting bug!
It gives me great joy when they get excited about it!
Originally, we were going to have one stick, for all the kids to share.
We quickly realized that was not going to work.
Knowing how much the kids loved this family tradition, it was decided each child needed to have their own fish stick.
How to Make the Fish Sticks
Years ago, I drew a simple fish template and that fish has remained the same all these years.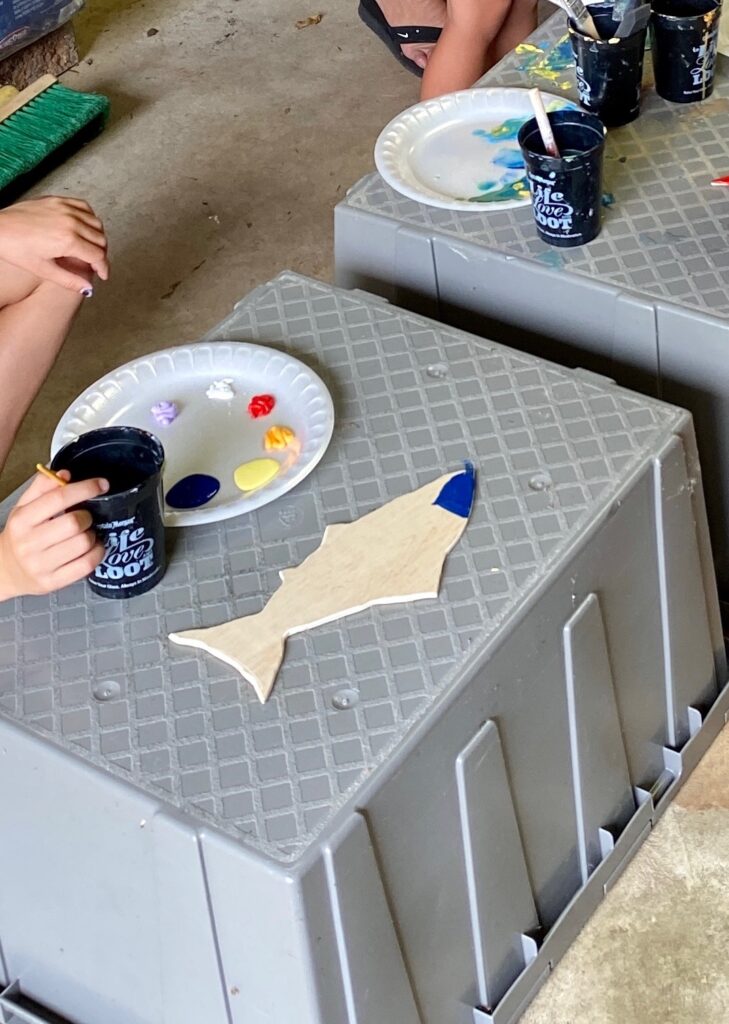 The uniqueness of the fish comes from the kids decorating the fish with their creativity and imagination.
I must say, these kids do not lack creativity or imagination! I do have to credit their moms for doing an amazing job encouraging them and working with them.
Fish Stick Material
*This blog uses affiliate links. As an Amazon Associate I earn from qualifying purchases.
I cut out the fish with this saw, which has withstood the test of time and many projects!
Our fish sticks live outside in the garden all summer. The kids come up and get excited to see them in our flowerbeds and they talk about the fish from the past years and which is their favorite.
I love that they are so kind about each other's fish.
For the fish material, I have always used thin plywood. I had scraps and sealed them really well, not really thinking about it. They would have worked out okay if they were going to be inside, but they weren't…
If I were to start all over again, I would have used cedar instead. Because of using the plywood and being exposed to the weather outside, some of the fish have split.
My answer to that was to remove the fish and coat them in resin before mounting them again.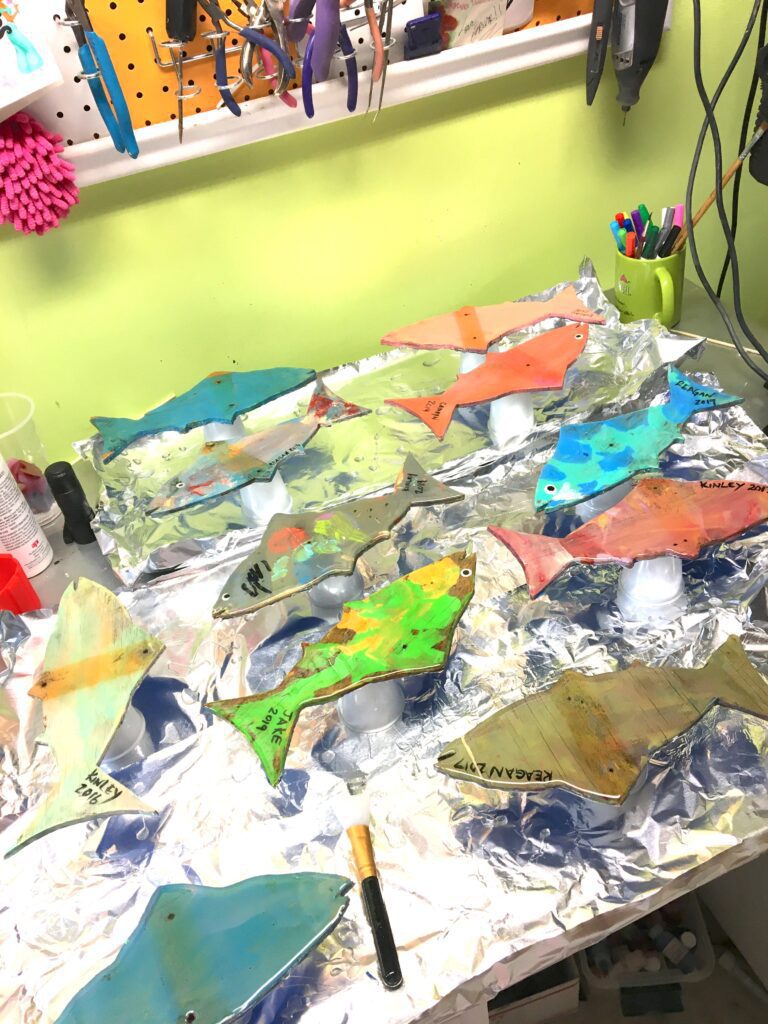 I had a whole school of fish to seal when they started coming apart.
So far, they seem to be holding up fine.
For the sticks, I used garden stakes. The garden stakes also began to rot, so I cleaned them up, painted them, and coated them with resin too.
Our Painting Set Up
They are young kids and they do get messy. I do not have a craft space up there. My craft supplies consist of two small boxes of paint, glitter, and paintbrushes.
So…when it comes time to craft, we take over Greg's garage.
For half a day, it becomes Fish Stick Central.
I set up makeshift painting tables out of crates and plastic bins or whatever happens to be lying around. The kids sit on buckets or anything that seems to be about the right height.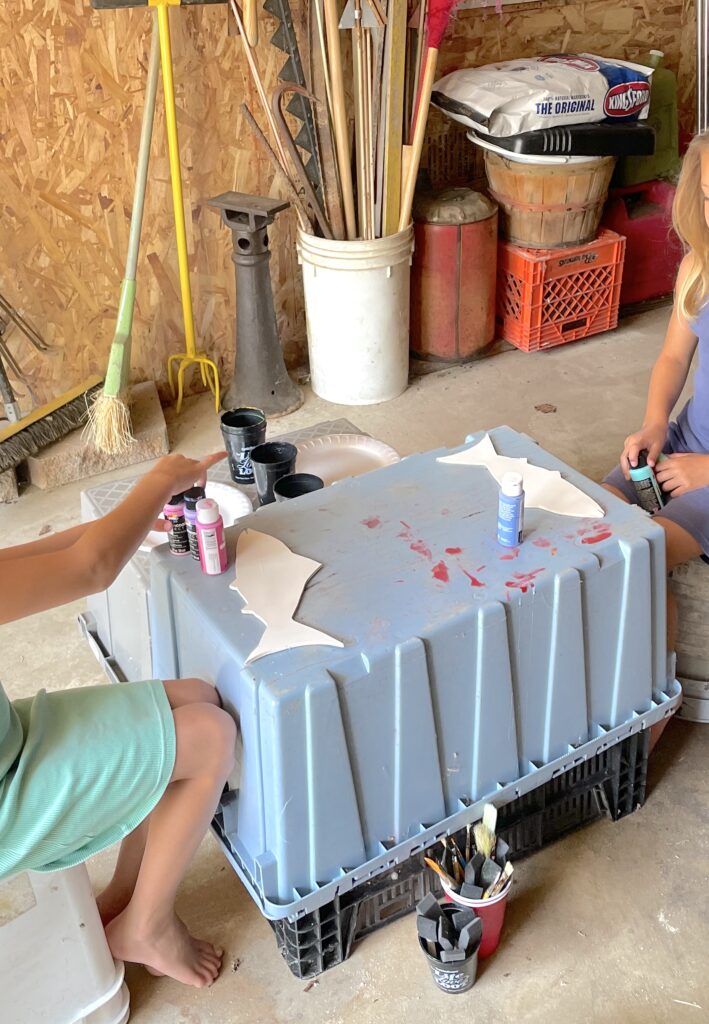 Greg whines about the garage takeover, but he loves it as much as I do.
The Painting and Sealing
The kids have no restrictions on how they can paint the fish. I have a variety of acrylic paints and glitter available for them to choose from.
They love glitter as much as I do! Even Jake is a fan!
I thought it was important to keep track of when each fish was painted. I make sure they are mounted in order, by year. Also, on the back, the kids write their names (if they can – or I do it) and the year.
Once everyone has gone home and the fish have all dried, I use resin to seal them so there is no loose glitter floating around and the fish don't separate into twenty layers.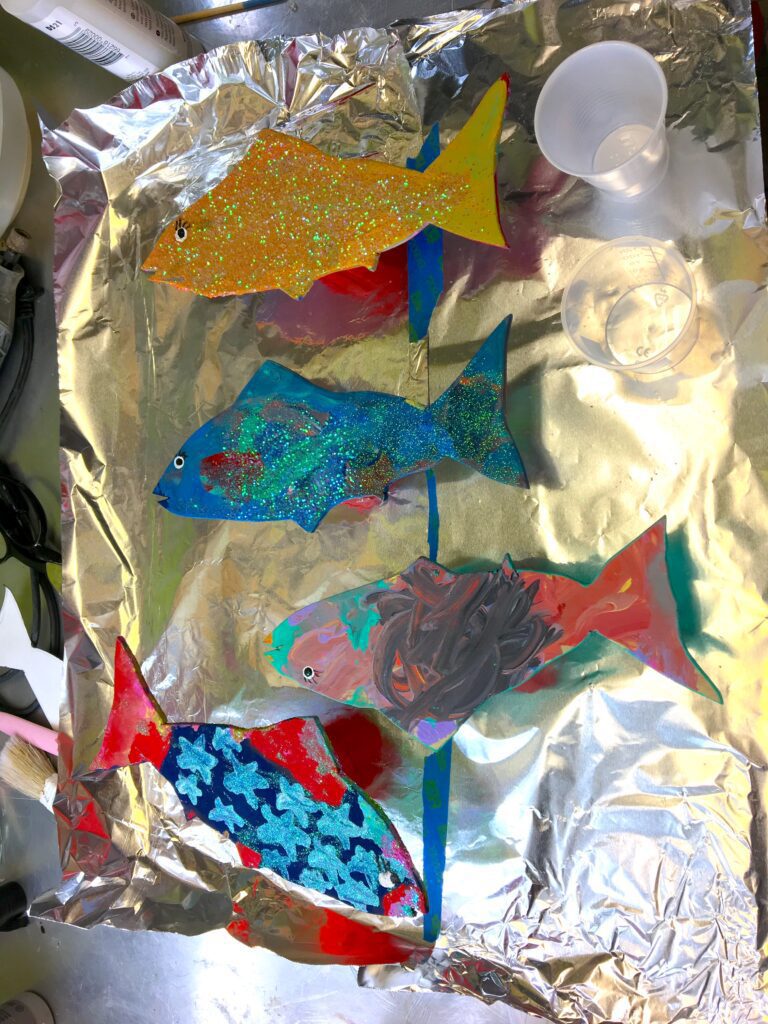 Mounting the Fish
Greg gets the honor of mounting the fish. That is his contribution to the family tradition.
He uses a small screw that is long enough to get through the fish and well into the garden stake, without poking through the other side.
Let me just say, I think the kids outdid themselves this year!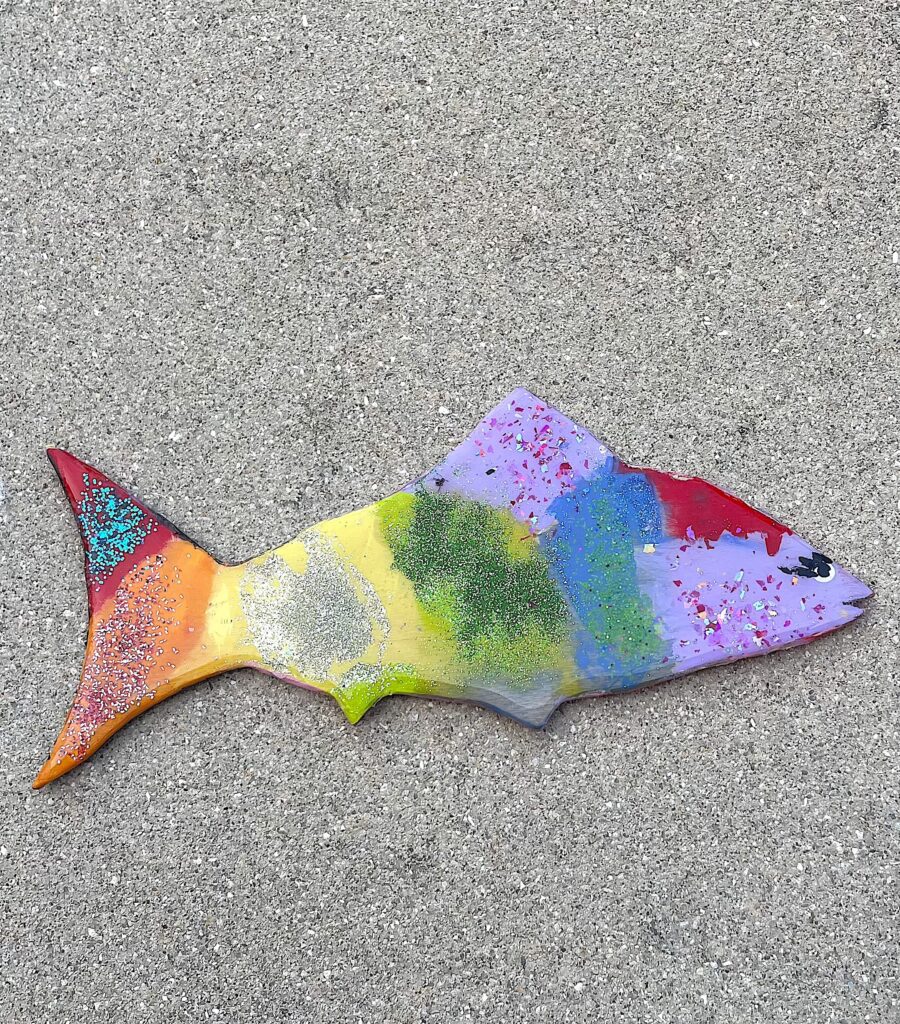 And into the garden, they go!
Remember to share your family traditions in the comments below!
This project is fun to duplicate! It doesn't have to be fish. It can be flowers, stars, hearts, birds, or anything!
You can do a holiday version, and every year a new Christmas tree gets mounted.
Here are some other fun projects that might just turn into a cherished family tradition:
Remember: Life's too short not to shimmer, so grab your glue gun and your glitter!™ Stay safe!
Mona
Be sure to PIN IT for later!