With Fall comes chillier temperatures, snuggling with blankets, and the need for the perfect comfort food. I'm talking grilled cheese sandwiches!
Nothing tastes better than biting into a crisp on the outside and gooey on the inside perfectly cooked grilled cheese sandwich.
I make them and I enjoy them but I have never perfected them.
They are either a little too crisp or the cheese is half melted.
I recently learned that my sister, Tina, makes PERFECT GRILLED CHEESE SANDWICHES!
How did I not know this?
So, I made her make them!
I'm sharing her secrets and tips, so you too can make perfect grilled cheese sandwiches!
*This blog uses affiliate links. As an Amazon Associate I earn from qualifying purchases.
Grilled Cheese Sandwiches Ingredients
When embarking on the task to make grilled cheese sandwiches, it starts with the right ingredients.
We grew up with Wonderbread serving as the bookends to our American cheese but there are so many more options today!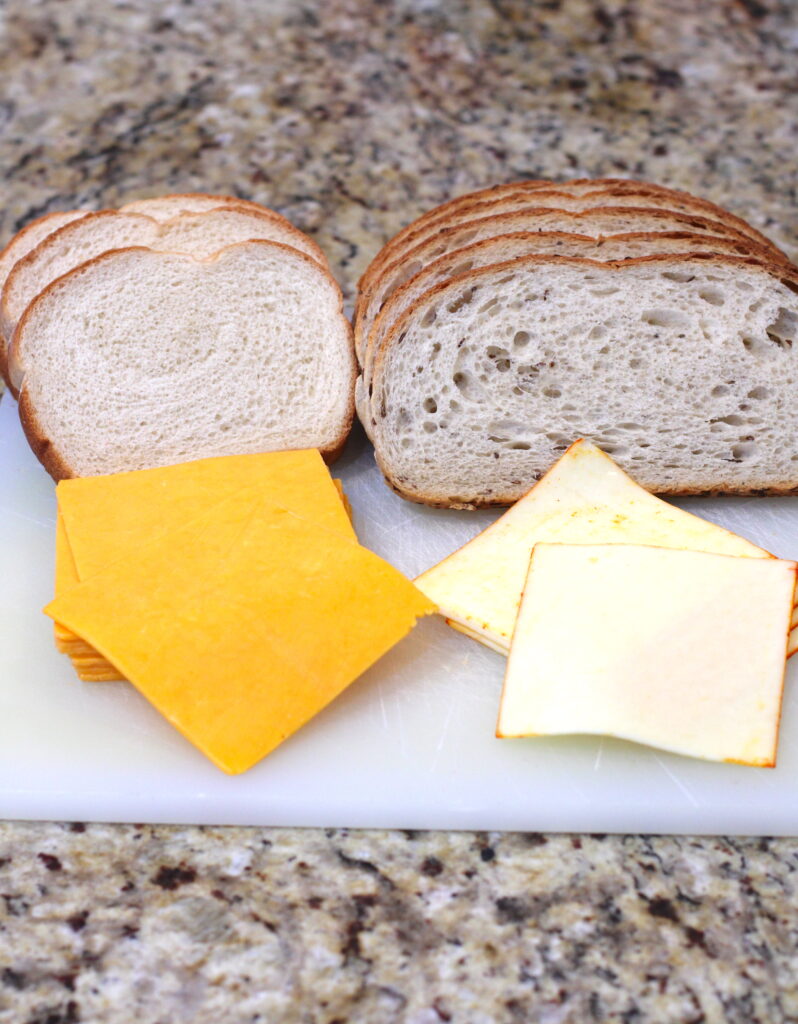 A basic cheese sandwich recipe includes three basic ingredients:
Bread
Bread is the foundation of the cheese sandwich. You need to choose which bread works best for you. I like white bread or rye bread. Just make sure you use bread that you already like.
It could be wheat, sourdough, or the cranberry walnut bread they sell at Publix that is to die for!
But if you don't like sourdough or 7-grain bread to start with, making a cheese sandwich grilled on it isn't going to make it better.
Cheese
Most of us probably grew up with American cheese or Velveeta grilled cheese sandwiches but now that we are all grown up, we can step it up!
Think cheddar, muenster, Havarti, swiss, and the list goes on and on and on! Or you can get fancy with brie or gruyere!
Butter
All I'm going to say about butter is: USE THE REAL STUFF!
It stops the sandwich from sticking to the pan.
It helps the bread brown.
And it's delicious!
The Pan
Before we jump into how to make grilled cheese sandwiches, let's talk for a minute about what you can grill it on.
I'm going to tell you how to fry it up in a pan but there are alternatives.
All great options, but we'll stick to the classic way…a frying pan.
Grilled Cheese Sandwiches Directions
What are the steps for making a grilled cheese sandwich?
Step 1
Add butter to the pan.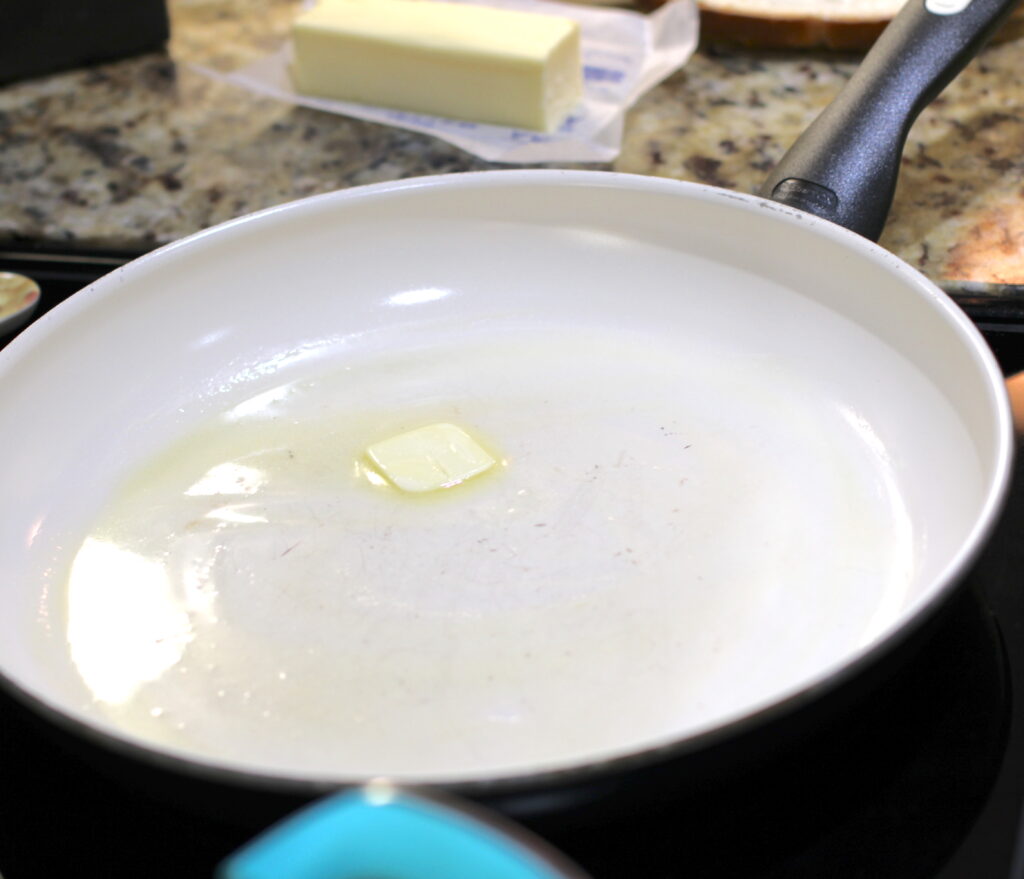 Step 2
Butter the outside of the bread.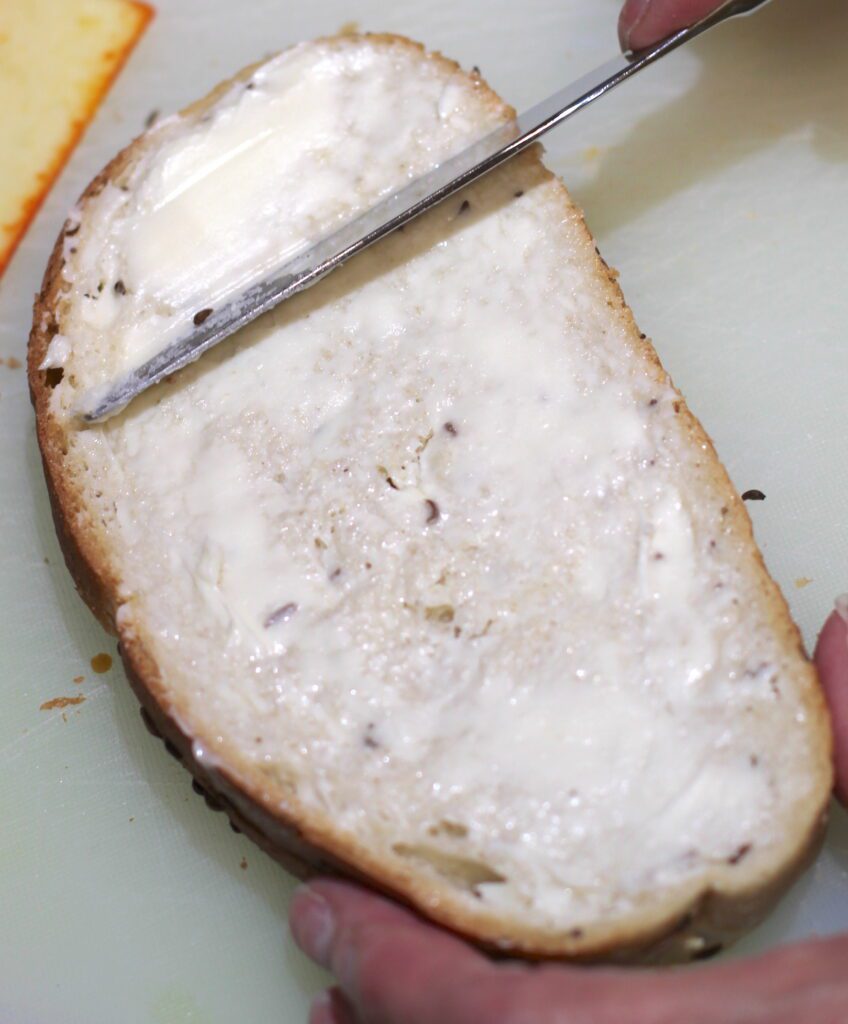 Step 3
Place the bread into the pan, butter side down.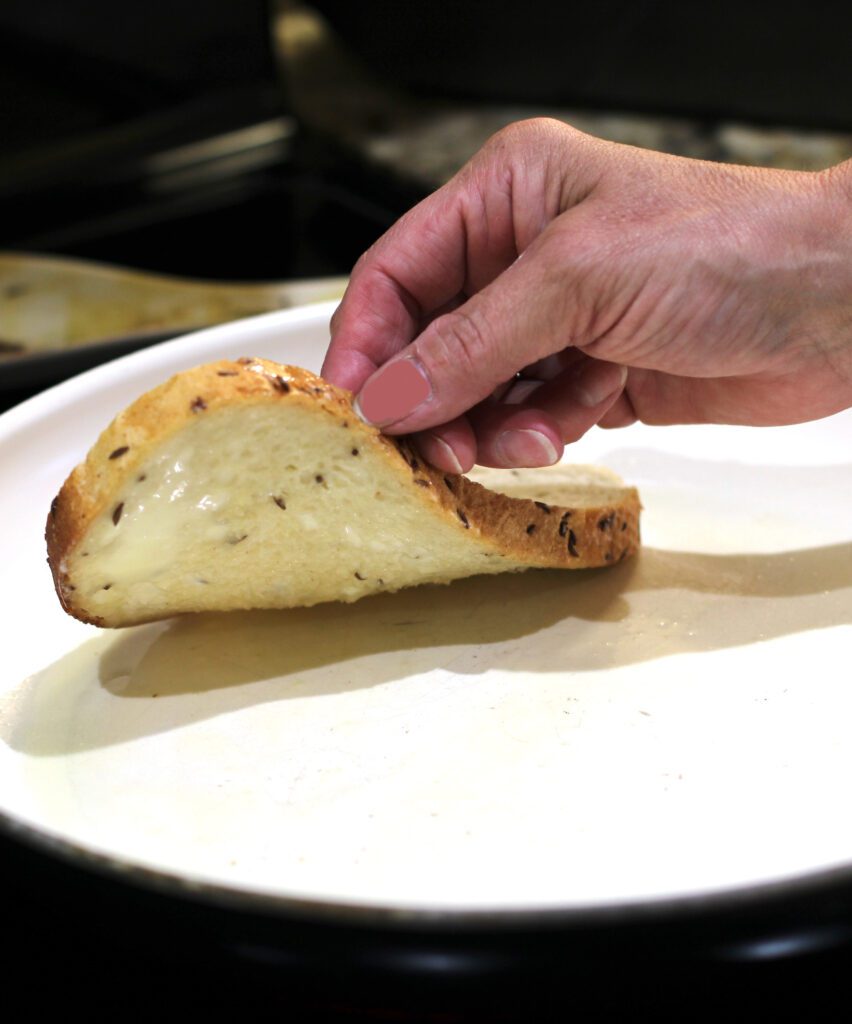 If you haven't yet, be sure to follow me on INSTAGRAM HERE!
Step 4
While in the pan, add cheese to the bread.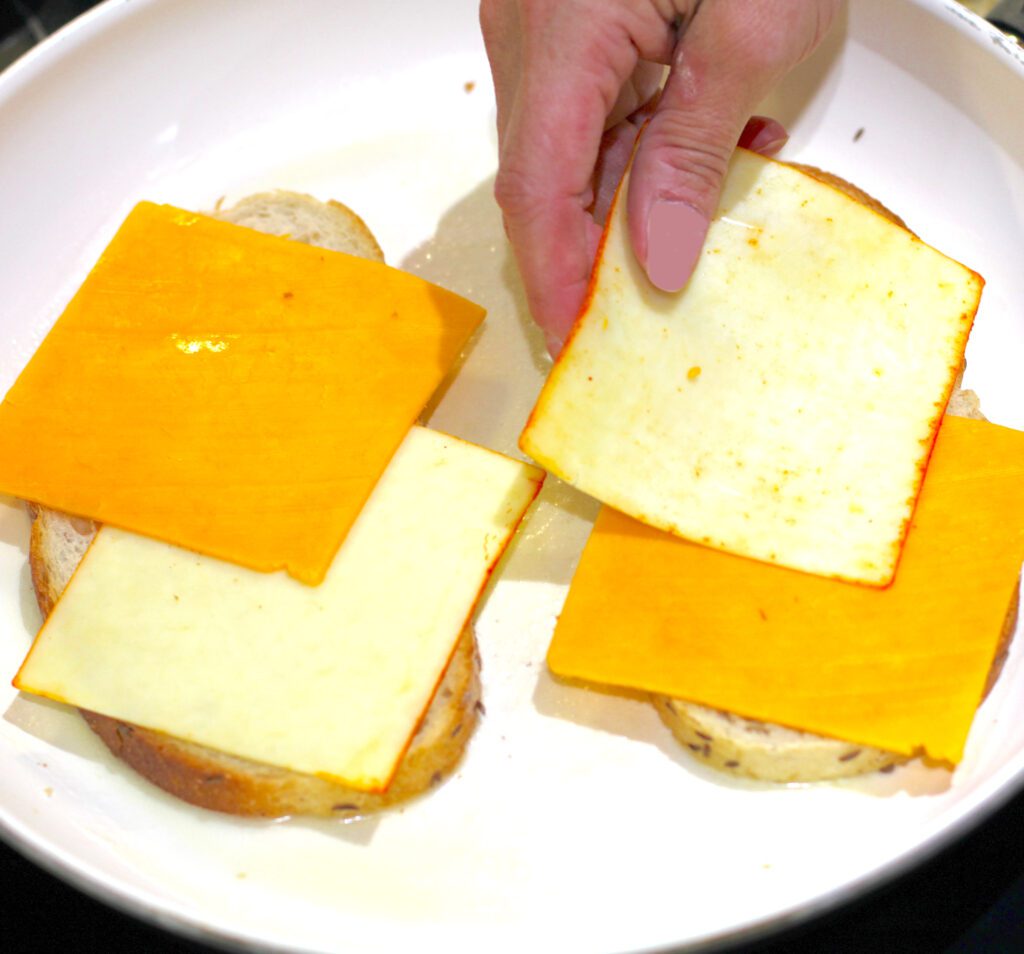 Step 5
This is where Tina's cheese sandwich grilling brilliance shines.
Put a lid over the frying pan. This will allow the cheese on the sandwiches to melt more evenly.
Step 6
When the cheese has melted, add the second piece of bread.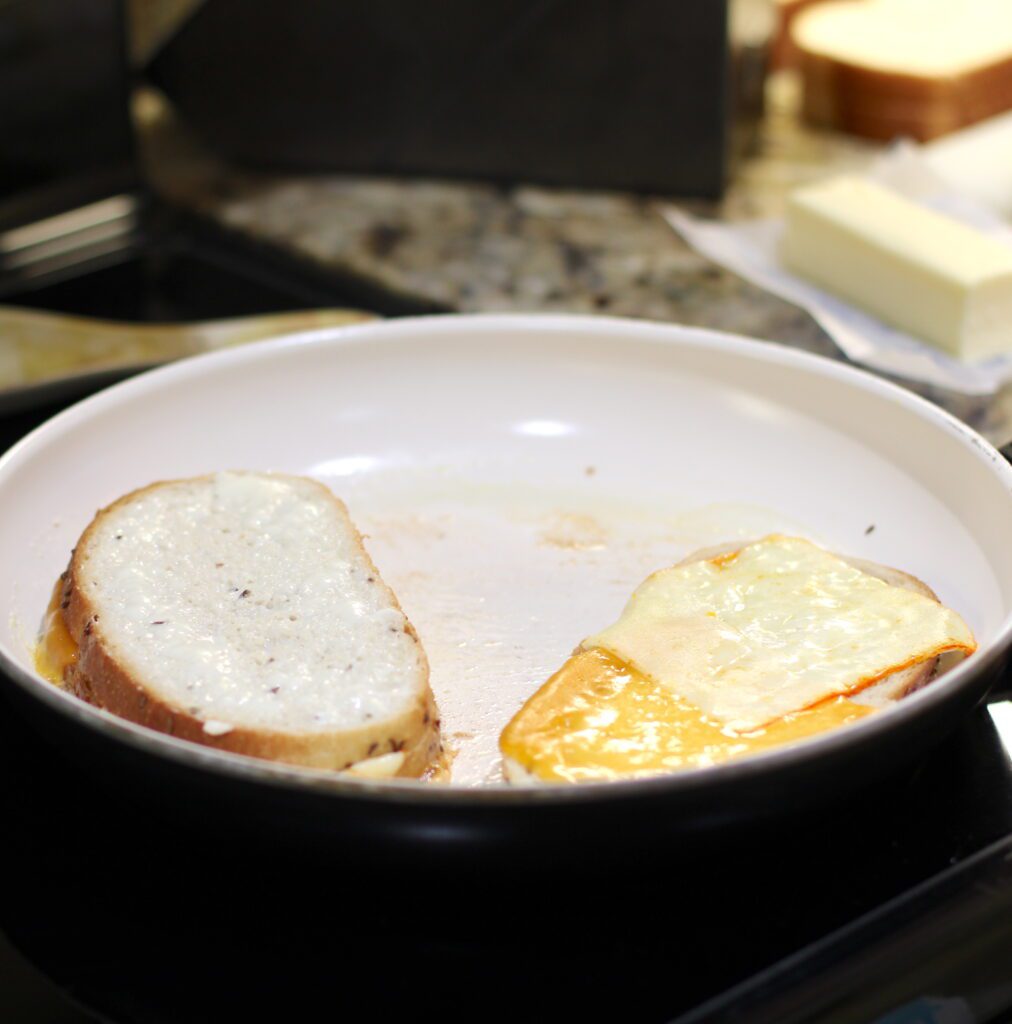 Step 7
Then, flip the grilled cheese sandwiches and put the lid back on.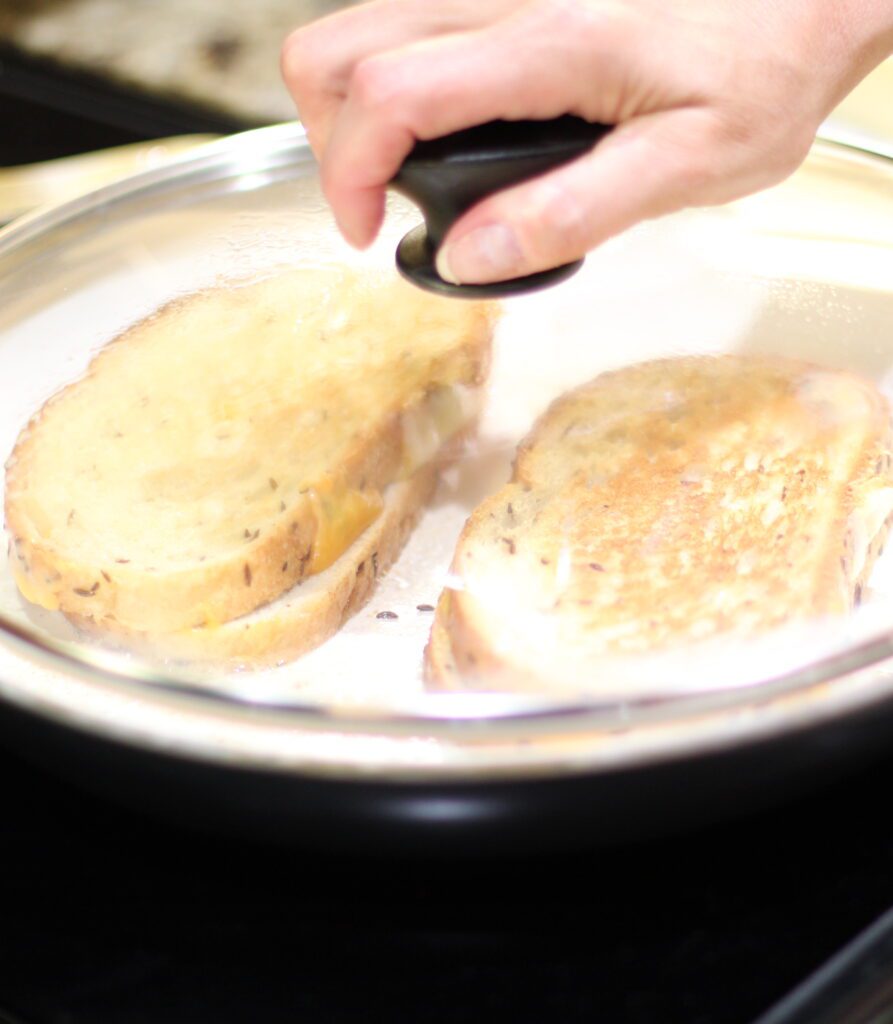 Step 8
When the grilled cheese sandwich has browned, remove it from the pan.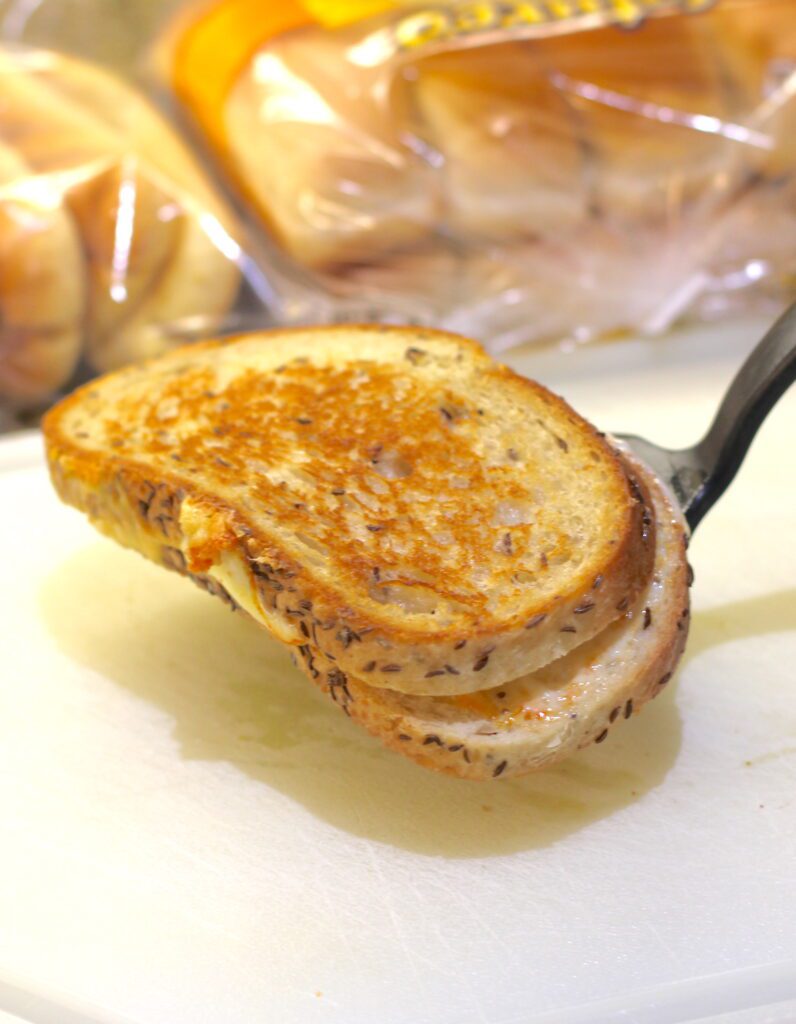 If you are cooking for a crowd, arrange them on an oven-proof platter and you can keep them warm in the oven, while you finish and/or until you are ready to serve.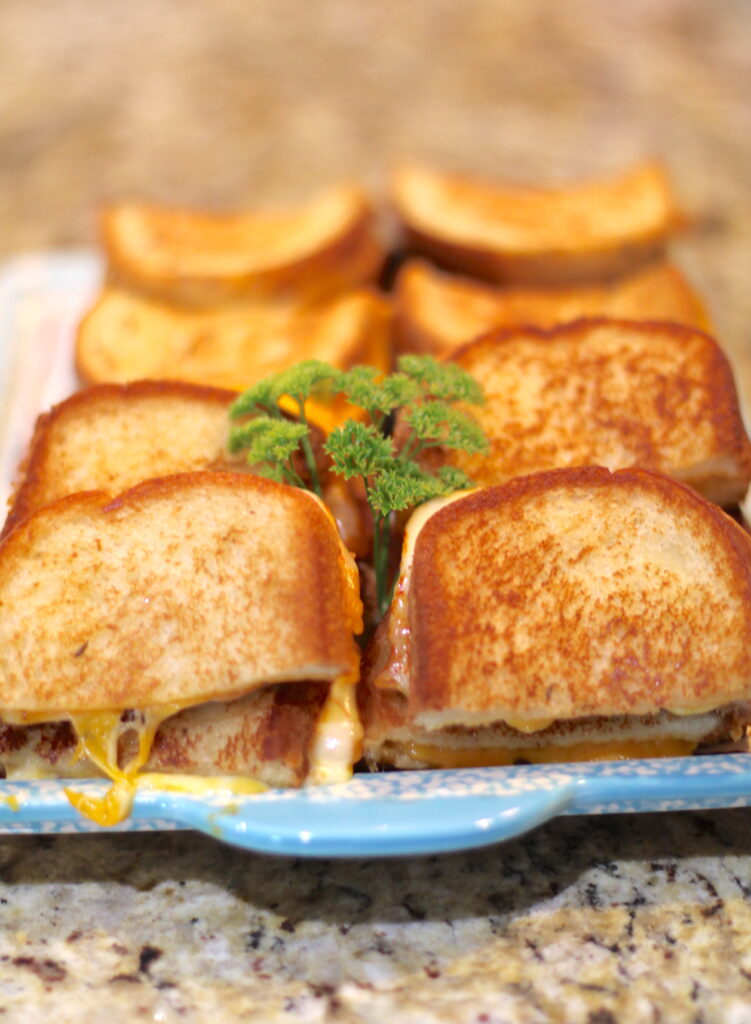 Spice Up Your Cheese Sandwich Recipe
Have you ever wondered What goes well in a grilled cheese sandwich? or How do I make grilled cheese more interesting?
Though heavenly, a plain cheese sandwich grilled may not be your thing. You might want to add a little interest.
Aside from playing with different cheeses, consider adding these fun ingredients:
Bacon
Sliced apples
Sliced pears
Basil
Apricot preserves
Spinach
Tomatoes
Avocado
Pepperoni
Currants
Mushrooms
Peppers
Ham
What do you like to put on your grilled cheese sandwiches?
What Goes Well With Grilled Cheese Sandwiches?
Why tomato soup, of course! Add a little basil and add a little cream.
YUM!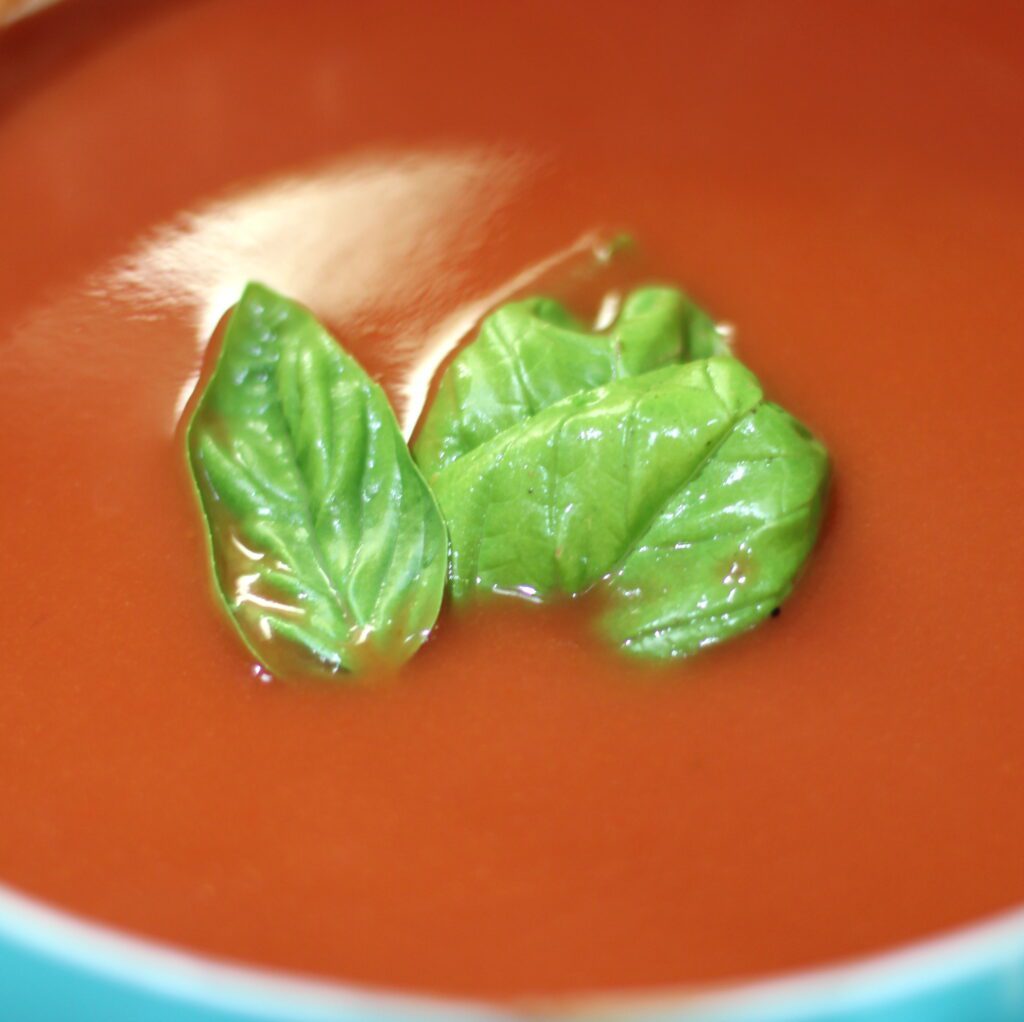 Really any soup goes well, from chicken soup to a squash soup but a fresh salad pairs well too!
I have an Orzo Salad you might enjoy and a Pesto Pasta that can be served hot or cold!
If you are looking for more comfort food, be sure to check out my Beer Brats and Sauerkraut and you'll find a little sweet comfort with my Apple Bars!
My Pots and Pans
If you are in the market for new pots and pans, these are the ones I use and I LOVE them!

GOT…TO…TRY!
I love a good breakfast sandwich! This bad boy is going on my wish list and it has great ratings too!!!

Thanks for stopping by! Remember: Life's too short not to shimmer, so grab your glue gun and your glitter!™
Actually, this time grab your spatula and your frying pan!
Mona
Be sure to PIN IT for later!