Kitchen design can be a daunting task. There are so many ideas and details to take into consideration. Do you do an open kitchen and add a kitchen island?
Do you leave the plan "as is" and work around the footprint?
Those are the questions we are facing!
As you probably know by now, we went through Hurricane Ian and our house survived with livable damage.
Mom and Dad's house did not.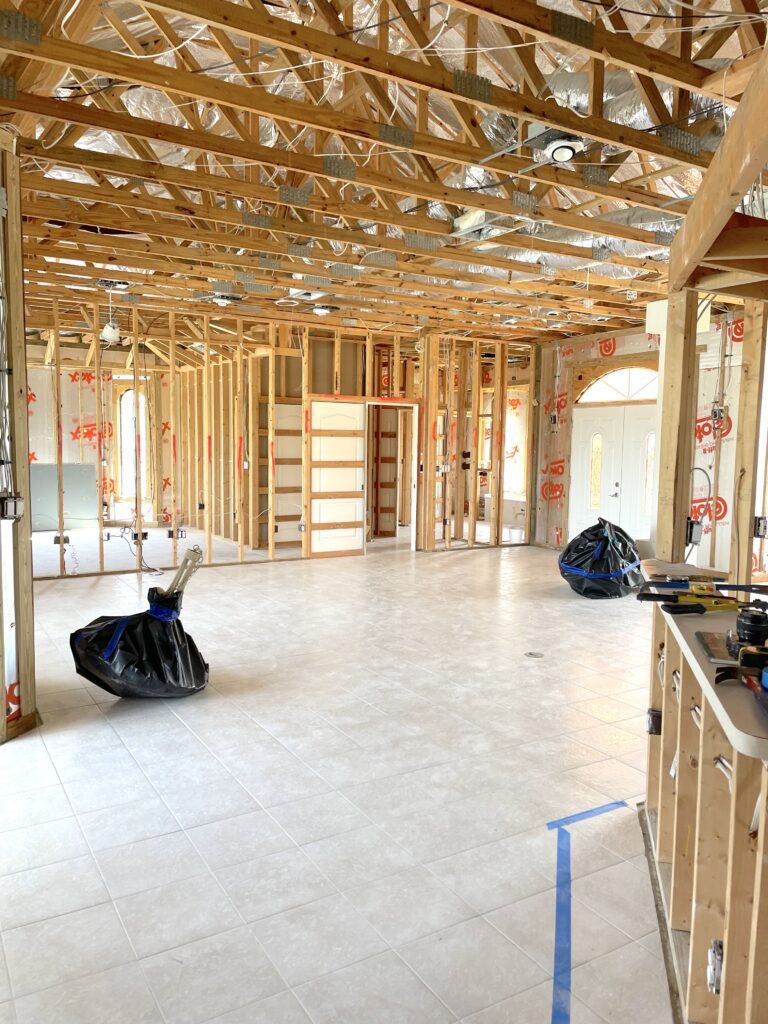 The entire interior of their home has been gutted.
When I say gutted…
I mean to the studs.
Nothing left!
(Okay, except the floors and the toilets)
How did we even get here?
Life has been a little overwhelming and emotional. Though still fighting with the insurance, it's time to start planning for the rebuild.
Where to Start?
Where to start is kind of the most important question. Once you figure that out, you put one foot in front of the other and the planning and design fall into place.
Well…that's my theory anyway.
Ask me in a few months if my theory worked!
My sister once accused me of having a PollyAnna attitude.
Better for a glass to be half full than half empty.
And ANYTHING IS POSSIBLE!
I feel like interjecting a Pollyanna quote is in order here:
"And most generally there is something about everything that you can be glad about if you keep hunting long enough to find it."
― Eleanor H. Porter, Pollyanna
The Heart of the Home
The kitchen is the heart of the home. It's the room where everyone gathers on holidays and you have to keep shooing them out of the way because you are trying to get the food ready!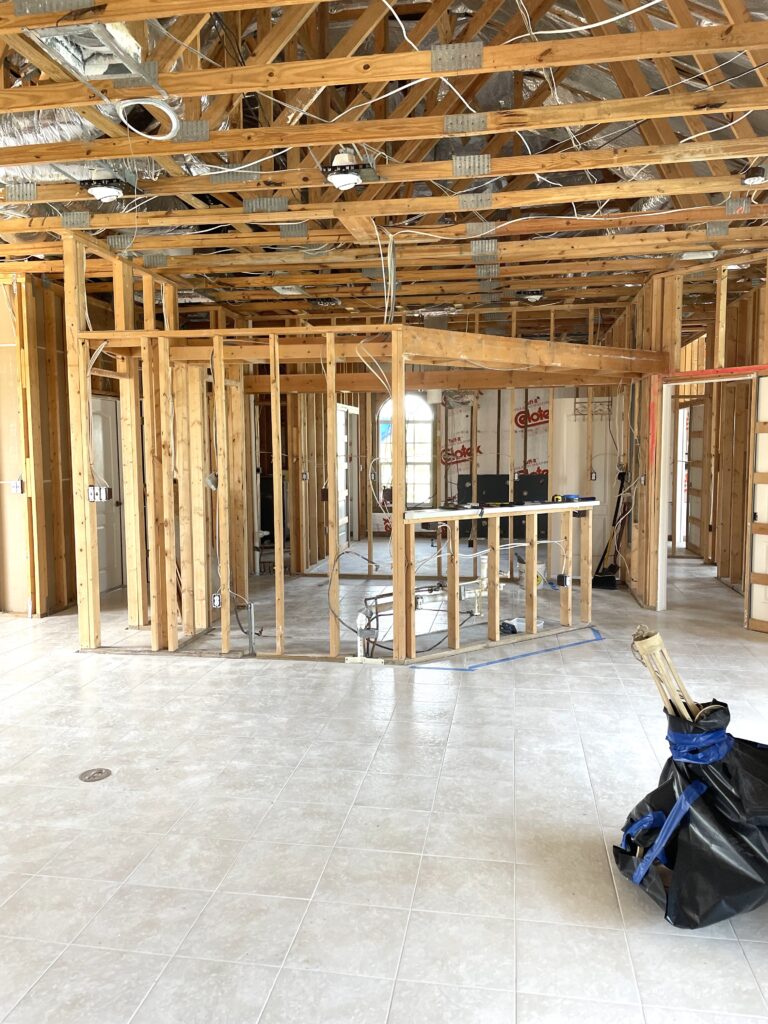 And maybe it can be annoying but it's a great feeling too! It's where you make your meals, feed your family and gather to make memories!
So the kitchen design has to take all of that into consideration!
Which brings us to the next big question:
To Go With an Open Kitchen Design or Not?
For me, it's a no-brainer! Open the room up and make it a gathering place.
Tear down those walls that close us off!
Have stools for a breakfast bar!
Create a perfect area for a buffet!
Not to mention, an open kitchen design lets more light into the room.
But not everyone feels that way and Mom is struggling with the decision.
Yes, prior to the hurricane, she complained about the kitchen being dated, dark and tight.
All of those were true! All valid complaints.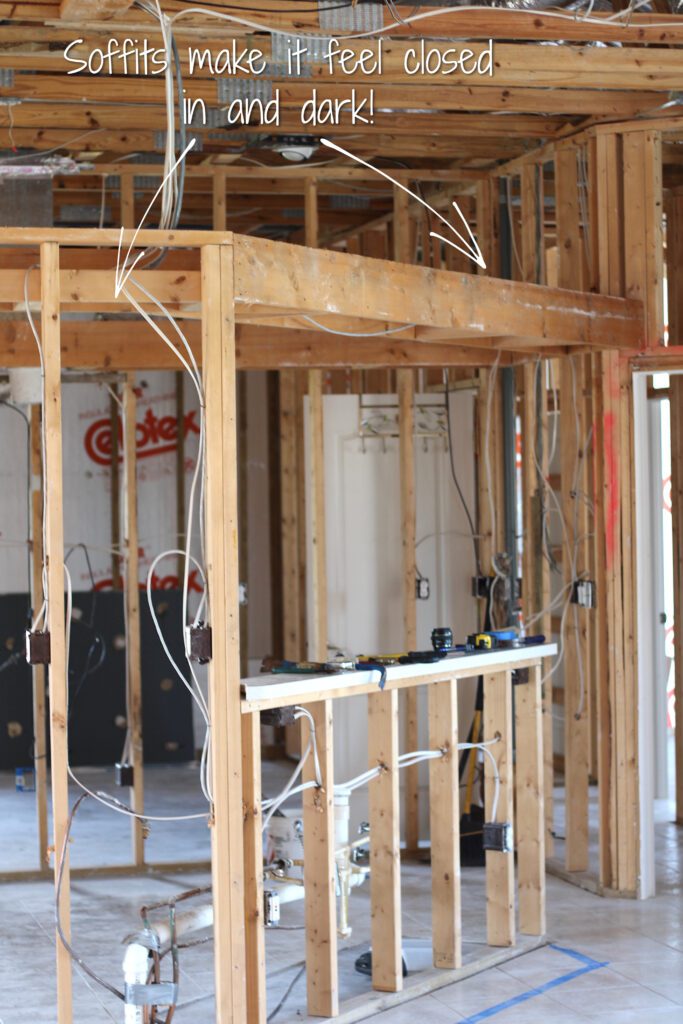 But removing soffits, lowering a countertop, and making some other minor adjustments would solve a lot of those problems.
So, it's not that cut and dry.
And now, with all of the drywall removed, it feels completely overwhelming and like a Herculean task.
I think it's hard for her to visualize what it would look like with an open kitchen.
Really hard
This is understandable and let's be honest, not everyone likes an open kitchen…
…so I try to keep my opinions to myself...
…mostly.
Does the Open Kitchen Design Also Include a Kitchen Island?
My answer: YES!
Big surprise, I know.
A nice size island with the sink and room to host that buffet I was talking about.
One a complete side note. Totally off-topic.
At Haven this summer, I learned a bit of etiquette from Leslie Watkins, from Feet Under My Table. She said that when you put utensils out for a buffet (like in a jar or a glass), you should have the stems sticking up, not the prongs of the forks or the blades of the knives.
By having the stems sticking up, other people aren't touching the parts of the utensils that will be touching your food or your mouth.
Makes total sense!
So smart!
I have NEVER done it right!
Back to the kitchen island…
But again, the decision about the open kitchen design and the kitchen island is not about me, so I believe in showing options and ideas so Mom can come to her own conclusion.
So We Went On a Field Trip!
Last weekend, I loaded Mom, Dad, my sister, and my brother-in-law into the minivan and we went on a field trip. We set out to find as many kitchens in new construction as we could find.
There is a lot of building going on in Florida, so they were not hard to find.
It was a Sunday, so it was busy. I snapped pictures as best I could. There are usually people in the pictures.
They are usually my family…
I tried shooing them out of the kitchen, but it wasn't any more effective than when I do it at my house.
Kitchen Design and Kitchen Islands
One of the big takeaways for me is that when you concentrate solely on a kitchen, you realize that there are many versions of the open kitchen design.
Also, there is not one standard kitchen island. There are more options for a kitchen island than you might first imagine.
Kitchens We Found
Before I show you the pictures, I'd love for you to think about which one you like best and why.
Sorry, my pictures aren't the best! I didn't have time to stage, do lighting and I had to take them fast before others walked in!
The Partial Open Kitchen Angled Island: Kitchen #1
The first house we went to had a partially open kitchen. The whole house had a very functional floorplan and that ran into the kitchen as well. The kitchen had an angled island. Also, instead of the kitchen being fully open on one left side (as you might expect it to be), there was still a partial wall.
Perfect for a coffee bar.
It works!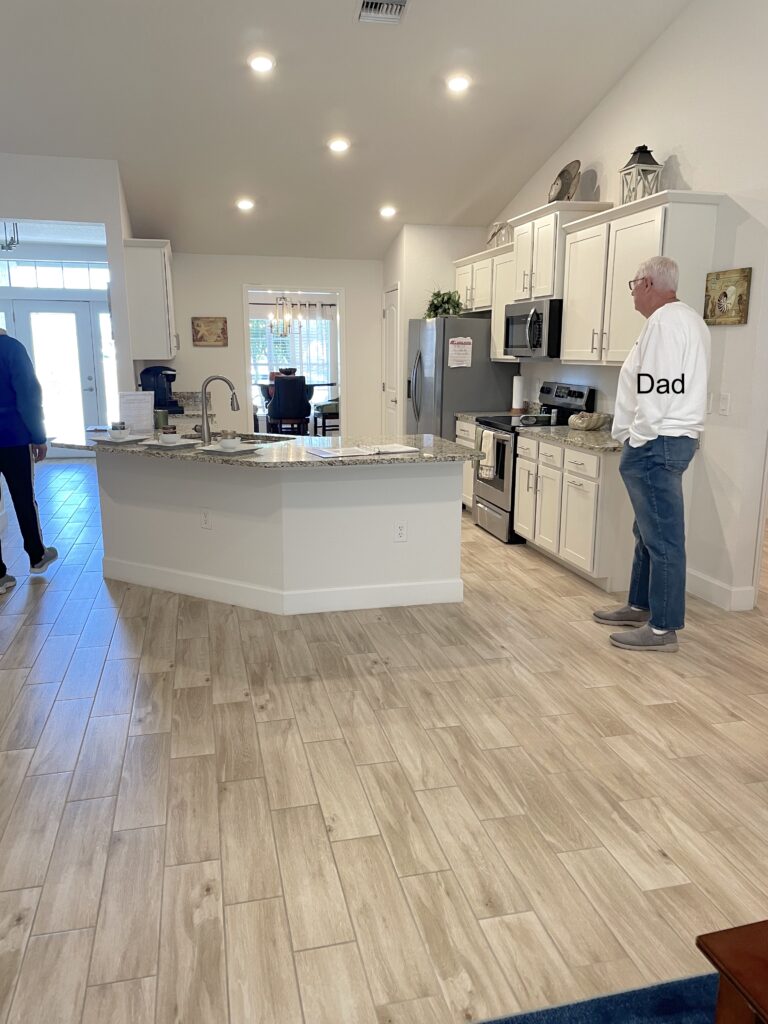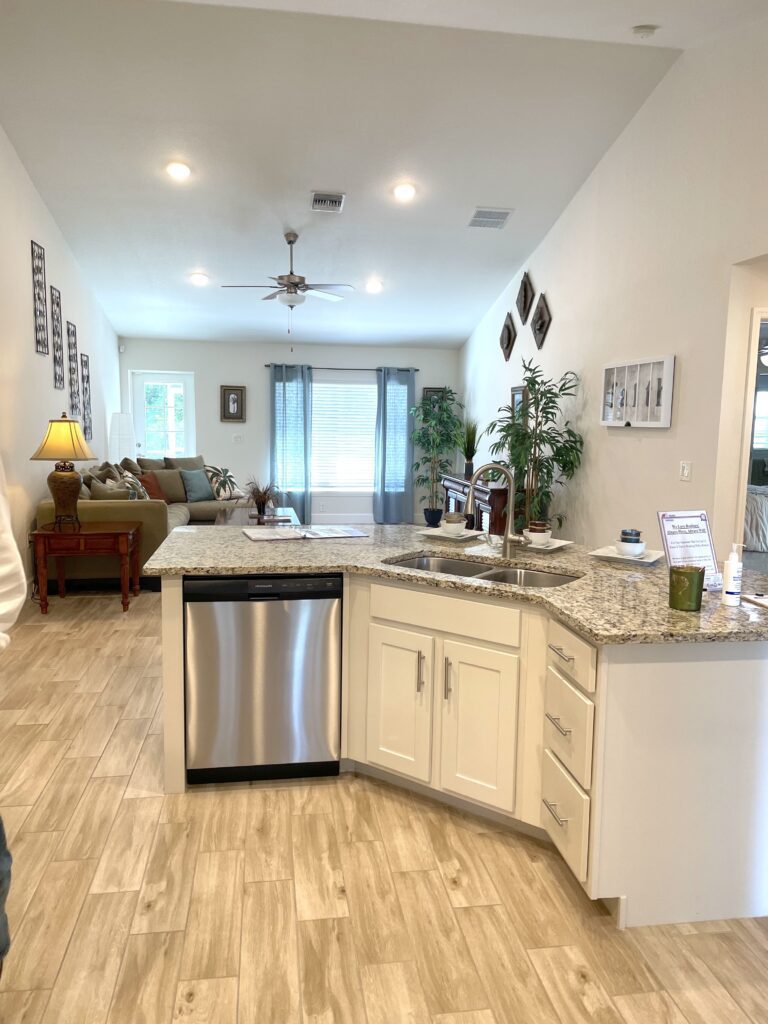 Line of Cabinets Behind: Kitchen #2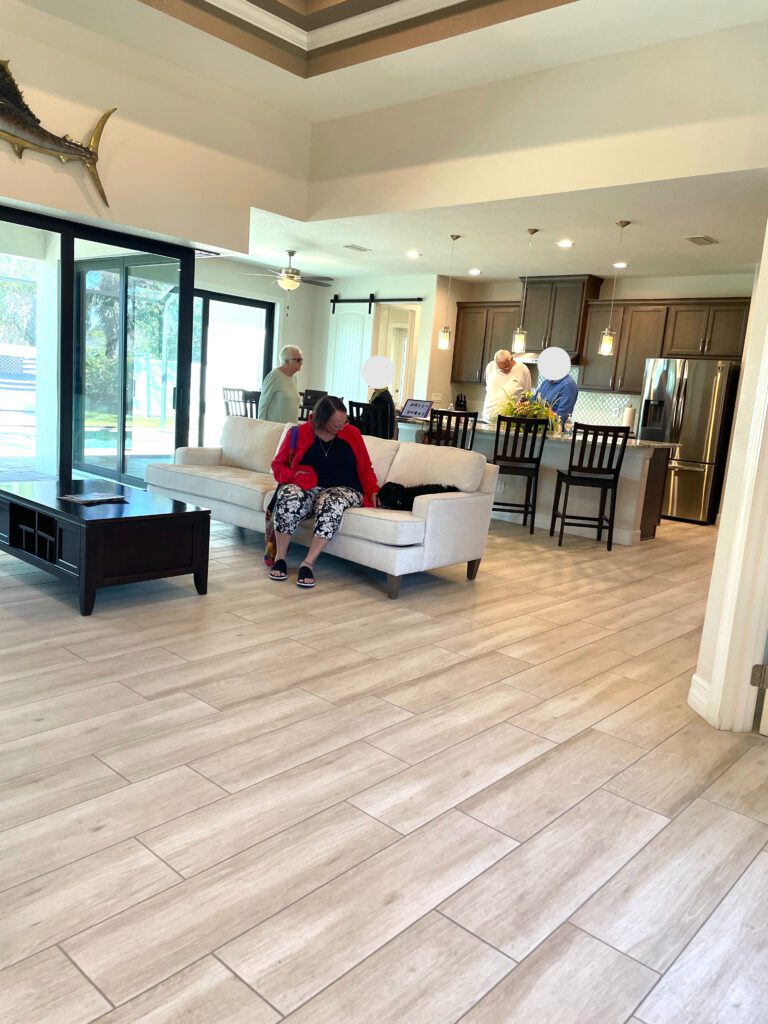 This kitchen is similar to what Mom and Dad's would open up with most of the cabinets behind. I know they are thinking white cabinets not dark.
The DOUBLE Island! Kitchen #3
This one is my favorite! The house had lots of cool features including a pantry to die for, but that is neither here nor there.
The island in this house is a double island. That's what I want but, sadly, I don't have room for.
When I say a double island, I mean there are full cabinets on the backside too. It's perfect for storing the turkey platter or other specialty items that just make it out once a year.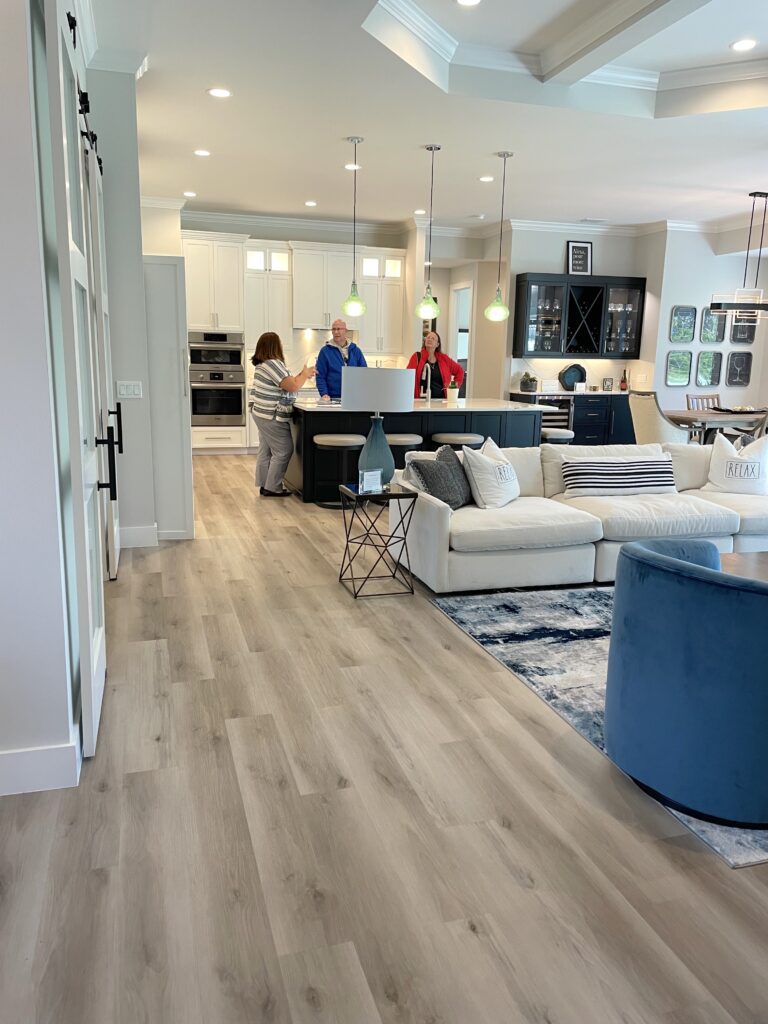 Open Kitchen with a Corner Panty: Kitchen #4
Pretty kitchen. It has a corner pantry and a nice fresh clean look.
Kitchen #5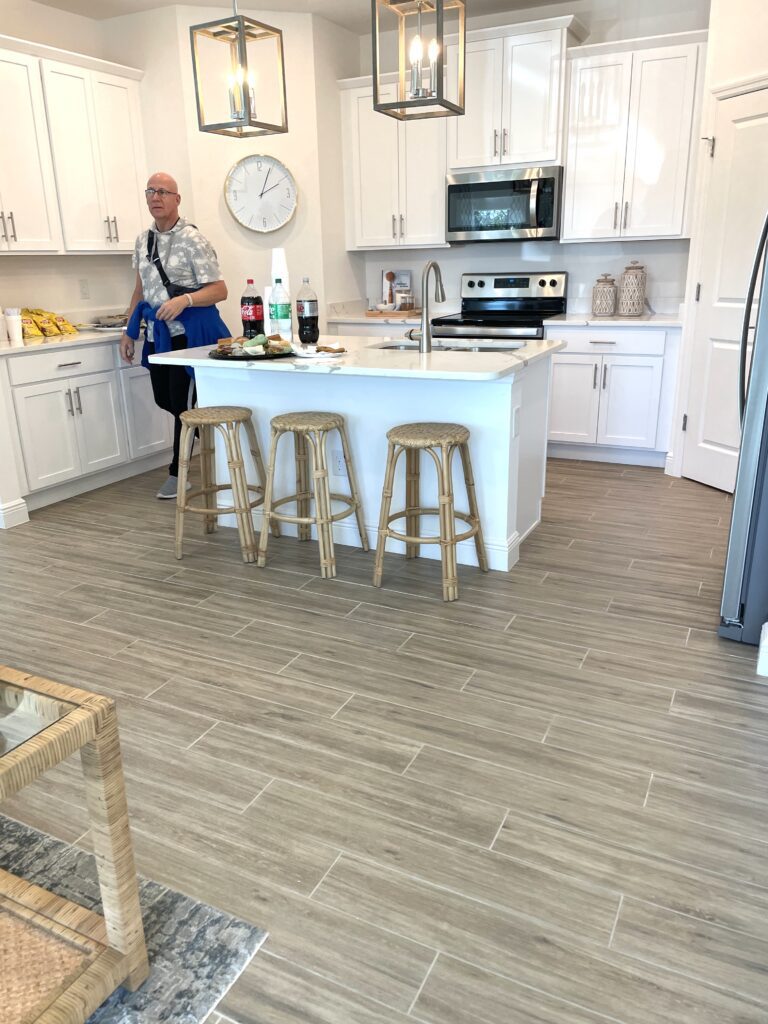 Kitchen #6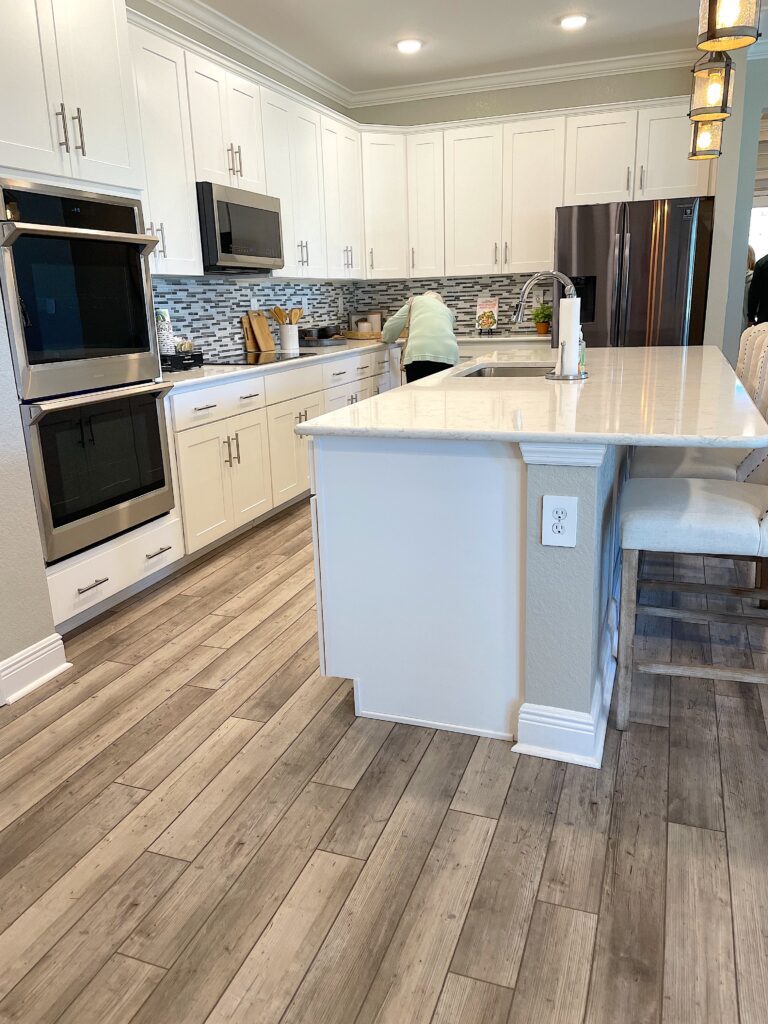 We saw about five more but they started to look alike after a while. Share your thoughts on the kitchens or any suggestions you would make!
The Result
The result of our expedition was nothing really. It didn't convince Mom one way or another on whether to do an open kitchen.
Shaker cabinets are not her thing. She thinks they are too plain.
She likes the one-level countertop for a breakfast bar rather than the bar height we have because it's hard for her to get up and down off the taller stools.
I like the countertop height better too!
I think she's onboard with no soffits and taller uppers.
Risking sounding a little Pollyanna-ish, I am a believer that life gives us what we need when we need it, but sometimes it's hard for us to see it.
It just so happens that I was on Instagram today and up popped the Sarasota Bradenton Spring Home Show!
Guess where we are going!
Here is a little Pollyanna for the road:
"When you look for the bad, expecting it, you will get it. When you know you will find the good—you will get that…."
― Eleanor H. Porter, Pollyanna
UPDATE: It usually takes a while for things to sink in. Mom usually is "No" at first and then thinks about it for a while. She's now thinking open kitchen.
At the suggestion of a neighbor, we did go see this one too. I loved EVERYTHING about the house!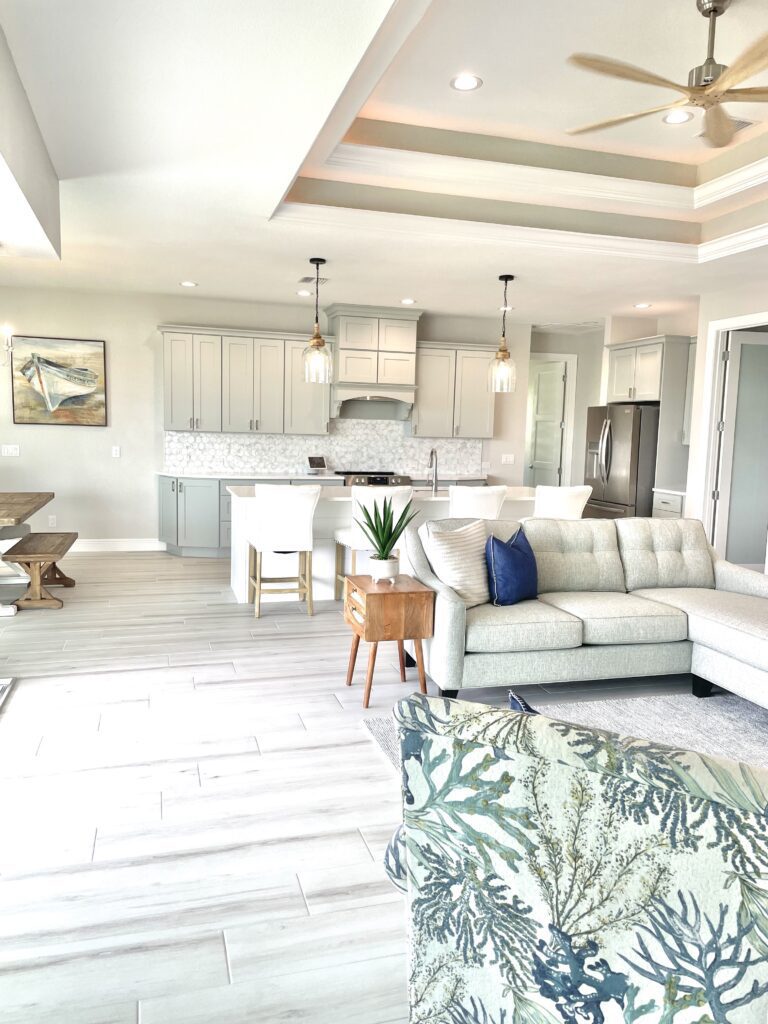 I'll be sure to update you on the show! For pics along the way, be sure to follow me on INSTAGRAM!
Remember: Life's too short not to shimmer, so grab your glue gun and your glitter!™ Stay safe!
Mona