My pantry is a disaster, so I've been looking for pantry organization ideas to inspire my looming pantry makeover.
While my parent's home is being rebuilt, after the hurricane, we are sharing our small pantry. I try to keep up with it all but if we are being honest, it needs an overhaul and major organizational help!
Truthfully, it needed it before they even came to stay with us.
I so badly want to label this as a before picture but nothing has been done, so sadly it's a current picture.
Things always get stacked and nobody knows what is where so we just end up buying more of the same thing.
Currently, we have five open ketchup bottles in the refrigerator right now…
So I went online to look for ideas to inspire my future pantry organization project.
There is a lot of great stuff out there!
*Disclosure: This blog uses affiliate links from Amazon and other retailers. I earn a small amount from qualifying purchases at no additional cost to you.
Here Are The Top 10 Ideas That Inspired Me!
Wood Shelving
I'm not sure I'll be able to convince Greg on swapping out the shelving…
…but you know I will try!
This a great example by Tag and Tibby as to how much better wood shelves make a pantry! The best part, nothing falls through the shelves or sits uneven.
If my powers of persuasion fail me, I'll get these shelfliners instead!
Like Containers to for Pantry Organization
Vanessa's pantry reminded me a lot of mine in her before picture. However, her after is barely recognizable! That is dreamworthy tidy!
She really put some great pantry organization ideas to work for her!
A Place for My Spices
Since we moved down, I have moved my spices from the pantry to a cabinet and I'm currently thinking about moving them back again!
Unfortunately, I have bifold doors on my pantry but if I didn't or if I work on my sales pitch, there could be one in my future!
If I had a single door on my pantry, I would most certainly buy this:
If I end up keeping them in my cabinet or get my wooden shelves, I'm thinking this is the winner: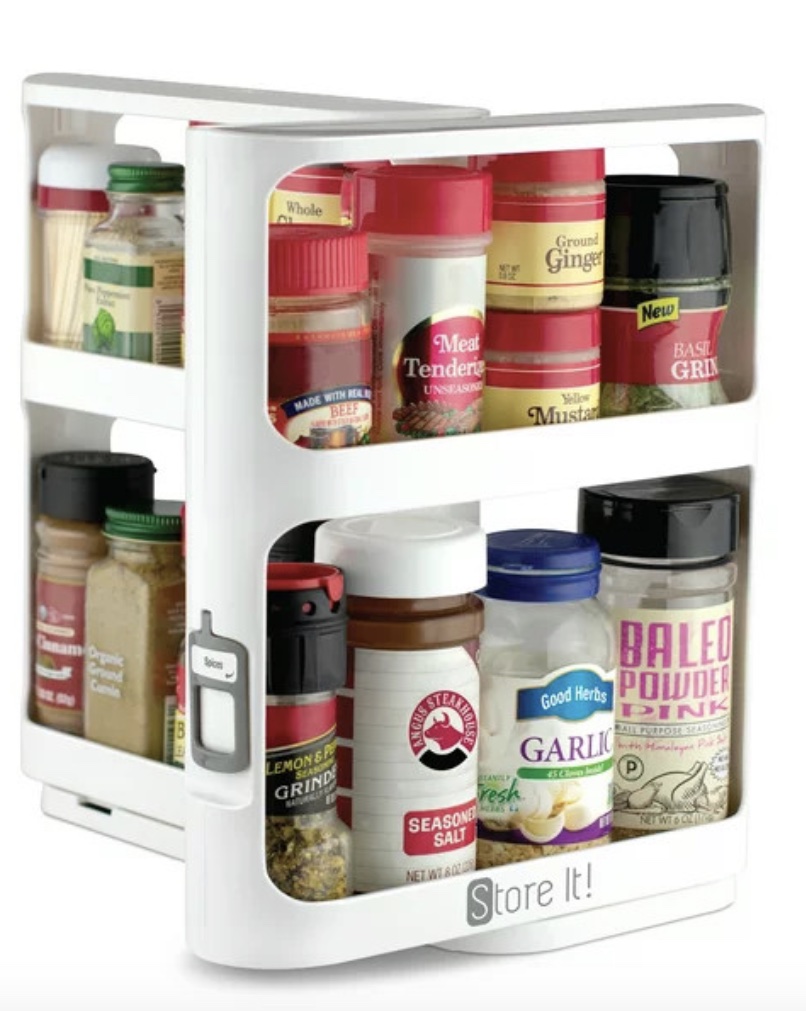 Organizing by Zones
This post does a great job explaining the concept of organizing by zones. It seems so obvious but sometimes the execution falls short.
Check out the whole article because there are a lot of great ideas.
Two things immediately jumped out at me:
The bread and bagels being on the under-shelf rack…so smart!
The pasta boxes are laid on their sides, with a shelf rack over them. Also so smart!
These are similar to the racks they used!
Lighting
Honestly, lighting never once crossed my mind when thinking about the pantry organization ideas, until I came across Liz's pantry at Naptime Decorator!
Not only is her pantry beautiful, but you can actually see what's in it with her lighting solution!
And it did not require any electrical work!
Brilliant!
You can find similar lights HERE!!
Racks for Snacks
I am loving these racks to contain all the snacks from @mdesign!
It helps keep it all tidy and contained.
Labels are Key for Pantry Organization
Containers are great, but you need labels so you know what is in them! These labels are so fun and these labels have a nice chalkboard look!
Stay tuned so you can see when I finally pull myself together and take all this great information and figure out my way to organize a pantry…
…and if I can convince Greg wood shelves are a MUST!
Other Home Decor Posts
In the meantime, you might enjoy some makeovers or more about my craft shed: