Have you ever wondered how to get rust off of metal furniture? Not only do I know how to remove rust but I'll also show you how to fix the metal too!
Greg and I went for a walk and saw two beautiful chairs in the trash.
Yes, they were rough.
Not just post-hurricane rough but a lot of years in the weather rough.
Upon closer inspection, the rust had eaten holes into the metal…like…bad.
Like…it compromised the structural integrity bad.
Greg shook his head with an emphatic, "No".
I said, "Let's keep walking and think about it".
By the time we circled back, he had succumbed to my persuasion.
We finished our walk, grabbed the minivan, and picked those babies up!
I mean, it's not much of a makeover if something is already in pristine condition…right?
So this is what the rusted furniture looked like.
Not bad, right?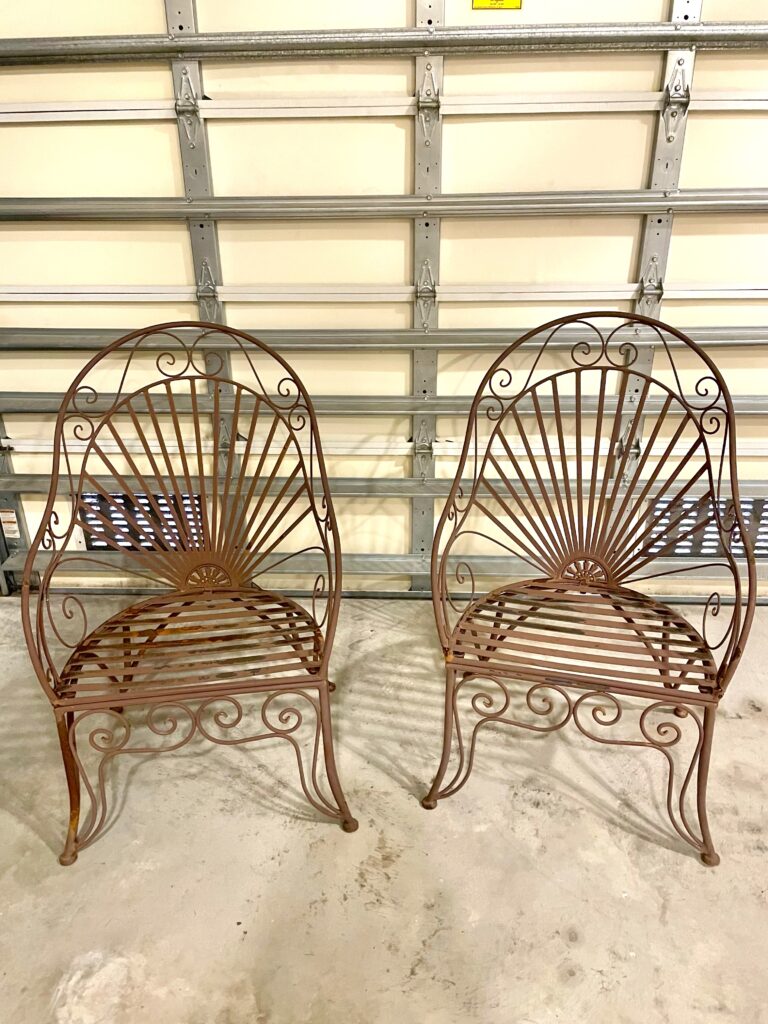 Maybe…?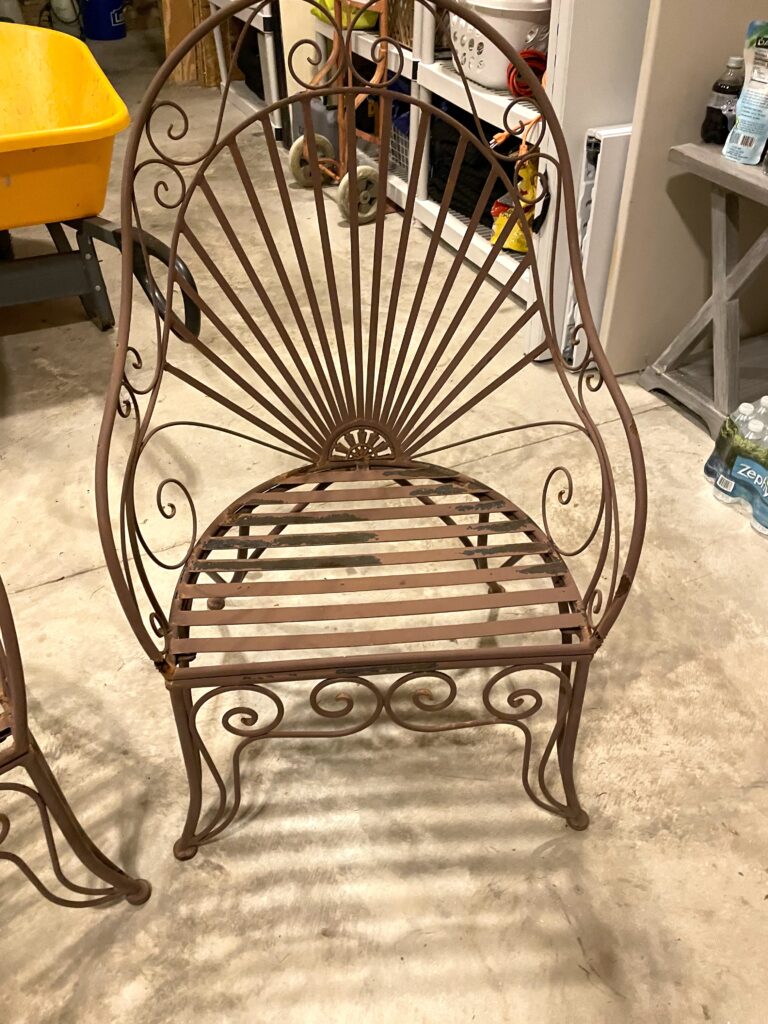 There ya' go! Now you are seeing what Greg saw.
And that wasn't the only spot.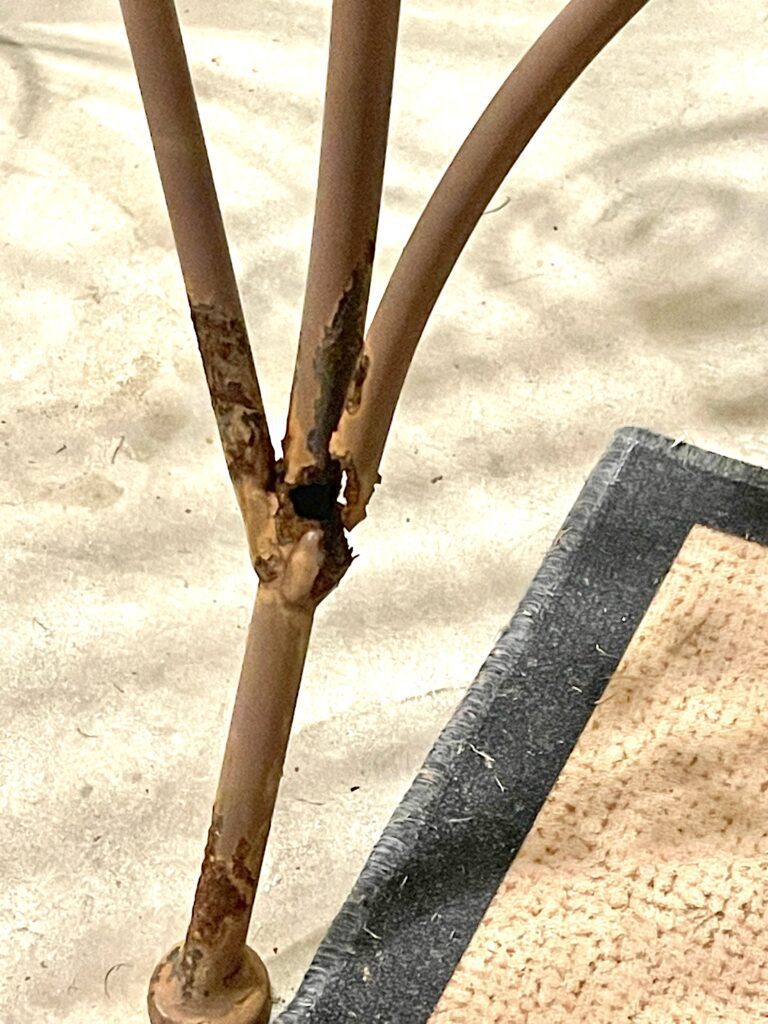 You're getting a better feel…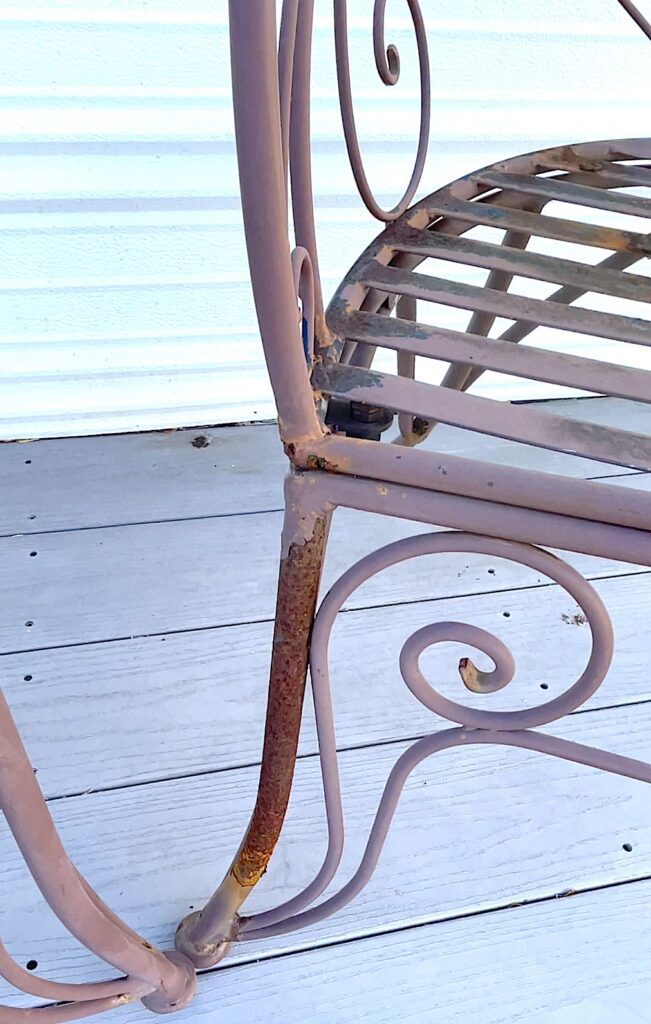 But I had the faith!
I knew I had an ace in the hole…
A card up my sleeve…
A secret weapon!
Our friend Joe had told me about JB Weld.
Big shoutout to JOE!
Whoot! Whoot!
*Disclosure: This blog uses affiliate links from Amazon and other retailers. I earn a small amount from qualifying purchases at no additional cost to you.
When I researched JB Weld further, I realized they had lots of products to do lots of fixes and they had just what I needed!
(By the way, this is not sponsored)
So I knew what I had to do!
I went shopping for SteelStik, the Original JB Weld, and for Rust-Oleum paint!
Then, I got to work removing rust from the rusty furniture!
How to Get Rust Off of Metal
Knowing how to get rid of rust is important. The longer you leave it, the longer it will eat away at metal like a cancer.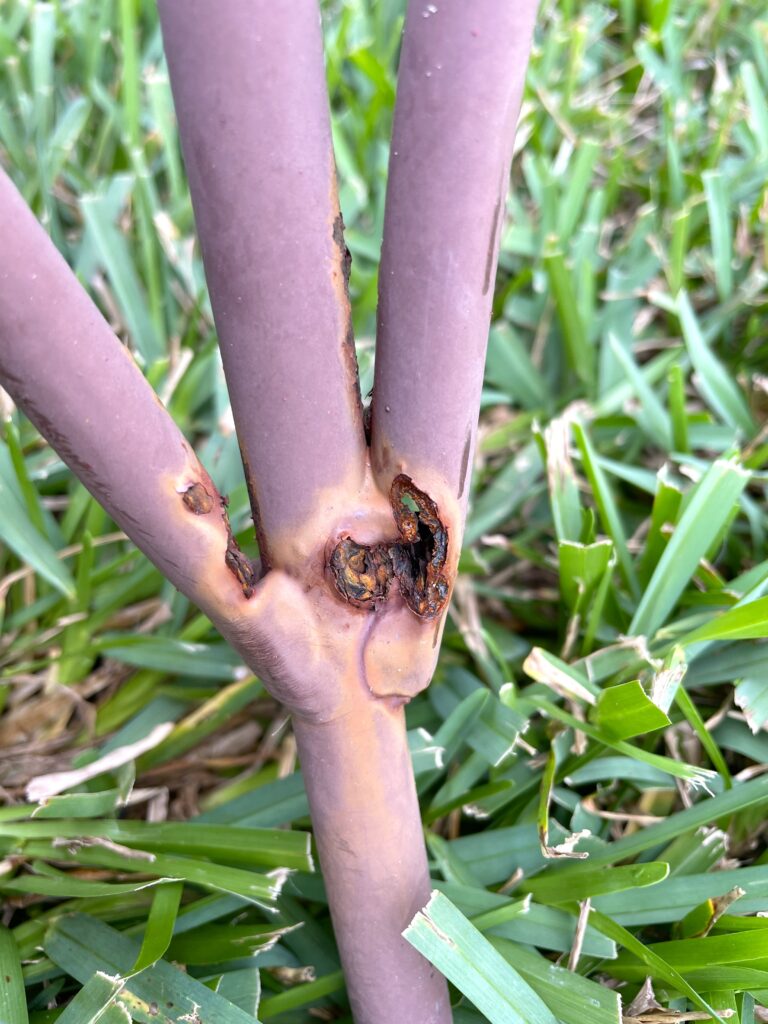 It could be on a car, a bike, furniture, a barbecue, etc. Wherever it is, the sooner you remove rust from metal, the better!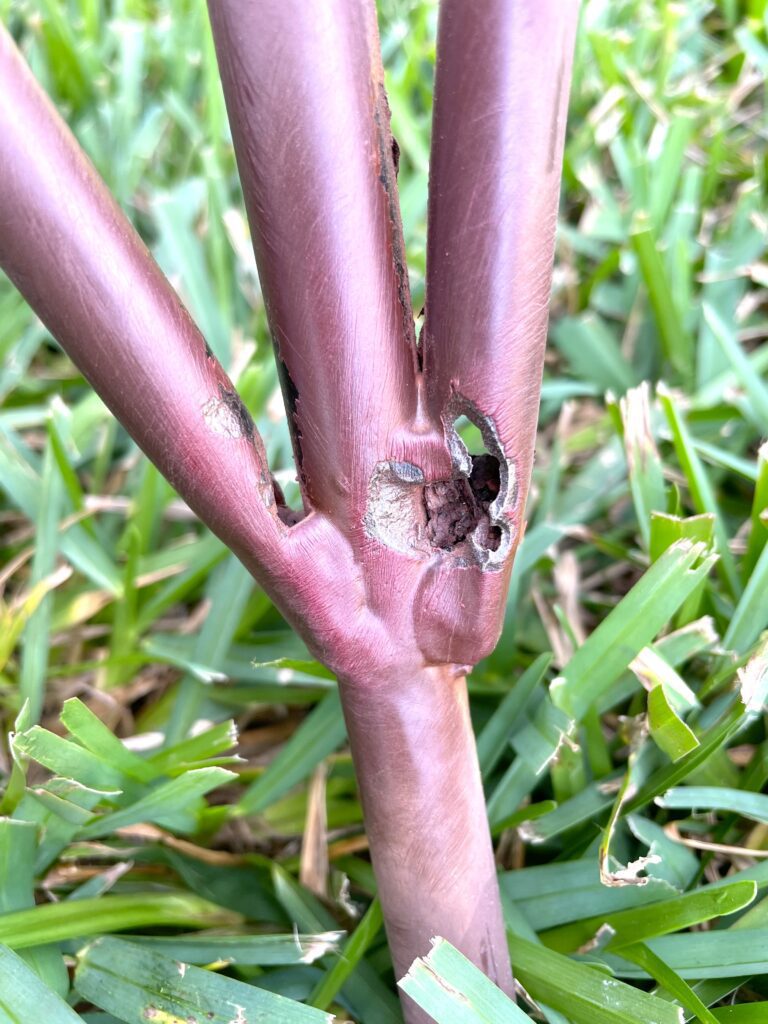 In this case, the plan was to remove rust from rusted furniture and use a filler to make it strong enough to use again.
NOBODY wants to sit on a chair and have it give out under you!
If you want to see it all happen before your eyes, be sure to check out the How to Get Rust Off Of Metal Furniture Video HERE! It's quick!
Step 1: How to Remove Rust
I started removing rust as best I could.
I used a wire brush that was attached to a drill. It made the job so much easier than if I had to do it by hand.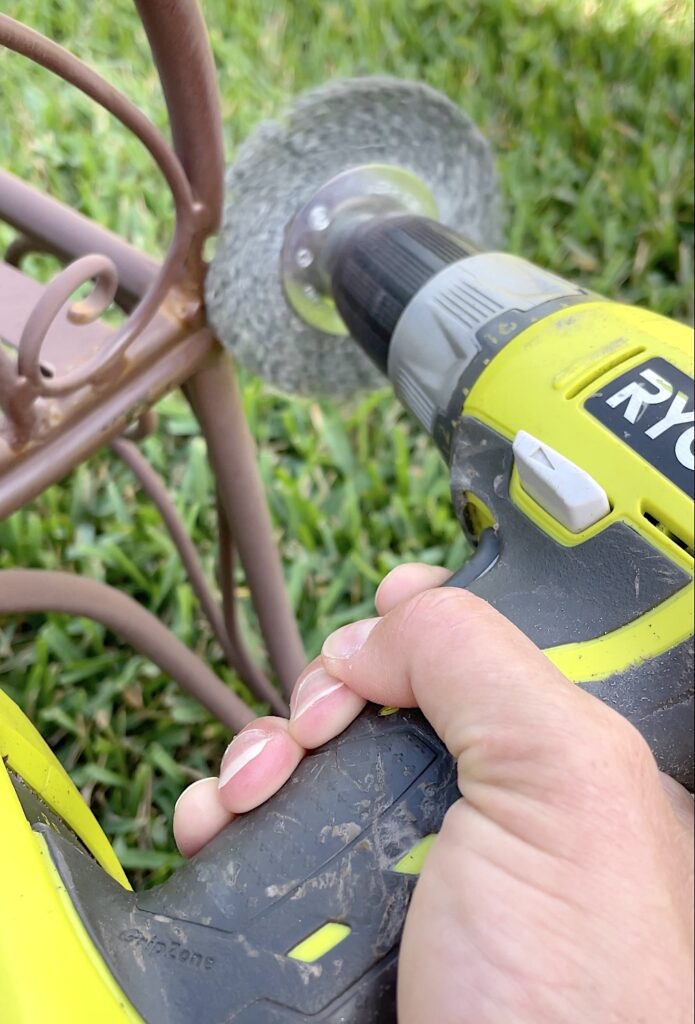 When I had to remove rust from the finer areas of the rusted furniture, I went with a smaller wire brush attached to a rotary tool.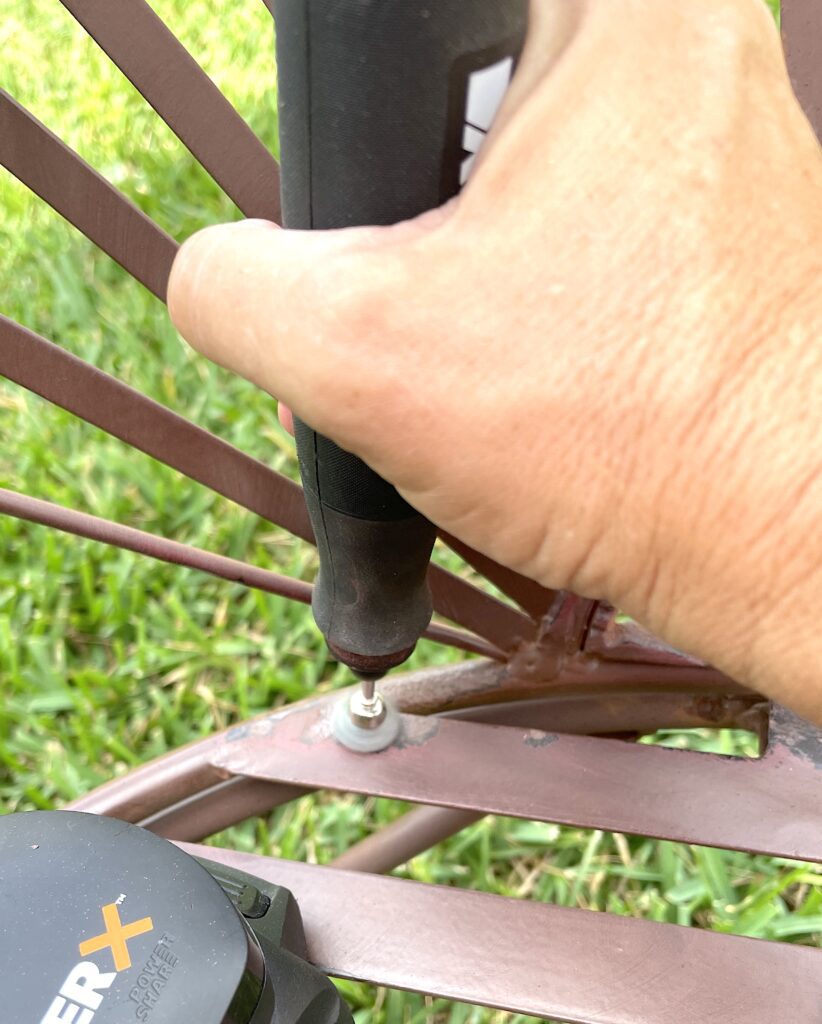 If you can remove rust down to bare metal that would be ideal. However, sometimes you cannot remove rust entirely.
Step 2: Rust Reform
When I had removed as much rust from the metal chairs as I could, I washed and dried the furniture.
So the question became not only
How to get rid of rust?
But also how to keep it away!
That's when I used rust reformer to convert any of the remaining rust into a paintable surface.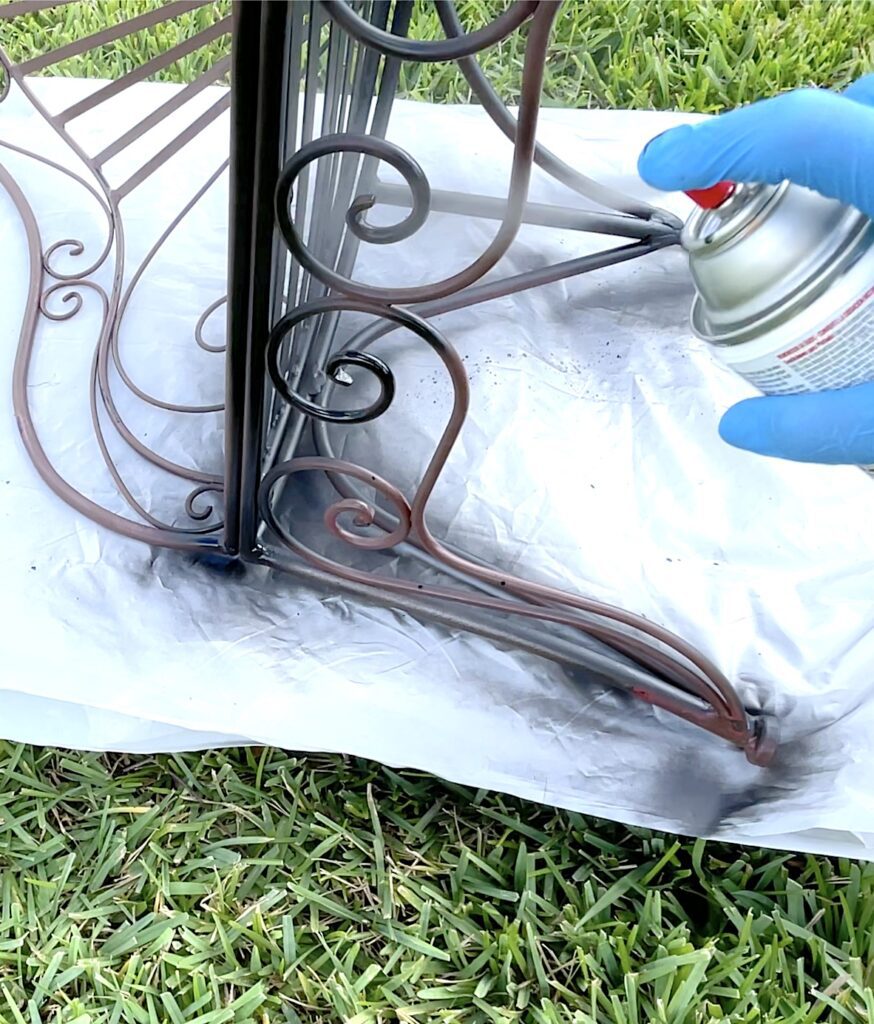 Step 3: Fill the Rust Holes
I used a combination of the SteelStick and the JB Weld to fill in the holes as needed and let it cure.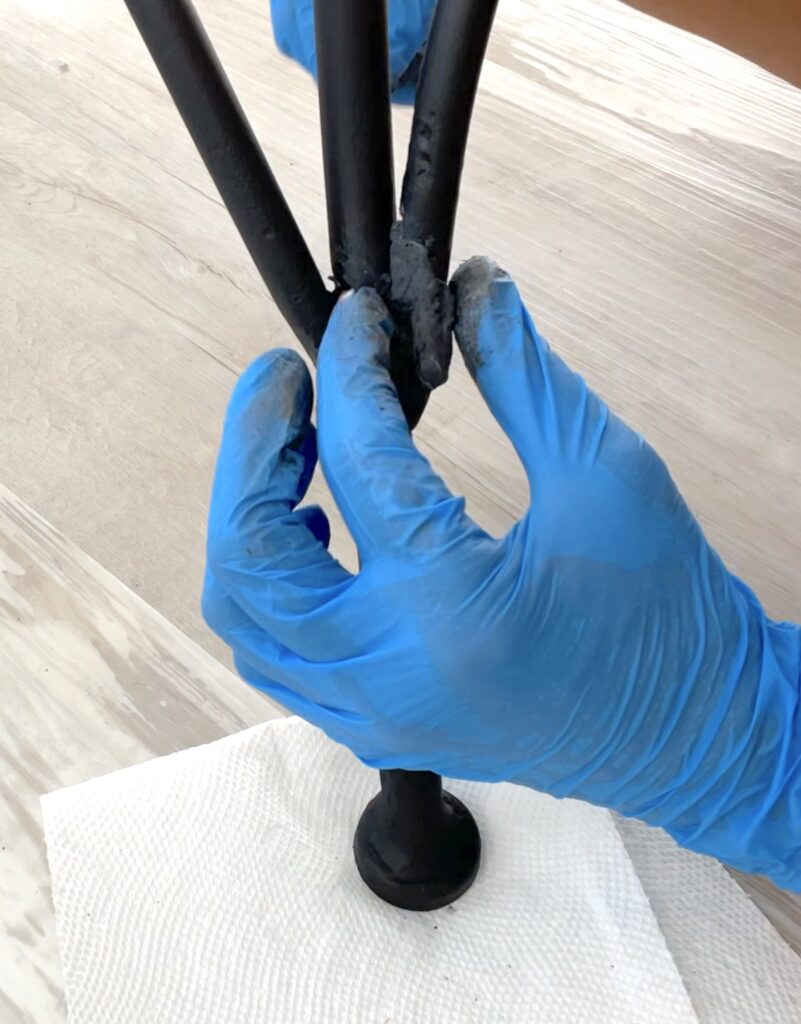 If you smooth it before it cures, you will have minimal sanding after the fact. But I did have to do some so I used my rotary tool.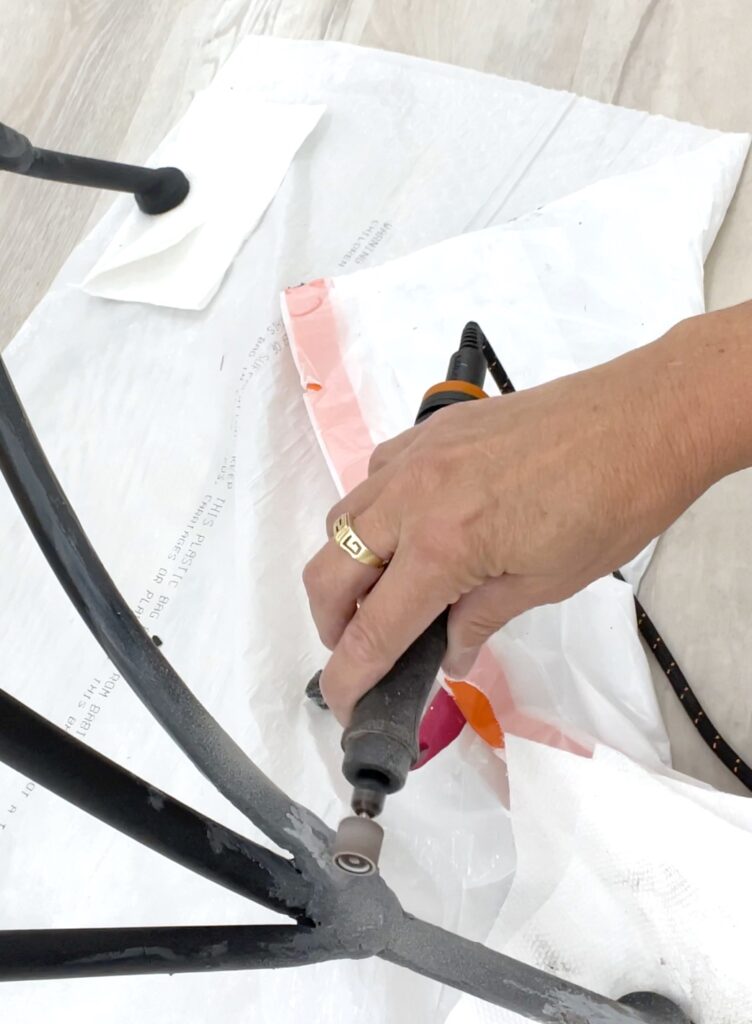 Step 4: Prime and Protect
A lot of spray paints have a primer built in but I wanted to give it a little extra protection, so I used a separate primer with rust stop built in.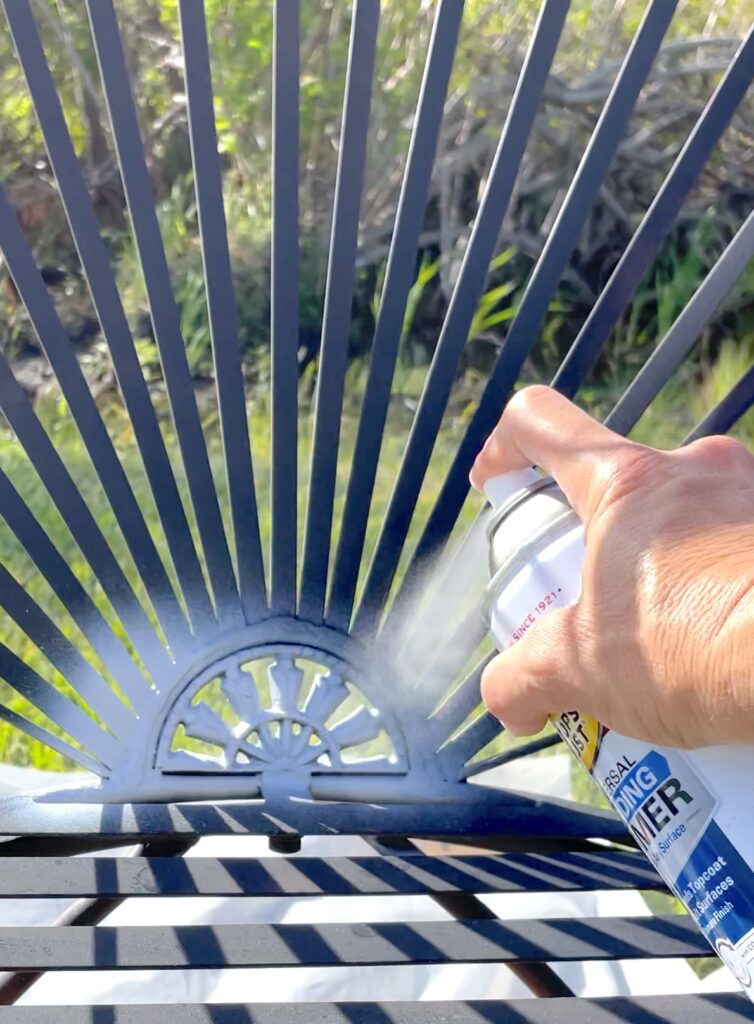 The primer I used gave it a nice white primer coat so the final color would pop.
Step 5: Paint
I finished off the chairs with beautiful aqua blue spray paint and the chairs looked like new! You can't even see that they were filled!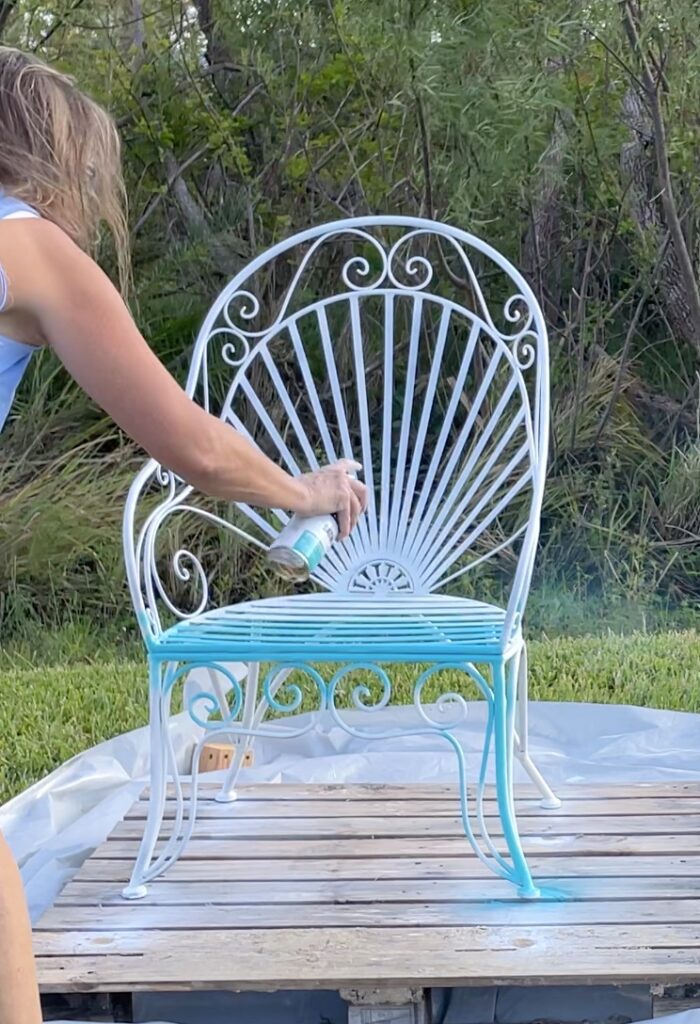 HOLD ON!!!!
Let's hit the brakes for a second and take a look back to what it waaaas…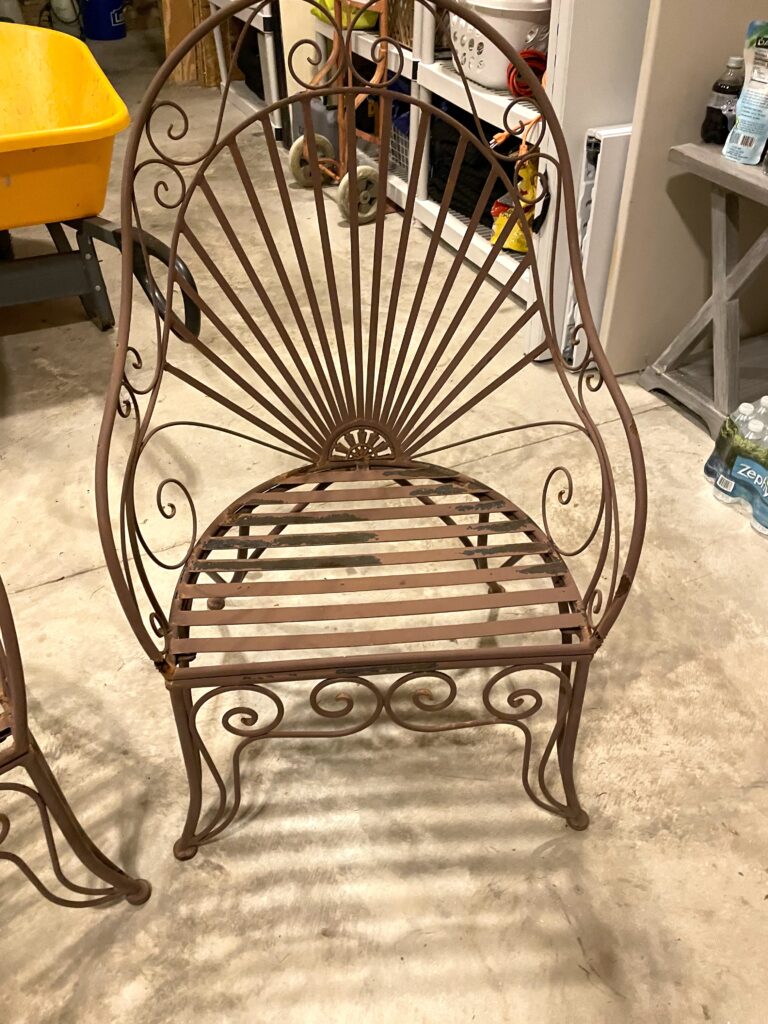 Don't forget we had to figure out how to get rid of rust…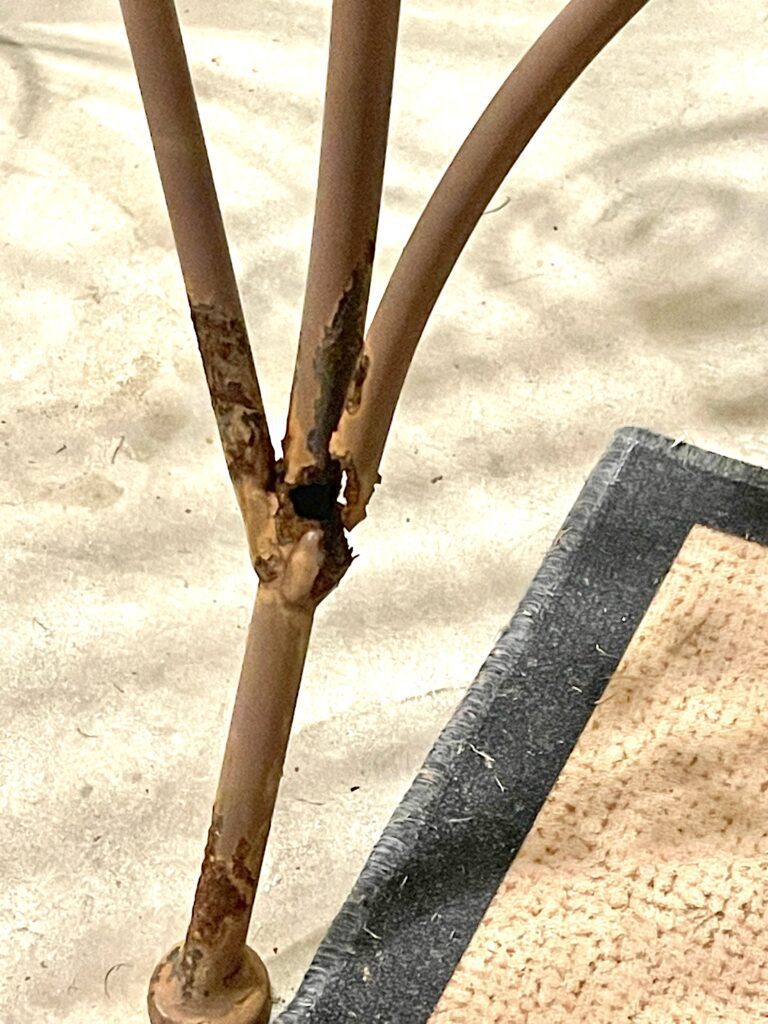 Take a look at it NOW!!!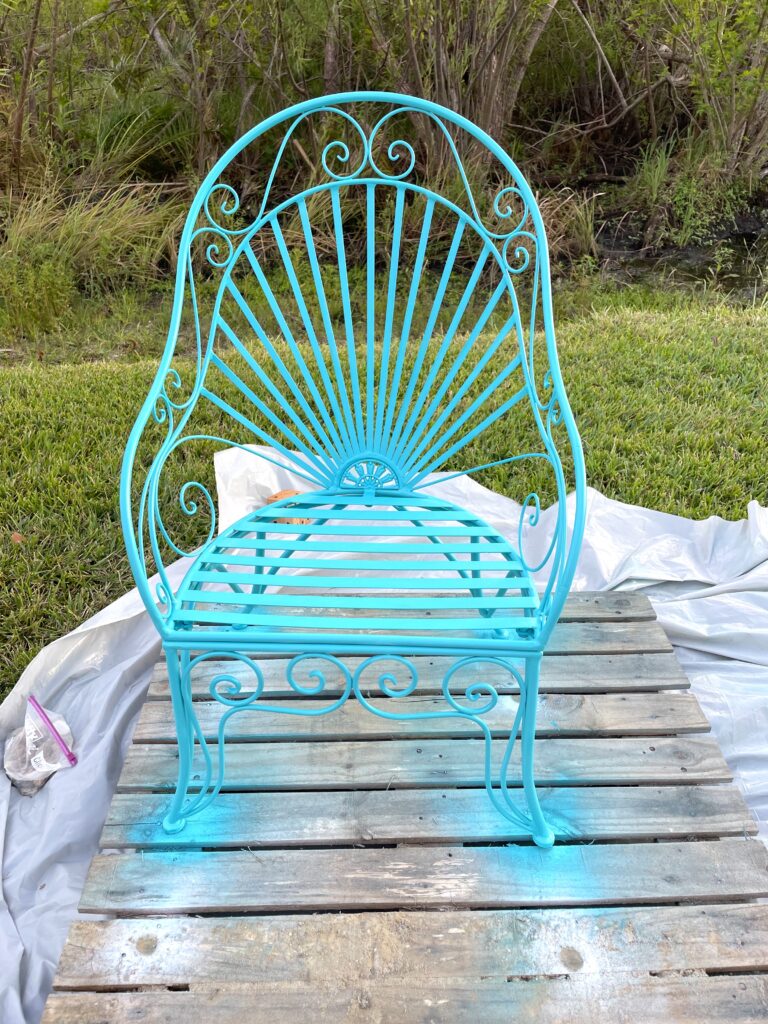 They are the perfect addition to the craft shed's front porch!
I could not be more excited for happy that I decided to take on that old rusted furniture and transform it!
Now you know how to get rust off of metal. It takes a little time but it's pretty easy!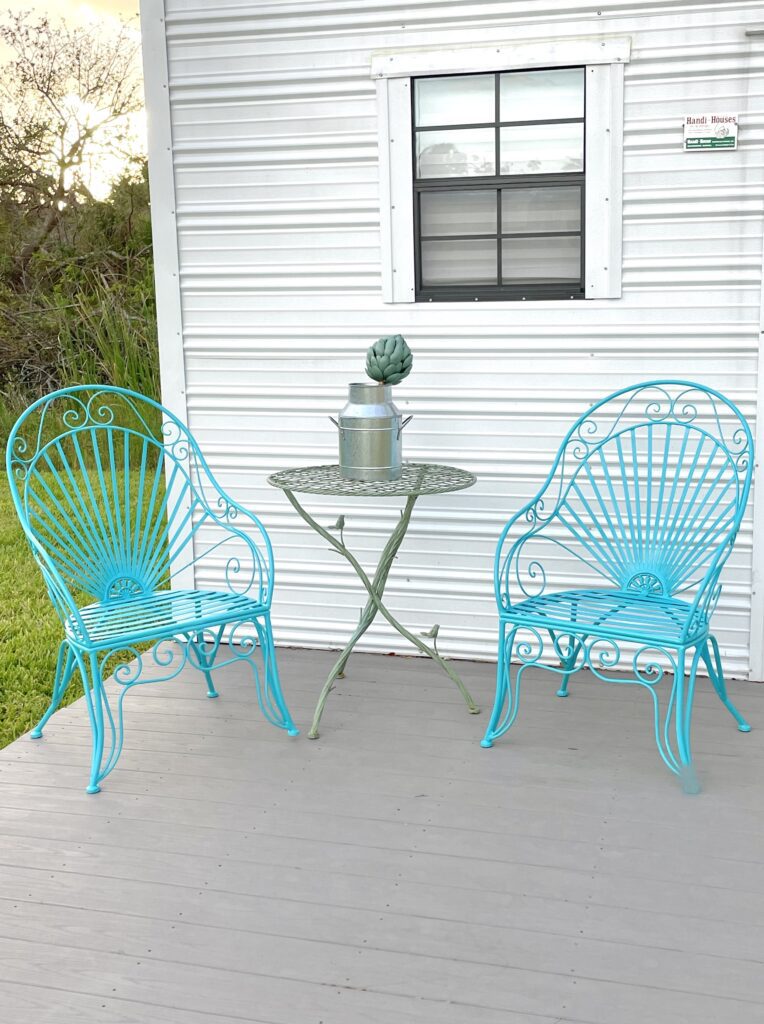 And instead of throwing away rusted furniture, you can give it a new look and a new life!
This was a fun project and I think they turned out pretty amazing!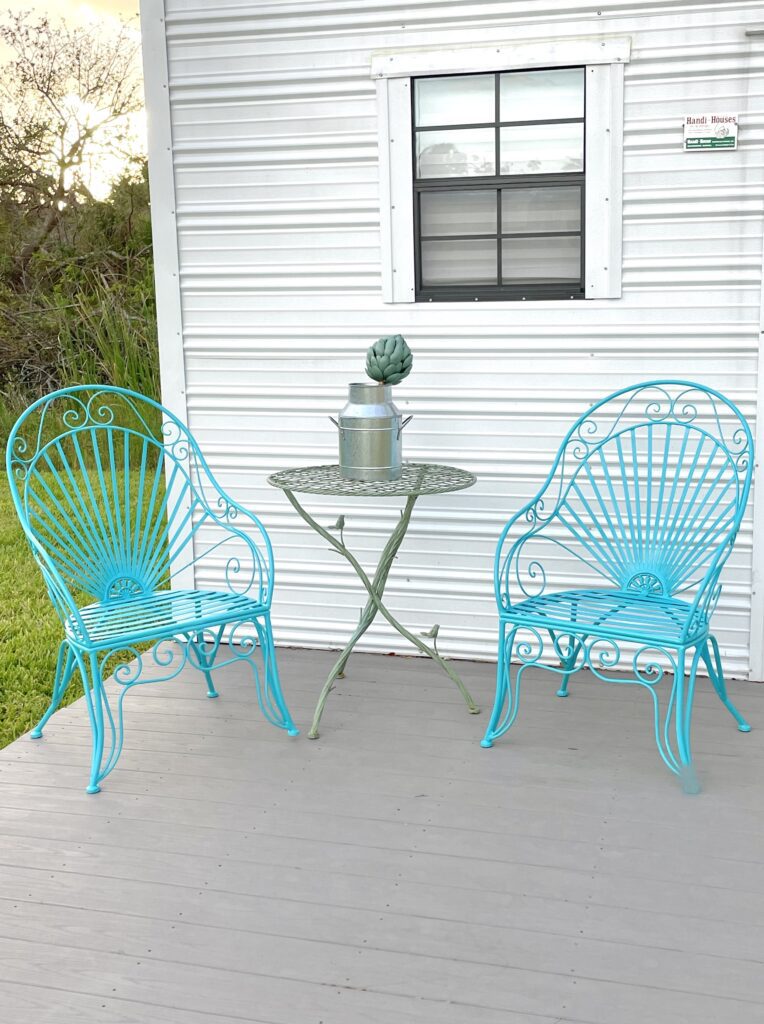 I've had several neighbors remark how much they like the chairs on the porch.
They have no idea they were a garbage pick and how rusted out they were!
Now I need some cushions.
Here is the big question:
Should I paint the table the same color as the chairs or a different color?
I'd love to hear what you think!
Drop your opinion in the comments!
Furniture Makeovers
I love to do furniture makeovers and not all involve how to get rid of rust, but some have presented me with that very problem.
Anyway, here are some projects I think you will really enjoy:
For something different that I'm TOTALLY excited about, check out this AMAZING Cat Tree DIY and let me know what you would use it for instead!
Great Furniture Options
Maybe you don't feel like tackling rusted furniture but you like the overall look. Here are some fun outdoor chairs and furniture that keep with the overall coastal feel and you won't have to figure out how to get rid of rust off of metal furniture because there is none!
How to Get Rid of Rust Video Tutorial
Thanks for stopping by! Remember: Life's too short not to shimmer, so grab your glue gun and your glitter!™ Stay safe!