Chas from Chas' Crazy Creations and I got together to do some Easter painting ideas in the form of a craft challenge!
We racked our brains and decided on the name for our monthly challenges…get ready for it…
Craft or Crap!
You Decide!
We both laughed and thought that was a good enough reason to go with it!
I'm not sure if we have decided on an exclamation point or a question mark yet.
Why Craft or Crap?
Let's be honest, we've all had dud crafts before and will again, so let's not take ourselves too seriously, and let's have some fun!
Did I mention…
You get to decide whether our projects are Craft or Crap?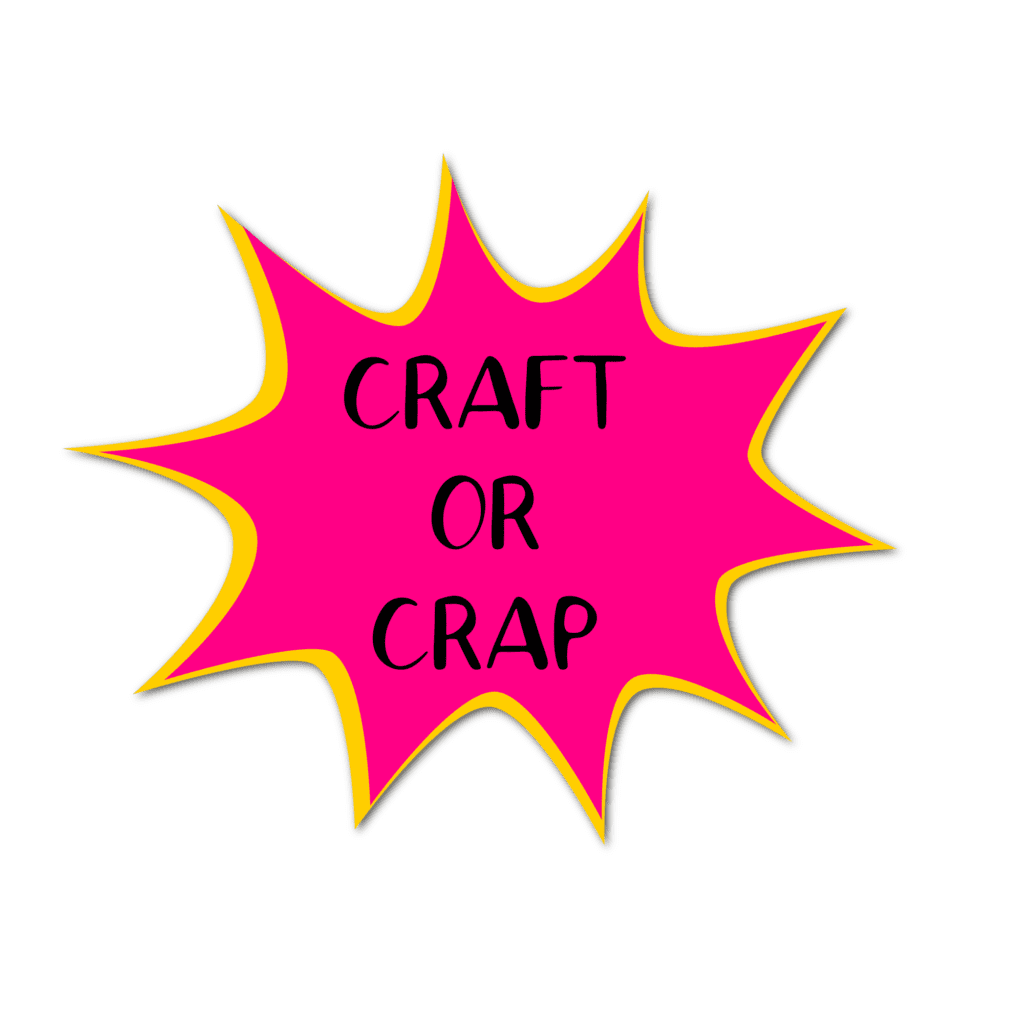 Do you want to know what is even more fun than Chas and I going head to head in a challenge?
If you join in and craft with us! That would definitely make it more fun!
**Keep reading to find out how!**
How the Craft or Crap Challenge Works
We are planning on making this a monthly event. This month happened to include Easter painting ideas but we have all kinds of fun ideas swirling around in our heads!
We will decide on 2-3 rules for the challenge and then put out a poll for you to vote on the last rule. It could be a theme, an item to include, where we source our supplies, how much we are allowed to spend, etc.
Every month will be different!
After a week of the survey, we will put together the final rules, which will include the one you voted on!
But that's not all!!!
How Do You Get Involved in the Craft or Crap Challenge?
Chas and I are going to be putting our challenge projects on our Youtube channels and our blogs, so you can find them along with all of the directions.
BUT…
We don't want you to sit on the sidelines…we want you to craft along with us!
YES! We really do!
We are still figuring out some of the details but basically, we will let you know all of the rules for the craft challenge a week or two beforehand.
Then…
You do your version and share it with us and other challenge participants!
How Do You Share?
Right now, we have it set up so you can share two ways:
On Instagram, you post a picture or reel with the hashtag #CraftorCrap or #CraftorCrapChallenge and tag both @CraftKlatch and @ChasCrazyCreations
On Facebook, we started a

Craft or Crap Group

and we can all share our projects there and get feedback from others!
So enjoy this challenge and it's not too late to take part! You can still whip something up and share it with us!
We'll be on the lookout!
NOW…My Easter project!
The Rules for the Spring/Easter Craft or Crap Challenge!
We had four easy rules to follow and here they are:
It had to be Spring or Easter themed
It had to be painted
We could use other items from our craft rooms
The most voted-for option was: Use something that is collecting dust at your house
Basically, I needed to think about Easter painting ideas and how to incorporate them into some random thing that is accumulating dust.
So I did…
I walked through the house, around the house, in the shed, and back to the house. I sat out on the lanai, talking to Greg, and it hit me…like a coconut falling from a palm tree…
…Okay…it was a coconut but it was sitting on a side table – in my way for the last 3-4 years.
And it had dust on it!
It felt like a win!
Materials I Used in My Easter Painting Craft
*This blog uses affiliate links. As an Amazon Associate I earn from qualifying purchases.
Coconut
Fake flowers – I linked some but I'd seriously run to the dollar store
Glue
Craft of Crap? My Dusty Easter Video Tutorial
The video gives you more information on the Craft or Crap Challenge rules and my Easter painting ideas!
Directions
Step 1: Wash and Paint
Once I found my coconut, I scrubbed it down and let it dry. Then, I painted it a nice bright yellow.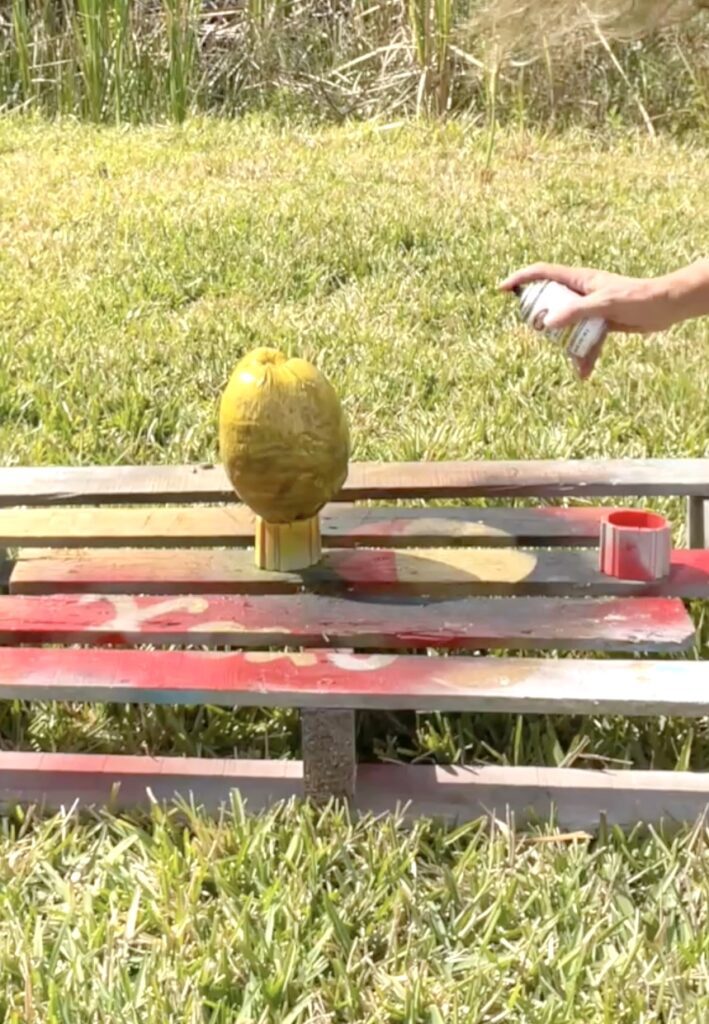 Step 2: Feet
I needed ideas for feet since coconuts don't stand well on their own. When I walked out to the shed, I realized I still had little concrete snowmen and I loved their shape!
But I had to paint them for an Easter feel.
I glued them on and they reminded me of Mr. Potato Head's shoes just a different color.
Nonetheless, they were a perfect fit!
Step 3: Add the Plume
The paint gave a nice base for the Easter chick. However, it needed some plumage for the holiday!
I had some fake flowers on hand and they became the tuft on the top of the head.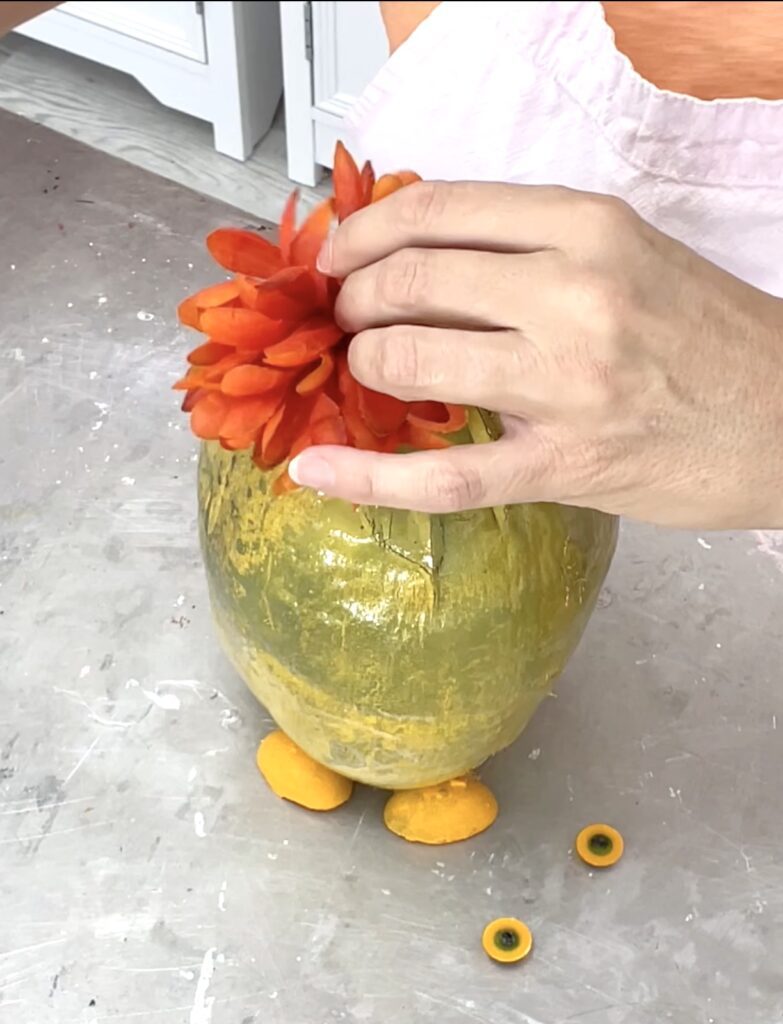 She's really becoming a cool chick!
Step 4: The Eyes
I had found some eyes in my craft stash!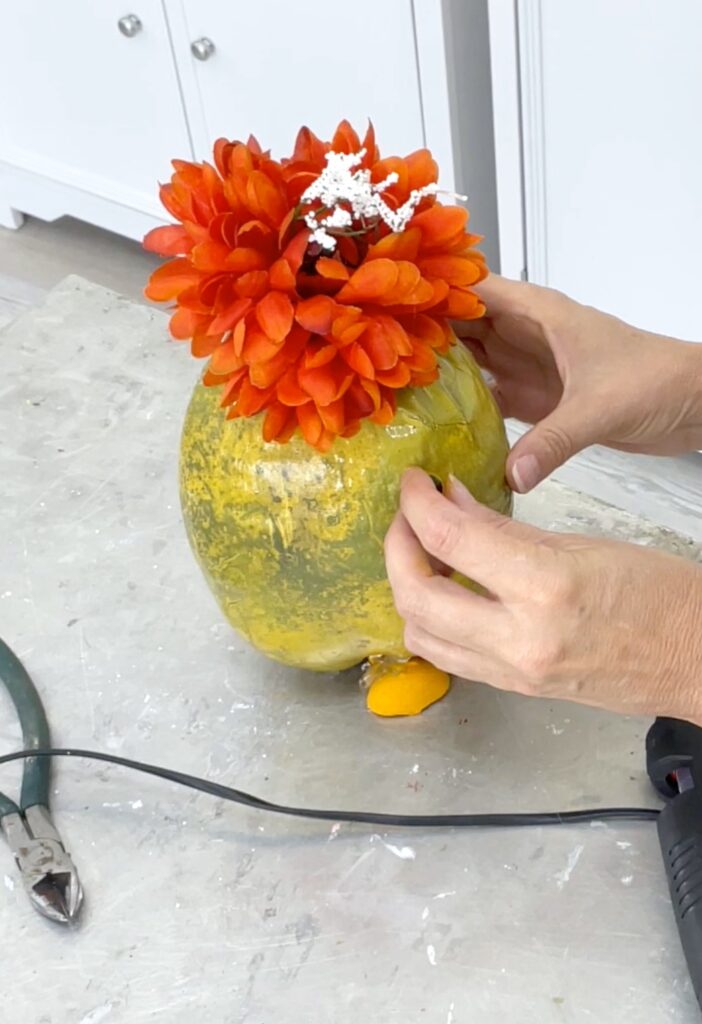 I cut off the back posts and glued them right on!
Step 5: Beak
I thought felt would make a good beak.
The felt material I had was not a very Easter color…so…it was another opportunity to add to my Easter paint ideas. I thought…
…let's just paint the felt orange.
So I did!
Then, I cut out a rough diamond and glued it to the coconut's face.
Step 6: Birds of a Feather
I had yellow feathers in my stash and I glued some to the plume, some to the butt as tail feathers, and some around the feet to hide any excess hot glue.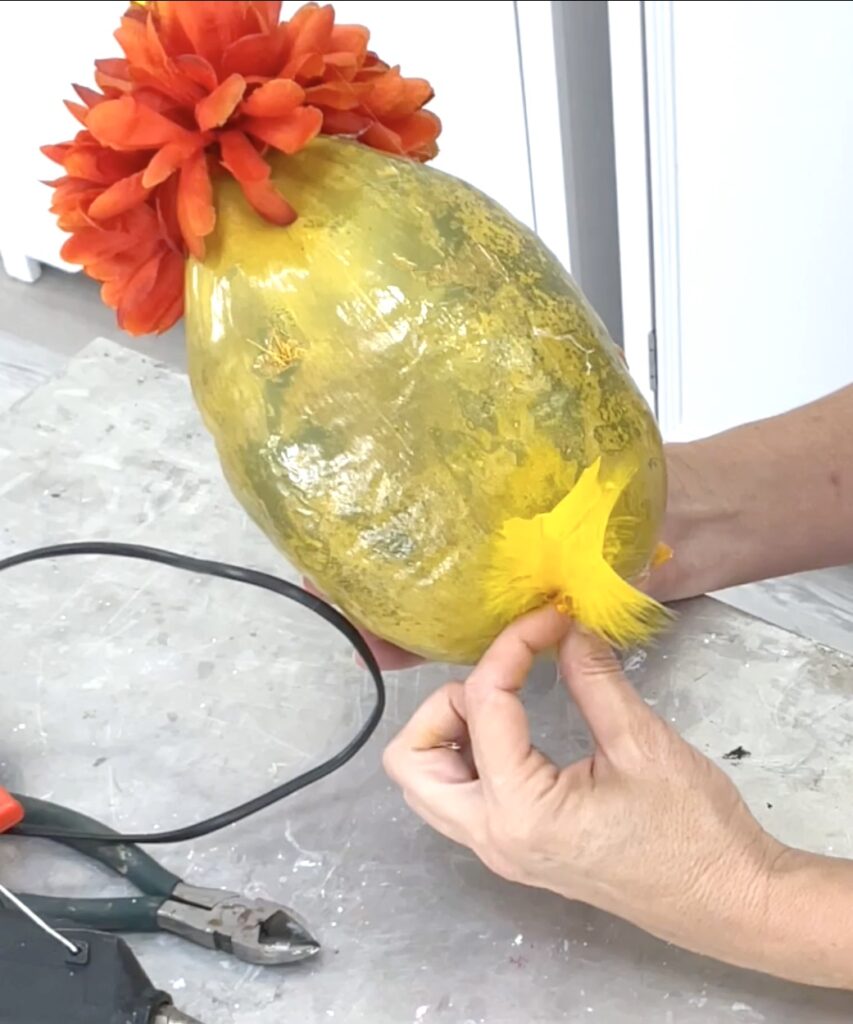 That is it!
How cute is she?
If you get any Easter painting ideas in your head, consider painting a coconut!
Just turn it into something cool!
FYI: Years ago, I made a Kissing Fish out of a coconut!
NOW, it's up to you to tell me:
Is it Craft or Crap?
Let me know in the comments!
Chas' Easter Painting Ideas
Now it's Chas' turn! Hop over to her blog HERE and see what she made!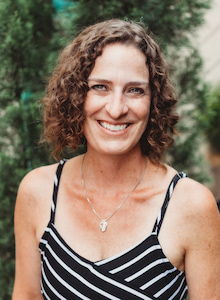 Remember to let her know if it is Craft or Crap!
AND THEN…go make something within those parameters…no matter how big or small…and share it with us on Instagram #CraftorCrap or #CraftorCrapChallenge and link @craftklatch and @chascrazycreations or head over to Facebook and join the Craft or Crap Facebook group and share what you made there!
If you are looking for other fun Easter projects, check these out!
Here are fun Easter Decorations!
In case you don't have time to make fun Easter crafts, check out these decorations you can buy!
Thanks for stopping by! Remember: Life's too short not to shimmer, so grab your glue gun and your glitter!™ Stay safe!
Mona
Be sure to PIN IT for Later!