The Easter Bunny is REAL! No doubt about it, so we need to spread the word with this fun and easy Easter craft!
This sign easily rivals any sign you could buy at a high-end home decor store but it's so budget-friendly and even better…YOU MADE IT!
And the cute meter is…OFF. THE. CHARTS.
I've made lots of Easter crafts over the years, including this fun Easter sign with a bunny couple or my Bunny Art project that incorporated washi tape.
But this one has a clean and classic look with a distressed feel and a great message!
The Easter Bunny is Real!
Seriously…how can you beat that message?
The Easter Bunny is Real Video Tutorial
I have all the steps written for this craft but here is a short video tutorial, so you can see it all in action!
Follow me on YouTube but don't forget about me on Instagram too!
Materials for The Easter Bunny is Real Sign
*Disclosure: This blog uses affiliate links from Amazon and other retailers. I earn a small amount from qualifying purchases at no additional cost to you.
The Easter Bunny is Real Sign Directions
Here comes the cuteness!
Step 1
Paint the wood canvas board black. I used regular acrylic paint. I painted the front and back.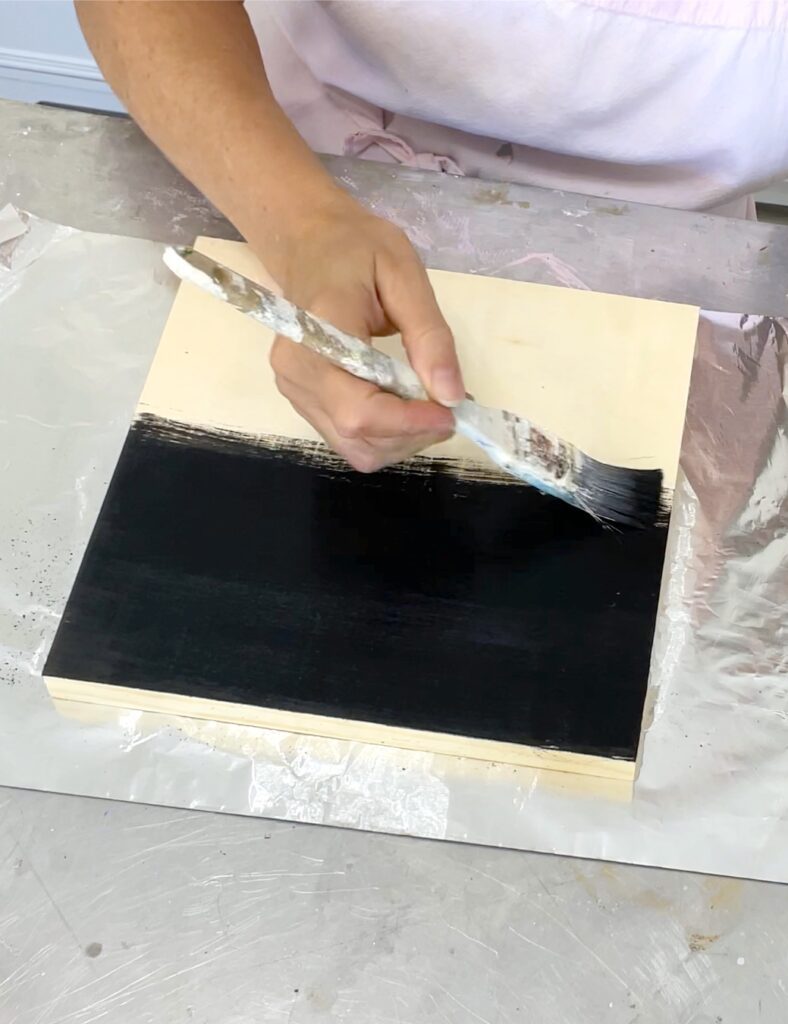 Step 2
While the paint is drying, create the design you want on your cutting machine. I found a bunny, and some carrots and added the words The Easter Bunny is Real.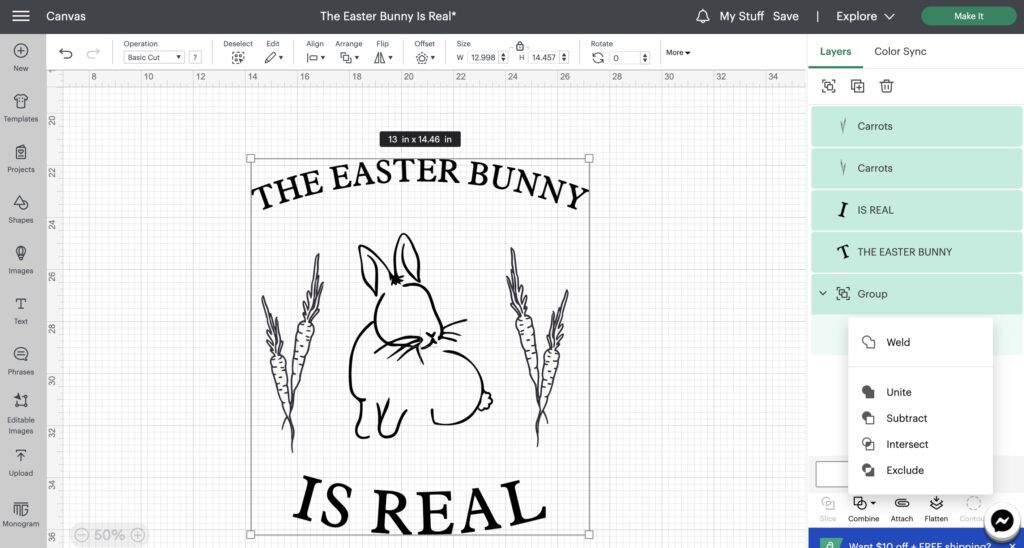 Once you create the design the way you like it, highlight all the parts and unite them. Then, you can size it to fit your canvas.
Step 3
Put the vinyl on your cutting mat and cut it out!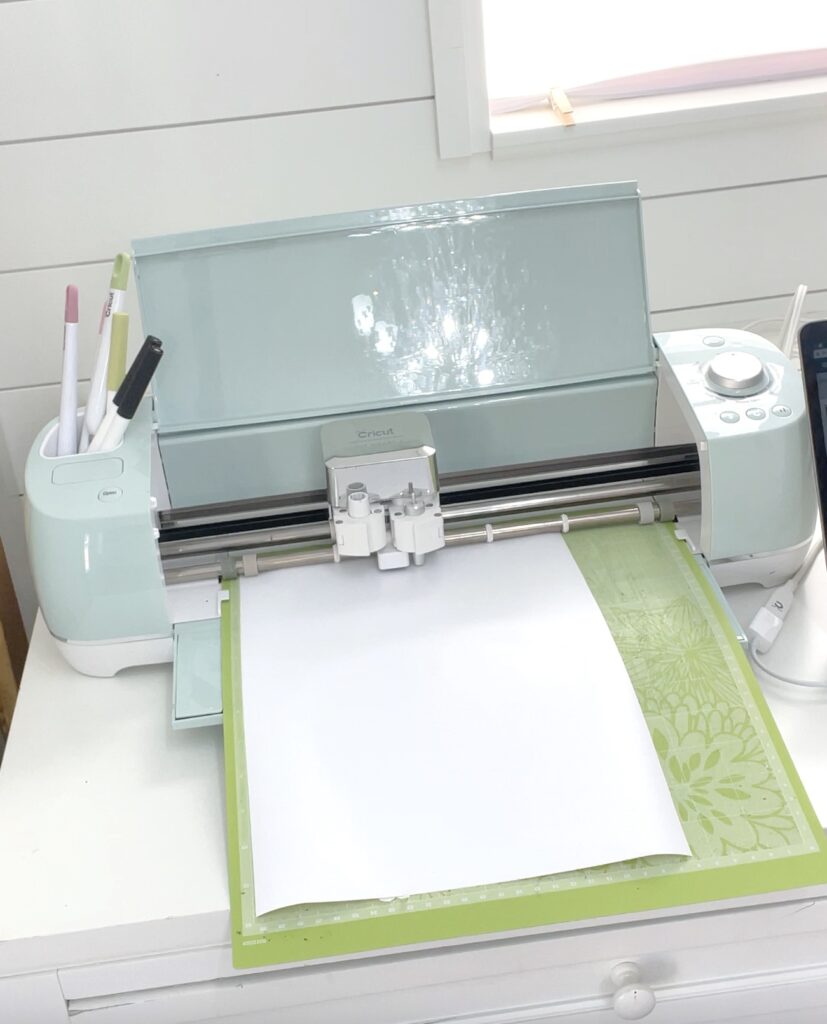 TIP: You don't need expensive vinyl for this project. The vinyl should be removable but you are going to peel it off and throw it away, so if you can find cheap vinyl that works, go cheap!
Step 4:
Once it has been cut, carefully weed it and add the transfer tape.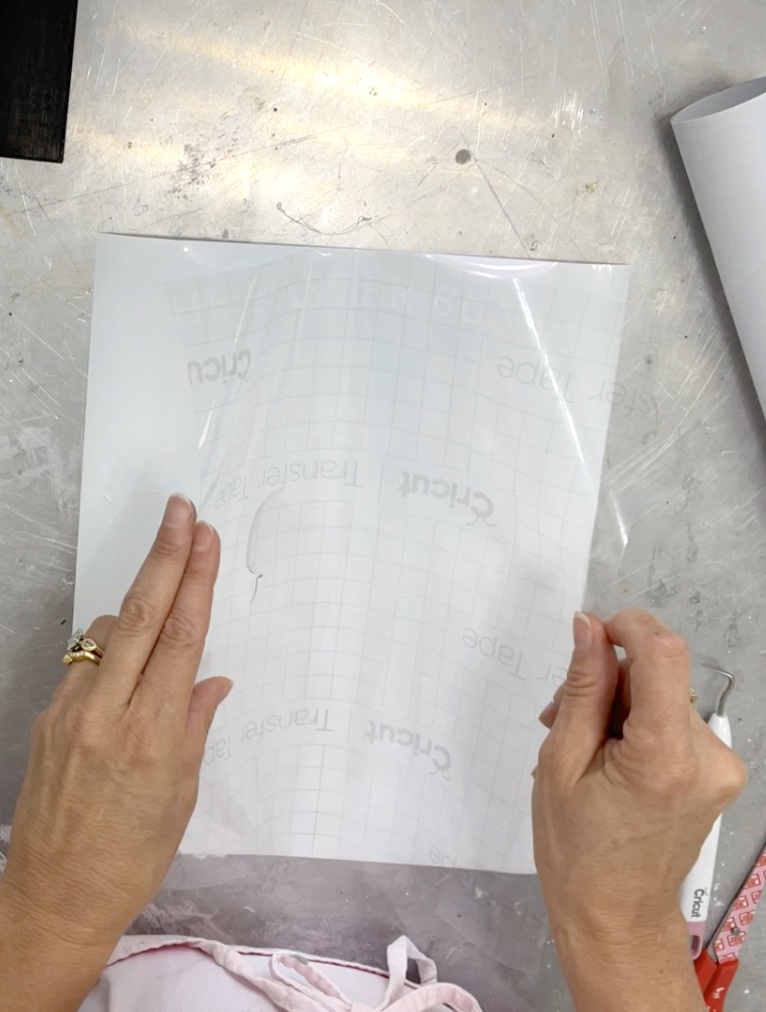 Step 5:
Apply it to your canvas board, burnish it, and carefully pull off the transfer tape. Then, burnish it down again.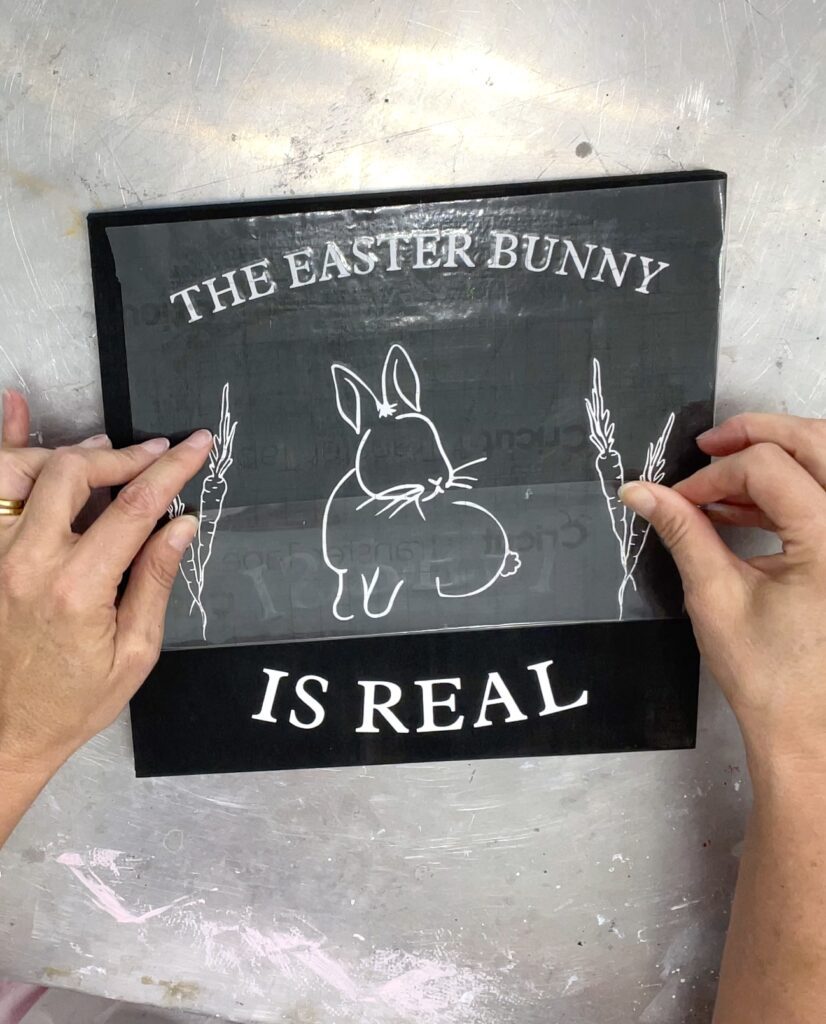 Step 6:
Paint the same black you used before over the transfer tape and all over the canvas.
When you are painting it, brush in all directions around the vinyl to make sure you seal all the edges, and then do a final brush of the whole canvas in one direction. Then, let it dry.
The point of painting the black over the vinyl first is that you are sealing the vinyl with the same color you originally painted and it will prevent the white paint from bleeding under the vinyl and giving smeared and unprofessional-looking lines.
This one easy step will guarantee your lines will be crisp and clean!
Step 7:
Paint the whole canvas white. I did two light coats so the black would bleed through a little. I didn't want it to be a pristine, perfect white.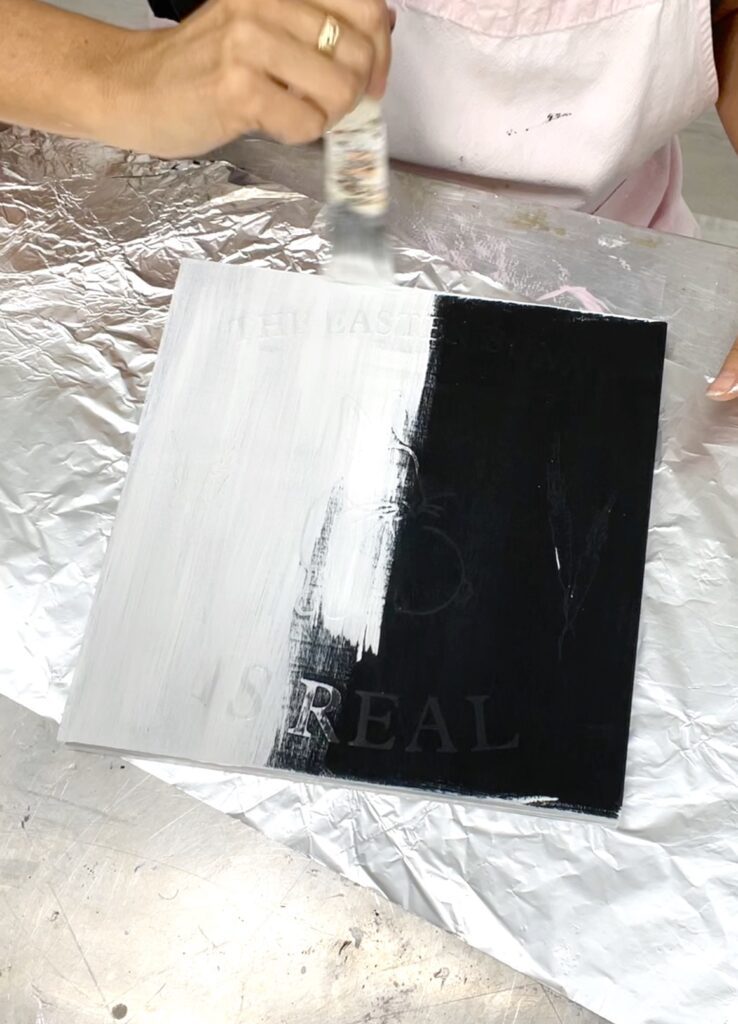 Step 8:
When it is almost completely dry, carefully remove the vinyl. The design and letters should come out nice and clean.
Step 9:
Let it dry the rest of the way and then you can decide if you want to distress it a little further. I used a couple of different sandpapers to sand the edges and the corners for a mildly worn look. I did just a small bit of sanding on the front.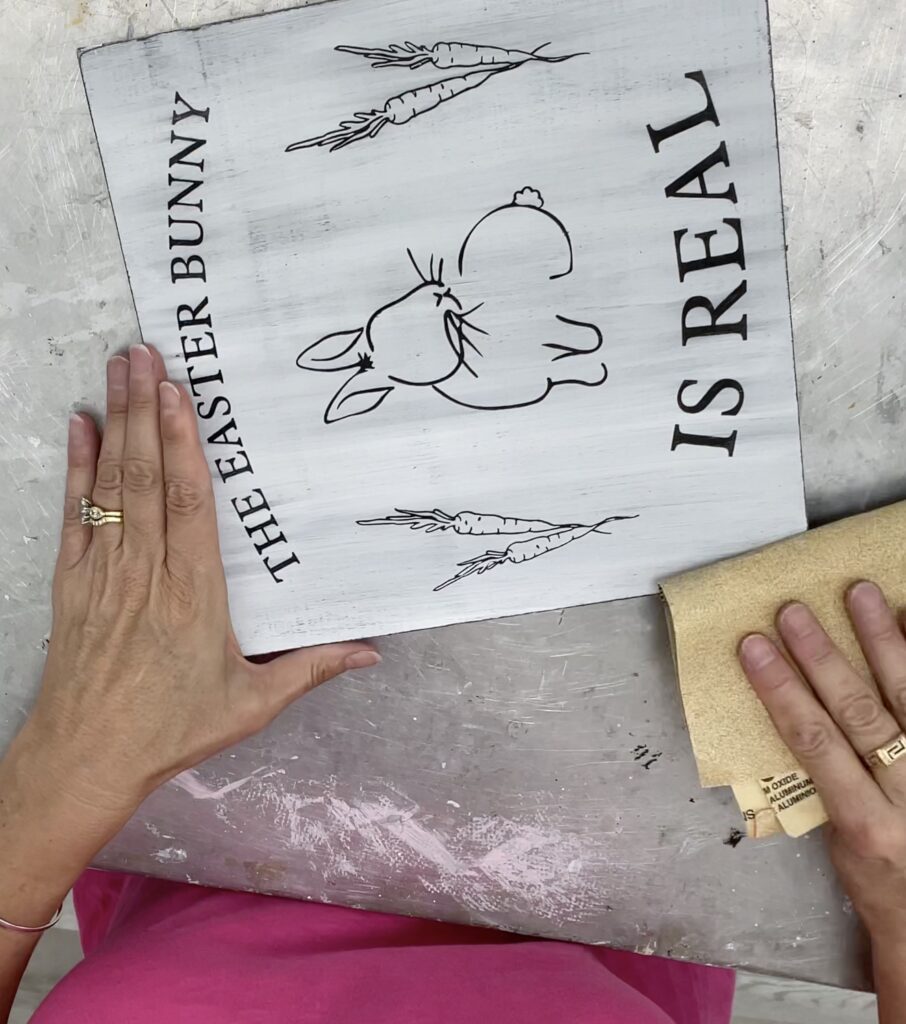 Step 10:
Finish it off with a matte varnish.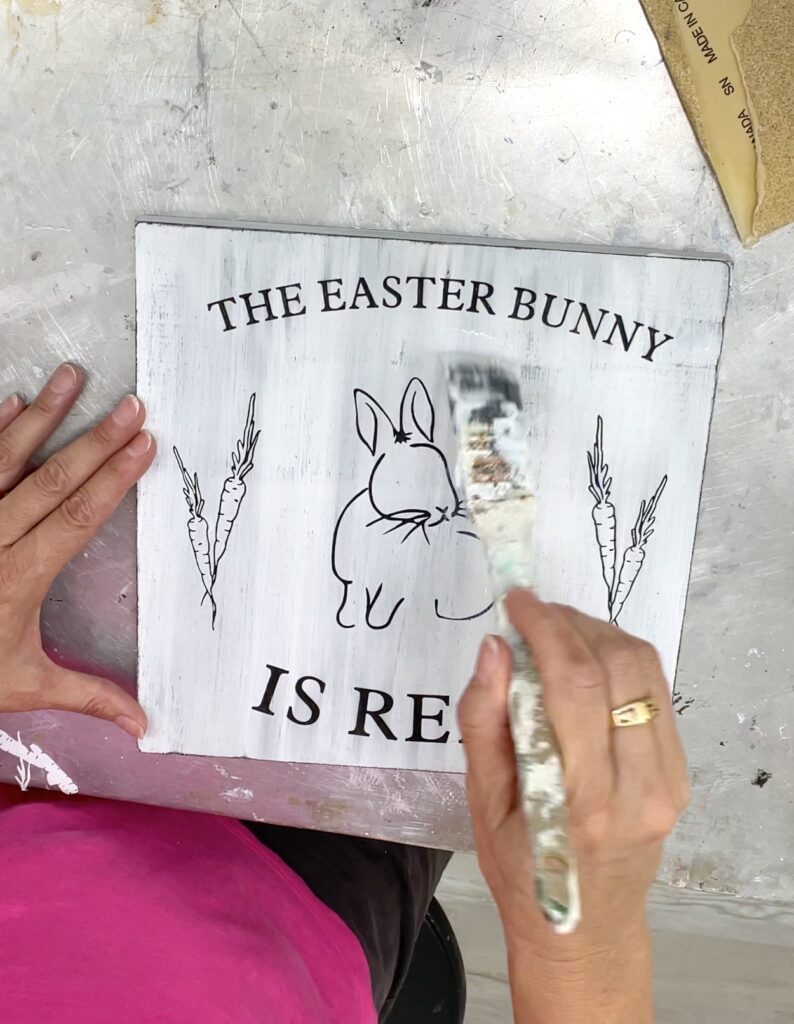 That is it! High-end look for a low-end price!
I love the way it turned out and YES!
The Easter Bunny is Real!
Be sure to PIN IT for later!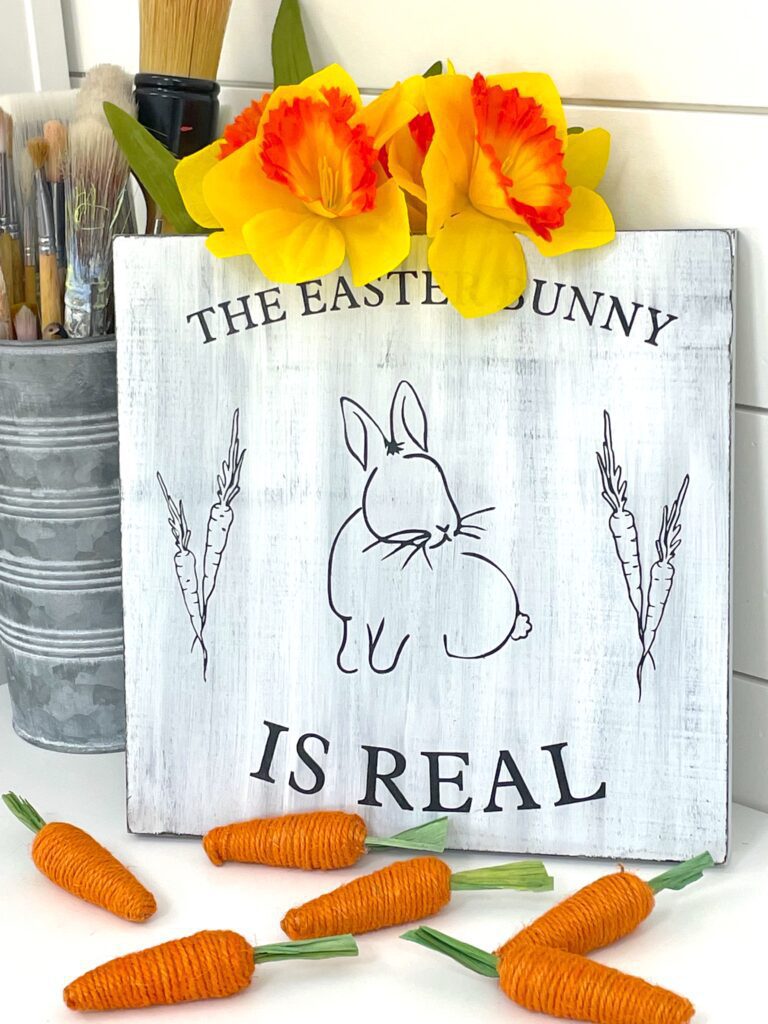 More Easter Crafts!
Here are some other fun Easter crafts you are sure to enjoy!
Easter Bunny Decorations
Here are some other fun Easter Bunny decorations, in case you aren't up to making your own.
Thanks for stopping by! Remember: Life's too short not to shimmer, so grab your glue gun and your glitter!™ Stay safe!
Mona