Easy Christmas tree ornament DIY using toilet paper rolls. No one will ever know! Who doesn't love Christmas decorations on a budget?
Greg always knows when Christmas is coming, not by the change in the weather or the date on the calendar.
No. No.
It's when he's going to throw away the mini-mountain of empty toilet paper rolls that has suddenly appeared on a random table or countertop and I poke my head around the corner and say, "I'm saving those!"
There is always a big eye roll and a little bead of panic sweat. He claims that every year around Christmas I leave a trail of glitter in my wake that leads out of my craft room and straight up the stairs…
No comment…
Nonetheless (putting Greg's panic aside), this year I decided to gather my toilet paper rolls and make five Christmas ornaments. Yes! Five!
You can see them all in the video below!
I wasn't sure where I was going when I started. The first one was actually a redo of one I did many years ago, the Christmas Flower Ornament. I did an Enchanted Birdhouse Ornament, which looks like it should be in a fairy garden and I have a Snowflake Ornament and Two Birds on A Log! Keep an eye out for those!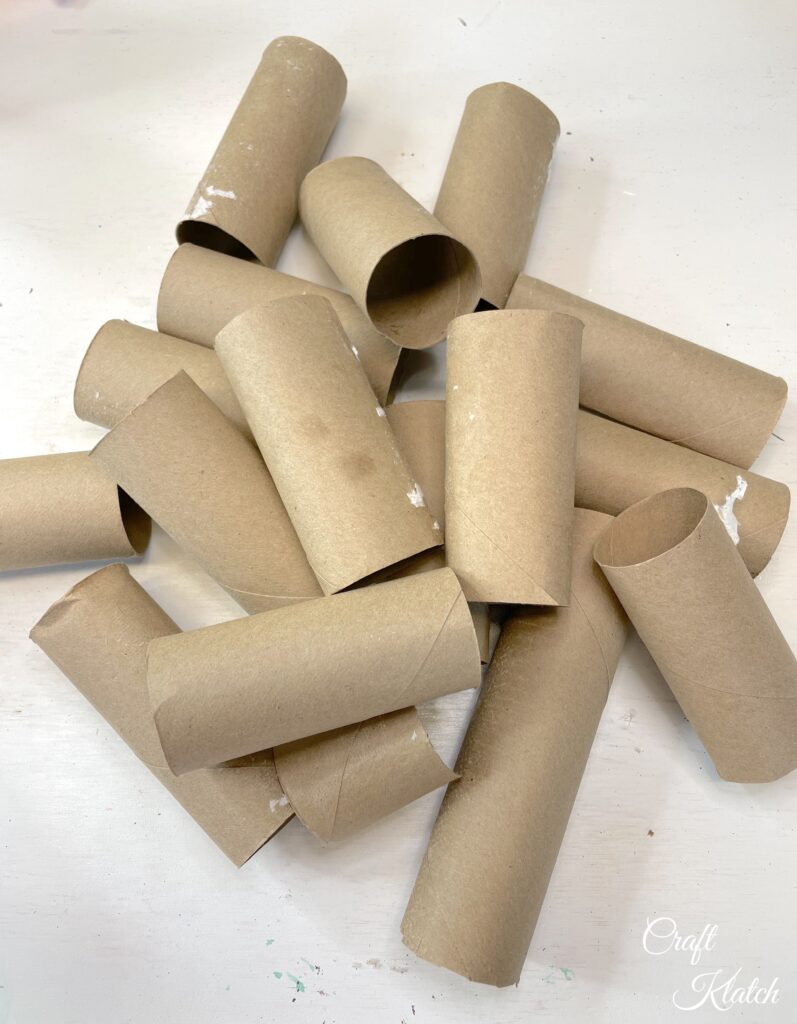 I do like to make recycling crafts and even did a challenge with a fellow blogger to make a Christmas decoration using toilet paper rolls. You can find more information on those fun projects in my Frosty Christmas Star post! I think you will be shocked when you see what was made out of toilet paper rolls!
If you want to see a toilet paper craft alternative, I actually stuck some in resin to make a Tie Dye Coaster!
Supplies You Will Need to Make the Christmas Tree Ornament
*This blog uses affiliate links. As an Amazon Associate I earn from qualifying purchases.
Directions for Christmas Tree Ornament DIY
Step 1: Cut
You want to start by simply cutting one toilet paper roll lengthwise. One cut from one end to the other.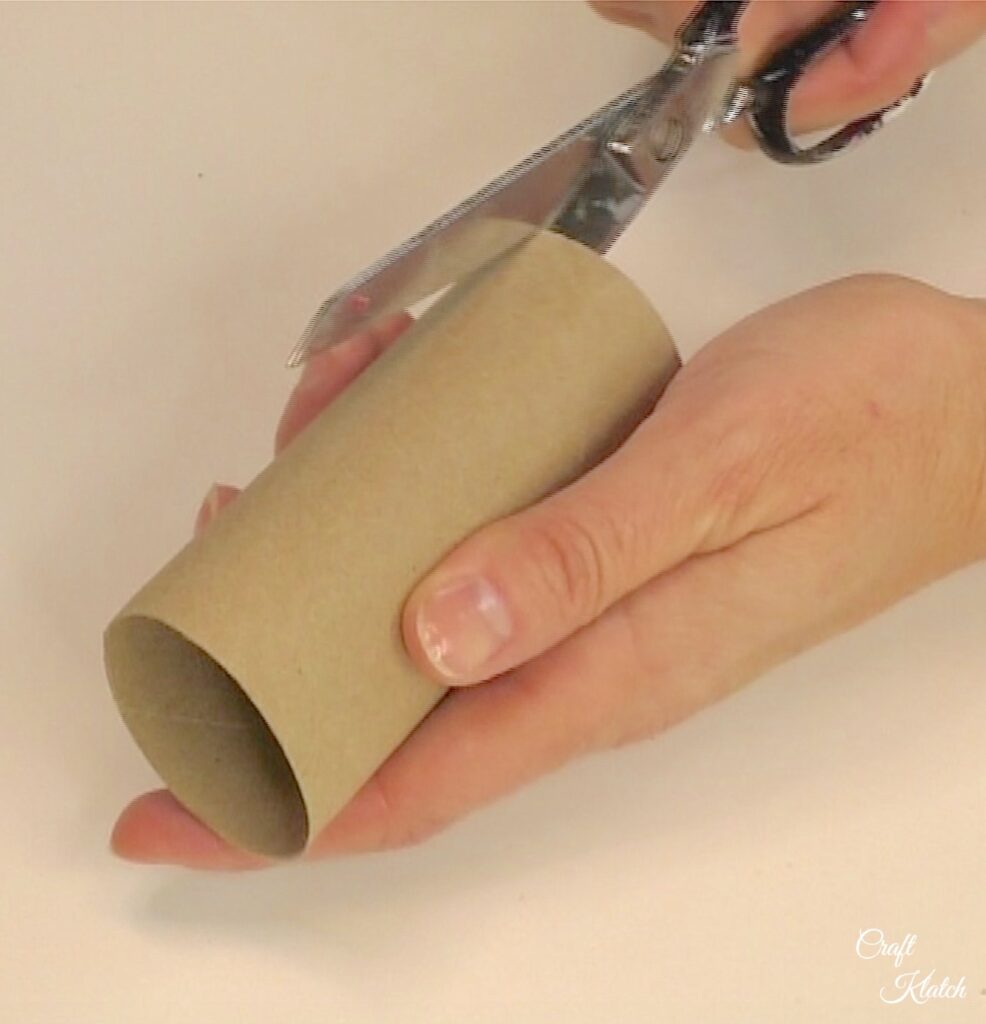 Step 2: Roll
Roll toilet paper roll into a cone.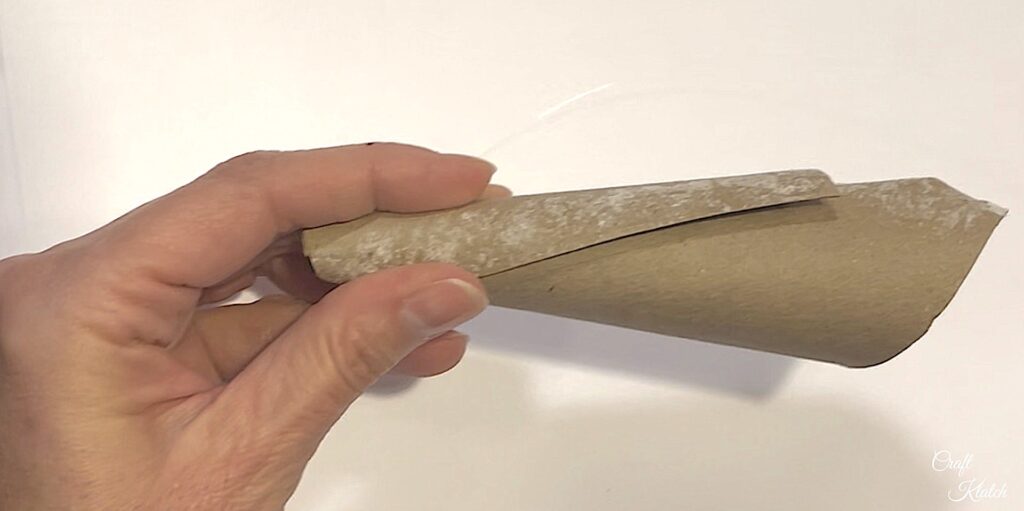 Step 3: Glue
Hot glue it together. You will want to hold it together for a minute or so, until the hot glue cools.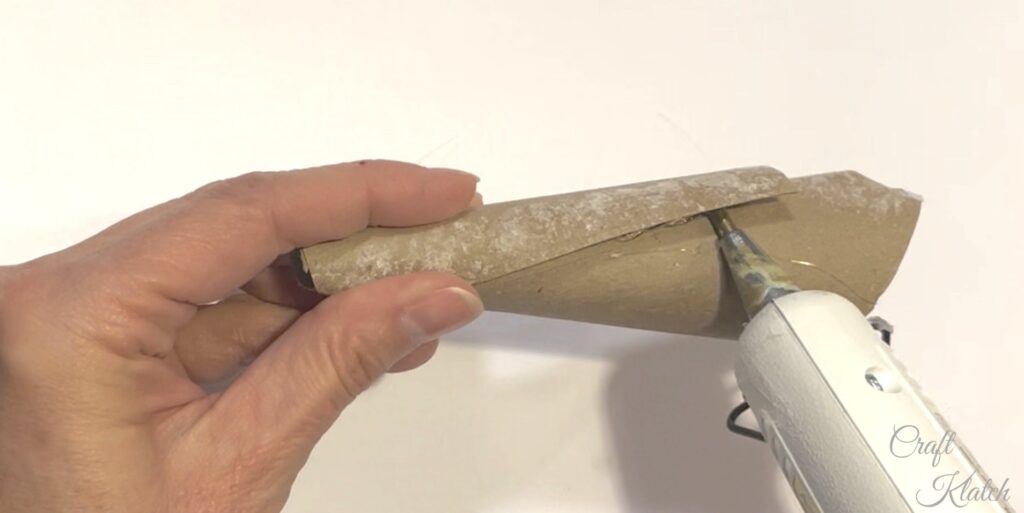 Step 4: Trim
Trim the cone so the bottom is flat.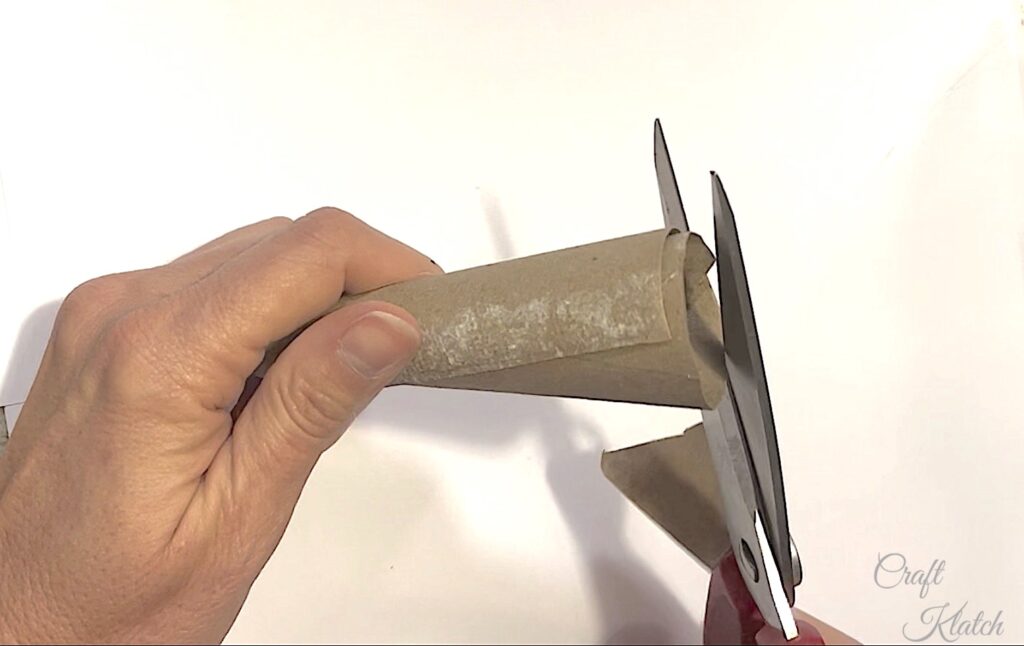 Step 5: Yarn
Put a little hot glue into the tip of the cone. Add the end of your green yarn.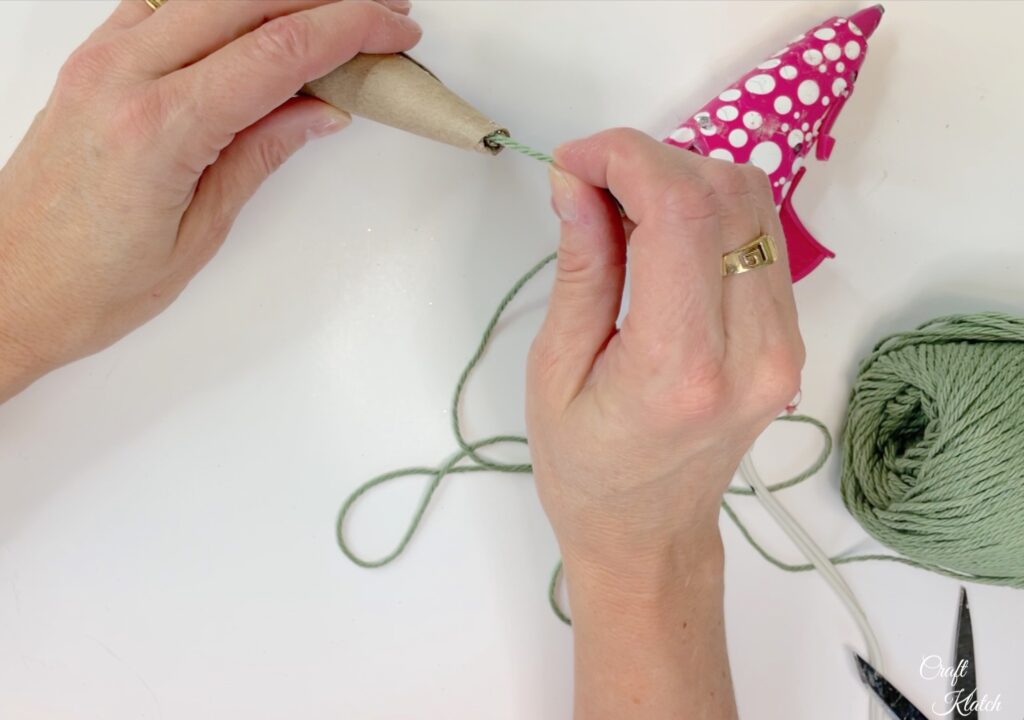 Wind the yarn around, making sure you occasionally add more glue.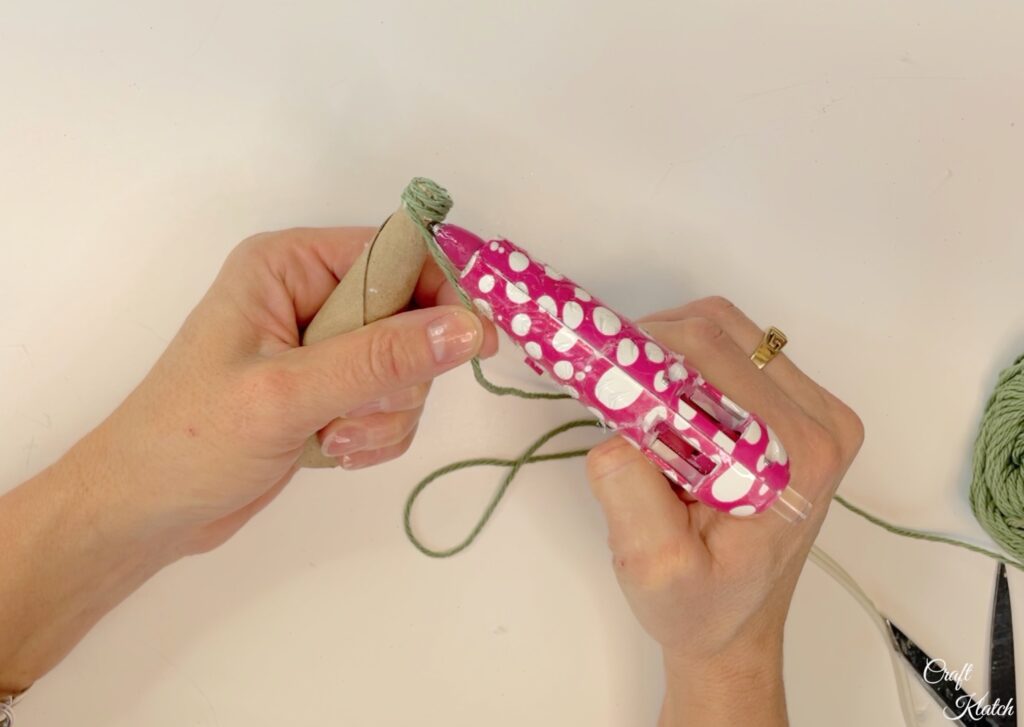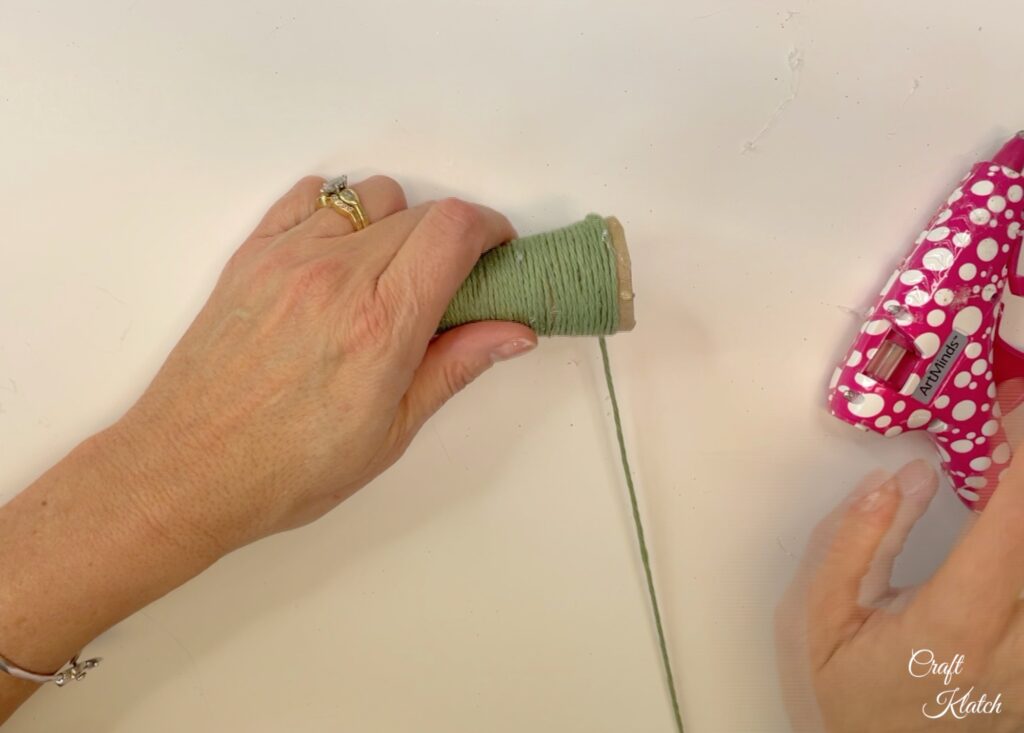 Step 6: Tuck
When you are finished covering the toilet paper roll, trim the end and tuck it under. Use a dab of glue to secure it in place.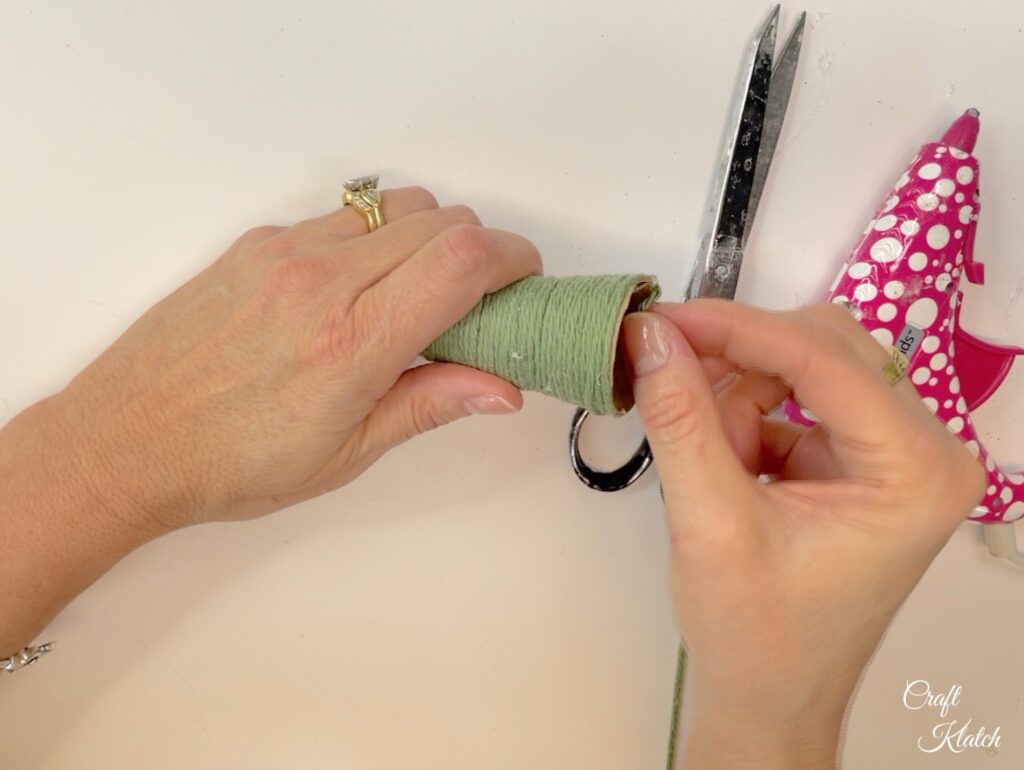 Step 7: Sprinkle
Use Mod Podge or clear drying glue to add little dots onto the Christmas tree ornament. Paint it right on top of the yarn.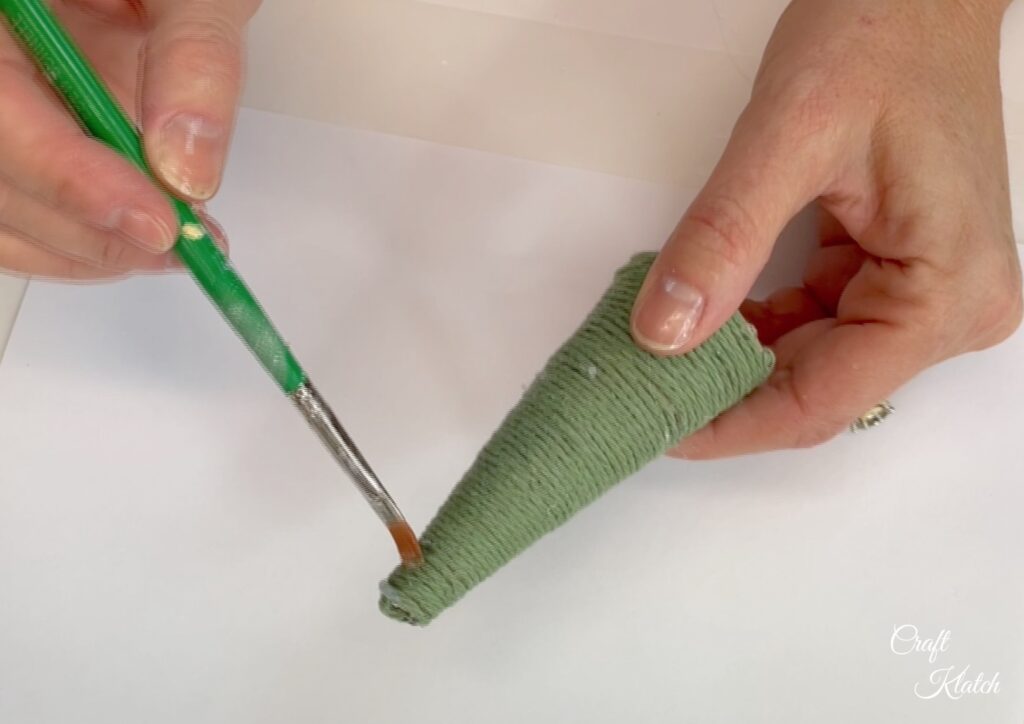 Then, sprinkle fine green glitter on top of the dots and tap off the excess.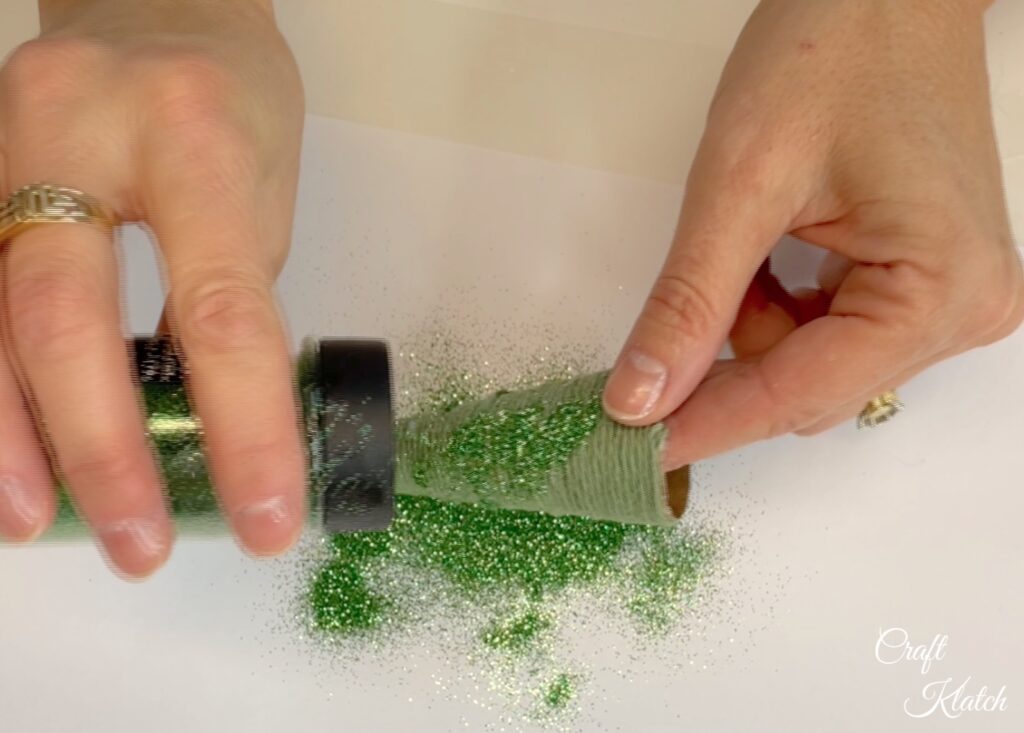 Step 8: Star
Fold a scrap piece of toilet paper roll in half.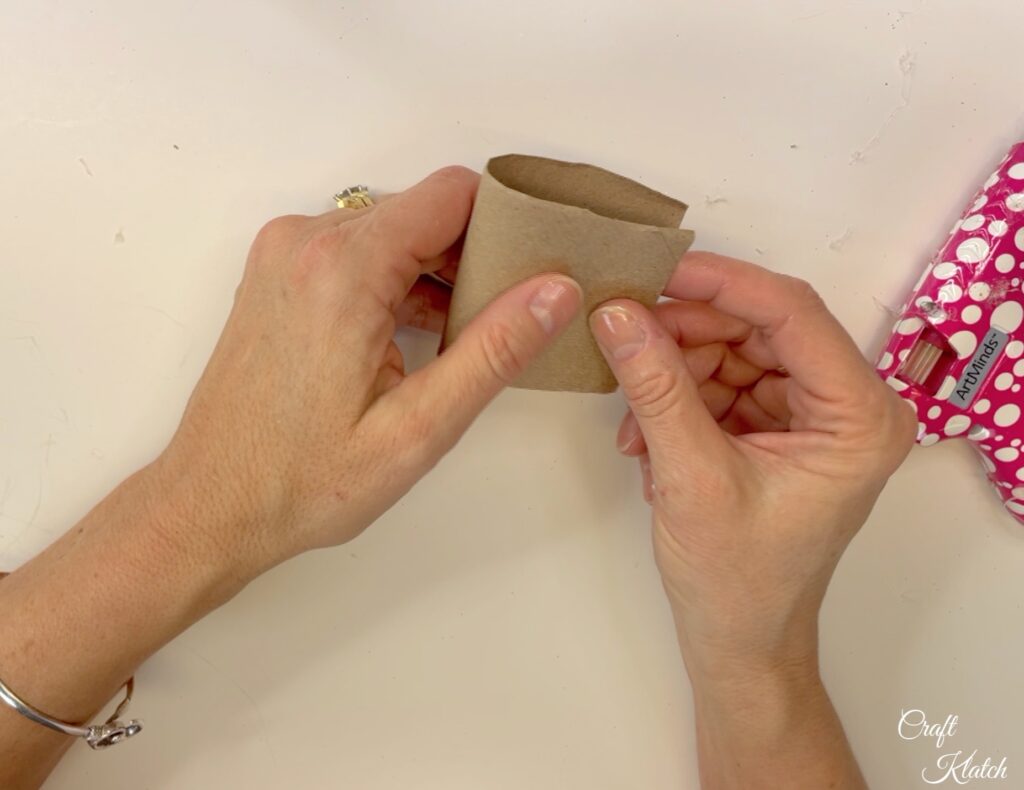 Draw a star and cut it out.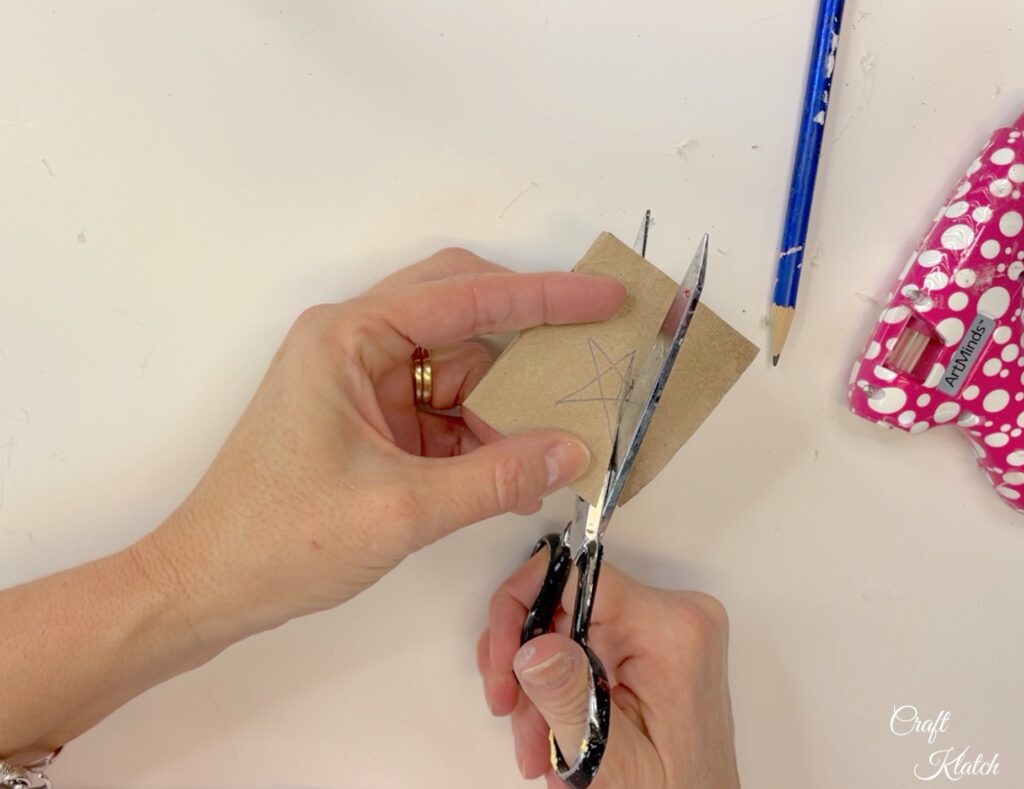 Step 9: Glitter
Use Mod Podge to glue the two stars back to back, with a fishing line in between. Brush the star with Mod Podge and sprinkle with gold glitter.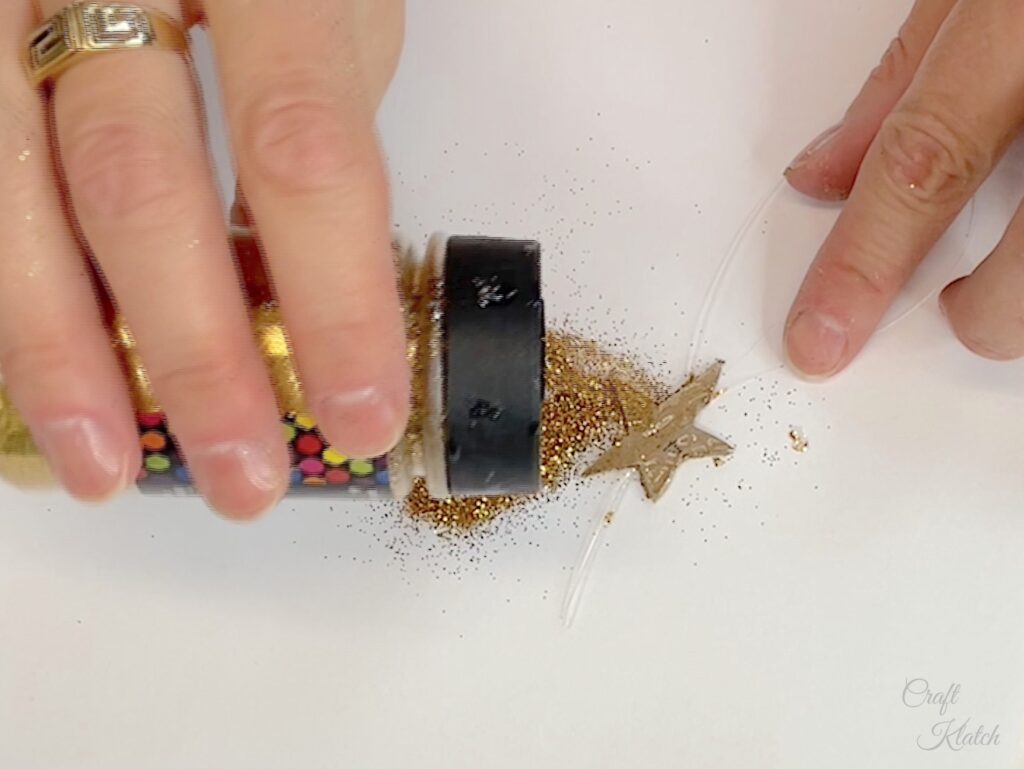 Step 10: Trunk
Cut a piece of toilet paper roll and roll into into a cylinder shape. Use hot glue to keep its shape. Paint it brown.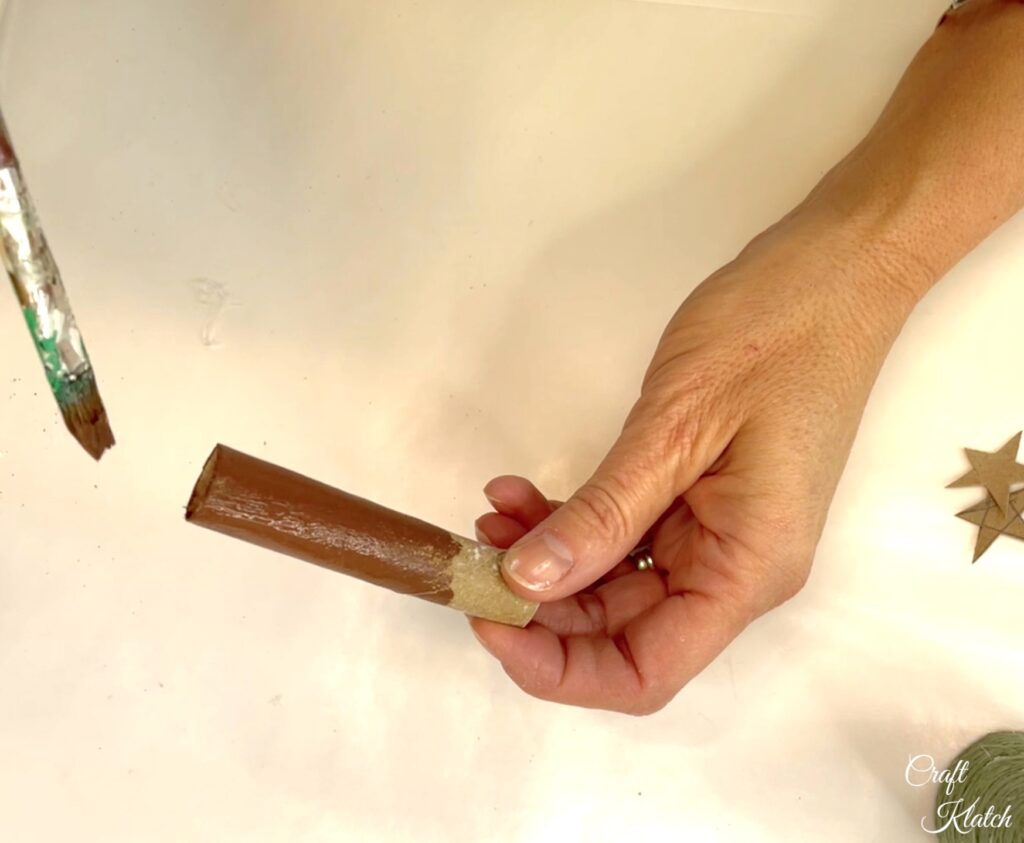 Step 11: Attach
Use hot glue on one end of the trunk. Place the glue side into the tree cone.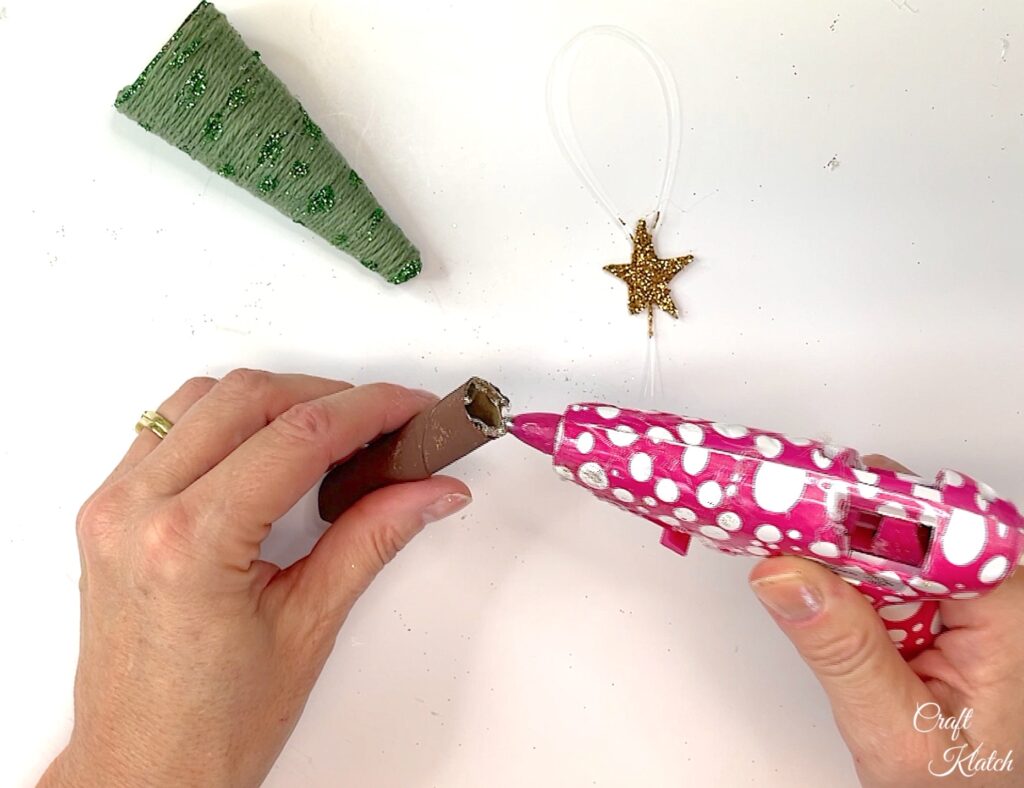 Step 12: Top It Off
Glue the star to the top of the tree. I left little ends of the fishing line poking through the bottom of the star. I inserted those into the top of the tree to allow it to hang onto it better.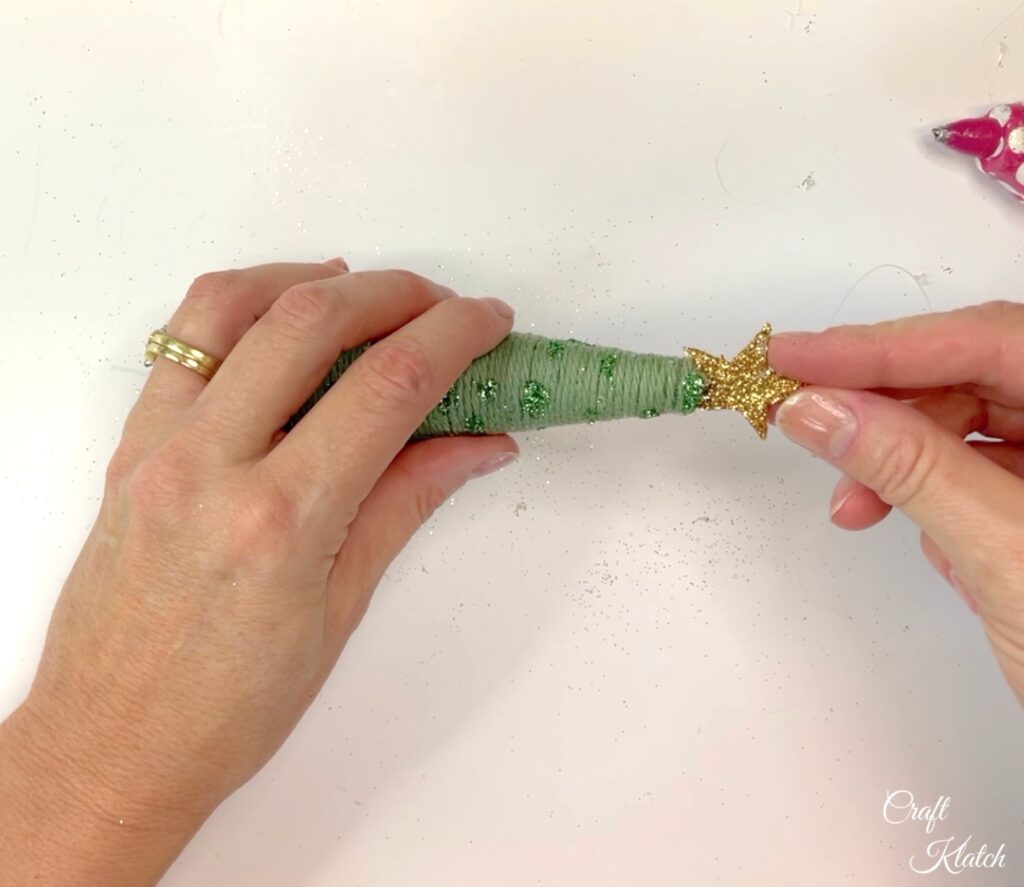 Here is the video with the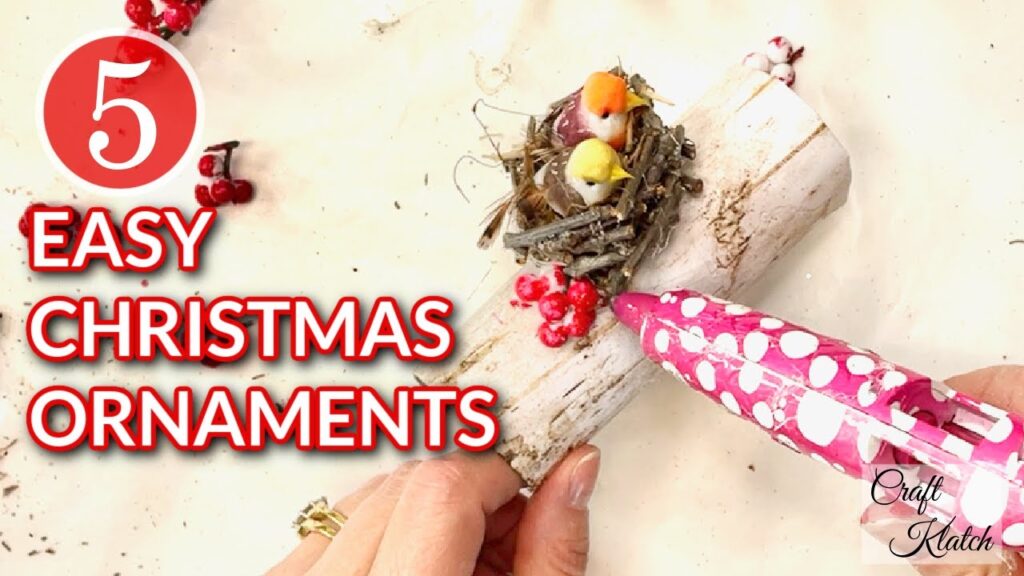 The Reveal
That is it! I'm not sure it could be much easier! It's a budget friendly Christmas decoration. It's easy to make and has the charm of a homemade Christmas.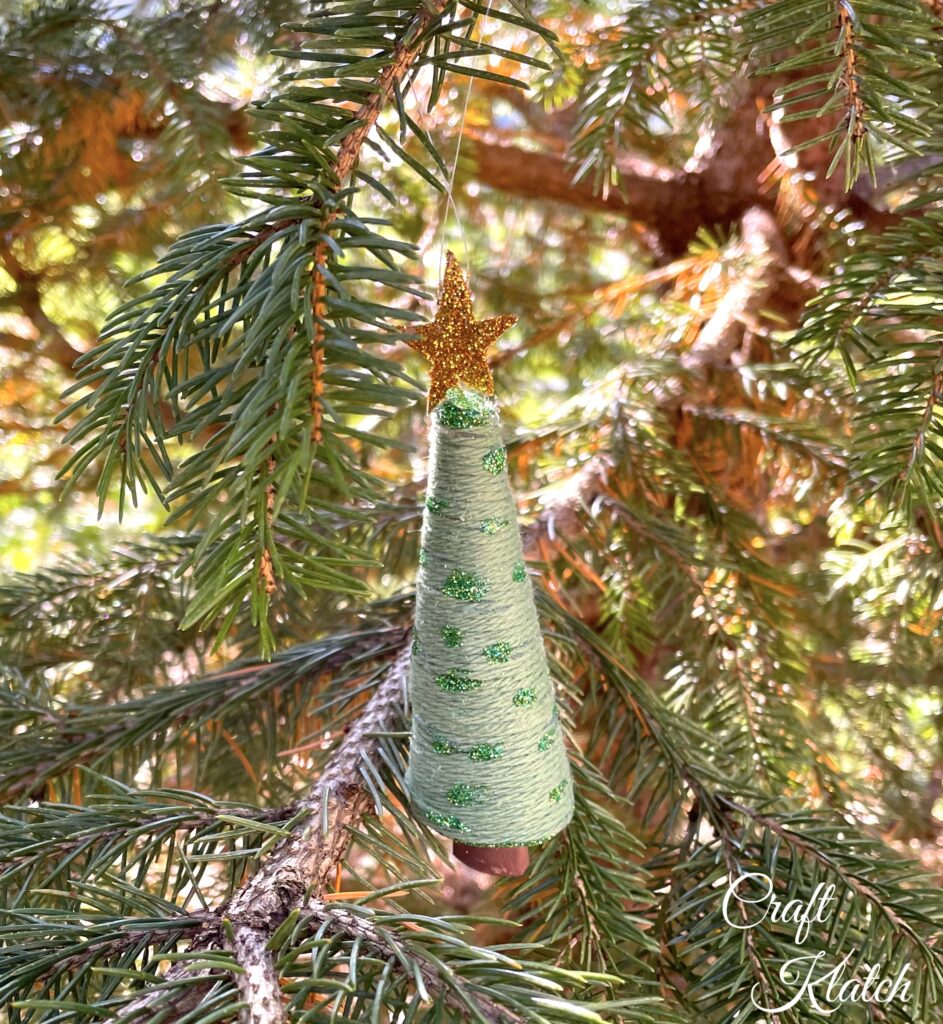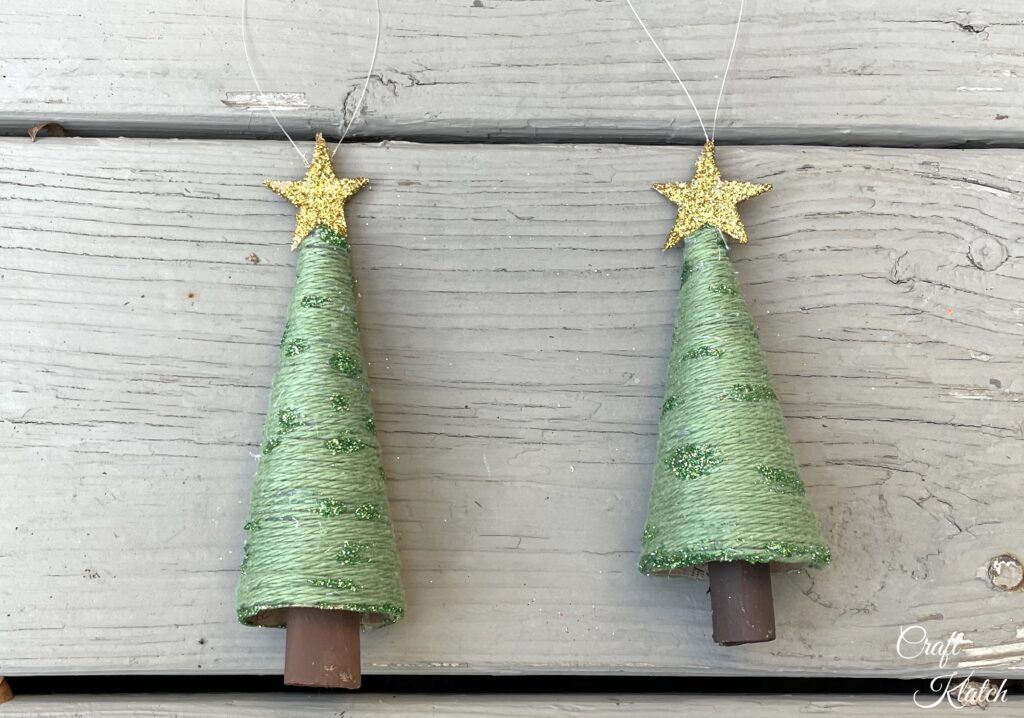 If you don't have time to make these trees, here are some alternatives to deck the halls!

Thanks for stopping by! Merry Christmas!
Remember: Life's too short not to shimmer, so grab your glue gun and your glitter!™ Stay safe!
Mona