Here's a fun and easy craft in time for Father's Day!
Supplies You Will Need
Wire clothes hanger
Mod Podge or glue
Acrylic paint ~ any colors you want
A block of wood or natural piece of wood
Two glass beads
Satin polyurethane spray (optional)
Tools to help bend wire (pliers)
Pantyhose
Thin wire (optional)
Hot glue
Here is the Video Tutorial
So you can see exactly how I made it!
Directions
1. Bend the wire hanger to the shape you want. It doesn't have to be a fish, so use your imagination! It can be an abstract sculpture or whatever!
2. Cover the fish shape with pantyhose. Trim off the excess. You will lose some definition when you put on the pantyhose. (Ladies – hopefully, they gave us more definition when we were wearing them!). You can either use a dab of glue (hot glue is good) and adhere it to the hanger, or you can use a thin wire and poke it through the pantyhose and twist it around the wire hanger (see video tutorial).
3. Use Mod Podge, decoupage finish, or white glue and apply 8-10 coats. The drying time will take the longest…so plan on AT LEAST two days.
4. When the coats have dried, you can paint them any colors you want. Go realistic or totally outrageous Let it dry.
5. Use a permanent marker and draw pupils on the glass beads. Hot glue the glass beads to the fish.
6. Find your base and drill a thin hole so the sculpture can slide right in.
7. I sprayed mine with a satin indoor/outdoor polyurethane. If you are keeping it inside, that's optional. I also took a high gloss polyurethane and went over the eyes to give them shine.
8. If you are putting it on furniture, put little felt dots under the base to prevent scratching.
9. Enjoy your sculpture.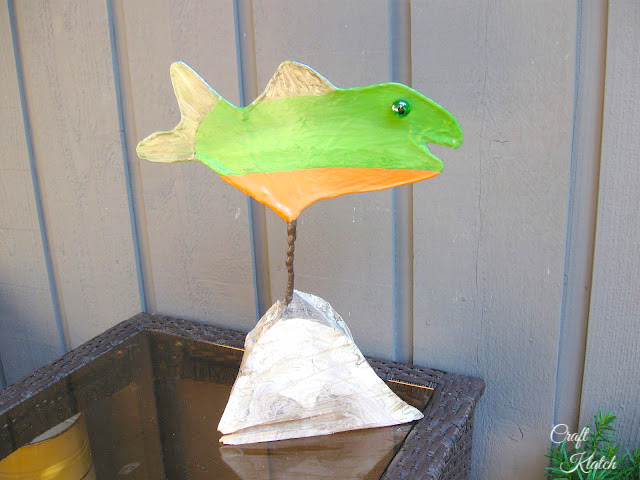 I would LOVE to see what you guys come up with!
Happy Father's Day and if you need more inspiration, here are 30 Easy Father's Day Crafts and DIY Projects!
Here are five Fish Projects you will LOVE!
Amazing Fish Gifts!!!

Thanks for stopping by! Remember: Life's too short not to shimmer, so grab your glue gun and your glitter!™ Stay safe!
Mona