Are you in search of a fun bridal shower game that will have your guests hooked from the start? I have the PERFECT game for you!
We just did this game at my niece's bridal shower and it was a huge hit!
Bridal Shower Game Backstory
Before I tell you what the game is, let me give you a quick backstory:
My niece is getting married. She lives up north but is having a beach wedding in Florida. My two cousins, my sister, and I were throwing a bridal shower for her.
Unbeknownst to us, she had already created a Pinterest board for her bridal shower!!!
That definitely made things easier!
She wanted to bring the beach/Florida vibe to the bridal shower and we were all for it!
The theme of the bridal shower was to be Two Less Fish in the Sea.
She had various games on her Pinterest board including…bra pong!
Wait…what?
That's a drinking game. We can't do a drinking game at a bridal shower! That's just not proper, but…
…Bra Pong is FUNNY!
We were each assigned to decorate a bra. My cousin was way ahead of all of us and did a bra decorated like two kissing fish…it was beautiful!
She upped our game! We decided all the bras had to be fish because if we were doing a beach-themed bridal shower and the actual theme is Two Less Fish in the Sea…what else would the bras be?
My Bridal Shower Game Bra
I selected the pufferfish as my fish of choice. I'll show you the other bras my sister and cousins made at the end but I'm going to take you through the process of my bra first.
I was going to make the best darn fish bra EVER!
Video Tutorial for Bridal Shower Game Bra Makeover!
Here is the tutorial so you can see exactly how I turned a bra into a couple of pufferfish.
Materials You'll Need for the Bridal Shower Game Bra
*This blog uses affiliate links. As an Amazon Associate I earn from qualifying purchases.
Bras (thrift store finds work great! I bought mine at Goodwill)
Fake flower leaves – tall to look like seagrass
Silver glittered pick
Creating the Pufferfish Masterpiece
1. Bra Bonanza: Finding the Perfect Canvas
My sister and I went to Goodwill and were shocked at the large selection of colors, sizes, and styles of bras!
Originally, I was thinking that a plain, neutral bra would make a good canvas…but then I saw it.
It was the one!
A hot pink/coral bra with lace around the bottom and sides. It was definitely attention-grabbing.
It. Was. Perfect
2. Pufferfish Transformation: Adding Vibrant Colors
The lace around the sides and the edges made me think of coral but the cups were bright as could be and needed to be toned down with neutral pufferfish colors.
To figure out the right paint colors, I did a test painting.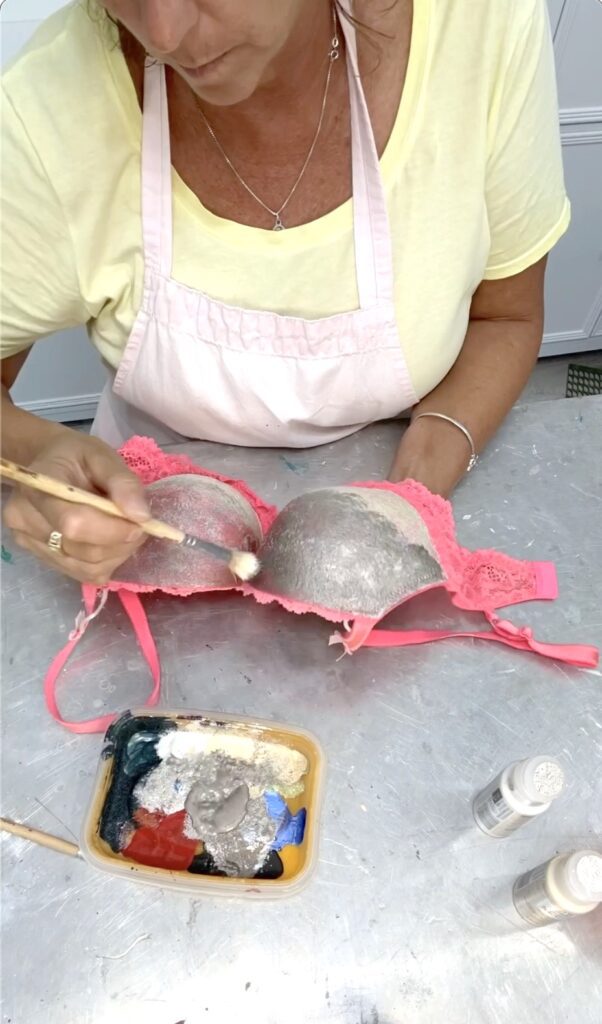 I painted the bridal shower bra with sugar metallic paints because they have a sugary texture, which is fun and they have a little shimmer to them too!
I used it in Crystal White and Smokey Quartz. The colors were perfect!
3. Crafty Spikes: Adding Playful Texture
Pufferfish have spikes and I toyed with using toothpicks, and skewers and ultimately decided the tips of golf tees were perfect!
Skewers and toothpicks are very pointy but golf tees won't draw any blood.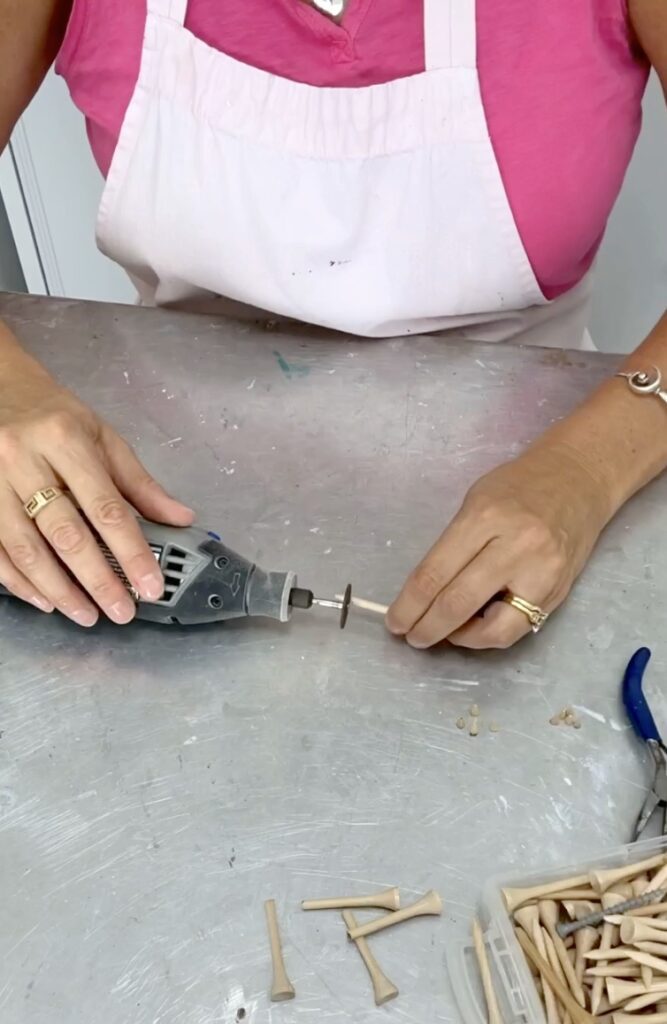 I used my rotary tool and carefully cut just the tips off of the golf tees.
4. Eyes on the Prize: Giving Your Fish Personality
I found oval black plastic eyes. I cut off the posts on the back and they became another perfect addition.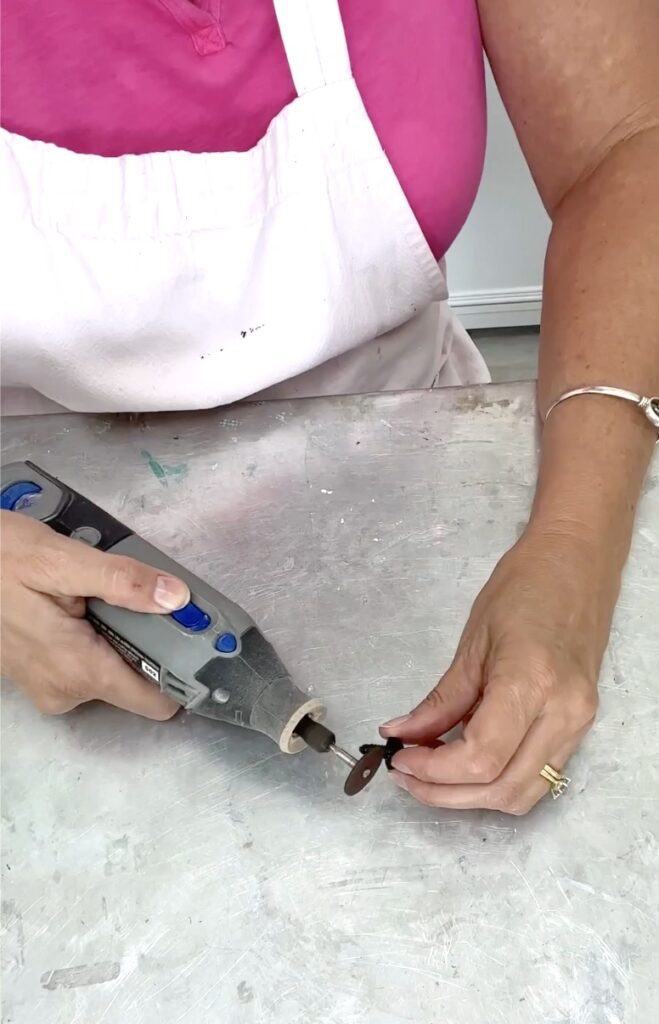 5. Fins and Lips: Adding Character and Flair
I printed out pufferfish lips and side fins on cardstock. I did mirror images of the fins so that when I cut them out, I could glue them back to back. That way, one side of the fin would not be just plain white paper.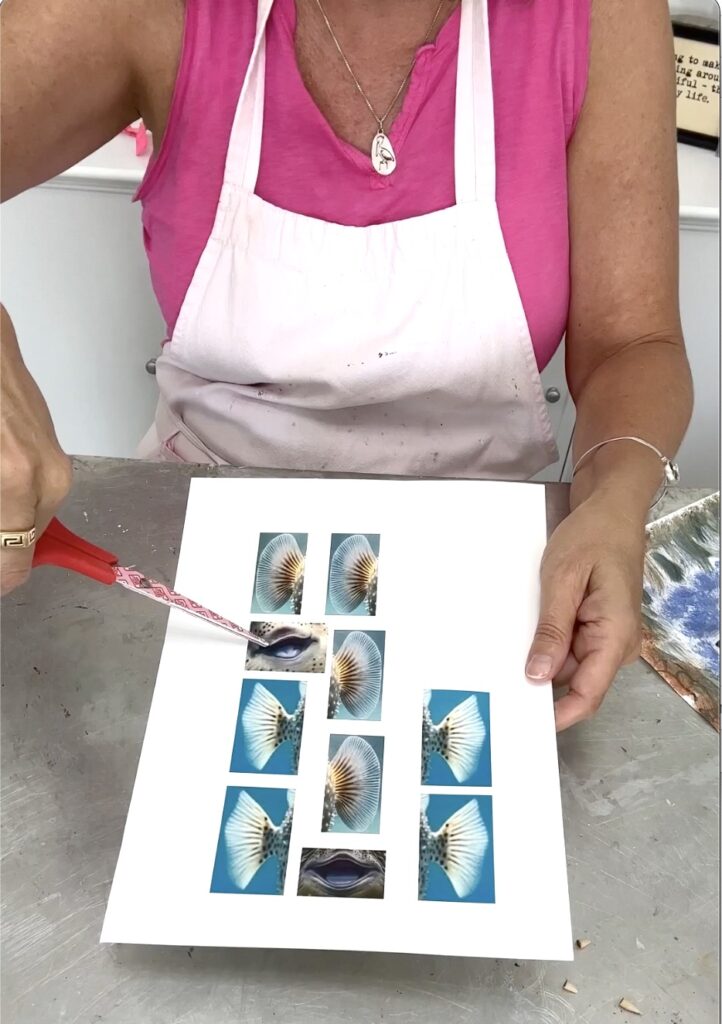 Then, I used UV resin, covered the cardstock fins and lips, and put them under the UV lamp. They hardened right up. Then, I flipped them over and did the other side. The paper was perfectly sealed.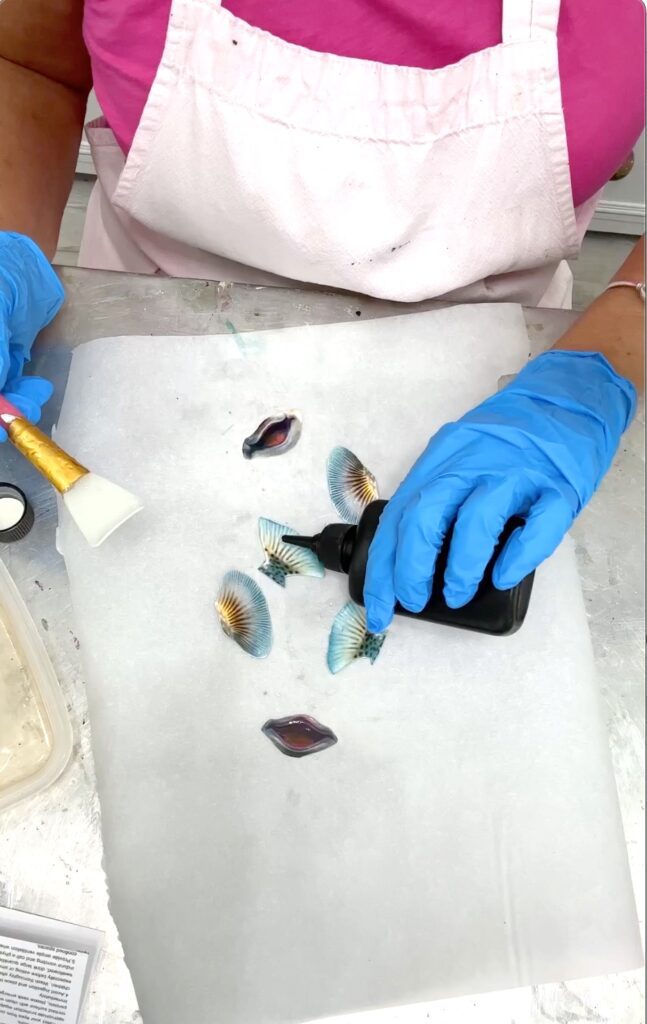 6. Spike and Secure: Assembling Your Pufferfish
It was finally time to put them together.
I started out gluing the eyes and lips/mouths onto the bra using super glue.
Then came the fins. I sliced into the sides of the bra cups and slid the base of the fins in and secured it with super glue.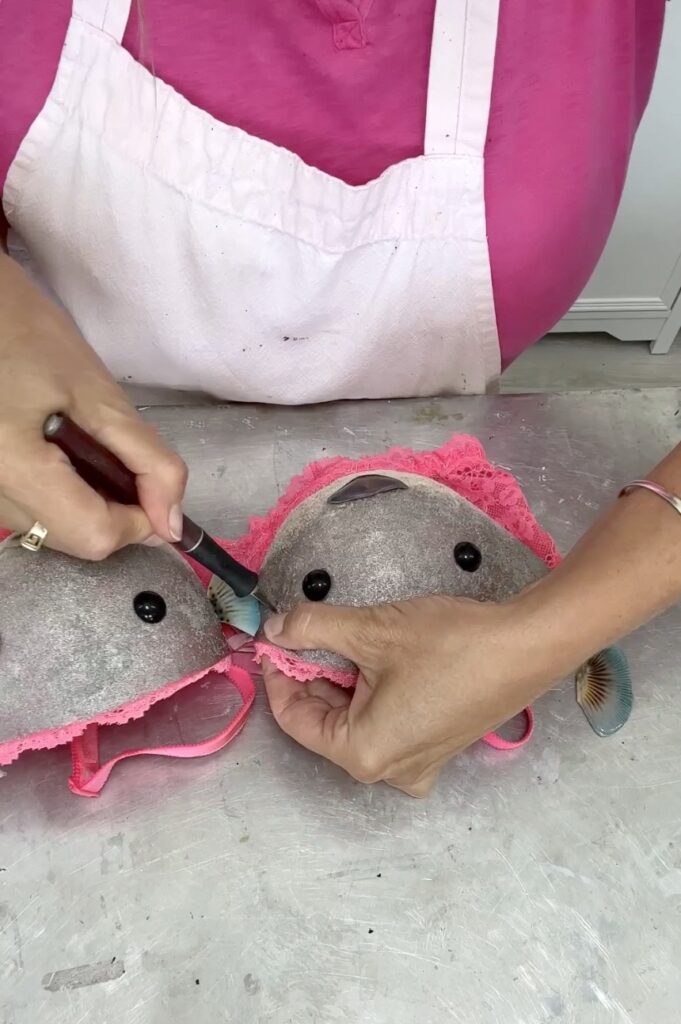 Finally, the spikes were super glued all over the cups.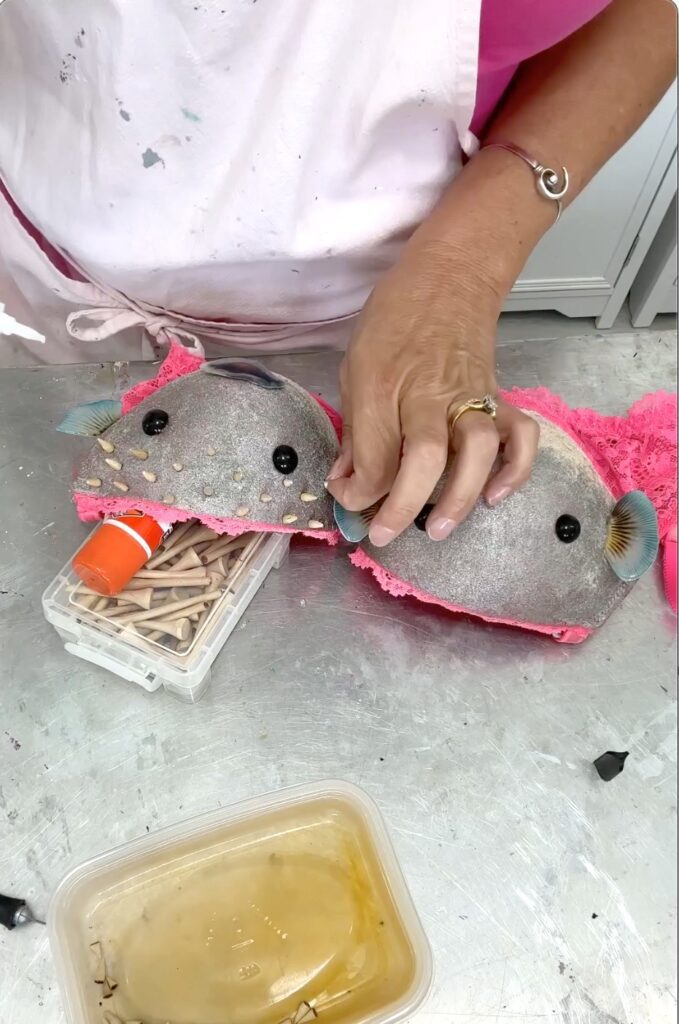 7. Seagrass Serenity: A Final Touch
I searched my fake flower stash and found one that had long leaves. I used a little Mod Podge and sprinkled fine green glitter to give it a magical feel and I thought it looked a little like seagrass.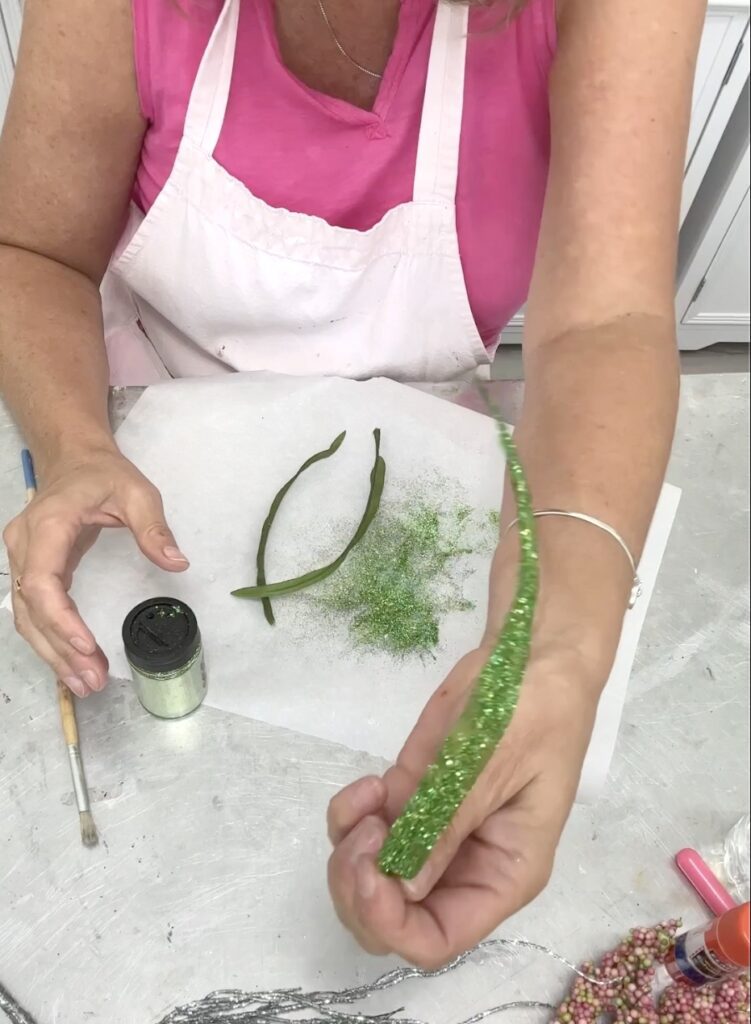 In my search, I also found a silver glitter pick that looked like it would add a little extra fun.
It is a bridal shower after all…glitter is allowed!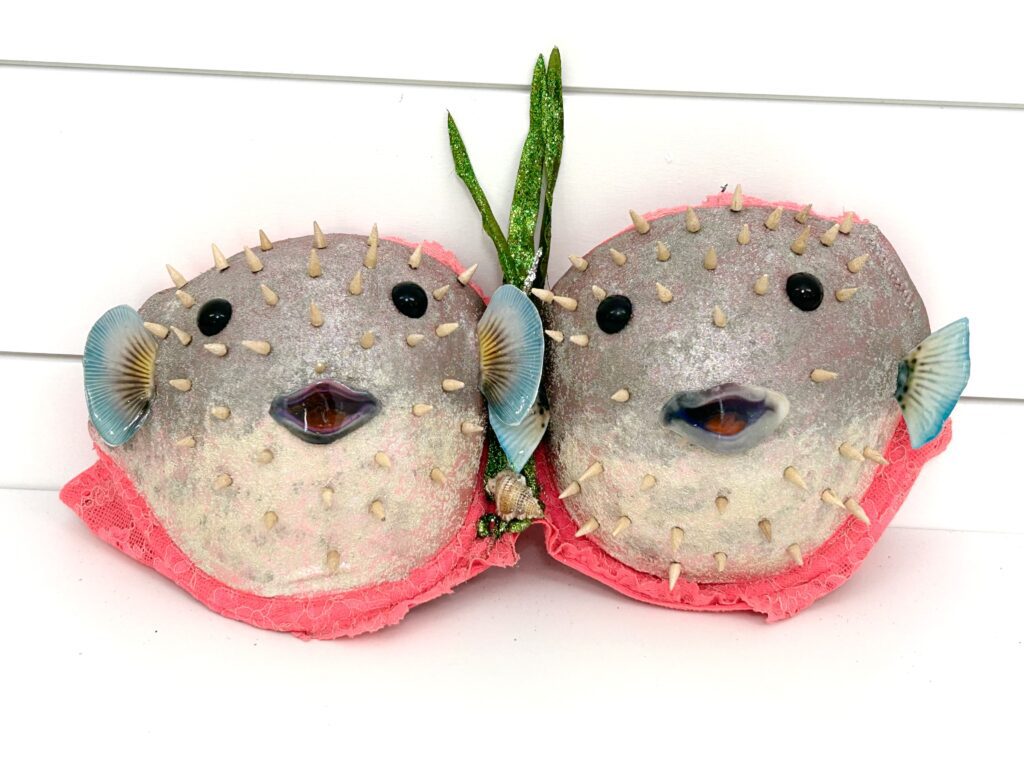 The Setup for the Bridal Shower Game
My cousin bought the kind of foamboard that you would use in a science project. It's a simple "V". We safety pinned the bras onto the board and glued funny pictures of men that were beach or sea related.
Then, we glued on other items that worked as a filler.
We made sure the bra bands and the straps were tucked in the back.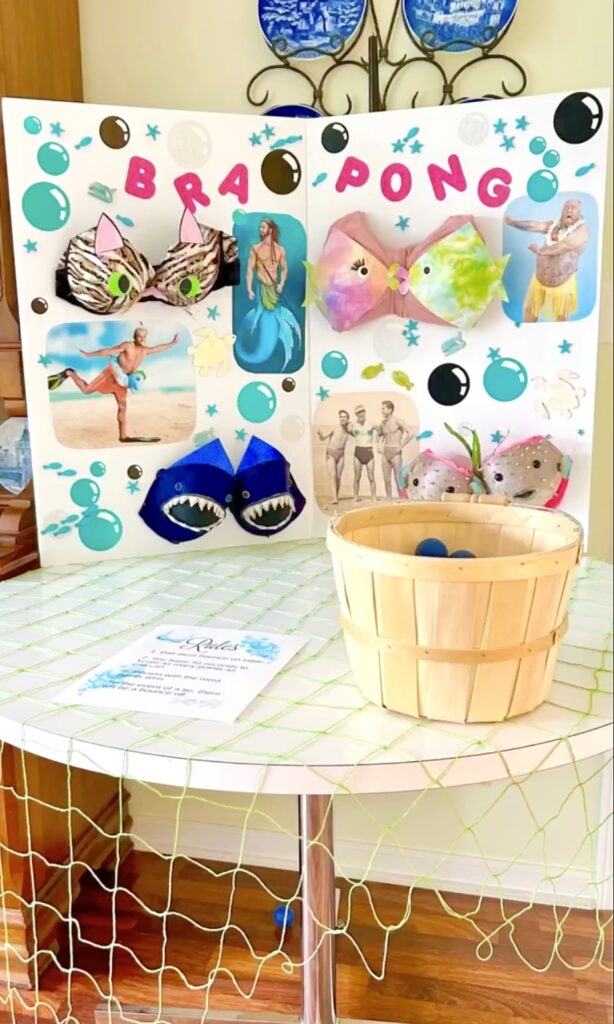 We put it on a table off to the side but still part of the bridal shower. In a bushel basket, we had colorful ping pong balls. It made a fun display!
Which is Your Favorite Fish?
Let me know which fish bra you like the best, in the comments below!
The Kissing Fish
The Catfish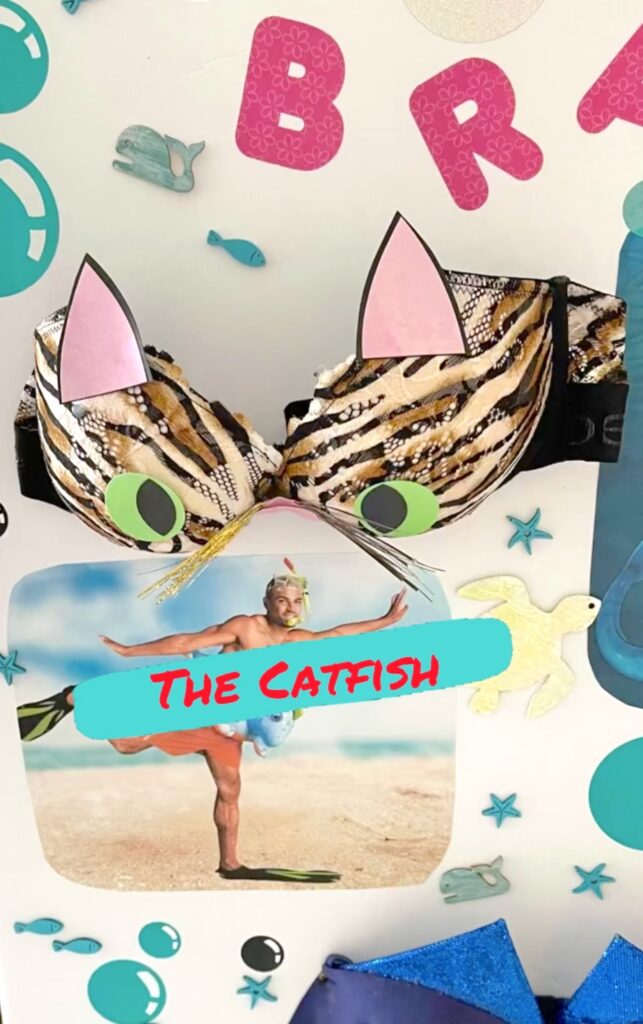 The Sharks
The Pufferfish
Fun and Laughter: Let the Game Begin!
As I mentioned before, Bra Pong is a drinking game and is not usually meant for a bridal shower but is better for the bachelorette party.
Upon much discussion, we decided to use it as one of the bridal shower games and have a prize. We altered the rules to be as follows:
Ball must bounce on table.
You have 30 seconds to score as many points as you can.
Person with the most points wins.
*In the event of a tie, there will be a bounce off.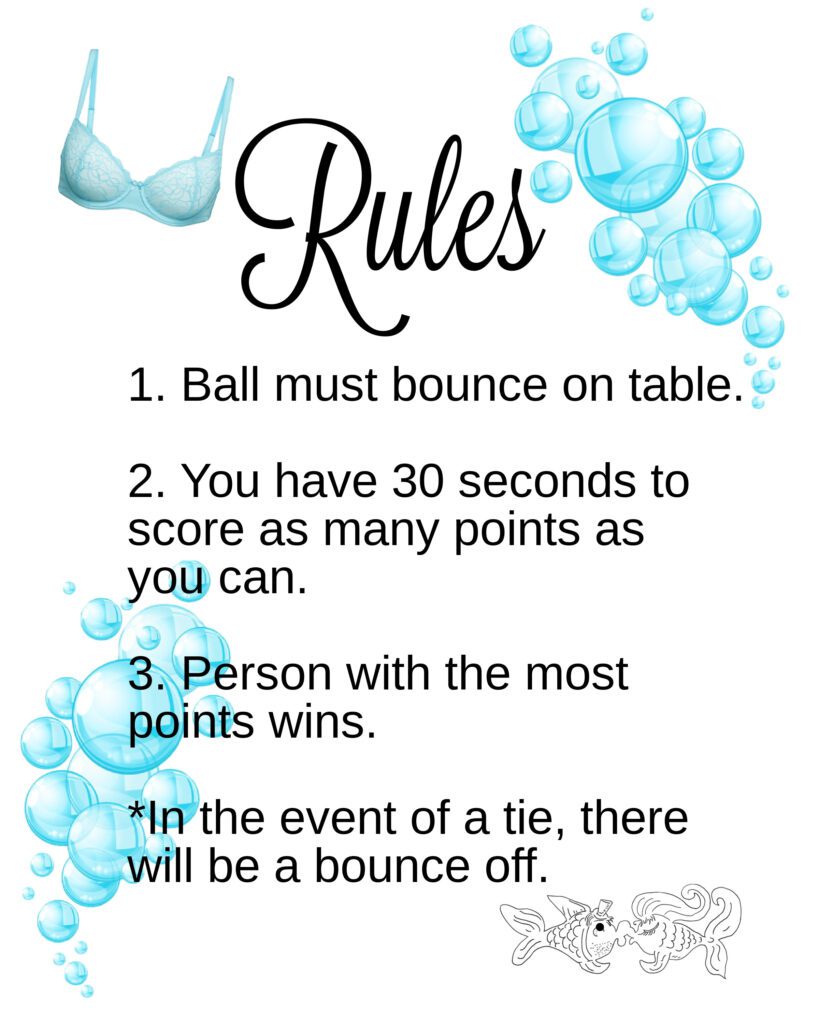 We had my niece (not the bride-to-be) keep track of who scored the most points and that person won a prize.
Because of the bridal shower theme, we did fish, but you can alter your bra decorating based on whatever your bridal shower theme may be!
Get ready for laughter, competition, and an unforgettable experience!
People enjoyed it so much, it's making a comeback at the rehearsal dinner!
Personal Touch: A Bridal Shower Dream Come True
The inspiration behind including the Bra Pong in this bridal shower is heartfelt. The bride herself had pinned it to her bridal shower Pinterest board – nobody knew it would take a fishy turn!
This personal touch adds an extra layer of fun to the celebration, turning a simple game into a cherished memory that reflects the bride's personality.
Bridal Shower Games
Bra Pong was only one of the games we played at the bridal shower.
Here are others that we included:
Remember, it's not just a game – it's a way to create cherished memories and laughter that will echo through the waves of time. Dive in and enjoy the journey of crafting, playing, and bonding with your loved ones.
Other Fun Bridal Shower and Wedding Projects
Thanks for stopping by! Remember: Life's too short not to shimmer, so grab your glue gun and your glitter!™ Stay safe!
Mona