If you've been here awhile, you know I enjoy a good garbage pick! Greg and I set off in search of a Christmas decoration idea in hopes we could salvage some trash!
I had just gotten a Christmas tree for the front porch and all I had was my old, old Christmas tree skirt. It looked messy and just bad.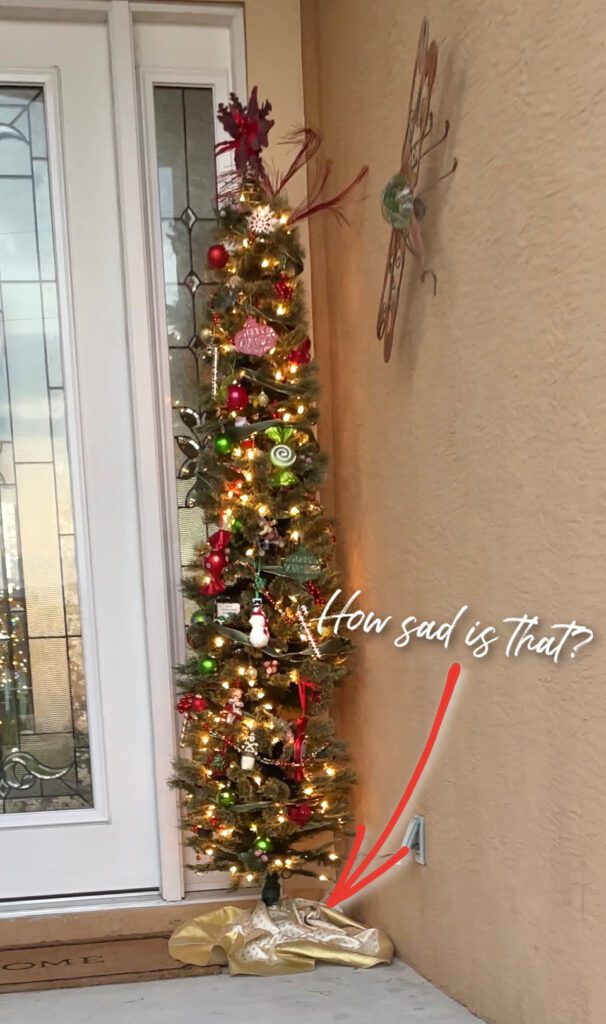 I thought, surely I could figure something out. We have a treasure trove of trash sitting at the curb right now. It's post-hurricane damaged furniture and stuff.
It's heartbreaking to see all that people have lost, but it's also an opportunity to salvage and repurpose items that would otherwise end up in a landfill.
So, I recruited Greg. The usually reluctant participant was up for it…and off we went.
Be sure to follow me on Instagram! I usually document my garbage picking there!
I found some garden edging that I thought I could fashion into a Christmas tree stand, but I wasn't sure I was feeling it…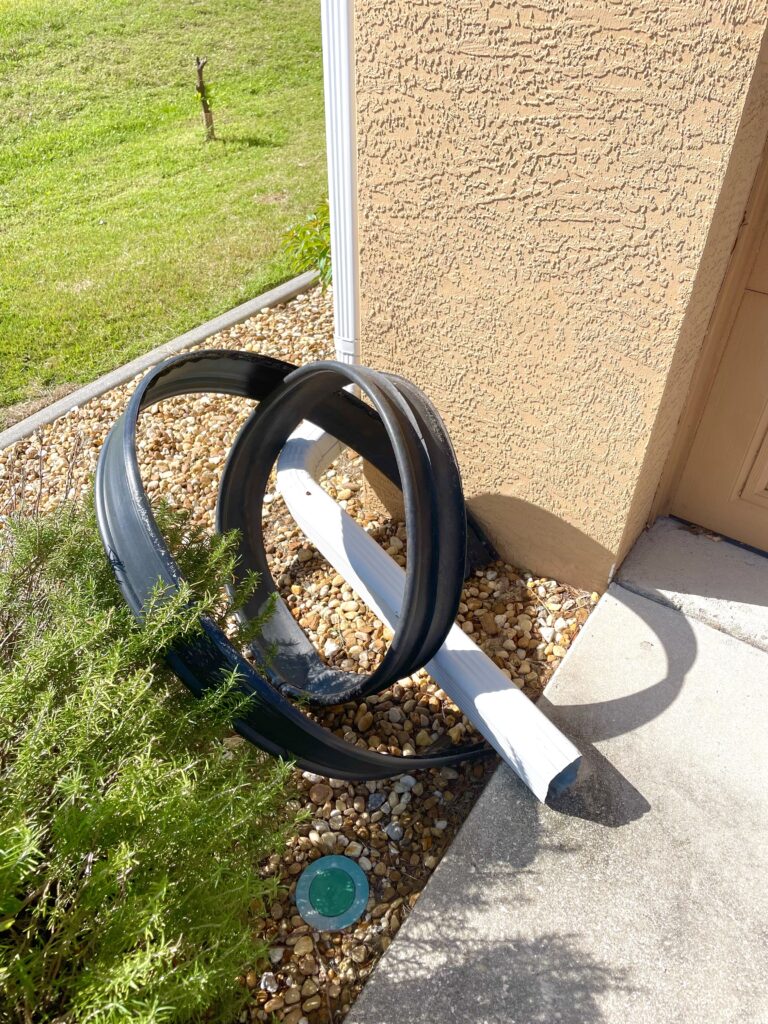 Then, we went one more block and…
BAM!!!
THE. PERFECT. FIND.
I mean…PERFECT!!!
There was a swivel wicker desk chair lying amidst mattresses, broken furniture, and all the other contents of the house, waiting to get hauled away.
NOT SO FAST!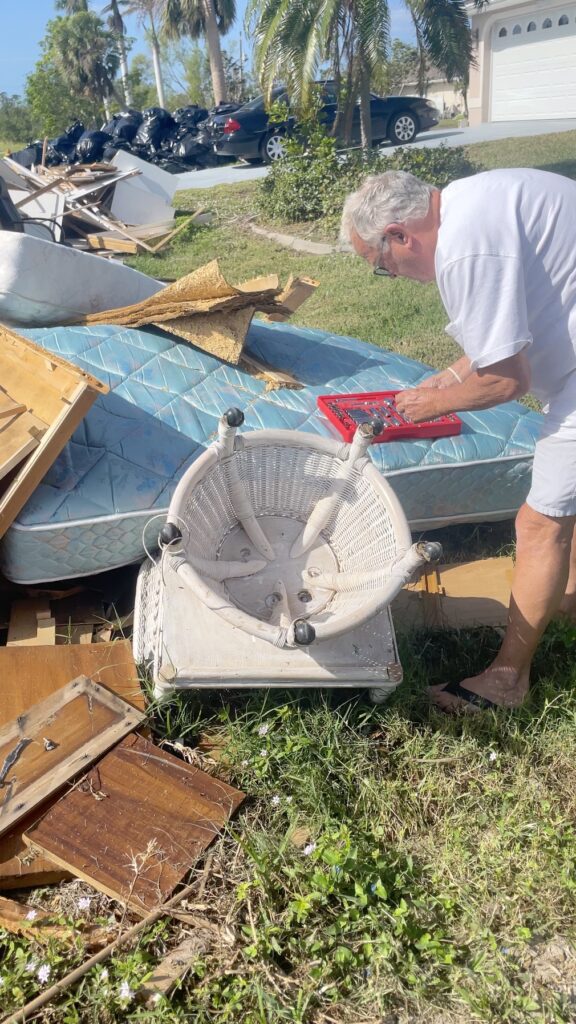 We hopped out and checked it out. All we needed was the base. Greg did not want to take the whole chair, so we ran home and got the ratchet set.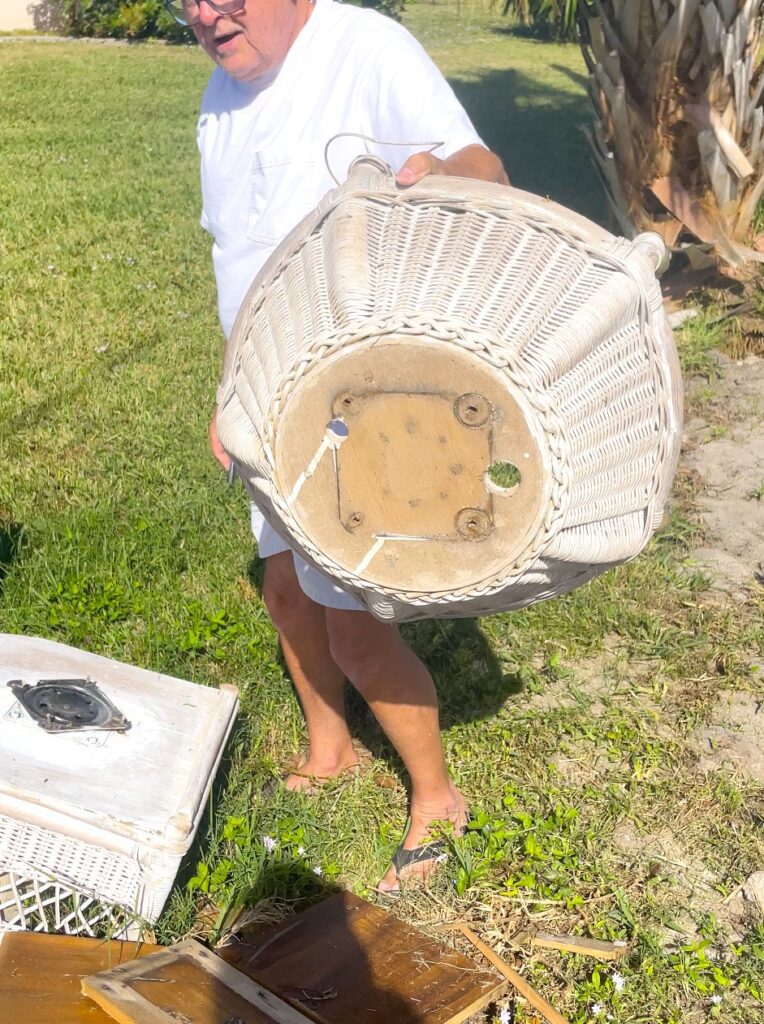 Then, back we went!
He detached it and I was all excited to get home and get to work on my Christmas decoration idea!
Luckily, we were just around the corner.
This is a Garbage to Gorgeous Christmas edition!
CLEANING FOR A FRESH START
I used a brush to scrub it clean. It didn't seem too dirty.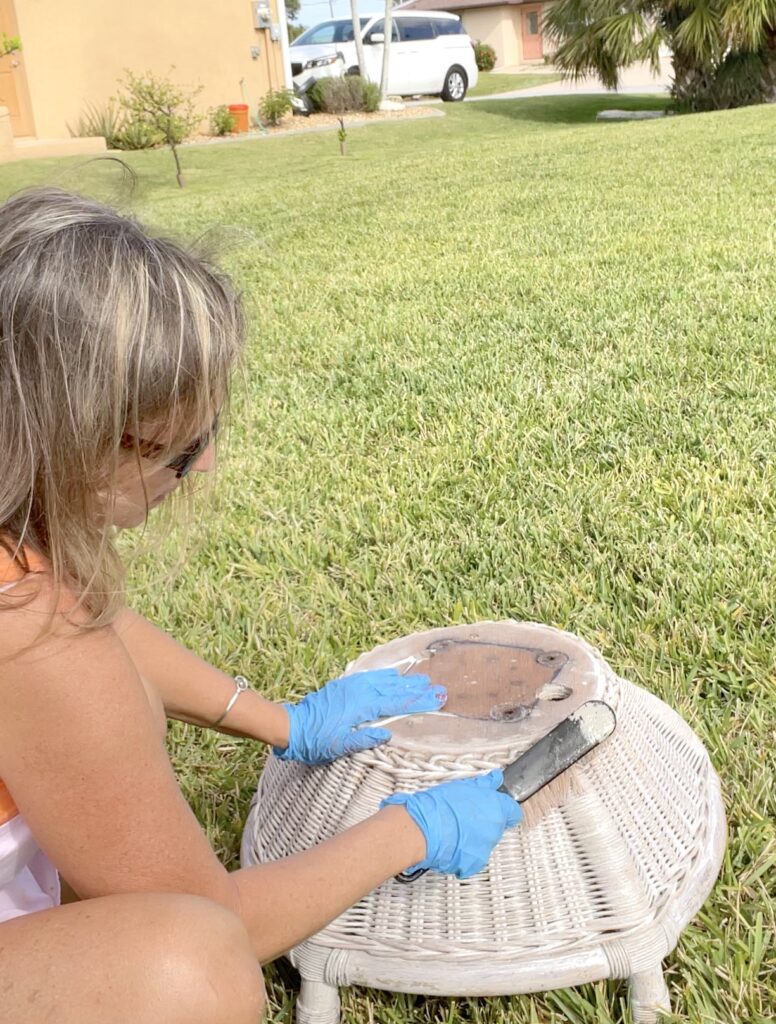 TIME TO MAKE THE CHRISTMAS IDEA COME TO LIFE!
Then, Greg and my dad cut off the legs.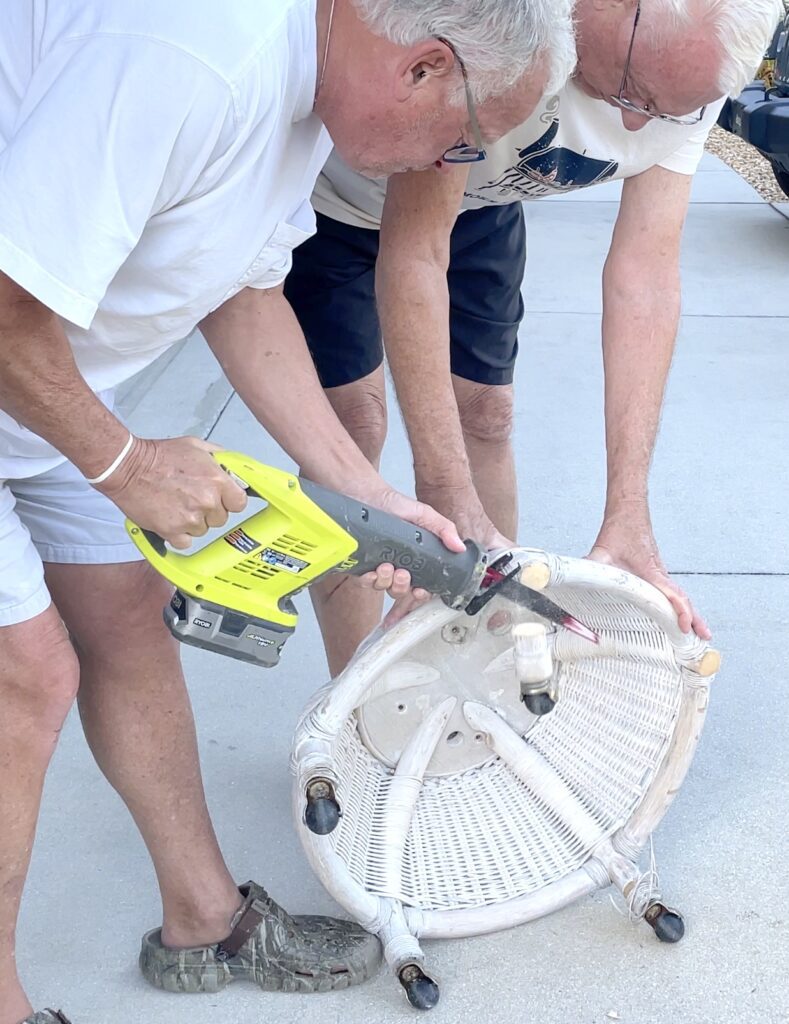 THE ULTIMATE REFRESH
Paint is the easiest and most rewarding way to give a piece of furniture or an accessory a total refresh.
I had some leftover gold paint and got to work.
THE GREATEST CHALLENGE
Since this was an afterthought, I had already decorated the tree, so getting the tree into the stand without losing all of the decorations was a challenge.
I had to put about a quarter of them back.
We did put a couple of wedges at the base so the tree stood straight.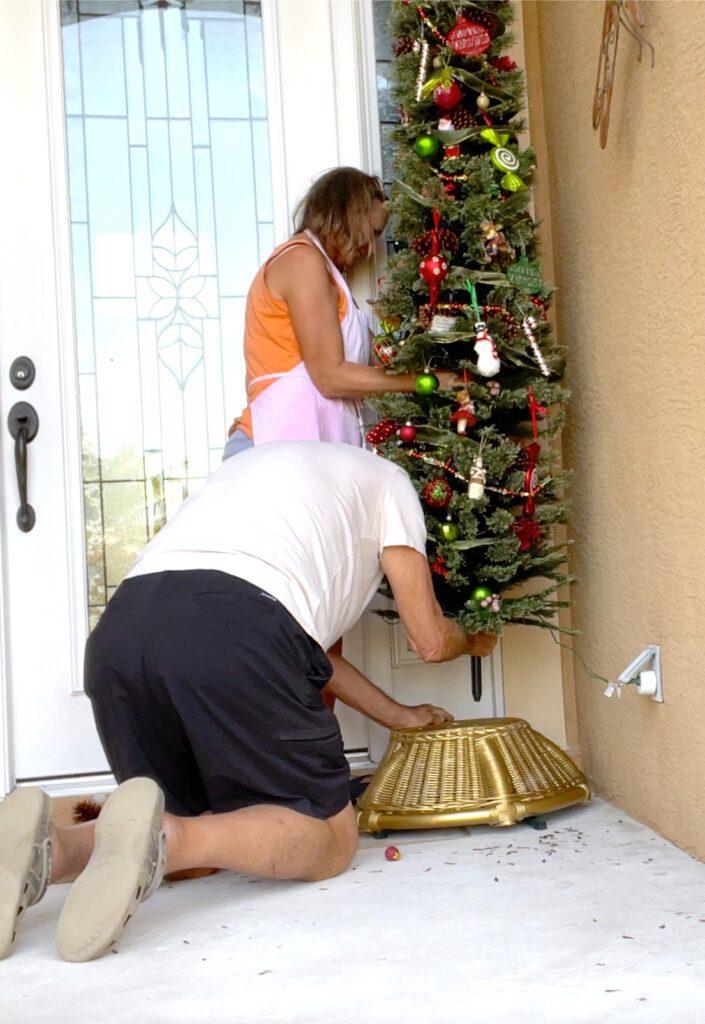 THE FINAL TOUCH TO ADD TO OUR CHRISTMAS DECORATION IDEA
To hide the wedges, and the imperfect top of the stand, I broke out the pine cones.
Greg and I had scavenged them the day before and they were the perfect touch!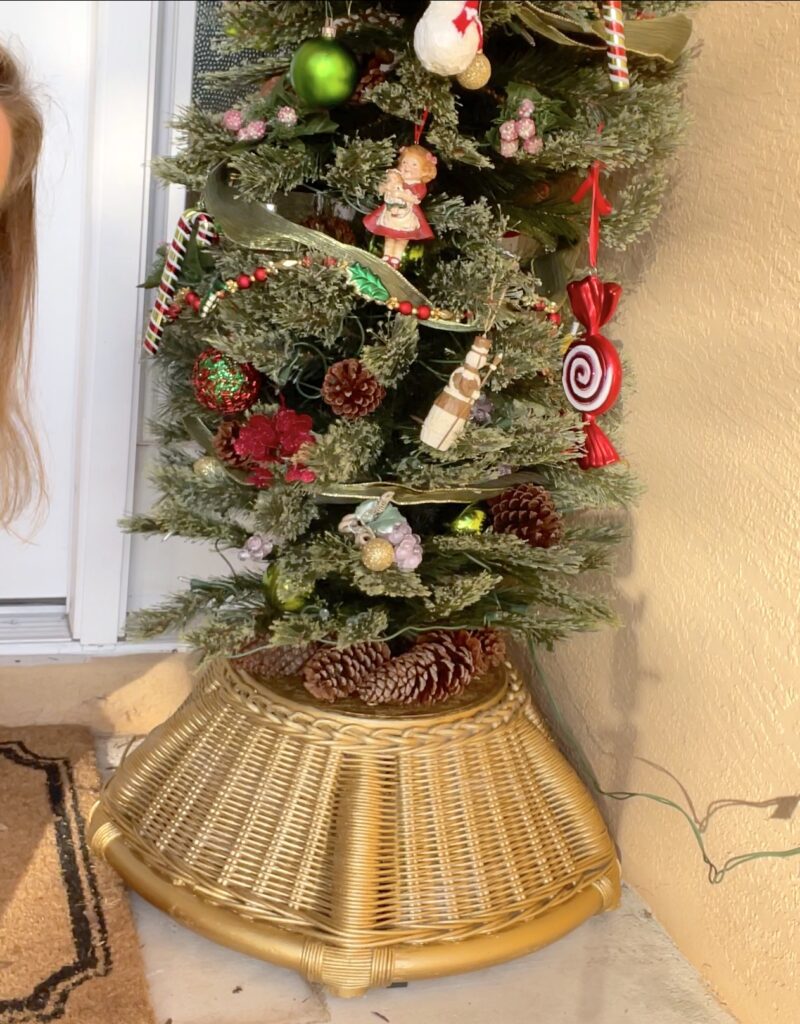 Now, I have a cheap Christmas decoration idea that looks like it came from a high-end store!
AND IT DIDN'T COST ME A DIME!
I had the gold paint left over from some other project years ago.
The pine cones were another side-of-the-road gold find!
Video Tutorial for the Christmas Tree Stand DIY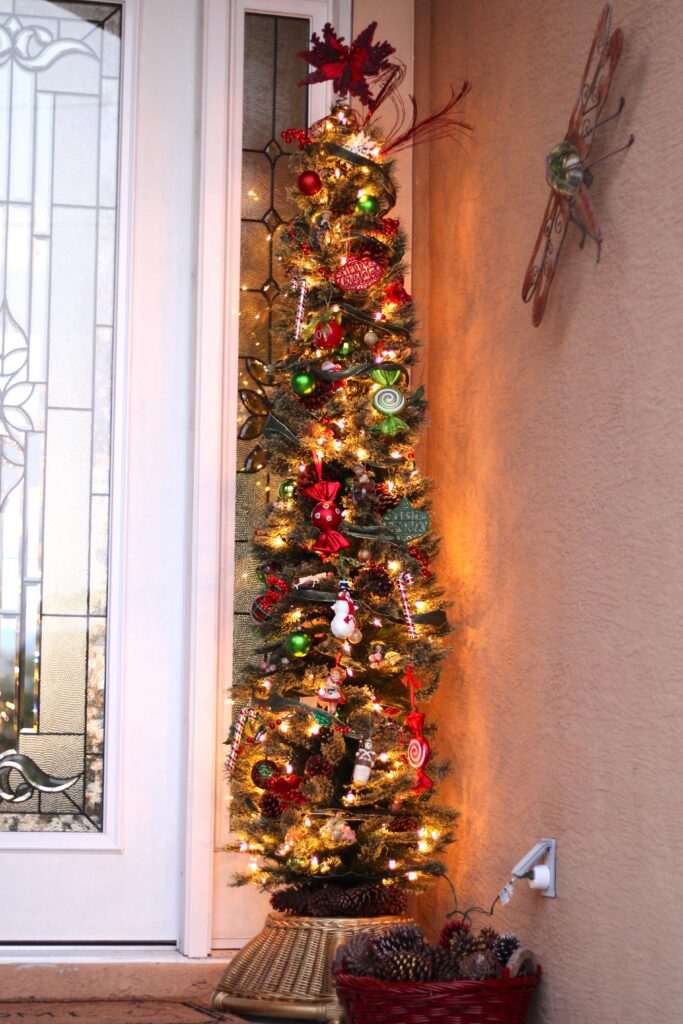 Now I just have to figure out a creative way to hide that plug!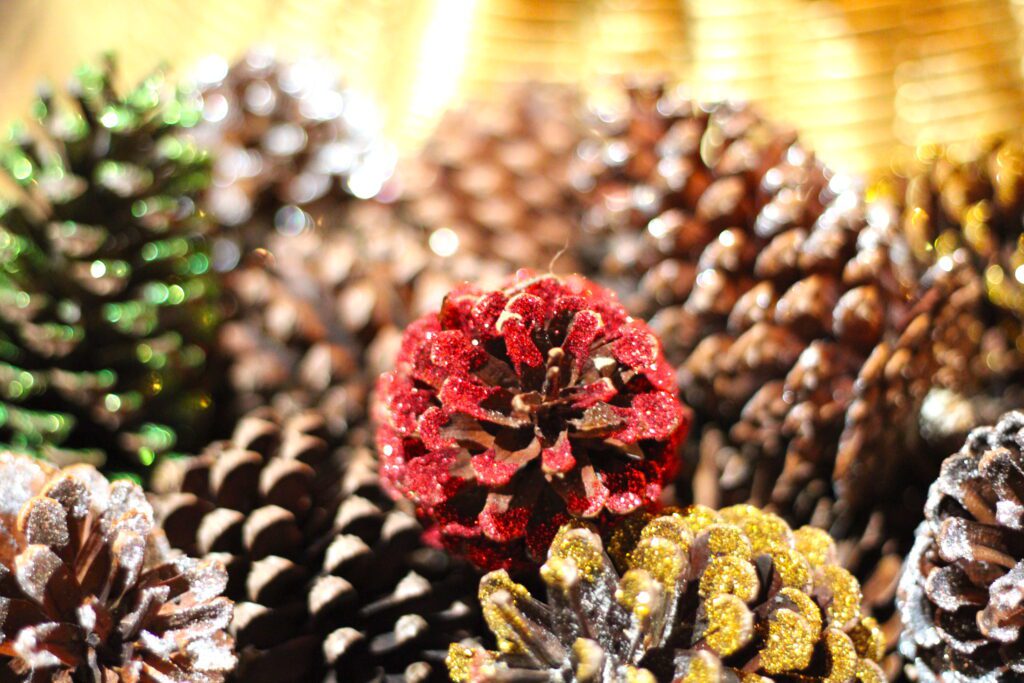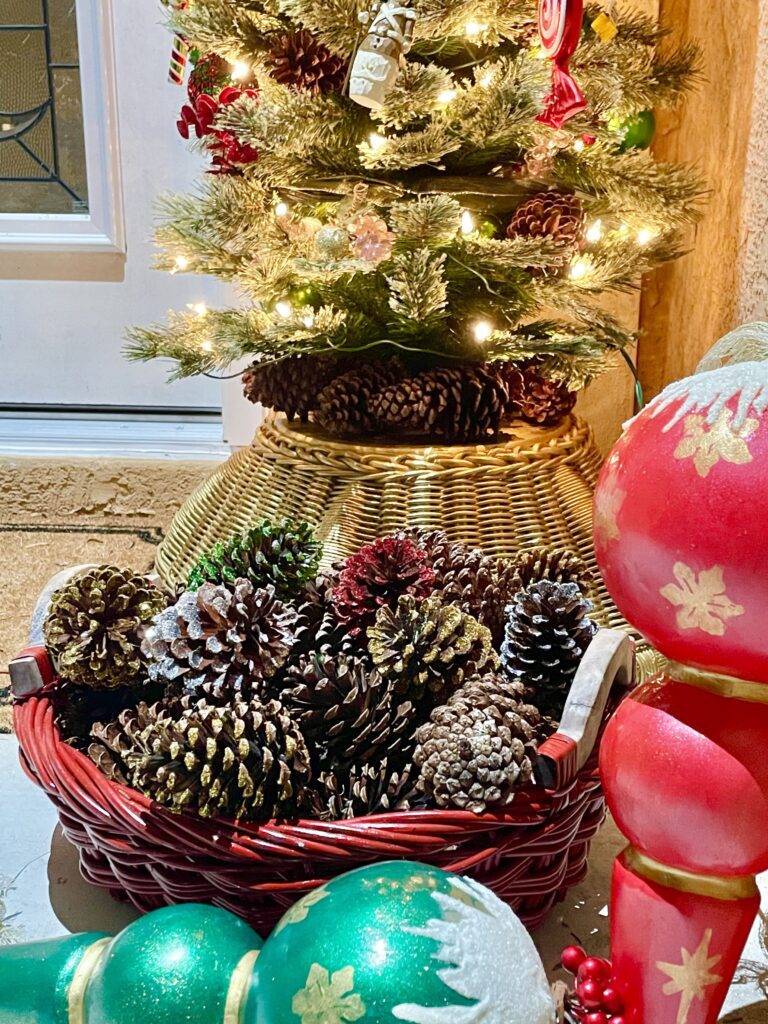 Other Garbage to Gorgeous Projects You Will LOVE!
If you enjoyed this Garbage to Gorgeous salvage, I have lots more, here are just a few:
Christmas Tree Stand You Can Buy
Maybe you like a good Christmas tree stand DIY but don't think you'll find anything to make it out of. That's okay. I've got you covered. Here are some that you can buy!
I love ALL of them! The only reason I like mine more is that it was free!

Thanks for stopping by!
Remember: Life's too short not to shimmer, so grab your glue gun and your glitter! Stay safe!™
Mona
*Disclosure: This blog uses affiliate links from Amazon and other retailers. I earn a small amount from qualifying purchases at no additional cost to you.