When searching for a Valentine craft idea, think about using a Dollar Tree heart for your heartfelt decorations.
Obviously, I was at the Dollar Store and picked up another wood heart, some wood beads, and a metal envelope.
Yes…I picked up a bunch of other things that had absolutely nothing to do with this project but that's a story for another day.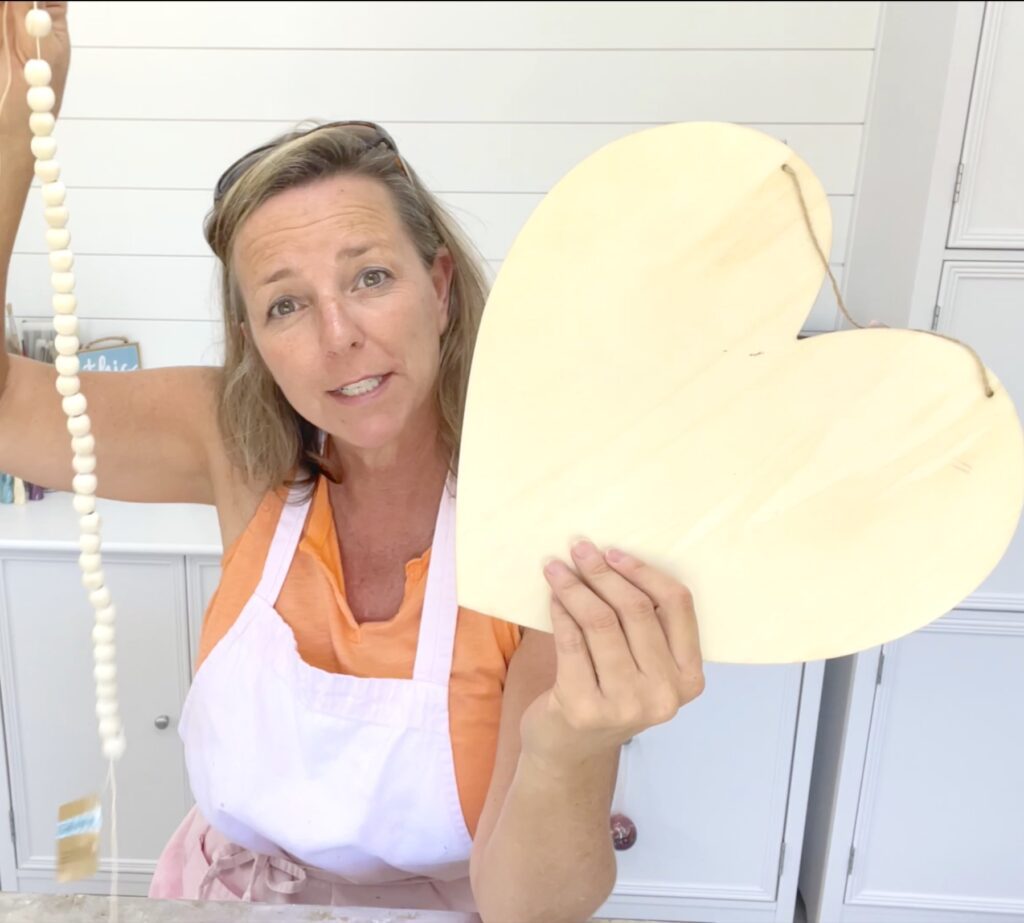 I'm going to do another makeover of an unfinished wood heart. If you remember my first one, it's like a bubble heart with the XOXO.
I thought it would be fun but it actually turned out better than I had imagined!
I said I would do at least one more and today's the day!
Heart Valentine Day Craft Idea Video Tutorial
I have a video showing each step if you want to see the project in action. Otherwise, I have the full step-by-step written directions below.
In case you didn't know, I'm on YouTube, Facebook & Instagram!
Be sure to follow!
*Disclosure: This blog uses affiliate links from Amazon and other retailers. I earn a small amount from qualifying purchases at no additional cost to you.
Materials for the Heart Craft Idea
I bought the heart, wood beads and envelope at Dollar Tree but sometimes your store may not have the same stuff. I have linked similar materials below.
Valentine rub-ons or

stickers

Metal envelope
Scrapbook paper
Directions for the Valentine Craft Idea Using a Dollar Tree Heart
Before I got started, I put down some wax paper laid to protect my work surface.
Step 1
I pulled out some chalky paint that had been around forever, but it was the perfect pink! If it goes on lumpy or has too many brush strokes, I dip my paintbrush in water and smooth it all out. Just go over with a light hand.
Also, you can take a paper towel and dab it so there are no brush strokes that way either. And it gives it a little bit of a textured look.
And be sure to paint the edges.
Step 2
When the heart had dried, I reattached the string, so it can be hung.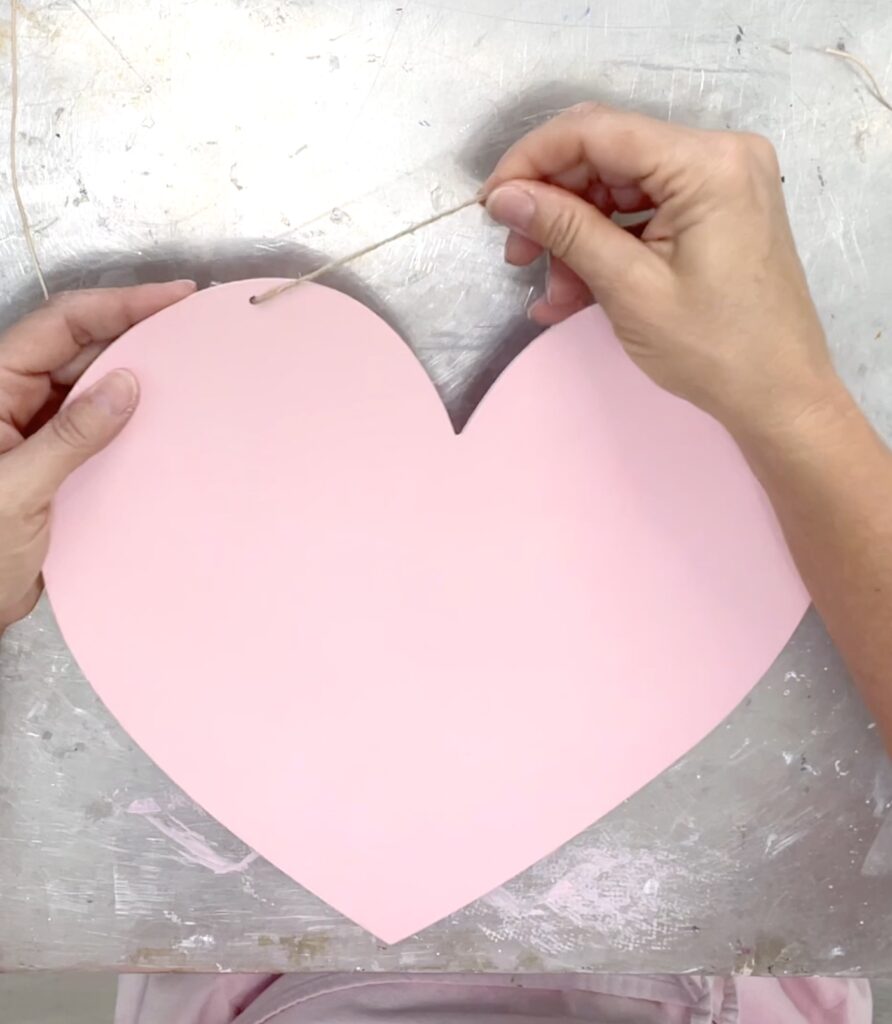 Step 3
I found the wood beads at Dollar Tree and thought it would make a great accent to this Valentine craft.
This was the first time I had found them at our Dollar Tree. They were in the craft section.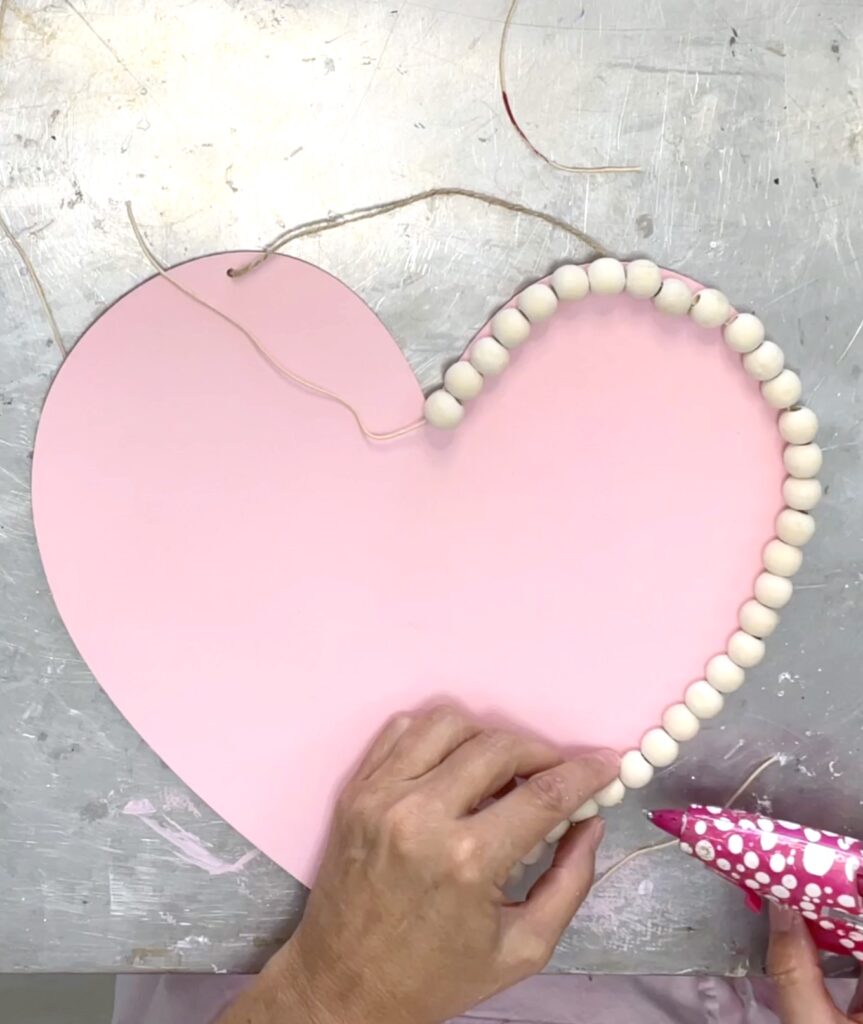 I left them strung up and I hot glued them around the edge of the heart. I cut off the excess string. Two strings of the beads worked out perfectly for the heart.
Step 4
When I put the metal envelope on the heart by itself, it looked a little bare. So, I pulled out my black and white plaid scrapbook paper and cut it large enough to be a border around the envelope.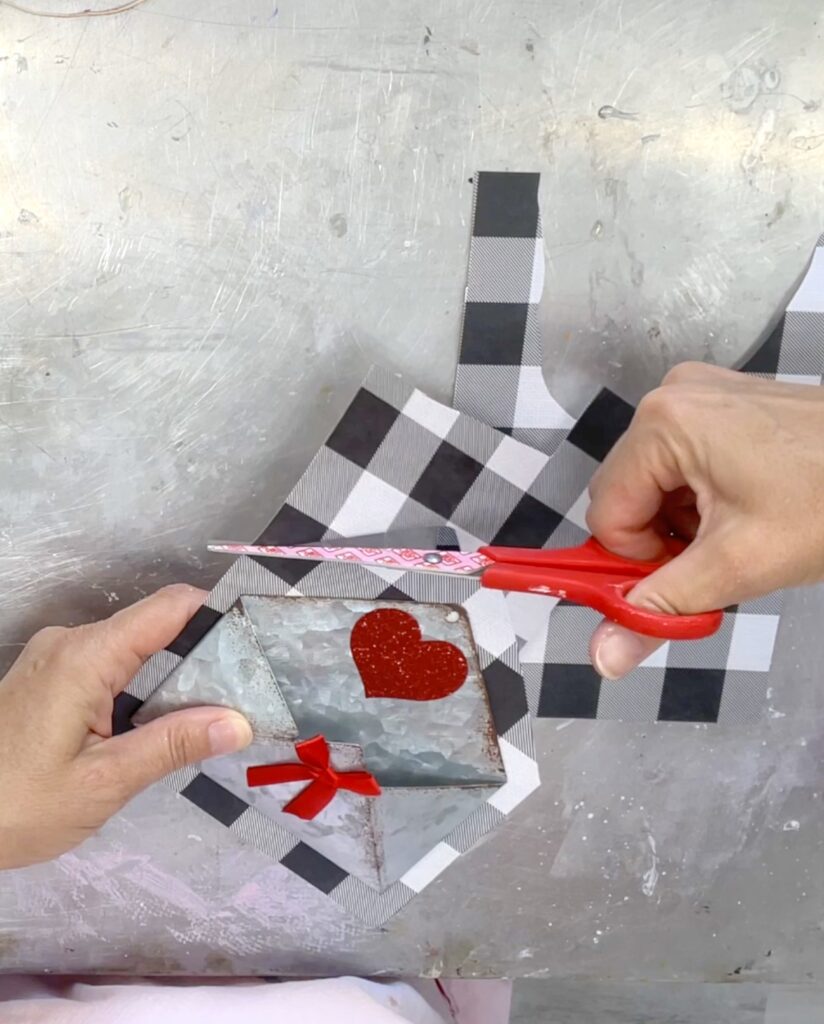 I used my glue stick on the back of the scrapbook paper and glued it into place.
Step 5
The beads and the envelope looked great but there was still a lot of empty space.
After digging around my craft room, I found some rub-on transfers that had holiday sayings on it…including some that would look great on this Valentine craft idea!
I pulled out the popsicle stick that came with the transfers and I got to work.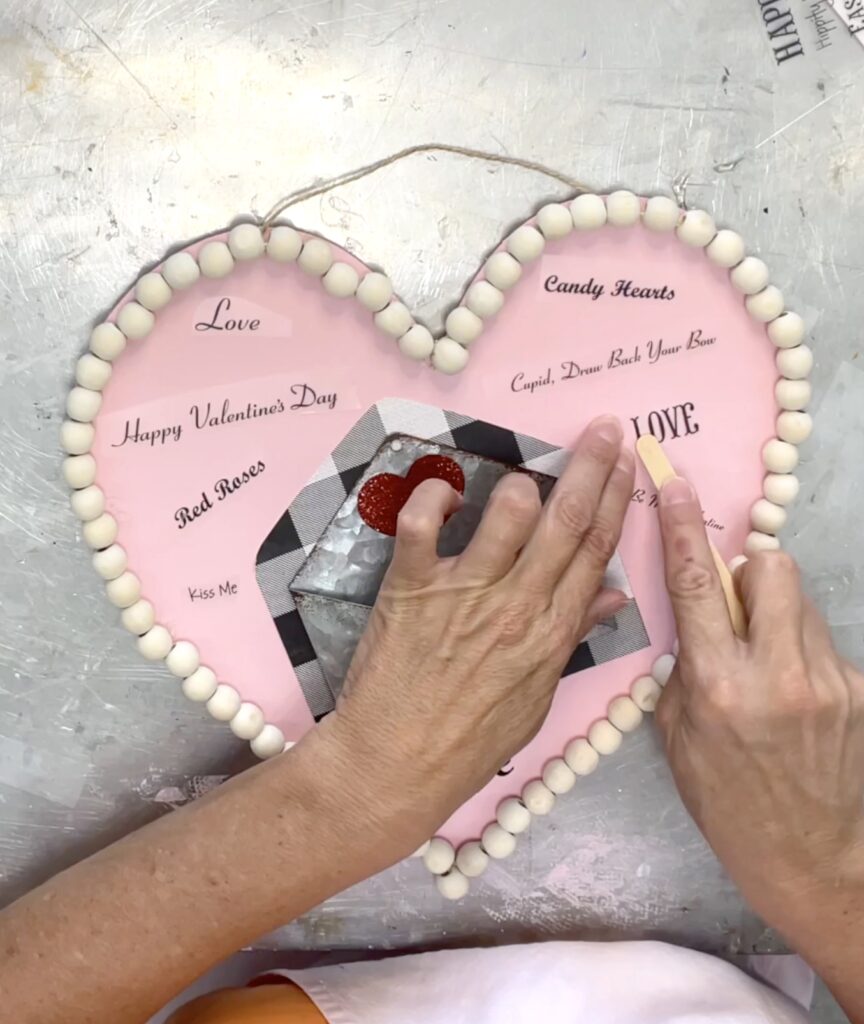 A little Happy Valentine's Day here and red roses there, before you knew it, it was looking pretty good!
If you can't find the tranfers, you can always use stickers, paint, or vinyl cutouts from your cutting machine.
Step 6
I did one more craft stash search and found the half pearls in red. I glued them around the envelope for a little embellishment.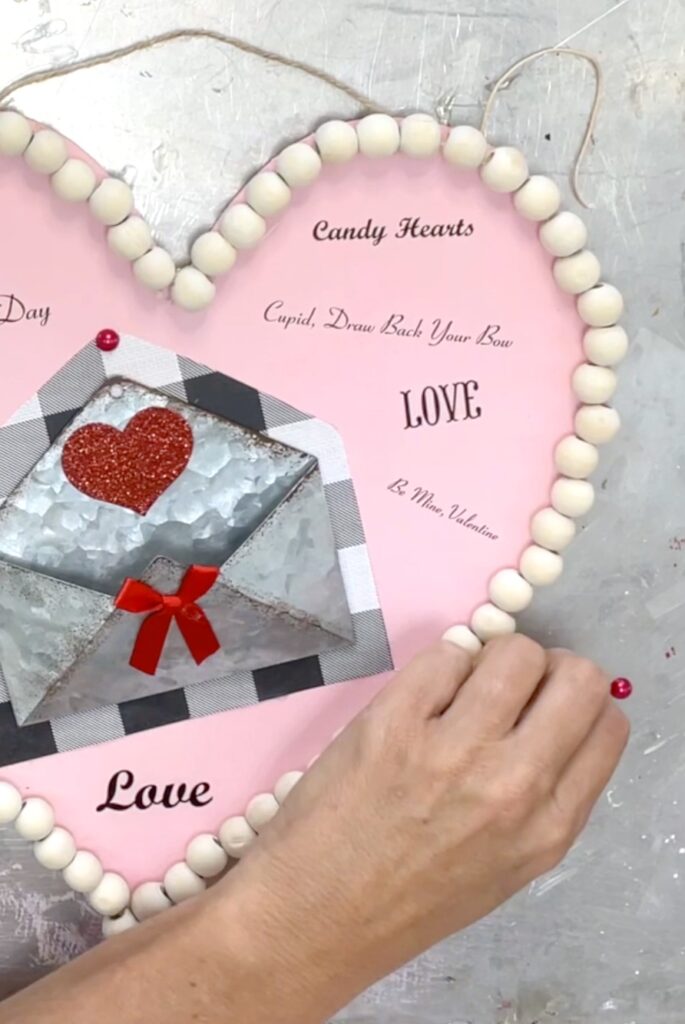 That's it! I think it turned out cute! You could paint the beads if you wanted to, but I liked the natural wood accent.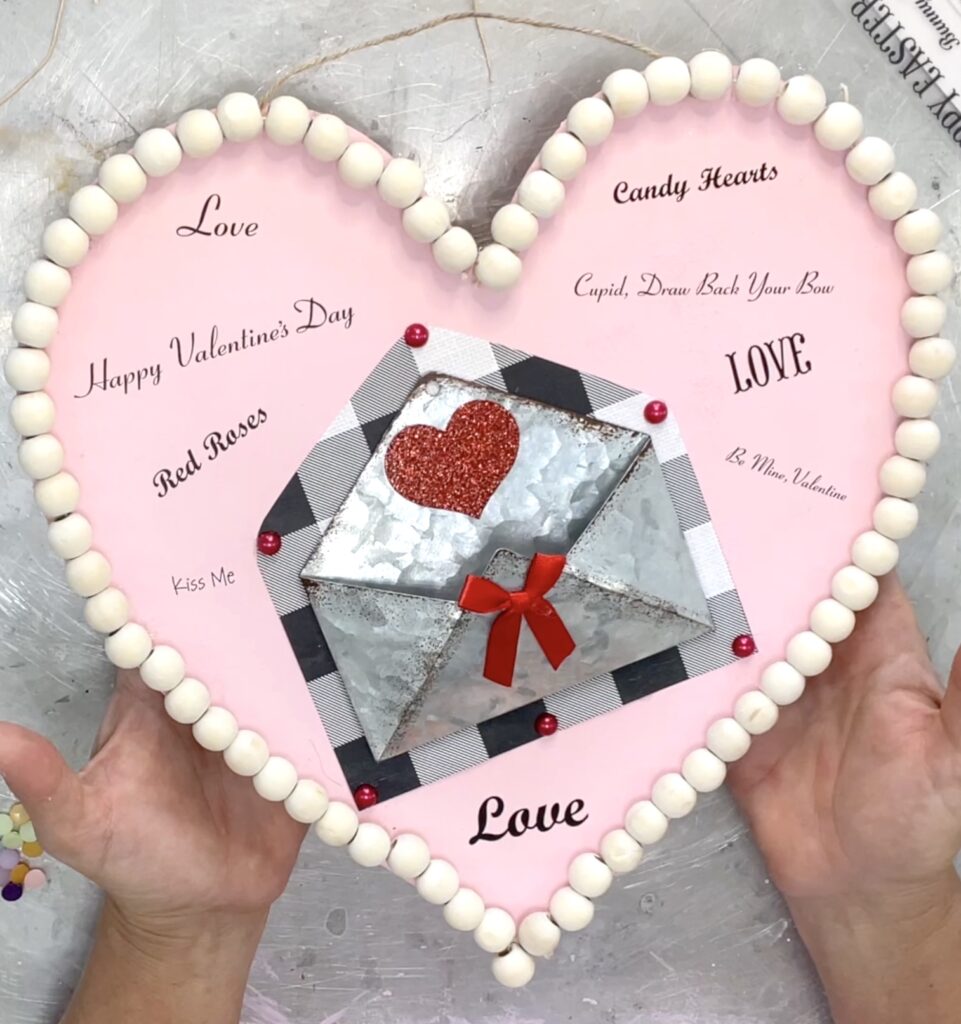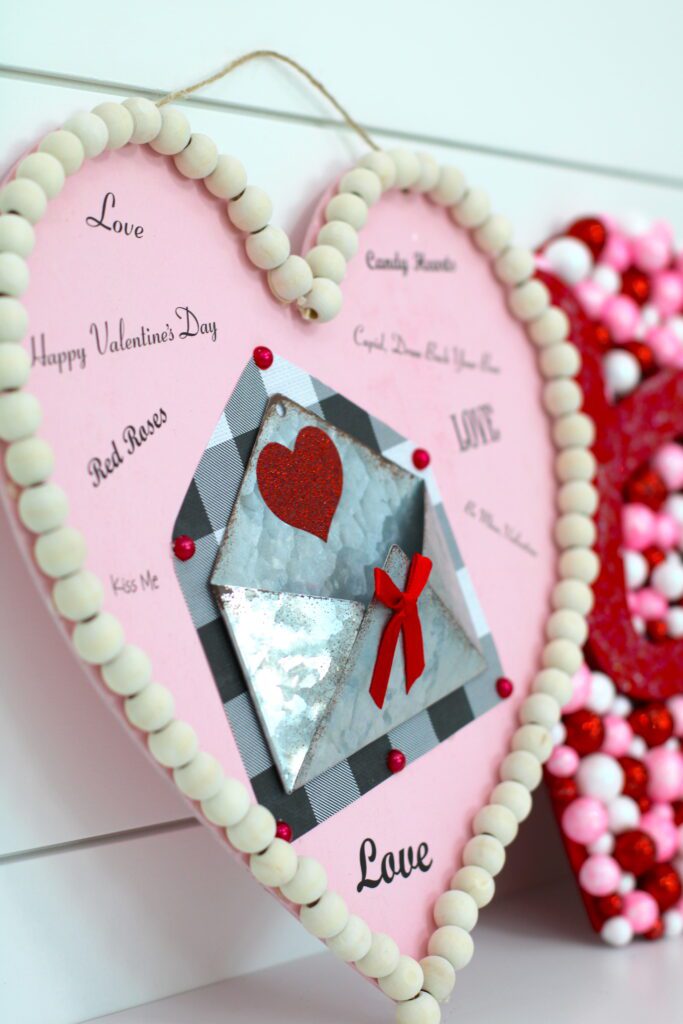 Don't Stop With That Valentine Craft Idea
Don't stop! I have more! I mentioned the heart that looks like it has bubble gum hearts on it but that's not the only Valentine craft idea I have. Here are a few more!
Valentine Decorations
If you don't have time to make your own Valentine's Day decorations, there are some great affordable and budget-friendly decor ideas available!
Be sure to check out those other projects and thanks for stopping by!
Remember: Life's too short not to shimmer, so grab your glue gun and your glitter!™ Stay safe!
Mona
Be sure to PIN IT for later!