Whoa! Don't forget about Thanksgiving! Create an easy Thanksgiving craft that will make you thankful that you stopped by!
Halloween is over and it's time to move onto the next holiday. I call it the forgotten holiday… Thanksgiving.
I know. I know. Christmas crafts and decorations are so fun but don't get ahead of yourself just yet!
Thanksgiving doesn't have to just be a food fest that ends in a turkey coma! It can still have ambiance beyond football, food, and strategizing for Black Friday.
Quite frankly, it's a time to be thankful and I'm thankful for crafting. After all, crafting brought you and me together!
There are so many fun ways to decorate for Thanksgiving and it doesn't have to be hard, boring, or all cornucopias! And there are great projects for all ages. You can use Thanksgiving crafts to bond with the kids.
Kids tend to talk more when they are distracted by an activity! Find out what they are thankful for. They usually have pretty interesting answers.
5 Easy Thanksgiving Crafts for Kids
Pumpkin Thanksgiving Craft
Let's be honest, pumpkins are the perfect transition between Halloween and Thanksgiving. They allow you to do a lot of crossover decorating. They do double duty.
Today's project falls right into that double duty category. It's a project you can enjoy making by yourself, or you can recruit the kids to do some painting!
Besides being easy, it looks great and uses wood scraps and pop cans…oh…and glitter!
I Was Scavenging…
So I was sifting through stuff in our garage, looking for inspiration. I came across some scrap cedar, which was leftover from a gate Greg and my dad built. It was just sitting there, a beautiful diamond in the rough, waiting to be discovered.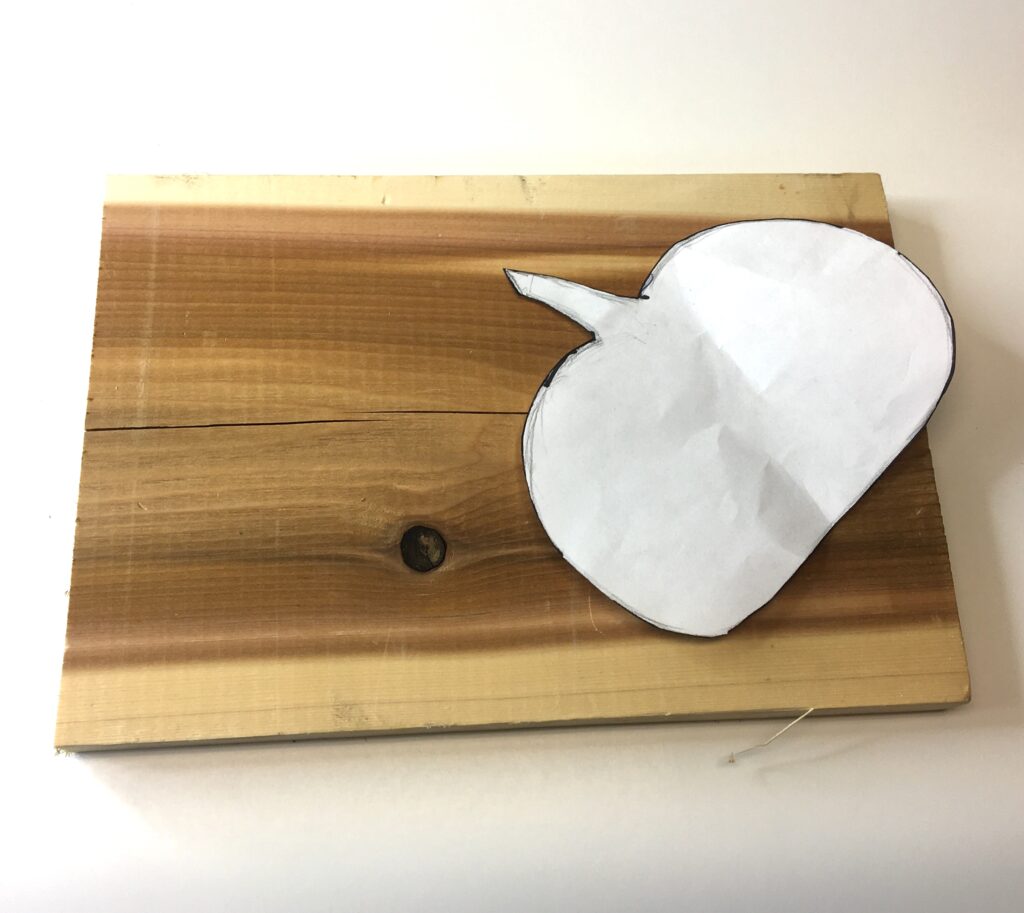 Since Thanksgiving is a flexible holiday, it allows for a refined style or even a combo of rustic and refined. This pumpkin is a combo. You can find the free template and video tutorial at the end of this post.
*This blog uses affiliate links. As an Amazon Associate I earn from qualifying purchases.
Materials You Will Need:
Directions On How To Make the Pumpkin Thanksgiving Craft
Step 1: Draw The Pumpkin
Use the template to trace the pumpkin on the wood. You can resize it as you like, or draw your own.
Step 2: Cut It Out
Use a saw to cut out the pumpkin. It's an easy shape and cuts out pretty easily!
Step 3: Clean Up The Edges
Sand the edges with sandpaper or a rotary tool. A rotary tool makes quick work out of cleaning up the edges.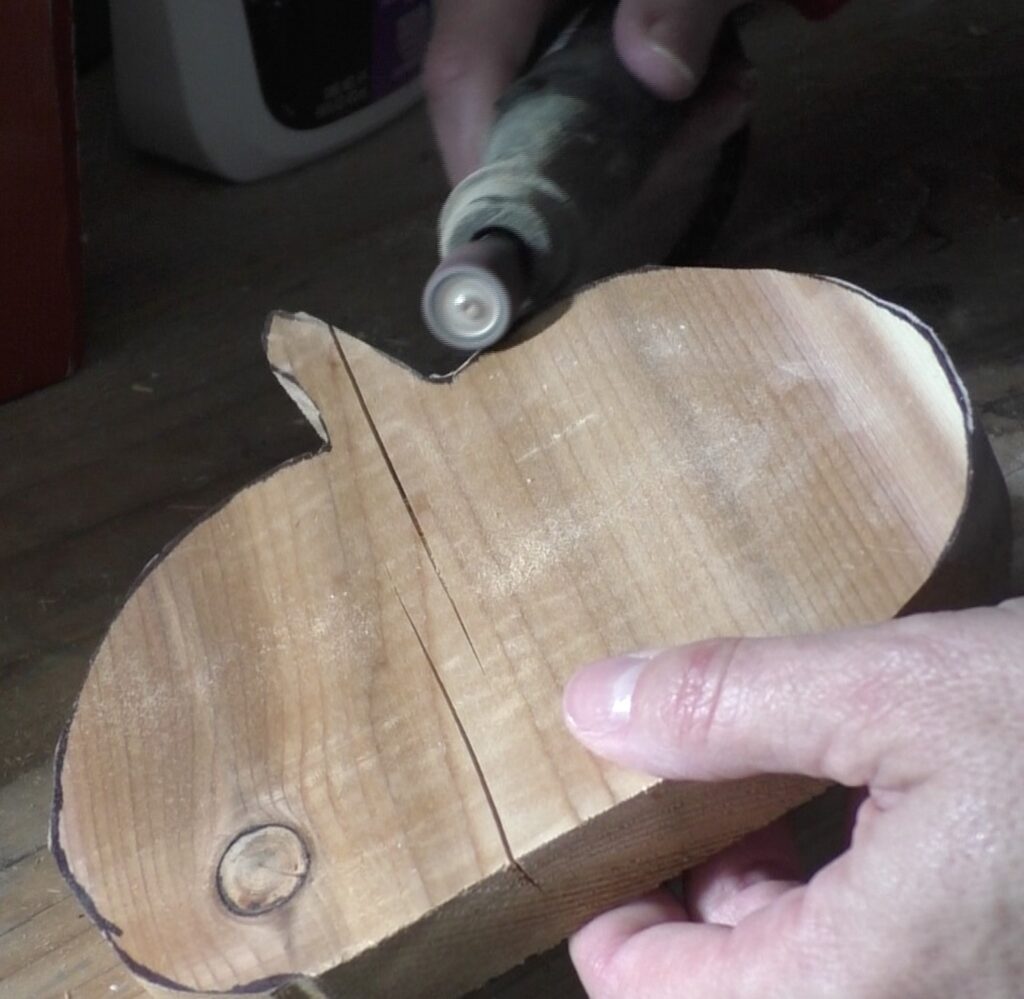 Step 4: The Orange Trifecta
Use three different orange acrylic paints. The colors I used ranged from apricot to poppy – none of which were named pumpkin. I used whatever I had on hand.
Load all three onto the brush at the same time, so they blend. I used an up and down stroke.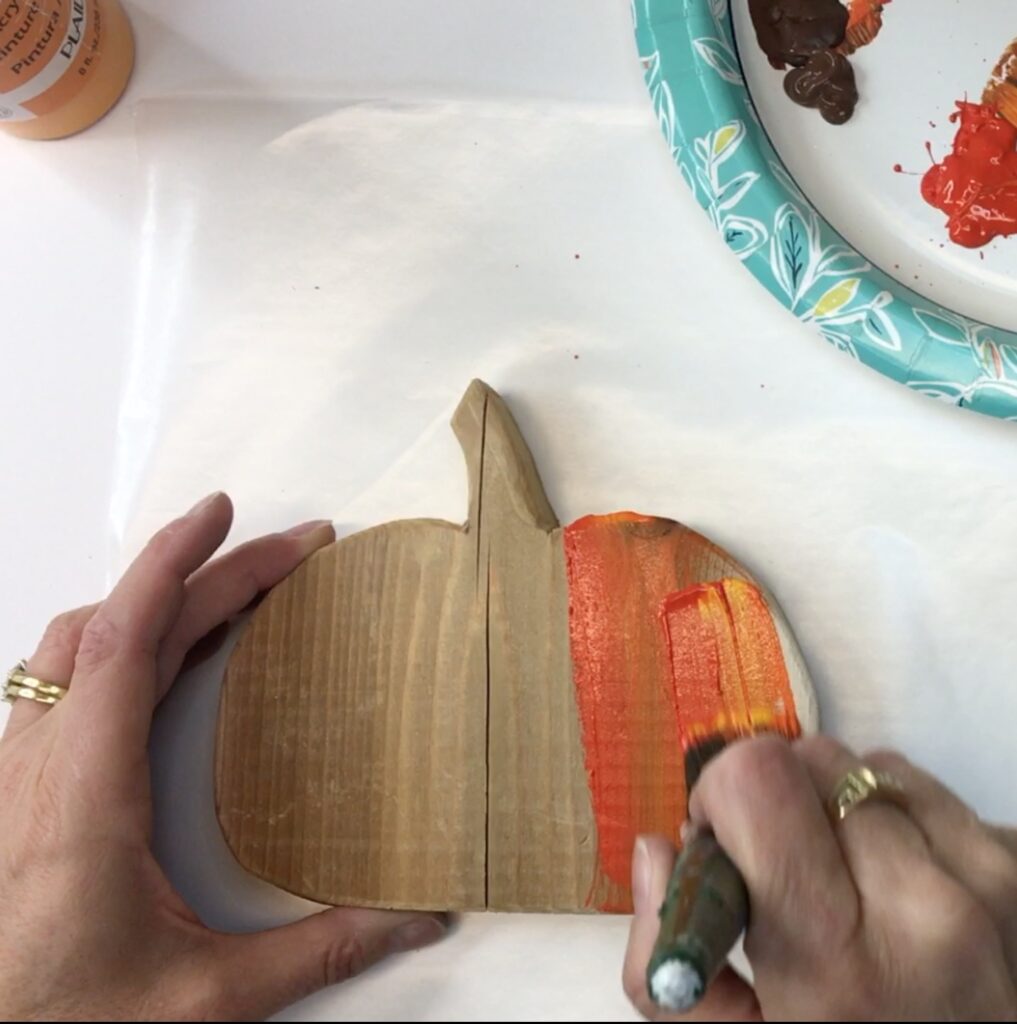 Step 5: Rub It Off
A dry paper towel works perfectly to wipe off any excess. I wiped with the grain.
Step 6: Don't Forget The Stem
Paint the stem brown and remove the excess with the paper towel.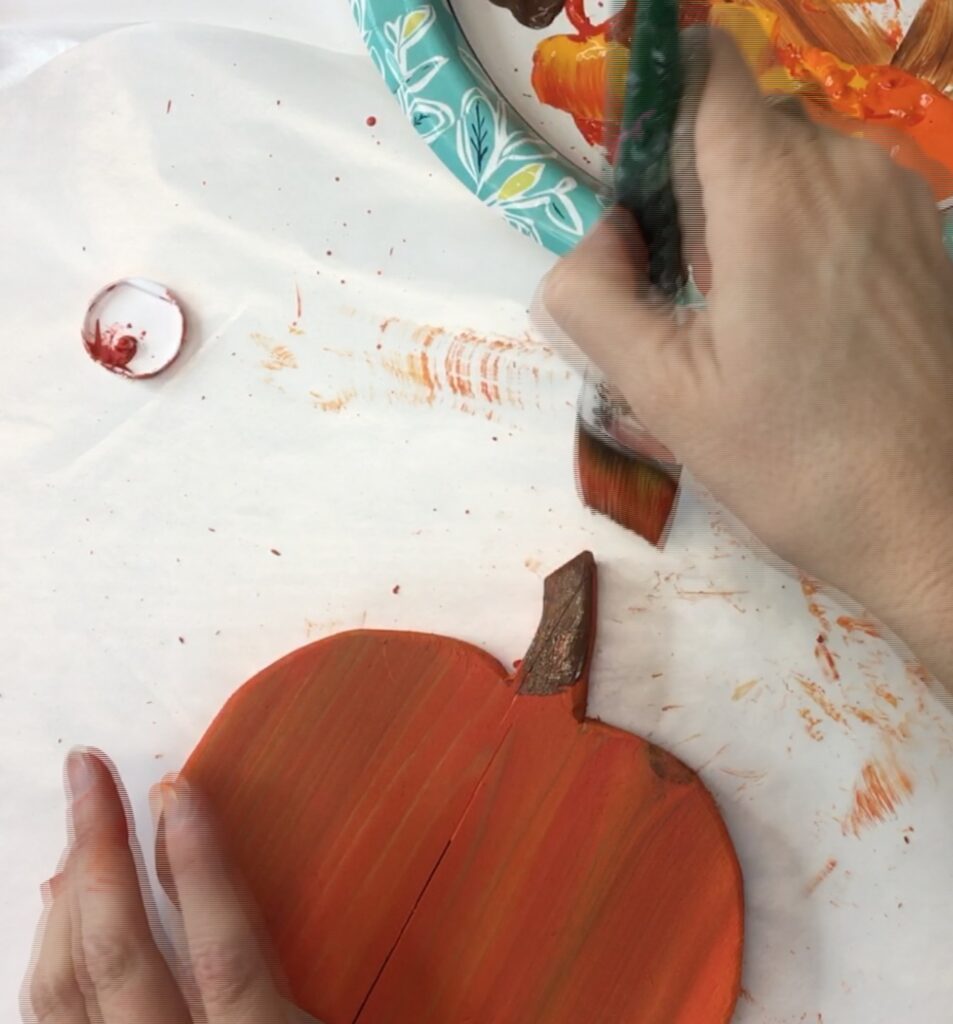 Step 7: An Aluminum Leaf
I like to repurpose stuff, so I dug around in my recycling bin and found a can. If you don't have a can and are desperate, you can probably find one lying on the side of the road.
Cut open an aluminum can, flatten it, and cut out a pumpkin leaf.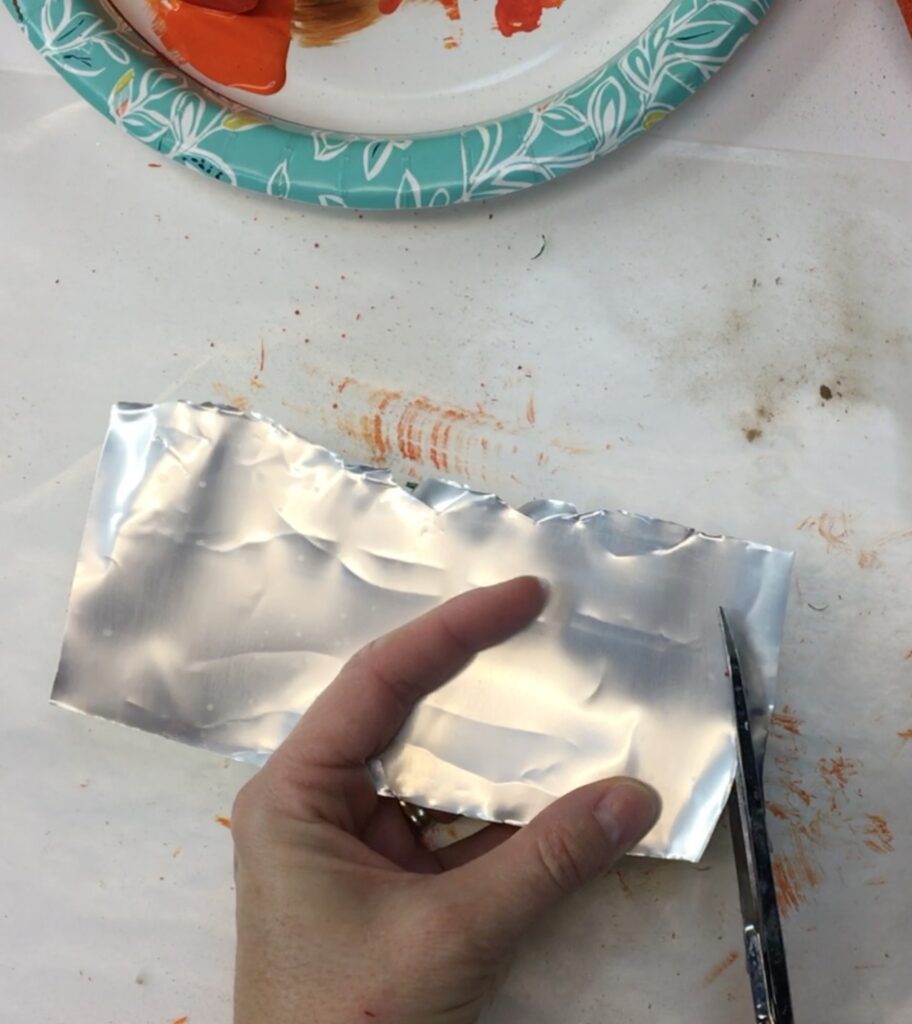 Step 8: Punch A Hole
Use a small hole punch and pop a hole in the leaf. You can use a nail if you don't have small hole punch.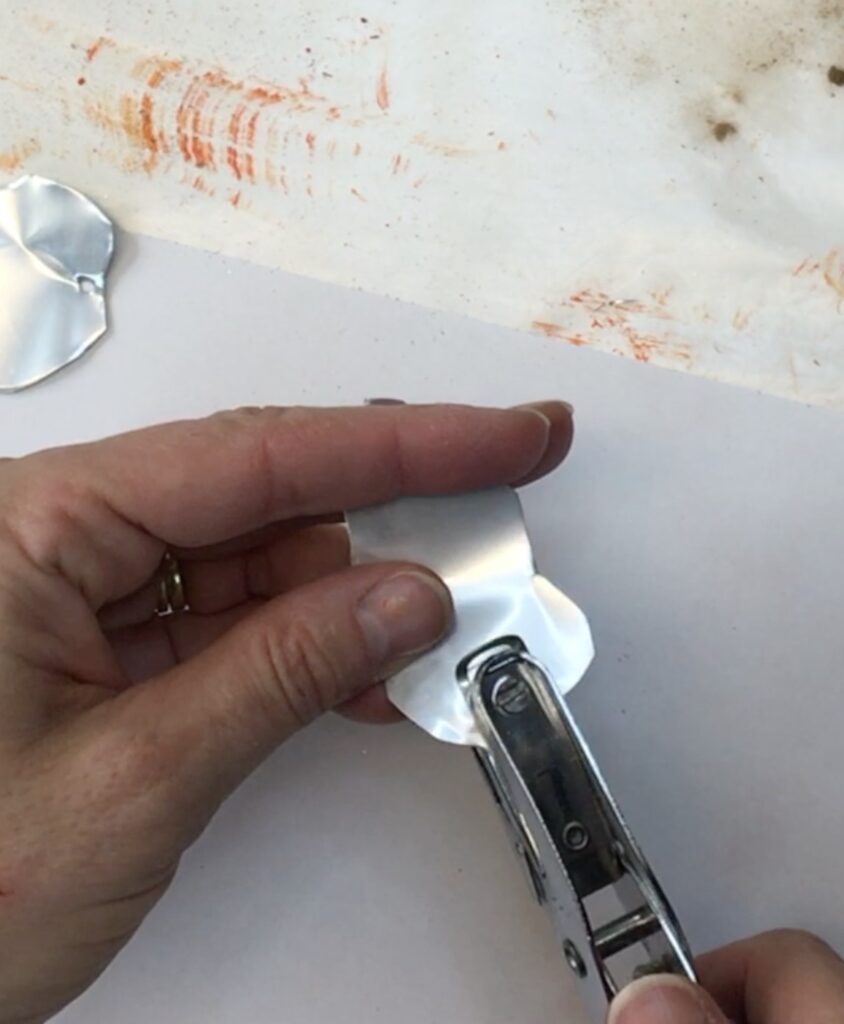 Step 9: Glitter It Up
Use a little Mod Podge and brush it onto the leaf. Then, sprinkle with green and copper glitter.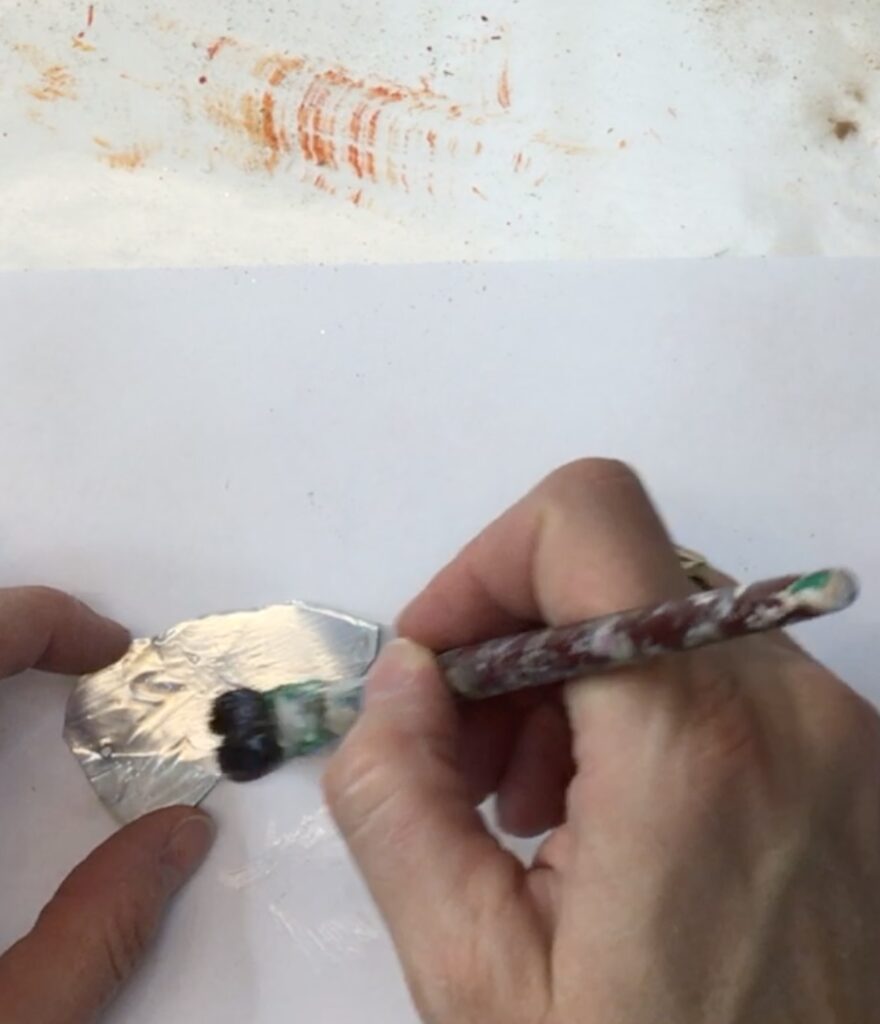 Step 10: Drill a Hole
Use a drill or rotary tool to drill a hole into the pumpkin, next to the stem.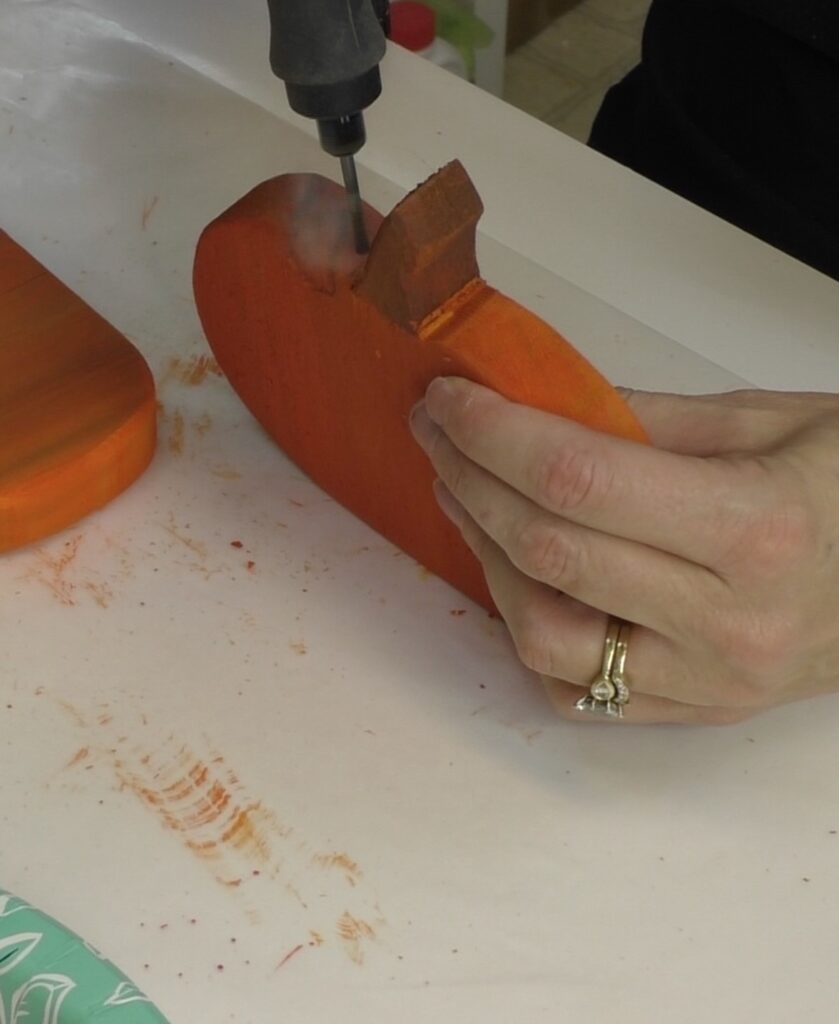 Step 11: Make The Tendril
Use wire and a skewer stick or dowel rod. Twist the wire around the stick or dowel rod to make a tendril.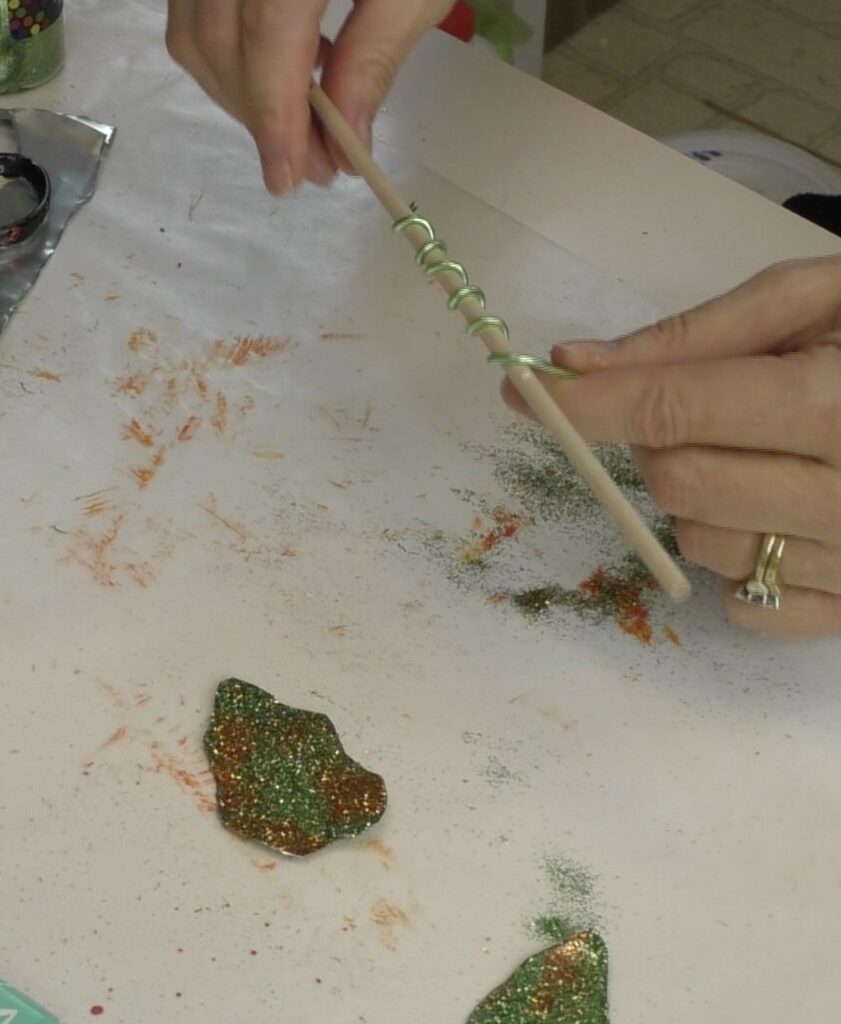 Step 12: Put It All Together
Use a dab of glue in the hole and put the end of the wire through the hole in the leaf and into the hole in the pumpkin.
The Final Reveal!
These could not be easier! I love the rustic style with the touch of glitter. I went traditional orange, but who says you can't do a light blue or an ivory, if that fits better with your decor?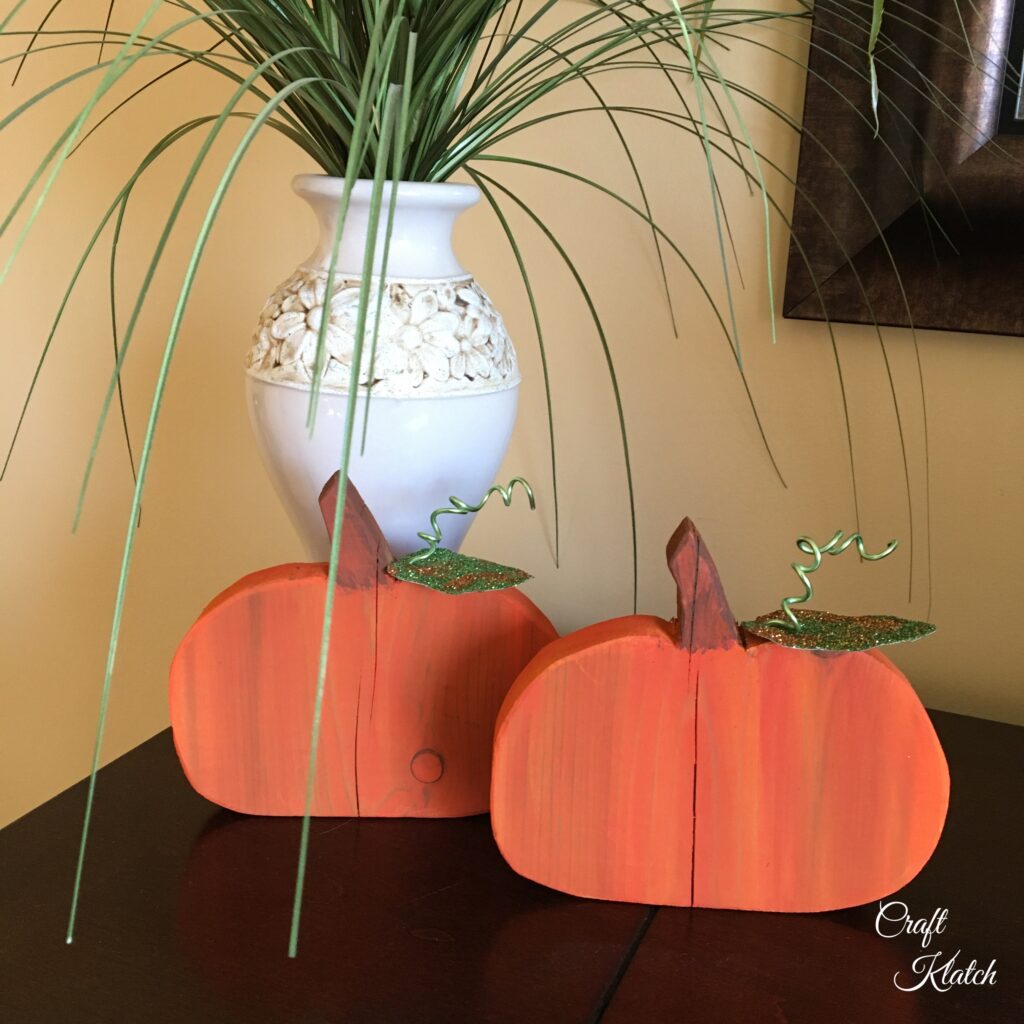 If you are ready for Thanksgiving decorating, let me answer the all important question:
What are some Thanksgiving crafts?
I listed the kids crafts above, but I have so many more to inspire you!
Thanksgiving Coasters
You may or may not be as enthusiastic about coasters as I am, but a coaster is a great way to protect your furniture and add a little holiday decor! Also, with the invention of Command strips you can hang your little works of art (aka coasters) anywhere! You can even hang the pumpkins from today's project and hang them on any wall without putting a hole in your wall with a nail!! Whoohoo!
5 Easy Thanksgiving Coasters
More Easy Thanksgiving Craft Projects
If you need other inspiration, these might just do the trick!
7 Easy Thanksgiving Crafts
CHECK OUT THE VIDEO TUTORIAL FOR THIS PROJECT
If you haven't yet, be sure to follow me on my Craft Klatch YouTube channel!
FREE PRINTABLE PUMPKIN TEMPLATE
Here is the free pumpkin template, so you can make some Thanksgiving crafts too!
I hope you guys get busy carving a different kind of pumpkin…for Thanksgiving!
I'm thankful for each and every one of you!
Happy Thanksgiving!
Remember: Life's too short not to shimmer, so grab your glue gun and your glitter!™ Stay safe!
Mona