I've been thinking about this outdoor Christmas decorations DIY for a while. Who can resist DIY snowmen that are perfect to adorn your front porch or walkway?
Snowmen are the perfect decorations for winter. They can be holiday decor or add a little character all season.
A few of my favorite projects are DIY snowmen decorations, like the Snowman Believe Sign, the Easy Snowman Ornament, and the Dollar Store Snowman with Lights!
When I embarked on my snowman-making journey, I knew I wanted to use concrete because it could withstand the outdoors but I didn't want them to be back-breaking heavy.
So, I thought making the insides out of foam would be ideal.
Filling balloons with spray foam was my plan. I'd never done it before, so it was all guesswork.
For the first one, I filled it with a full can of large gap spray foam. The other two were half a can each.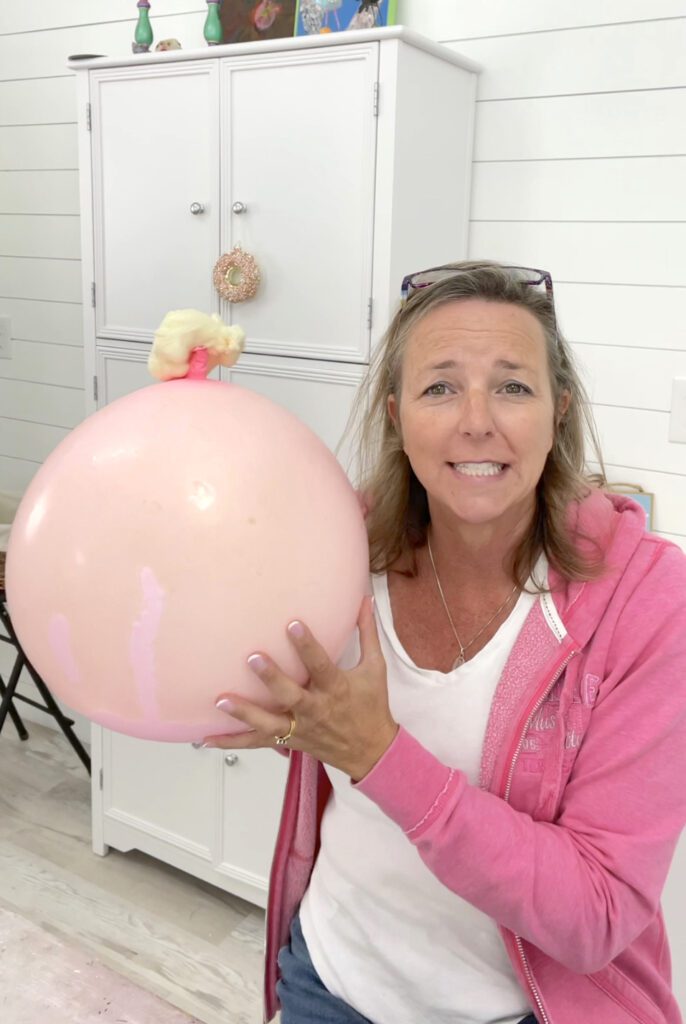 The first time, it expanded out of the balloon and when I tried to remove the balloon, it stuck.
Then, I decided to gently cut the balloon and the foam expanded more and split where I made the cut.
My sister and I looked at it questioningly and she said, "Put a pair of pants on it and it looks like a plumber's crack."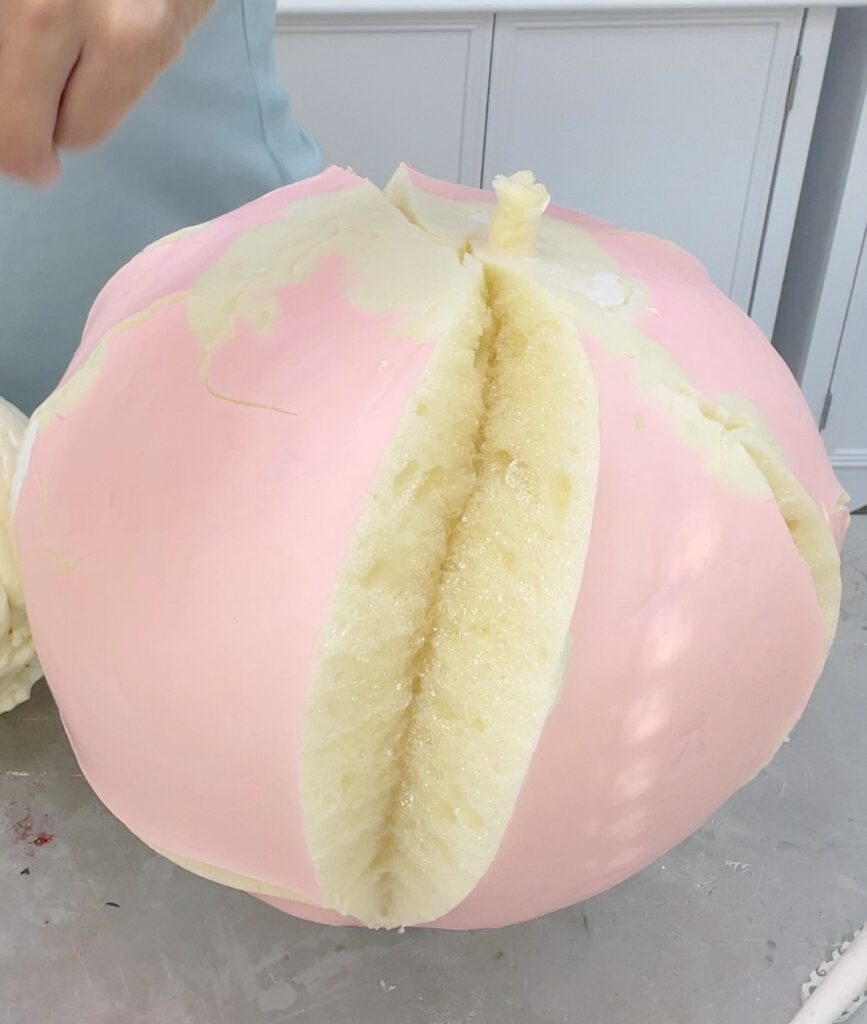 Oh boy…
For the second attempt, which was the smaller foam balls, I first added cornstarch to the inside of the balloons. Then, I filled each of them with half a can of large gap spray foam. When I tried to remove the balloon, they did not fully detach but did remove a little easier.
They didn't turn out quite as I had hoped for my outdoor Christmas decorations DIY but they were good enough and round enough.
The beauty of a snowman is snowballs are not perfectly round or perfectly smooth.
I definitely accomplished that!
Outdoor Christmas Decorations DIY Snowmen Video Tutorial
Here is the video tutorial so you can see exactly how I made the DIY snowmen.
Be sure to follow me on Instagram!
Materials
*This blog uses affiliate links. As an Amazon Associate I earn from qualifying purchases.
Directions for the Outdoor Christmas Decorations DIY Snowmen
Step 1
I filled balloons up with spray foam. On the smaller balls, I put cornstarch in the balloon first.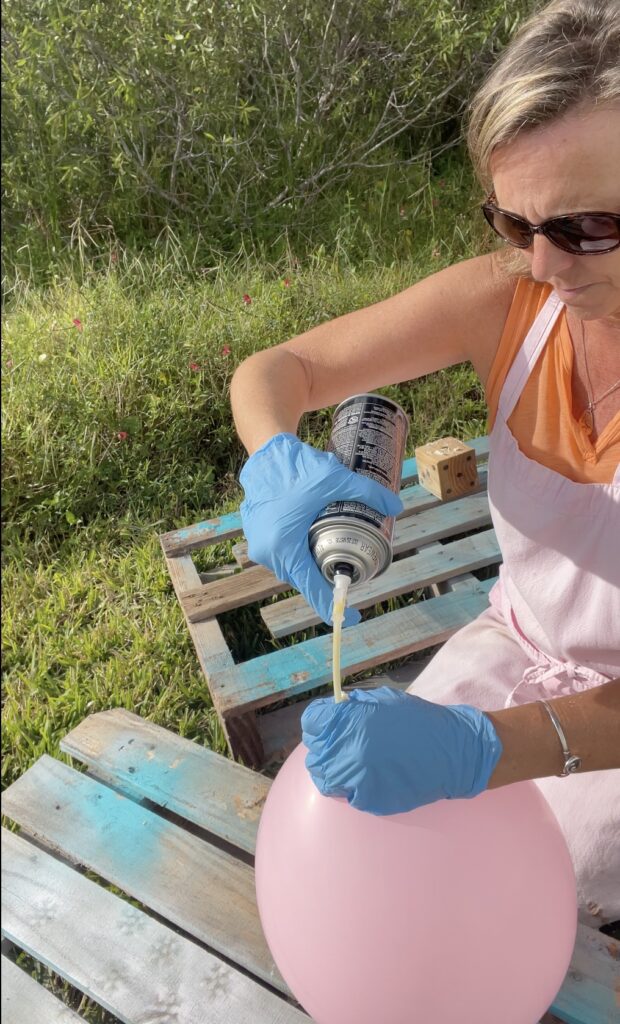 Step 2
Once fully cured, I tried to remove as much of the balloon as possible. If for some reason you cannot, then that's okay too.
This is how mine turned out. Do not be discouraged if the foam balls are not round. When have you ever seen a round and smooth snowman in real life?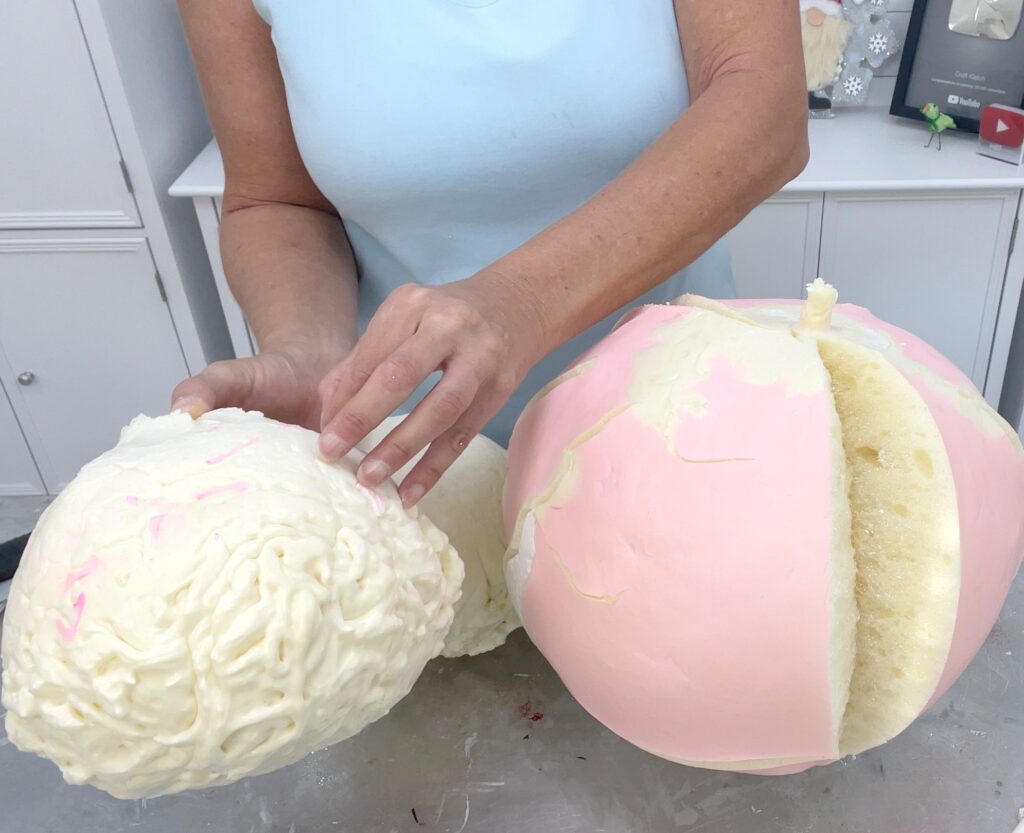 Step 3
Needing to cut a hole in the top, so I would have a place to put the candles, I first used a craft knife to cut into the foam. It worked but it was hard and tedious.
I then remembered I have a soldering iron that might work better. It cut through the foam like butter and made short and clean work of it all.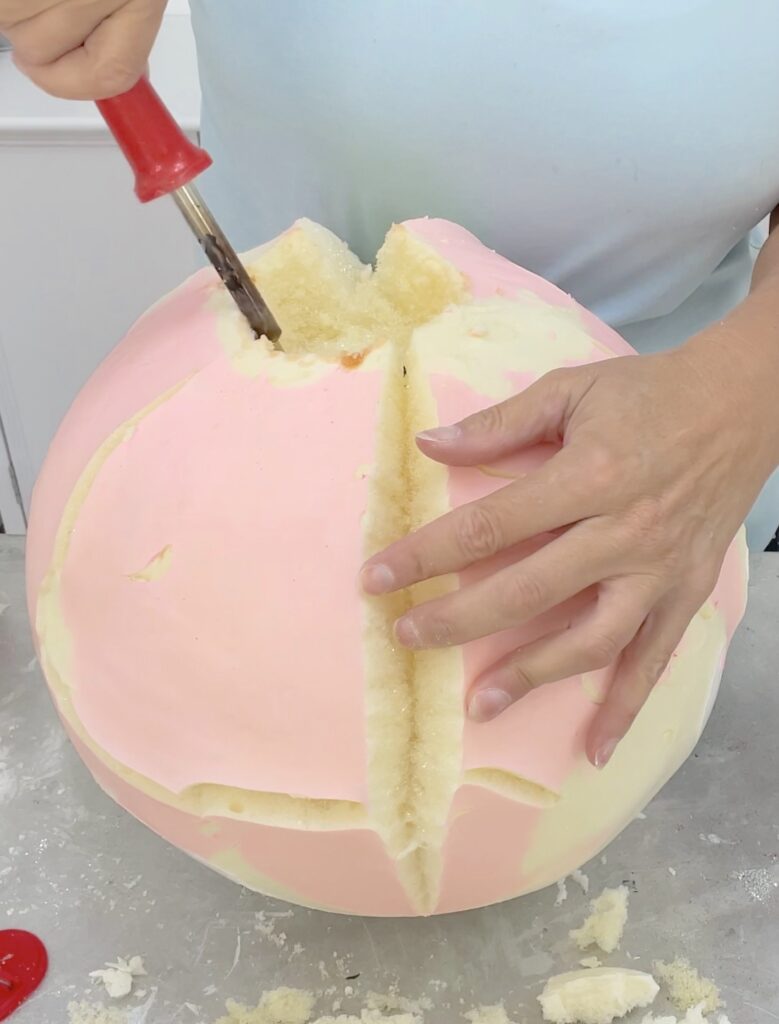 Step 4
I wanted to have something to support the nose, so I inserted a skewer stick into all of the foam heads.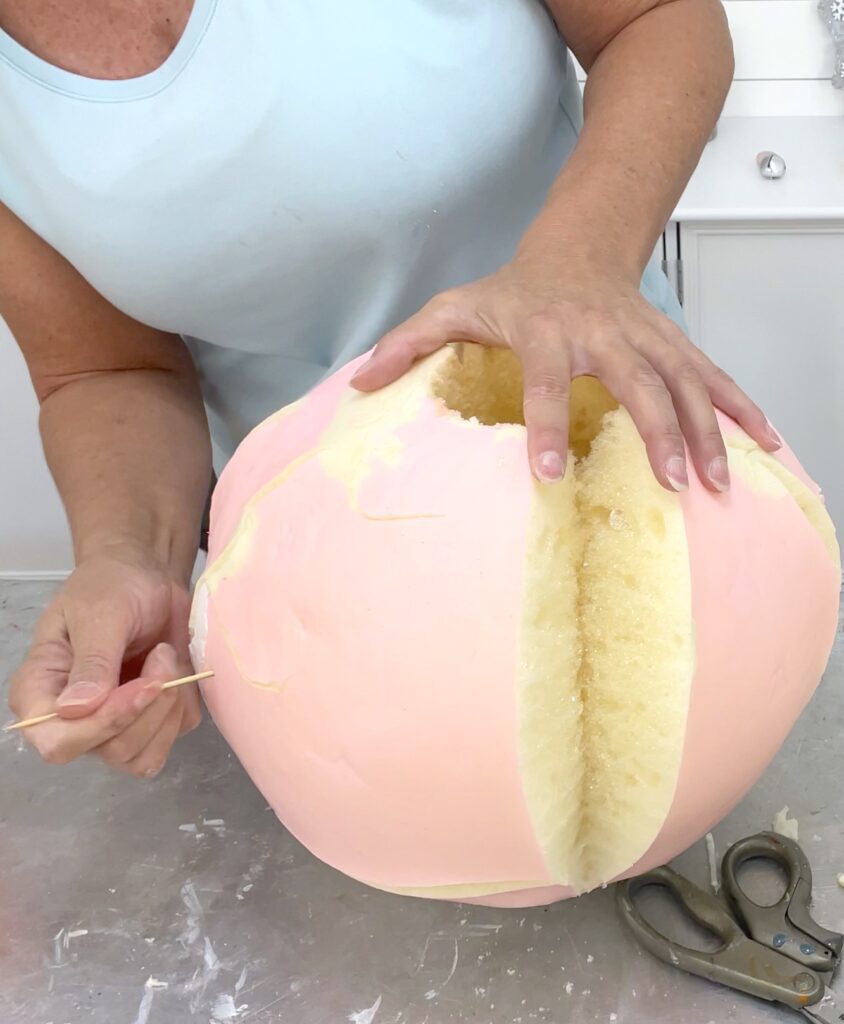 Step 5
I mixed my concrete and applied it to the foam heads. When mixing the concrete, you will have to judge the consistency. You don't want it so wet that it all runs right off and you don't want it so clumpy that you can't get a nice finish.
I made sure to cover them completely, top to bottom.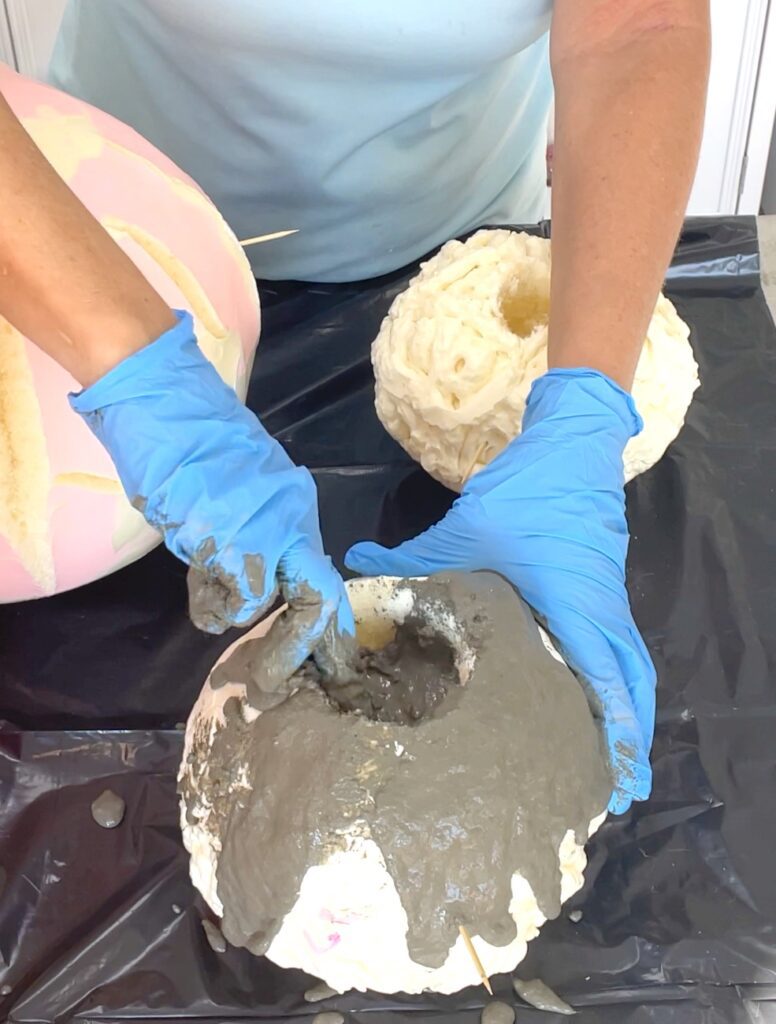 To fill in the cracks on the larger foam ball, I waited until the concrete dried a little and wasn't so runny. Then, I kept filling the large cracks until it held.
I used the skewer stick as a base to build up the nose with concrete.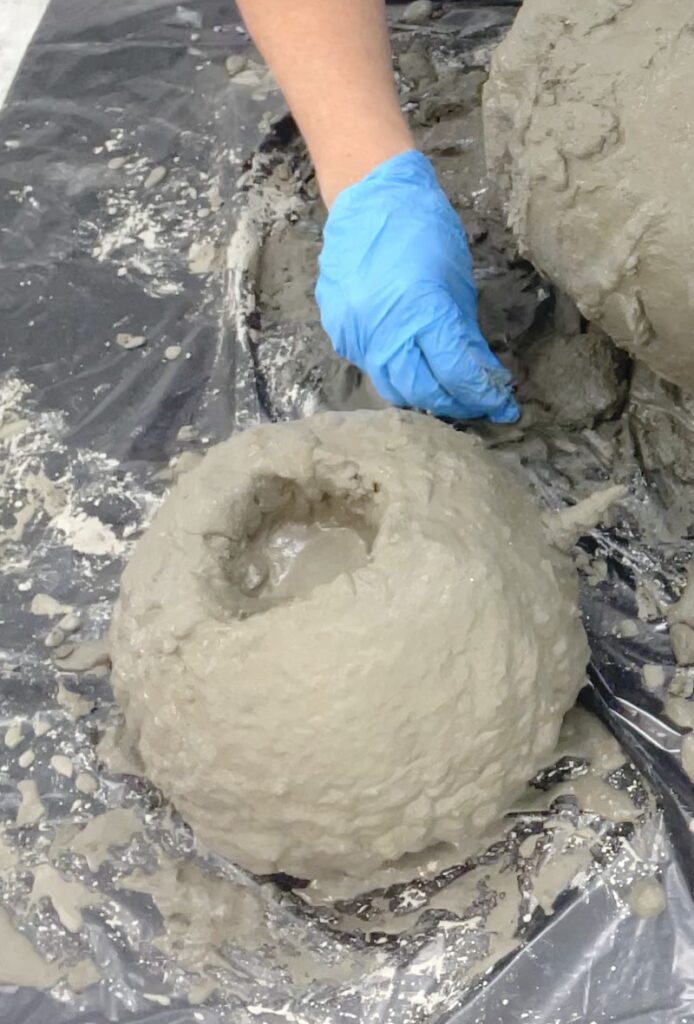 Step 6
Once everything was covered, I put a plastic bag loosely over the DIY snowmen so they would not dry too quickly.
*Note: I did end up getting cracks on all of them. I did a thin second coat of concrete on all three and it seemed to work perfectly. My concrete dried very slowly. If I were to do a project like this again, I would use a quick-drying product instead.
Step 7
I used multi-surface paint because it can withstand being outside, so they could actually be called outdoor Christmas decorations.
One the head, I gave it a coat of white but I made sure I didn't cover everything. I made sure I didn't get into all of the nooks because it gave it more dimension and gave it a little more of a primitive or aged look.
The nose got a nice bright orange.
*Note: I don't have a cold winter or snow or a freeze-thaw cycle here. If you do, you may want to consider using a flat or satin clear outdoor paint to seal it all.
Step 8
When the concrete was less runny, I shaped a bunch of pieces into coal shapes that I planned to use for the snowman faces. I let them dry and painted them black with a multi-surface paint.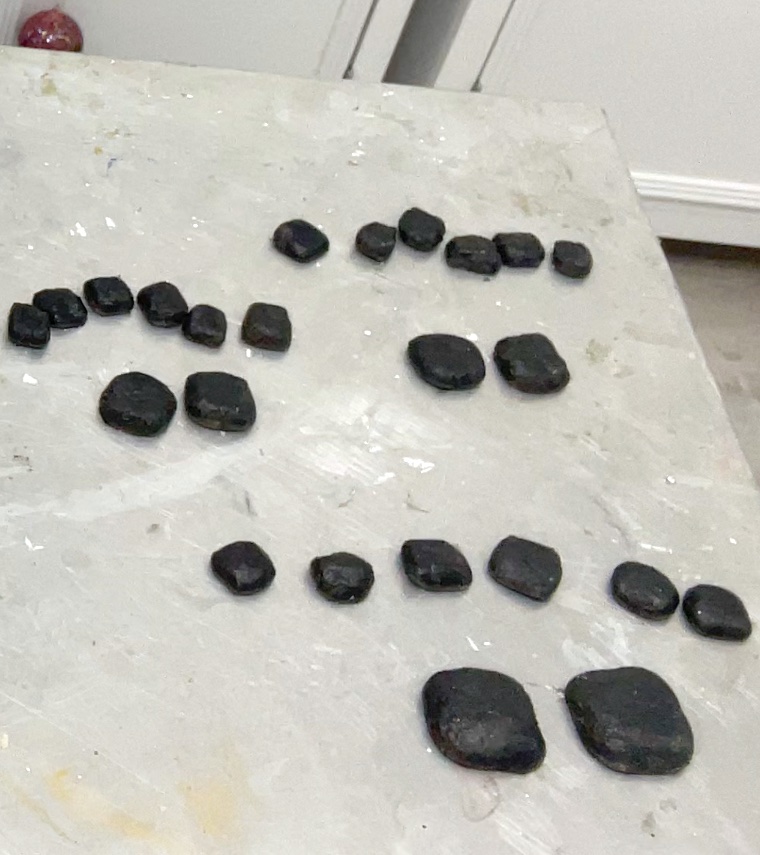 Step 9
I glued on the coal pieces onto the DIY snowmen using a combination of glue and hot glue. The hot glue held the pieces in place, while the other glue dried. I opted for this Gorilla Glue because it can glue almost anything and withstand being outside.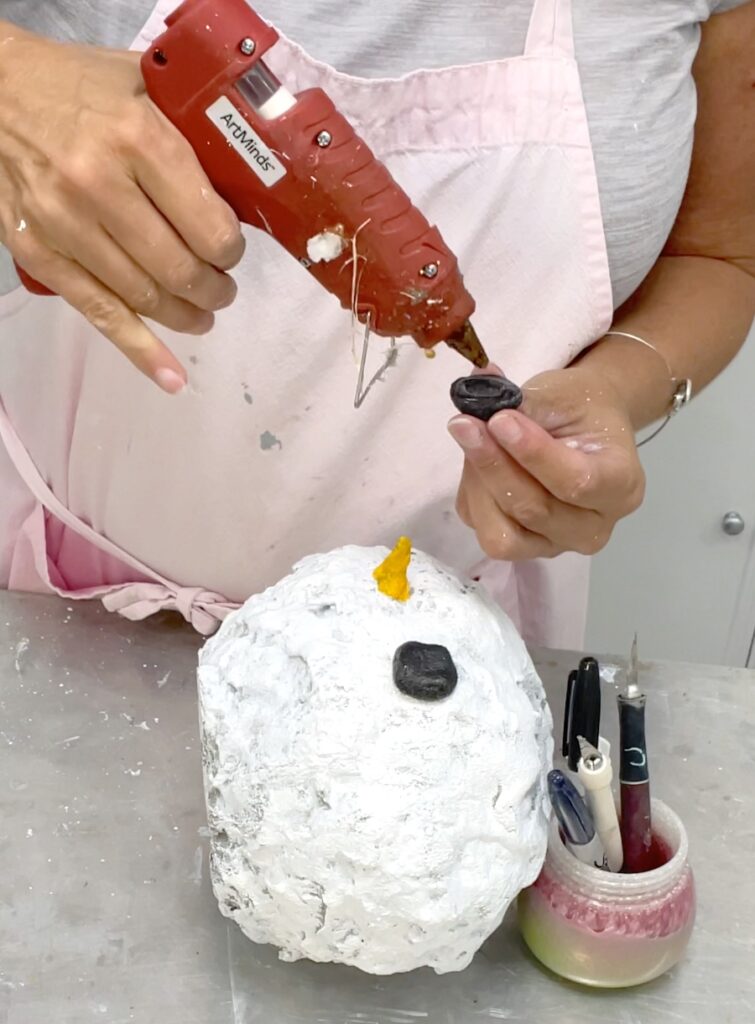 That's it! Now add candles, put them on your front porch and put some berries and greenery around them!
I just purchased these candles, for the snowmen's heads. They are solar and turn on at dusk and off at dawn! I can't wait to get them!!!
I'll post a new pic when the arrive!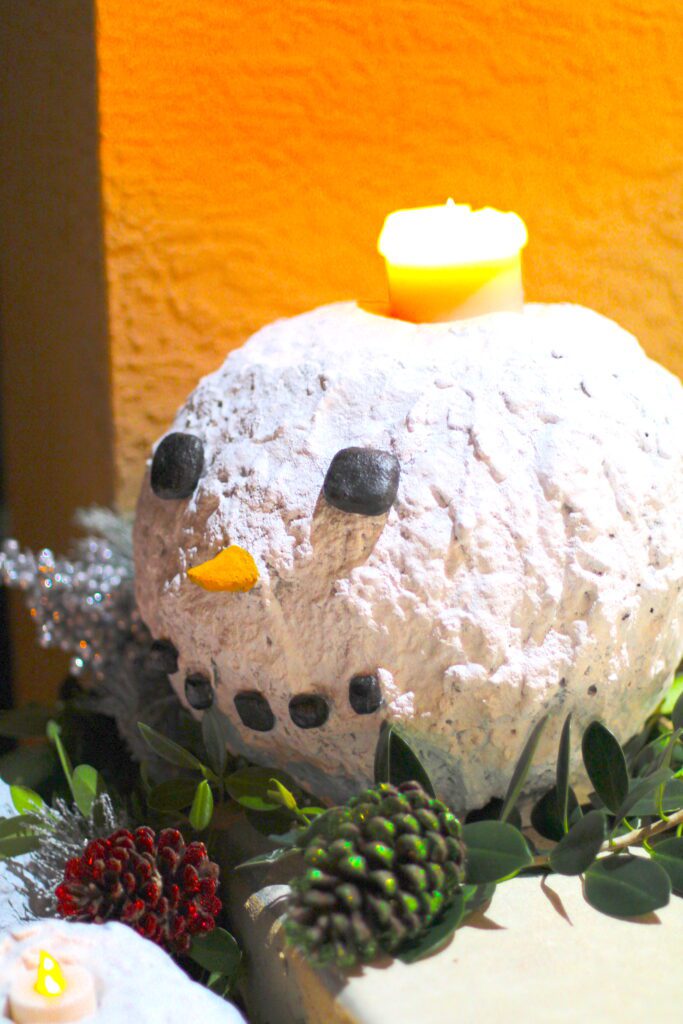 The only additional tip I have for you is if you live in a cold climate with a freeze-and-thaw cycle, you might want to do a sealer in a matte or satin finish that is for outdoors.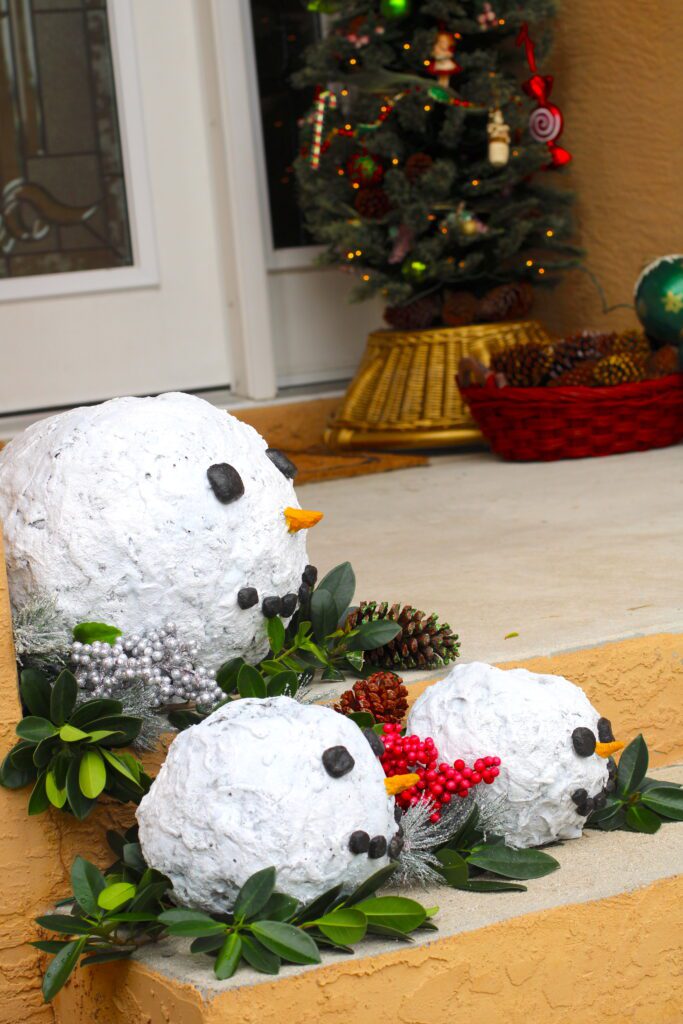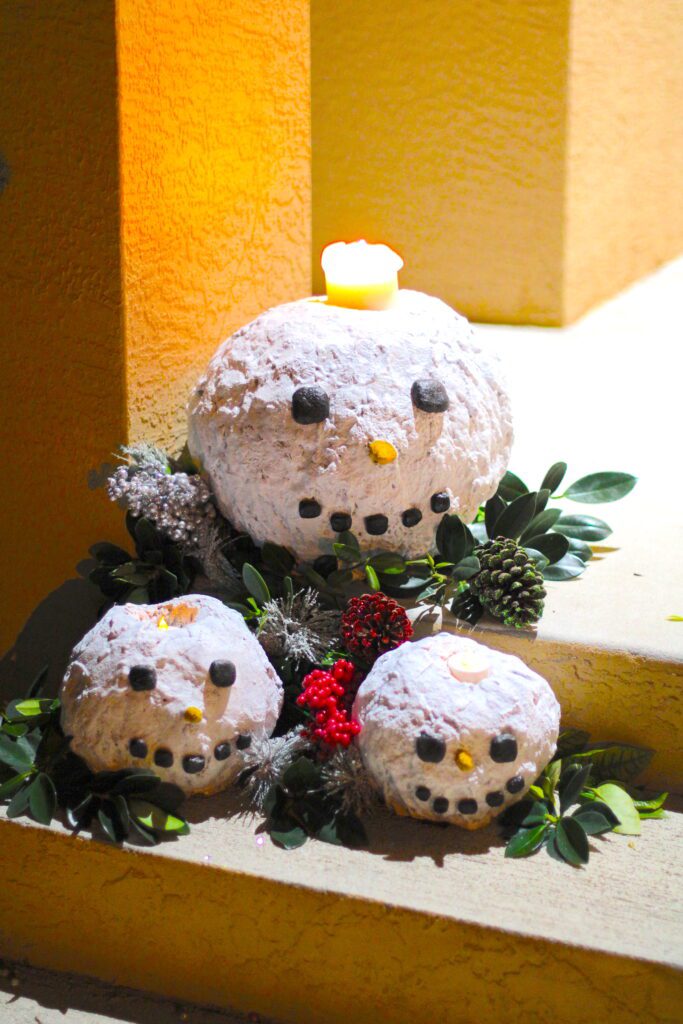 Snowman Decorations
If you don't have time to make the DIY snowmen decorations, not to worry! There are so many fun decorating options available! Some even light up!
More Snowman DIYs
Here are some more snowman DIYs to inspire you!
Thanks for hanging out! Have the happiest of holidays!
Remember: Life's too short not to shimmer, so grab your glue gun and your glitter!™ Stay safe!
Mona
Be sure to PIN IT for later!
*Disclosure: This blog uses affiliate links from Amazon and other retailers. I earn a small amount from qualifying purchases at no additional cost to you.