If you are like me, you aren't above a little garbage pick here and there. I won't do a full-on dive into someone's trash but if something is out there for the world to see…let's just say, more than a few tables and chairs have made it into the back of my car with superhero speed.
No shame!
I've said it before and I'll say it again, I hate seeing perfectly good stuff, especially furniture, out in the trash.
I feel like it's my duty to save it.
So I do…much to the chagrin of my husband.
I get that you might not want something anymore. We all go through that but then donate it or at least put it out somewhere I'll be able to easily find it! 😉
Since we have moved, I have squelched my overwhelming need to pick up stray furniture and household items.
Me and The Coffee Table
About six months ago, I drove by a curbside coffee table…about three times…or four…maybe five. It almost brought me to tears to leave it behind.
But I did…
...I still think about it.
It wasn't a pretty coffee table but it had great potential. It was sturdy, a good size, and square.
I have a weakness for square tables.
It could have been amazing. I can only hope someone else salvaged it, gave it a good home, and a new life.
Why I Like to Garbage Pick
Before I get into the garbage pick list, let me just tell you why I love to save these items. There are three main reasons:
They allow you personalize them to fit your own style and your home decor. You won't find another one like it in the store or at a friend's house.
Talk about decorating on a budget! A little paint and creativity and you have a new piece of furniture!
Great for the environment. It's one less thing that will end up in the landfill.
When you are done reading this, I WANT TO KNOW:
What was the last thing you garbage picked?
What do you most often garbage pick?
Where do you garbage pick?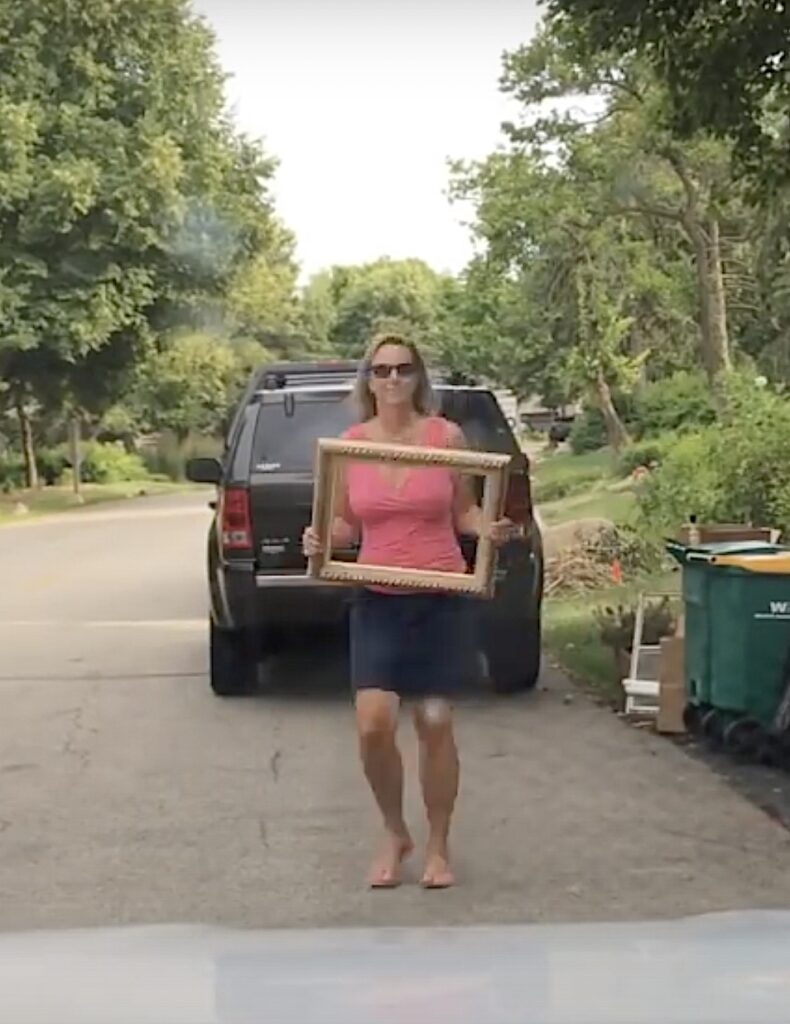 Garbage Pick Up Near Me
If you are thinking there is never any good stuff to garbage pick up near me, you are wrong!
If there isn't anything directly in your neighborhood, expand your horizons a little. Go to a neighboring subdivision or neighboring town.
Try different days. See if people usually put stuff out the night before garbage day or the morning of garbage day.
For cheap stuff, visit thrift stores (Goodwill, Salvation Army, etc.) and check out Craigslist and Marketplace. In case you didn't know, there is a Free Stuff section and keep an eye out for Curb Alerts. Just know, sometimes you have to move pretty fast.
And don't forget to look within! Within your own home. When you are getting ready to get rid of stuff, take a second look. Can you give it a facelift and a new lease on life?
When to Garbage Pick
I have found that great times to garbage pick up near me are around out-with-the-old-and-in-with-the-new kinds of times like:
Spring cleaning
Garbage pick up on holidays, like Christmas or New Year
Right after a garage sale ~ no one wants to drag stuff back into the house
When someone is moving
5 Garbage Pick Items You Should ALWAYS Grab
These are my top five items to grab out of the trash when the opportunity presents itself.
1. Tables
If you are going to garbage pick any item, my top pick is a table. They are so versatile! Everyone needs a coffee table and everyone has a spot or two just screaming for an accent table.
I have picked up tables, under the cover of darkness, from my across-the-street neighbor's curb, from the back of a dentist's office, and just randomly driving by a house on my way to an appointment.
The one I picked up from my neighbor's house went from a rusty outdoor table to a super fun emoji table. You can see how I did it in my Outdoor Table Makeover Post HERE.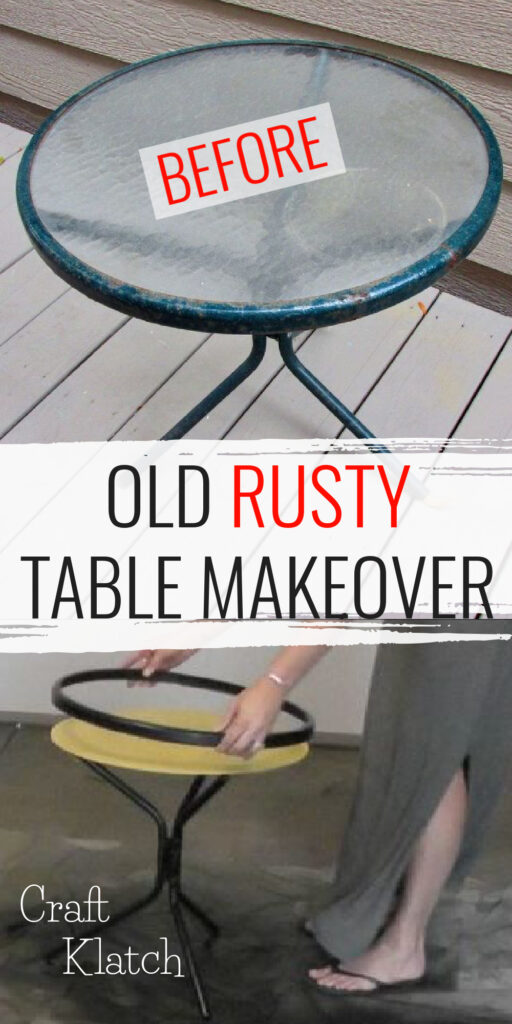 Different Materials
Tables are so easy to makeover, whether wood or metal. The emoji table was metal and glass but I also did an accent table that was wood. This little table is a perfect example of how a little paint and, in this case, a stencil gave this table makeover a completely new look!
Simple and beautiful!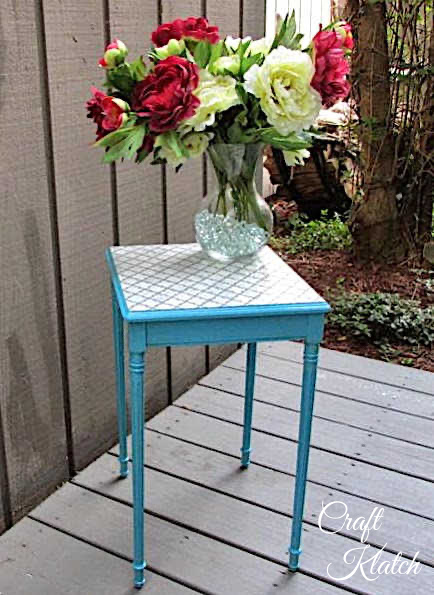 Once, I picked up a metal outdoor table that had the mosaic tile partially broken out. At one time, it must have been a nice table, but it was rusted and broken laying out at the curb.
When I got it home, I broke out the rest of the tile, scrounged around outside to find natural elements, whipped out some resin, and turned it into a stunning accent table. It was a glam resin table makeover and the pictures just don't do it justice!
I have also done a cat table makeover using my Cricut, turned a broken kids table into a coastal decor table, repainted a kids table set, and turned mismatched table and chairs into a stunning dining room set. The coastal decor table looked pretty hopeless but with a little repair, we were off to the races!
Tables Don't Have To Stay Tables
However, the most interesting use I had for a table was when I flipped it over and used it as a frame to create my Key West Inspired Beach House Doghouse for Coco, my canine niece. It may be my most favorite project to date but the cat tree we recently built might be tied for first place. I haven't written a post about it yet but it makes me happy every time I look at it, so stay tuned!
Tables come in all forms. I found a small children's desk, gave it a makeover, and now it serves as a side table with bonus storage!
Next time you drive by a table at the side of the road, don't turn a blind eye. Give it a second look with eyes of what could be.
2. Chairs
Just as there are accent tables, there are accent chairs. They might fill that awkward corner in the living room or be off to the side in the office or kitchen where someone could quickly grab it and…well…
…pull up a chair!
They are also a great way to add color to a room. Maybe you like red or purple or some strong color. A chair can add that color to a room without having to commit your couch. Keep the couch neutral and you won't get sick of it so soon!
The great thing about chairs is they are just as easy to garbage pick as an accent table. You don't usually need any help loading a chair into the car.
Personally, I do have a policy about not doing upholstered chairs. I'm talking the full upholstered armchair type of chairs. An upholstered seat on a chair is easy and a no-brainer. Since I don't know where it has been, I want to be able to clean or replace anything that might be questionable. And since I don't know how to upholster it, I'll pass.
My Chair Projects
Chairs can be so fun. A bold pattern on the seat adds a pop of color. I did that on a taller countertop chair that I found at the curb when my sister's neighborhood had their annual spring clean-up.
One of my favorites is an older-style chair I found. It made for a great chair makeover and a very comfortable stay-awhile type of chair. It was a dog when I found it. Everything was gross but it turned into a beautiful chair makeover. When I was done, it looked very chic and high-end.
Just like tables, chairs come in all shapes and sizes. I have even redone a child's antique rocking chair that went to one of our granddaughters.
Also, I think it's fun to coordinate mismatched chairs and I especially love a themed chair! I did a Whiskey Sippin' Rocking Chair for my brother-in-law and two mismatched Paris Themed Chairs that ended up looking great together!
3. Frames
Don't pass up a good frame!
Frames also come in all shapes and sizes. A simple coat of paint and you have a new frame!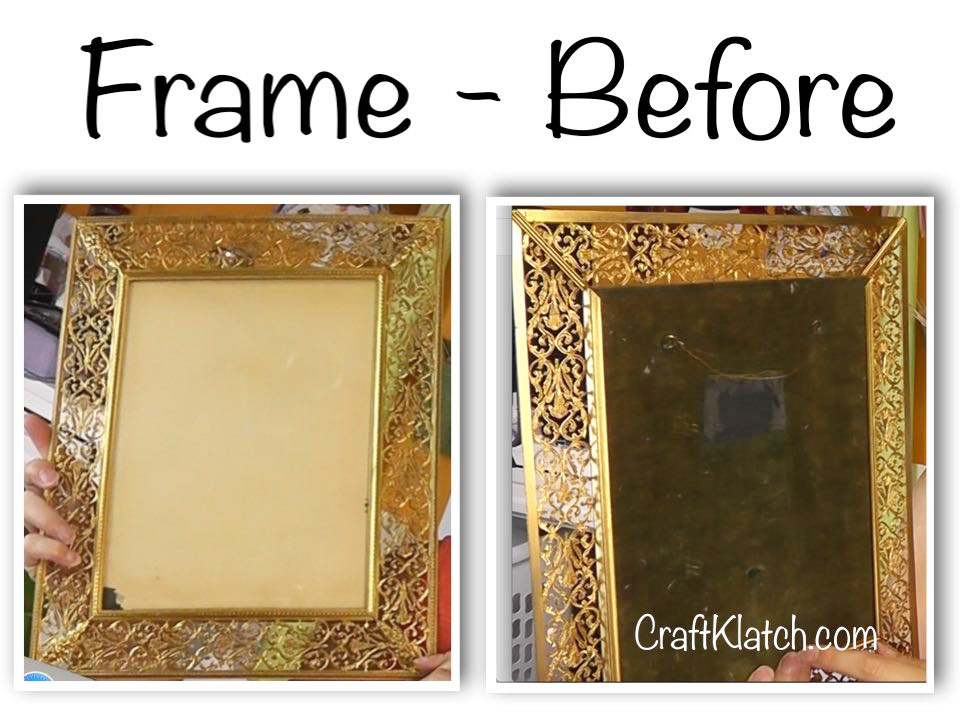 Obviously, you can put a picture in a frame or a mirror but that's not all!
*This blog uses affiliate links. As an Amazon Associate I earn from qualifying purchases.
Frame ideas
4. Pallets
Pallets are a great garbage pick find! Grab them when you can!
I have seen people make furniture, flooring, organization boards, walls, clocks, sheds, etc. out of pallets.
I too have used a pallet or two.
TIP: We have found it takes a tremendous amount of effort to pull them apart. It's easier to just cut the slats to the size you need, rather than try to pull the nails out.
Remember the Beach House Doghouse I mentioned earlier? I made the walls/siding out of a pallet.
For a little home decor, I created two wall hangings using pallets.
First, I did a coastal decor wall hanging to adorn a bathroom.
It was so easy!
Pallets, paint, and shells!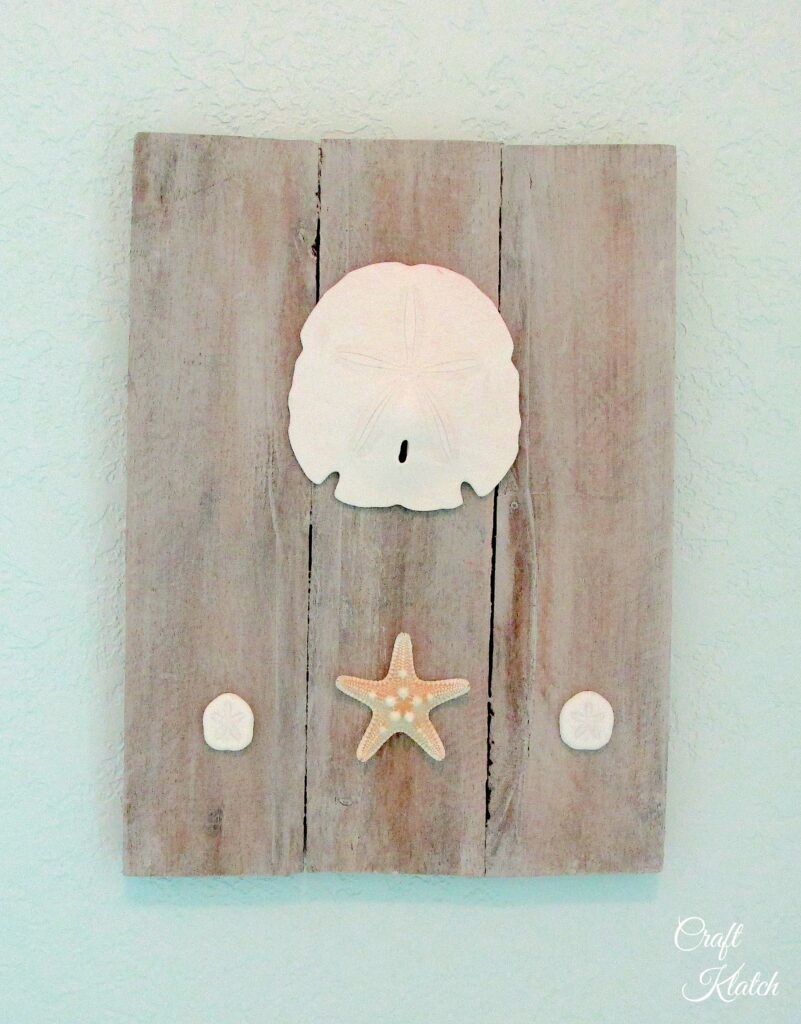 I also did a Sugar Skull Wall Hanging that was a lot of fun! I used different stencils to help adorn it.
5. Shelves
If you see a sturdy set of shelves, grab them too! I had a short shelf in my craft room that I painted and it kept all my little bins organized!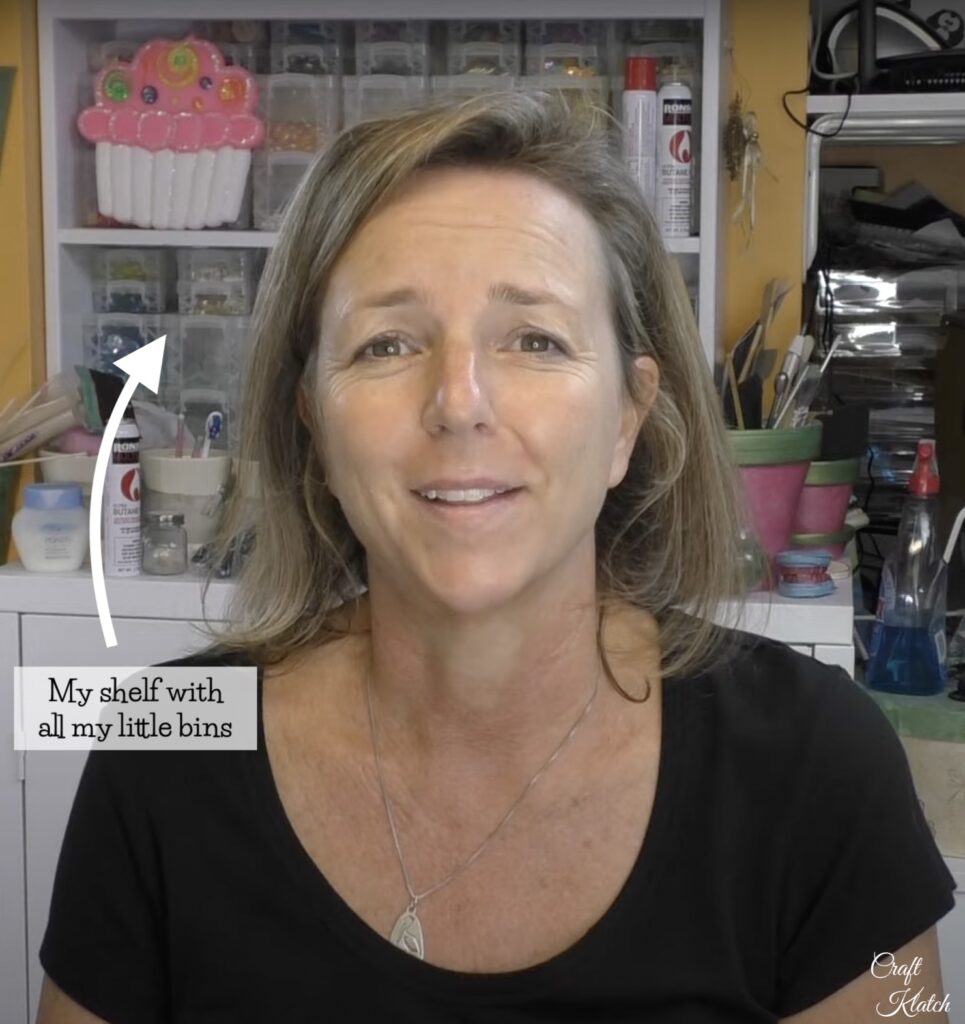 Depending on how the shelves are built, you might be able to shorten a taller shelf to a size the works better for you! Shelves are great for organization.
Organization is important. Life would be so much easier if I were better at it!
Now you know my top five things to garbage pick!
Have fun with it! I'd LOVE to see what you make! Be sure to share it over on my Craft Klatch Facebook Group! It's Free! ❤️
Remember:
Don't say "There are no good places or stuff to garbage pick up near me." There are!
Keep an eye out when people are getting ready for their garbage pick up on holidays and spring cleaning
Look at things within your own home.
When you see something on the side of the road, don't turn a blind eye. Give it a second look with eyes of what could be.
Don't forget:
When you are done reading this, I WANT TO KNOW:
What was the last thing you garbage picked?
What do you most often garbage pick?
Where do you garbage pick?
Thanks for stopping by!
Be sure to PIN IT for later!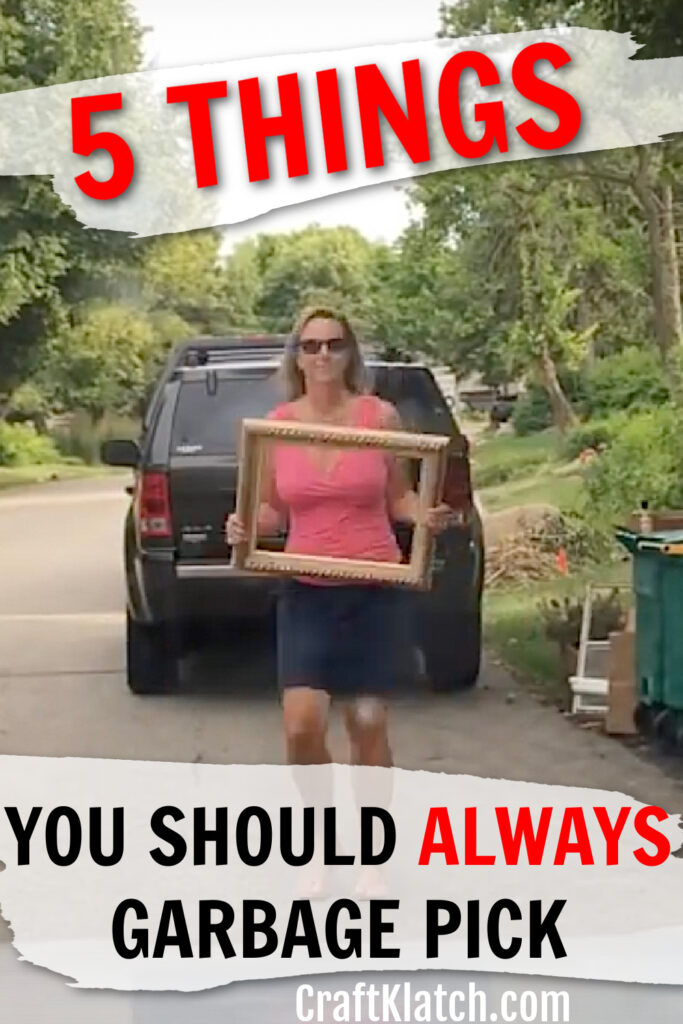 Remember: Life's too short not to shimmer, so grab your glue gun and your glitter!™ Stay safe!
Mona