Oh, the artichoke! You can boil them, bake them, fry them or even stuff them but I'm going to show you how to cook an artichoke the easy way!
Such an unusual and strangely beautiful thing! The artichoke. I do love them. One of my favorite all-time projects is when I made my Artichoke Garden Art.
I still have it but…
What is an artichoke?
I never gave it much thought. I love the way they look and the way they taste. When I started writing this, I started thinking, What exactly is an artichoke? Well, it's considered a vegetable.
No surprise.
And it's good for you.
No big surprise there either.
Interestingly, (this may one day help you with a Trivial Pursuit question) it is the bud of a thistle. Meaning, it is an enormous thistle that has not yet bloomed.
That led me to look up artichoke blooming. Turns out, they are quite beautiful with purple flowers.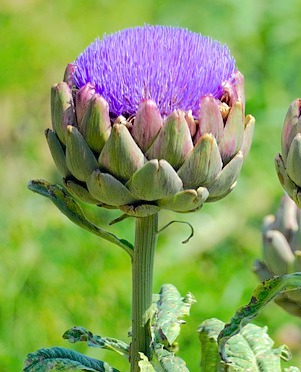 Who knew?
Does that mean they are a great big weed? By the way, who determines what is a weed or a flower? I have always thought thistles are beautiful!
Step 1: Prepare an Artichoke
There are so many ways to prepare an artichoke but I like the easy, fast, and no-fuss way. You aren't covering up the flavor or getting fancy.
We are going to cook an artichoke in the microwave! It's convenient, easy, and delicious! Before we start cooking, we need to prepare the artichoke.
There are two simple things you need to do to prepare an artichoke for cooking.
Wash it.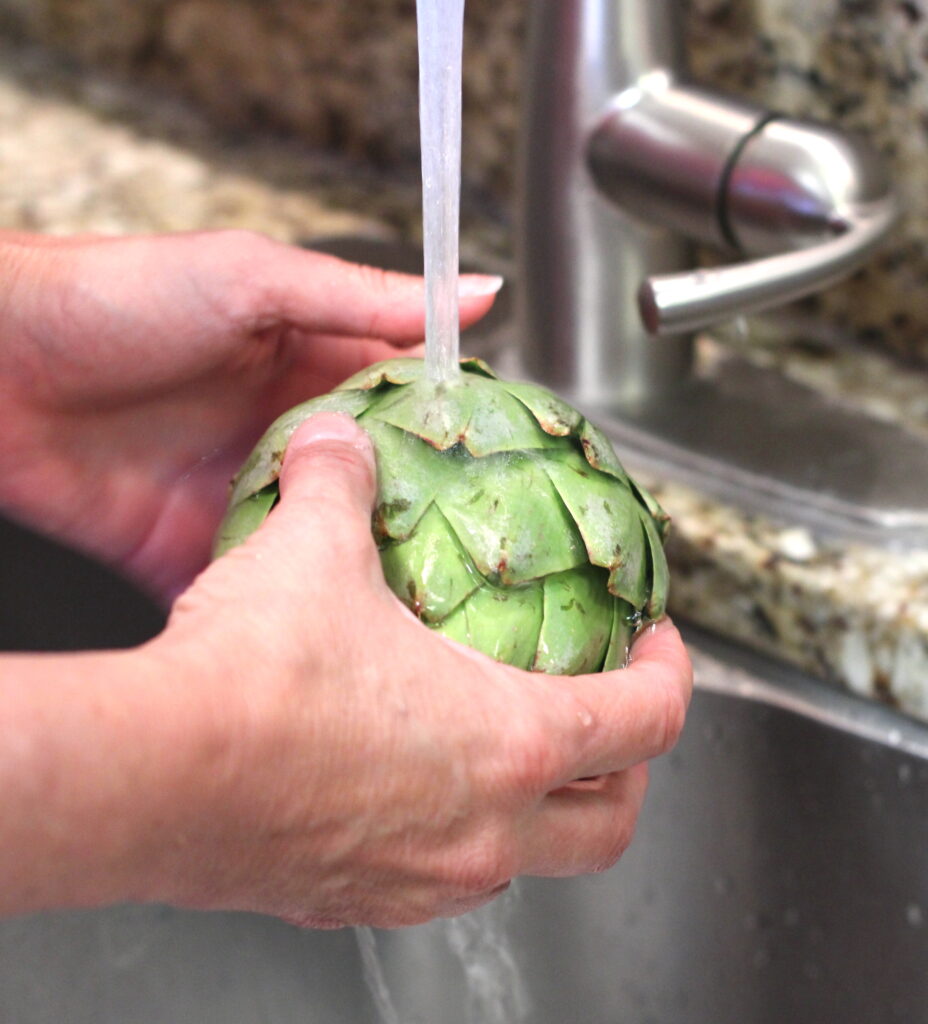 Cut off the stem.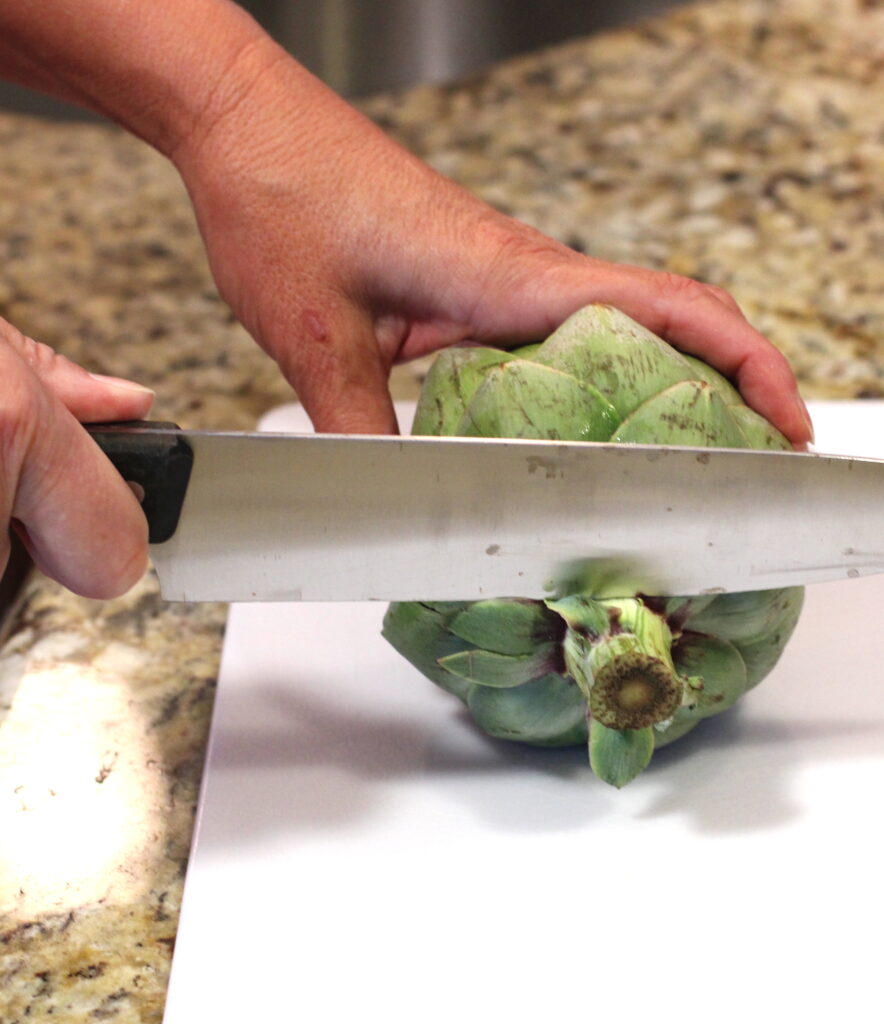 Step 2: Artichoke in Microwave Safe Dish
When getting ready to cook an artichoke, put it in a microwave-safe dish with a little water on the bottom. We will be steaming the artichoke in the microwave.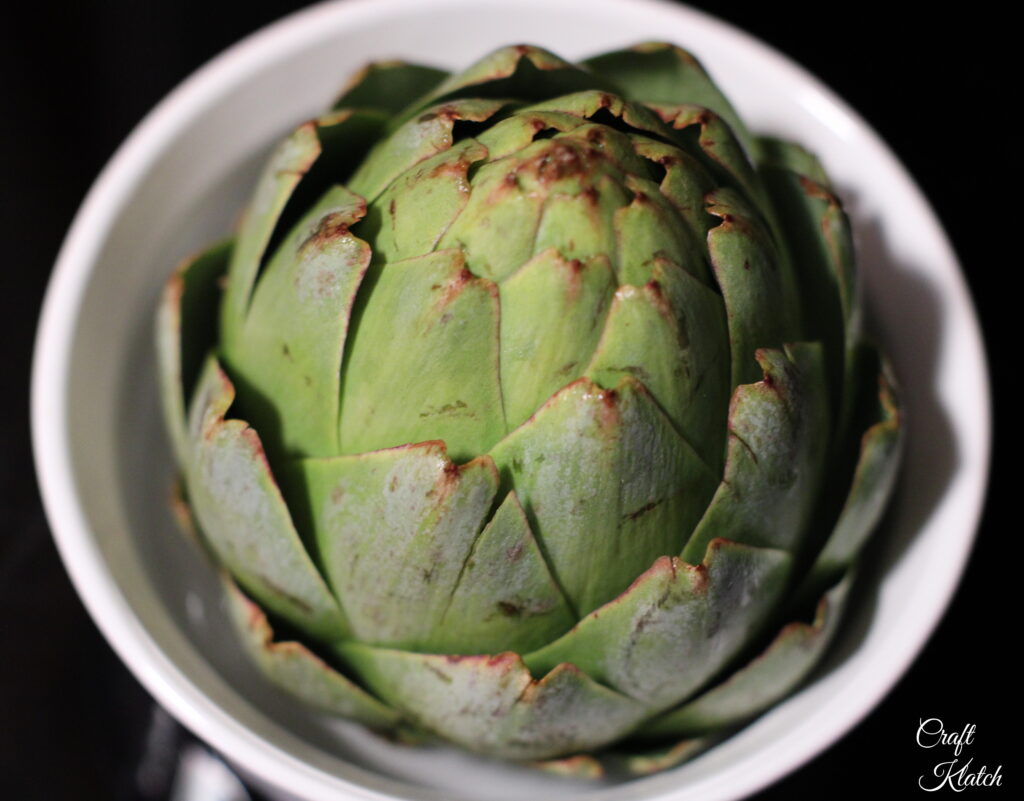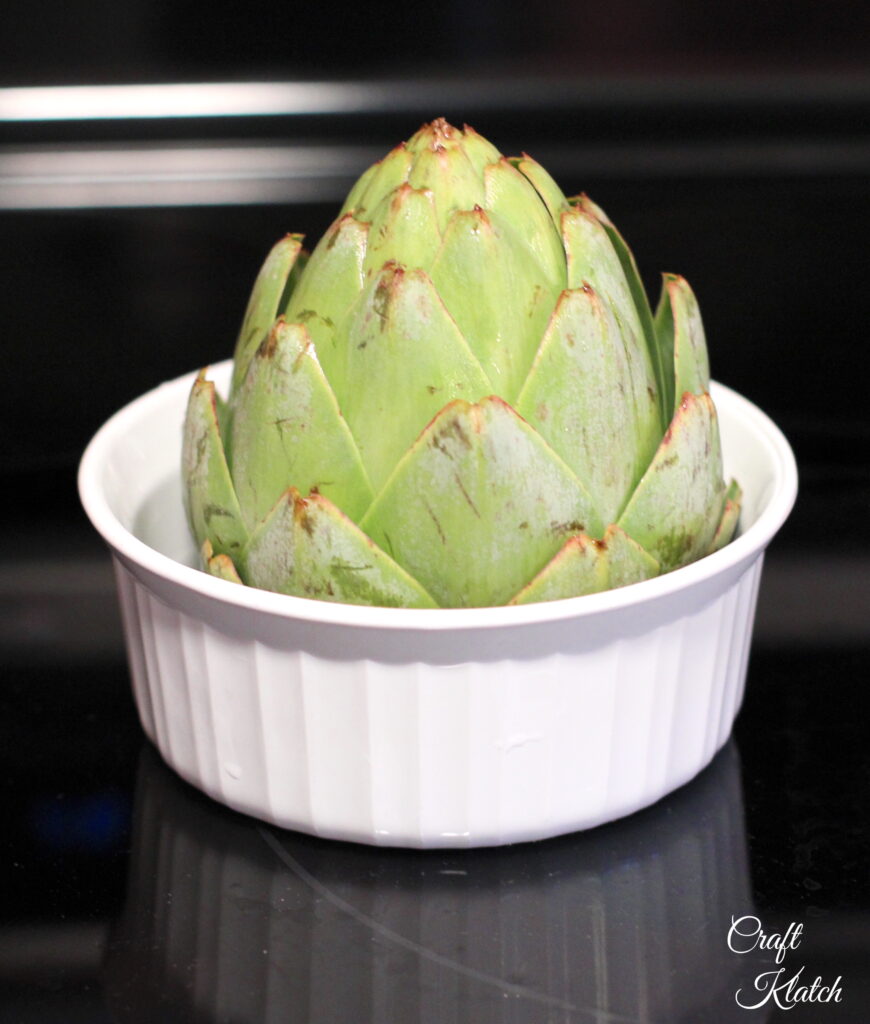 Step 3: Artichoke in Microwave
To cook an artichoke, set the cooking time to 5 minutes.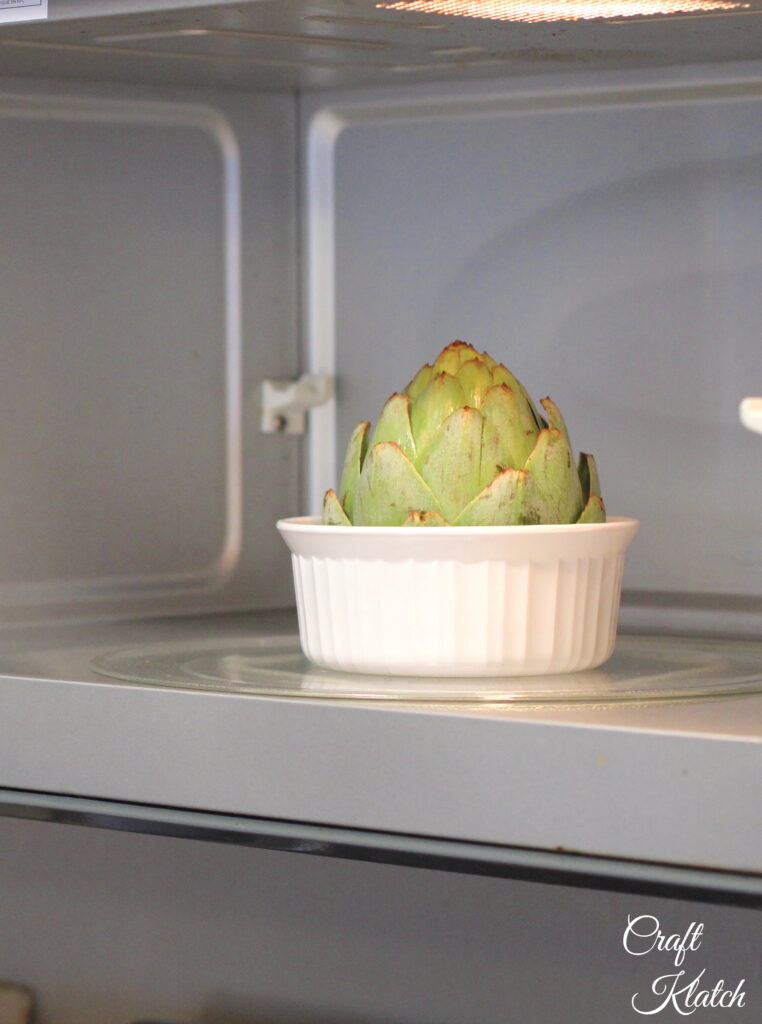 Step 4: Poke the 'Choke
When five minutes is up, pop open the microwave and poke the choke with a sharp knife.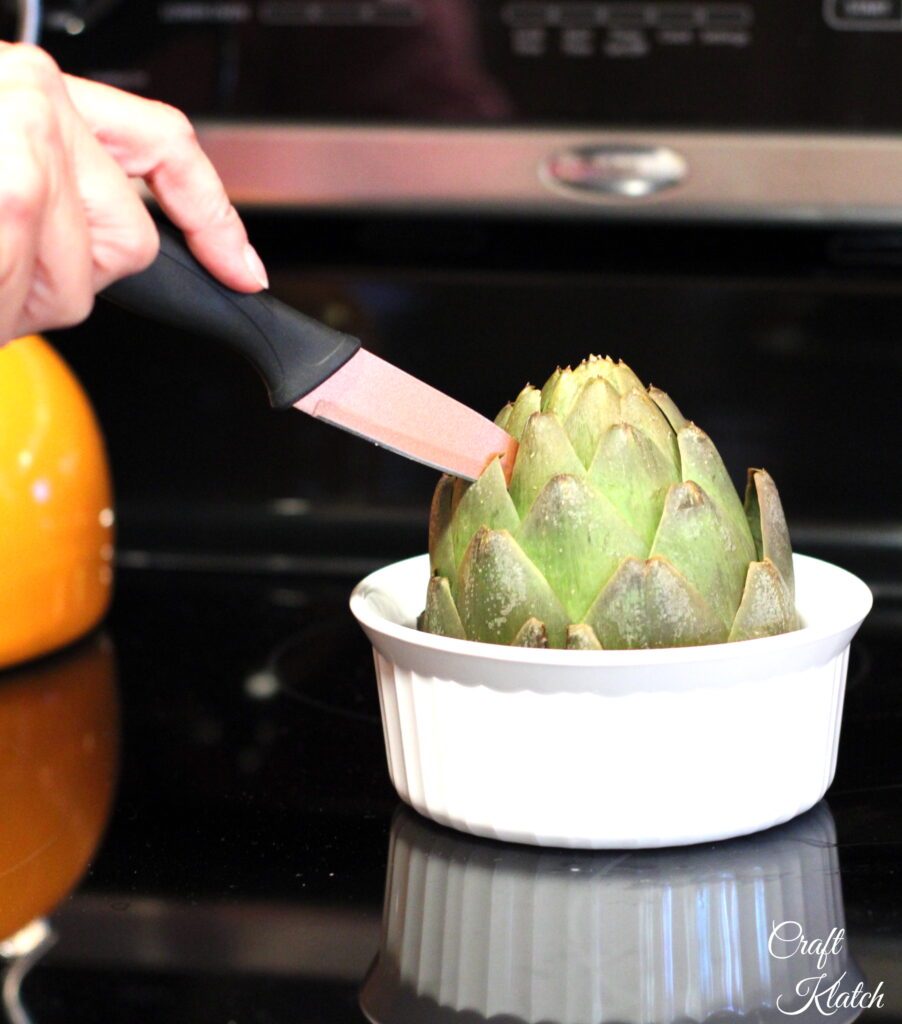 If it slides in easily, it's ready. If it still seems hard, microwave it for one-minute intervals until the knife slides in.
**Times may vary due to the artichoke size and the power of the microwave.
Step 5: Start Eating
Pull out the leaves, dip them in melted butter, and scrape the inner part of the leaf with your teeth. Don't try to eat the whole leaf, you'll just end up with an upset stomach and you'll be chewing all day.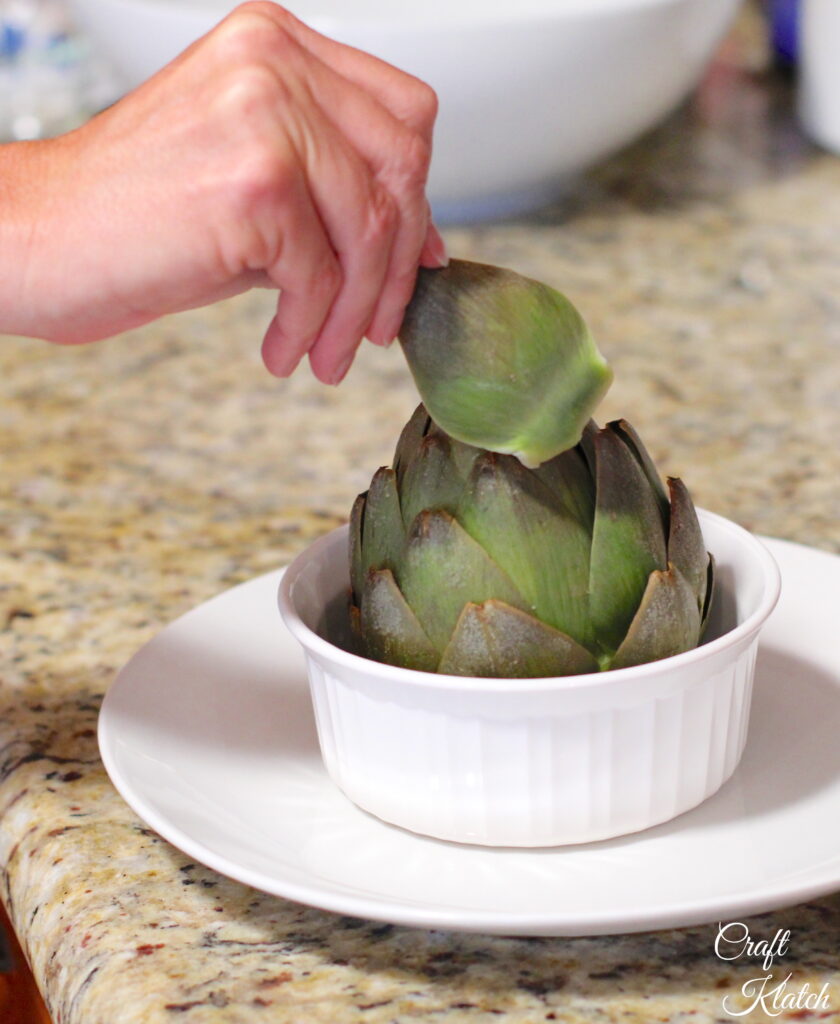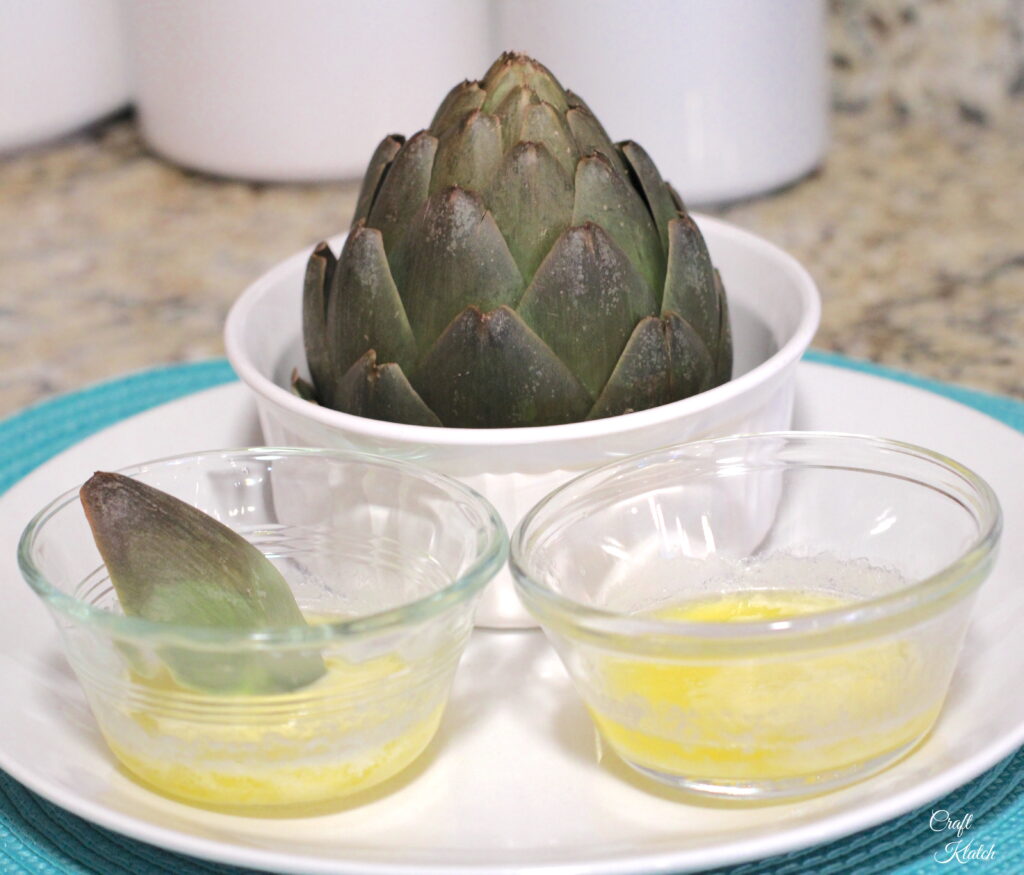 Greg making short work of eating an artichoke.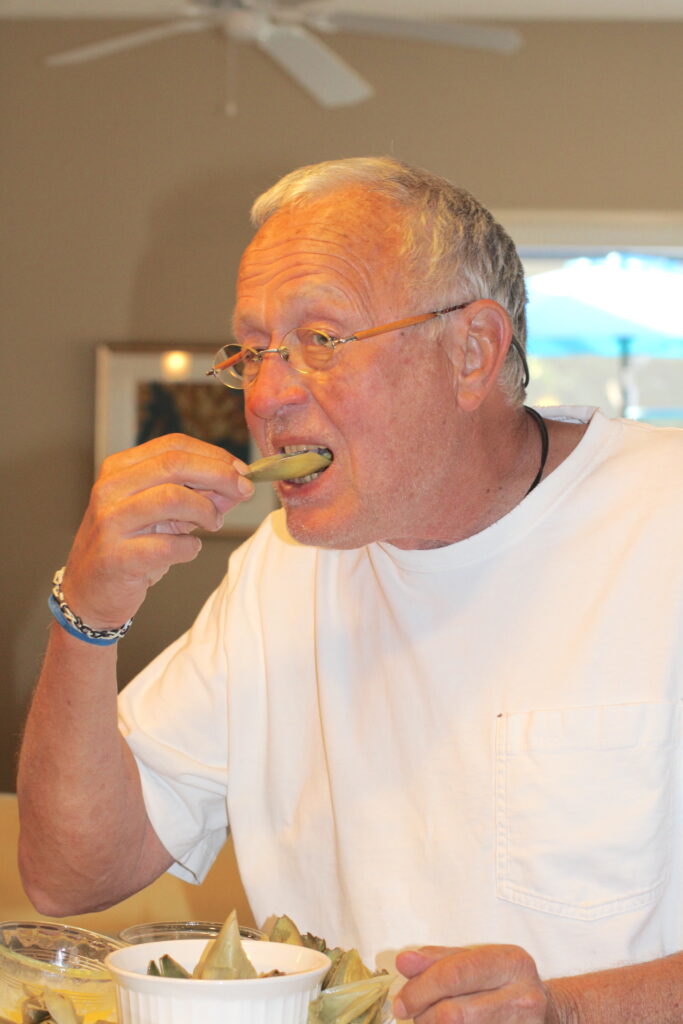 Step 6: Get to the Heart of It
When you get to the middle of the artichoke, you will have finer purple leaves, Go ahead and eat those. They are much, much softer.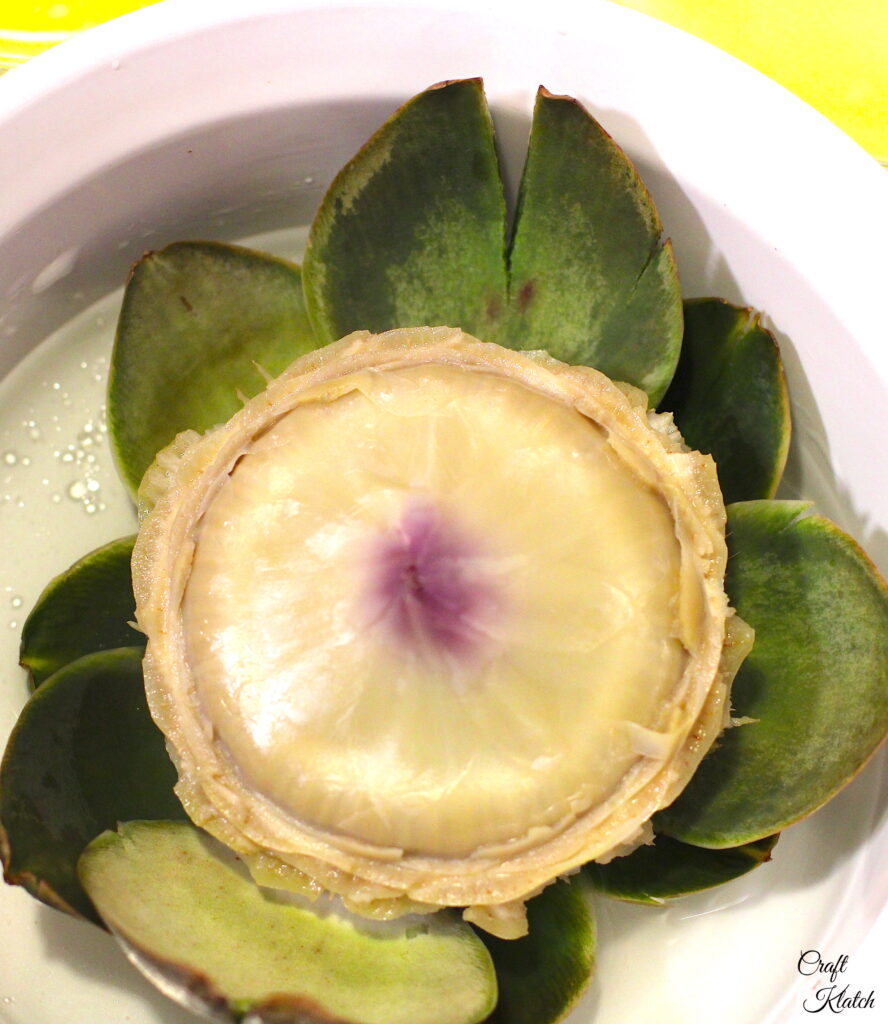 The soft leaves are covering up the fuzzy layer that is guarding the artichoke heart. The fuzzy layer is called the center coke.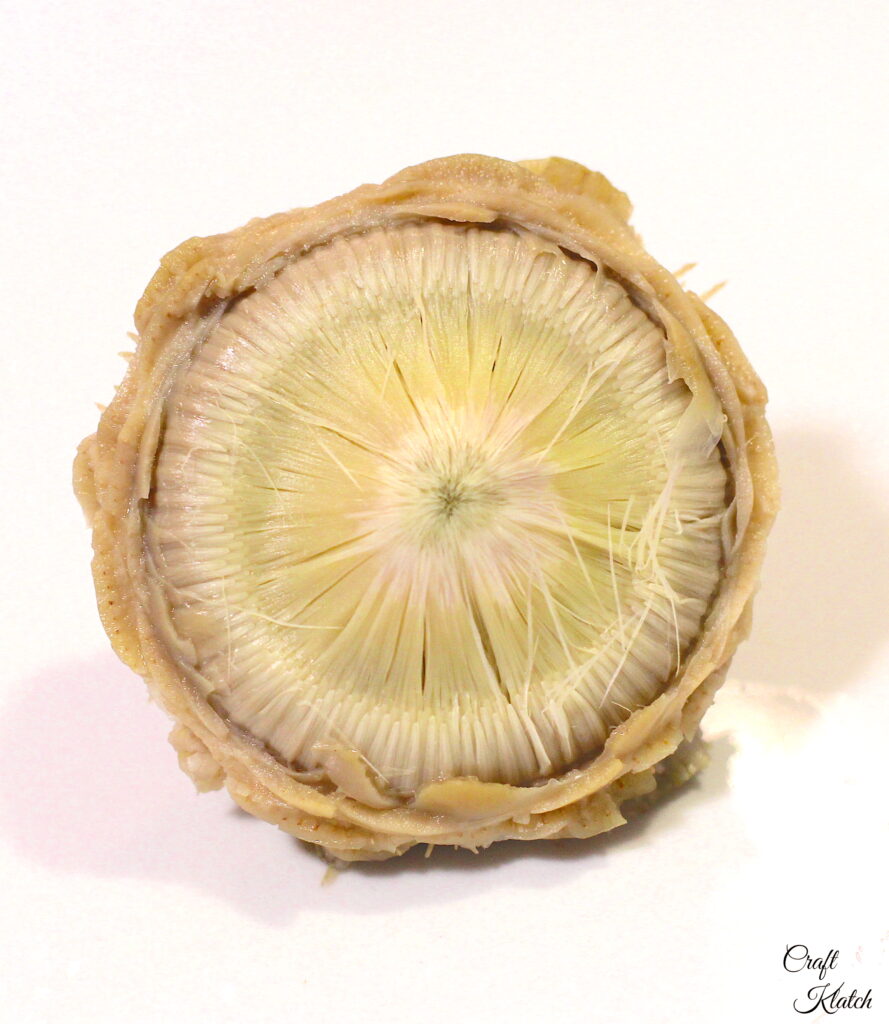 Step 7: Expose the Artichoke Heart
The easiest way to expose the heart is to use a knife and scrape the fuzzies away and just pick any stragglers off with your fingers. It can be a little messy.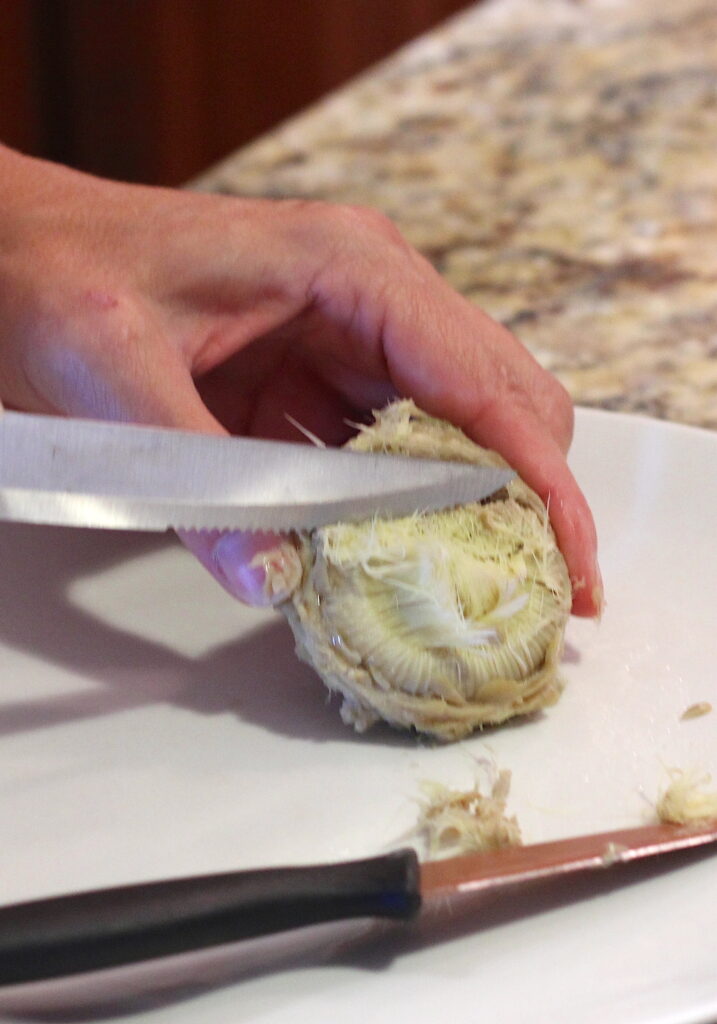 You should end up with something that looks like this.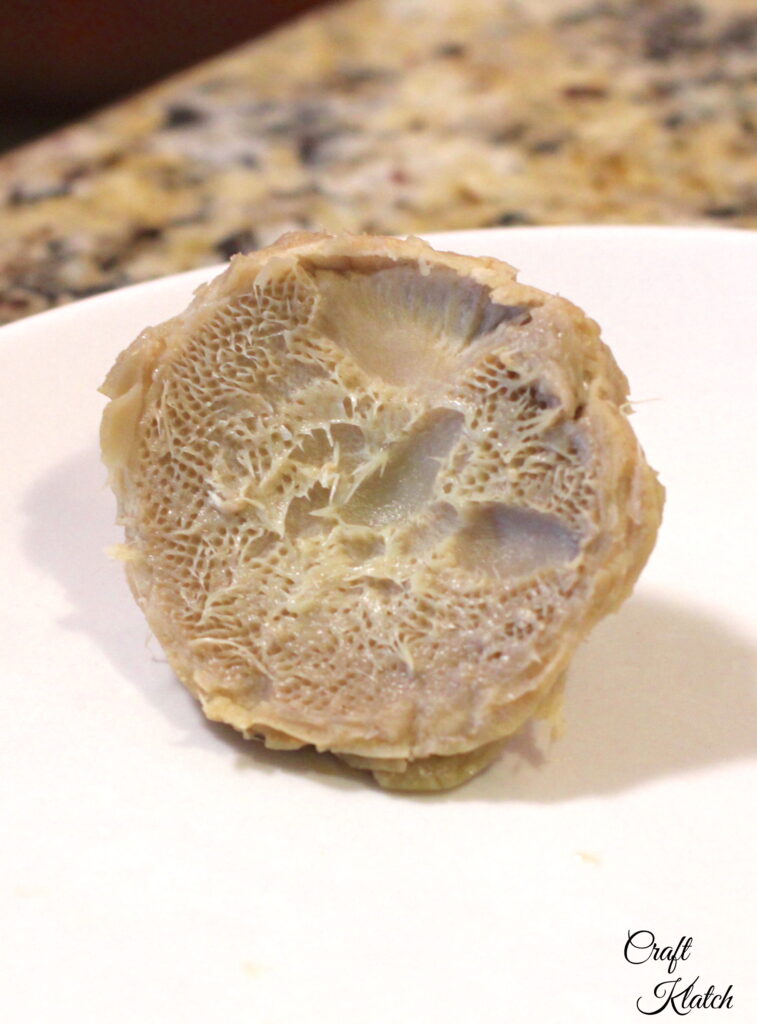 Prepare an artichoke heart by trimming off any remaining stem and cutting it into four pieces. Don't forget to dip that into melted butter too!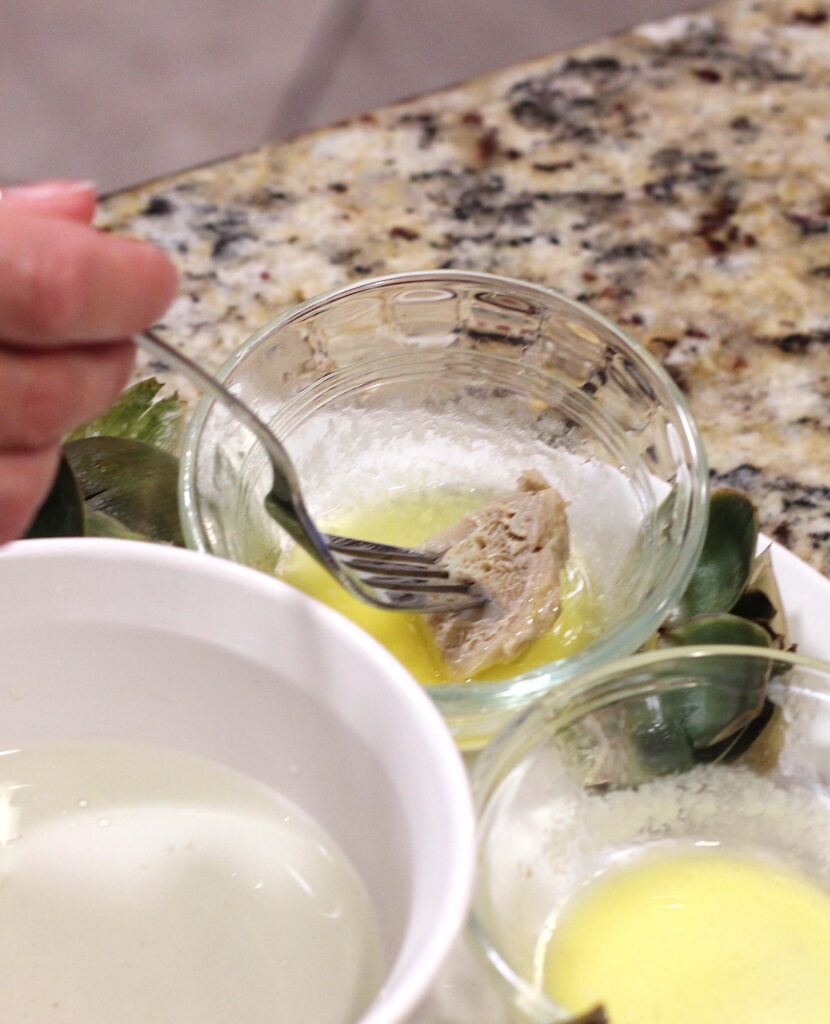 That is all there is to it!
Let me know if you like artichokes, down in the comments below!
Other Recipes You Will Enjoy!
We've done a bit of cooking & baking here over the years. From Greg's beer brat recipe to my mom's sauerkraut, to yummy apple bars, but here is just a sampling:
Artichoke Decor
Aside from my artichoke garden art, I have a white artichoke candle holder in my foyer. There are so many fun artichoke home decor items and here are a few I think you will enjoy!

Thanks for stopping by!
Remember: Life's too short not to shimmer, so grab your glue gun and your glitter!™ Stay safe!
Mona
Be sure to PIN IT for later!