I'm all for dejunking, donating, and lightening your load…BUT before you do, let me tell you about the 15 amazing things to save for crafts! And why!
Wait. WAIT!!! Don't throw that away!
Greg walks briskly down the hallway, pretending not to hear me, with an armful of empty toilet paper rolls.
I'm in a panic.
If you are a crafter…you get it.
If you are not a crafter but married to one…you get Greg.
After you read this, even if you are a non-crafter, you might reconsider tossing all that crafting gold!
Toilet paper rolls are just the tip of my craft hoarding iceberg but they keep good company with other stuff.
I have compiled a list of 15 Things You Should Save For Crafts and they happen to be some of my personal favorite things to craft with.
**If you have a favorite thing to save from the trash for crafting, I WANT TO KNOW!**
Be sure to share and leave it in the comments below!
WINE CORKS
You, or someone you know, may have consumed enough wine to fill up a fishbowl with wine corks. Eventually, they just start collecting dust.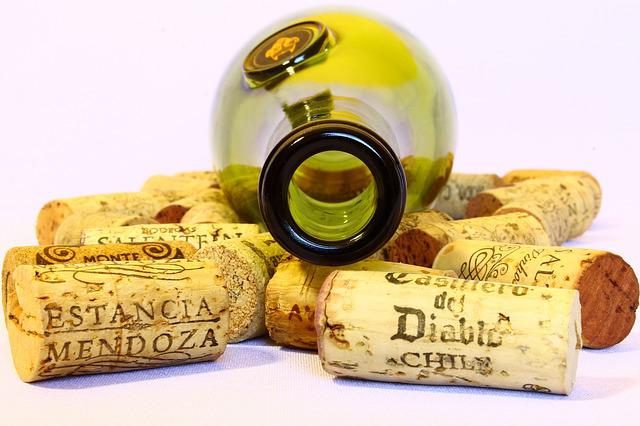 Your intention may not have been to save them for crafts, but it's time to dust off some of those corks and make something!
I made a wine cork trivet, which is both attractive and functional. I had an aunt that made a beautiful wine cork wreath…just wish my mom had saved it.
Other people have used corks to make fun reindeer ornaments, snowman ornaments, even a candle Christmas ornament and so many more projects!
BOTTLE CAPS
I first fell in love with the thought of crafting with bottle caps when I saw this fish bottle cap art in a restaurant bathroom down in Florida.
A fish made of bottle caps…BRILLIANT!
I have not dipped my toe into bottle cap mosaics…YET...but I have made a Chillin' Grillin' Trivet using bottle caps and I have included them in a beer and fishing coaster, as well as a simple keychain.
GOLF BALLS
If you have followed me for a while, you know I love crafting with golf balls. Both Greg and I are non-golfers, but our home backed a golf course for years, so we always had an abundance of them lying around.
After giving a bunch away to neighbors, family, and friends, we still had golf balls…so I made stuff.
Since moving, our stock of golf balls is gone. However, over the years, I had made a lot of fun critters, home decor, and ornaments. You can find them HERE!
FIGURINES/STATUES
Back when I was younger, figurines were hot. People loved to be surrounded by tchotchkes, like Precious Moments statues and other figurines and trinkets. So many of those are now ending up in basements, attics, resale shops, or the garbage.
Before you dump those trinkets, make sure you don't want to save them for crafting.
I did a simple makeover of a duck that started out like this.
I've seen lots of people do Halloween creepy makeovers, which is kind of awesome like this Precious Moments figurine turned into a creepy clown. Even if you don't like Halloween or the makeover, you have to appreciate the creativity.
I also LOVE the chic makeover of these Owl Figurines and the tutorial on how to make plastic look like granite in this garden statue makeover!
NEWSPAPERS
So, you don't want to let these start piling up too high. But realistically, unless you have an avid newspaper reader in your family, like my husband, you probably don't have to worry too much about it. They are thinner and harder to come by than they used to be.
Nonetheless, newspapers are fun to craft with!
I made a Pencil Holder out of newspapers, and a recycled Christmas tree, and used it in the background of one of my favorite coasters. If you ever want to paper mache anything, you are going to want to get your hands on some of those babies!
THE 15 THINGS TO SAVE FOR CRAFTS LIST CONTINUES…
PLASTIC WATER BOTTLES
There are fewer newspapers at our disposal to save for crafts but the opposite is true for water bottles. There is always an abundance of those lying around. We might as well put them to good use.
I have tried a number of projects with water bottles. Some were more successful than others.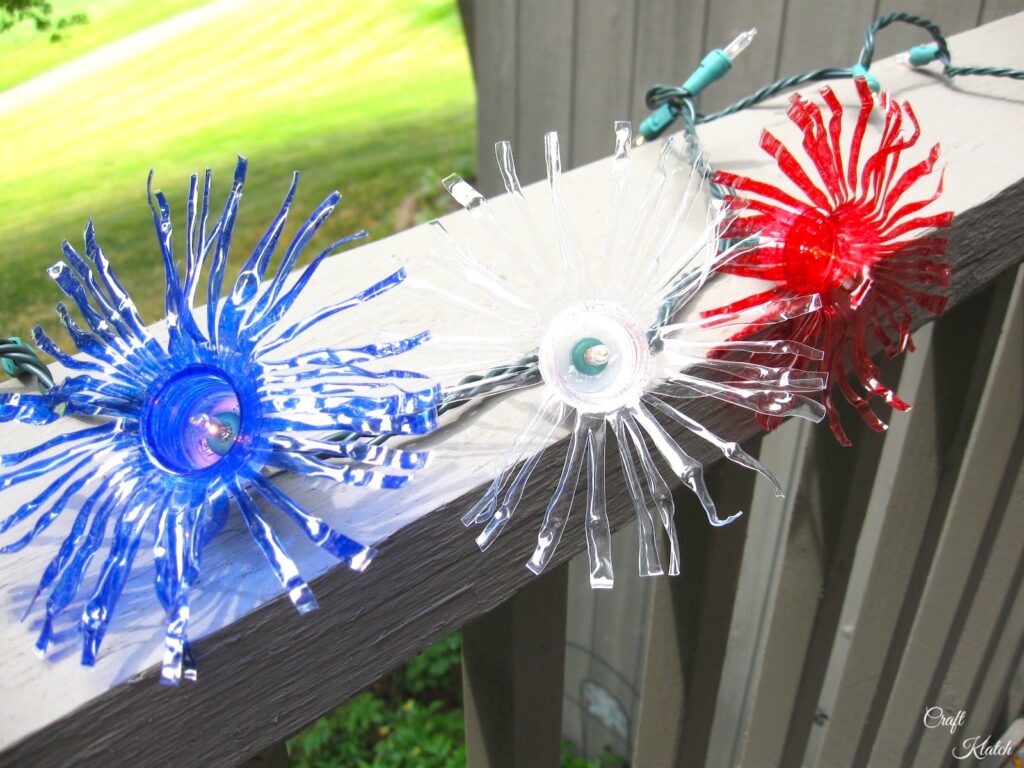 They were the main material I used in my water bottle Snowmen Votives, my Firework Twinkle Lights, my very early Water Bottle Cala Lilies, my Wasp Trap, and my (I still think it's pretty awesome) Dandelion Garden Art.
They served as accent pieces in my Golf Ball Ladybug, as the mold for my Cheese Cloth Ghost, and the base for my Shark Pencil Holder.
But I can't even begin to tell you how many times I have used bottle caps to raise up projects when I'm painting them or when I'm pouring resin on something.
TV DINNER TRAYS
Okay, so I've only made one craft with a TV dinner tray, the Kids Bat Craft.
I know…you are thinking that's not an item you want to save for crafts…
But you do!
I don't often use them IN actual crafts but I use them FOR crafts all…the…time.
I use them to:
Hold my sticky resin bottles
Hold my paint (a non-fancy paint pallette)
Catch excess glitter
Hold my glue
Make sure my beads don't roll away
PISTACHIO SHELLS
This might be the biggest surprise save on the list.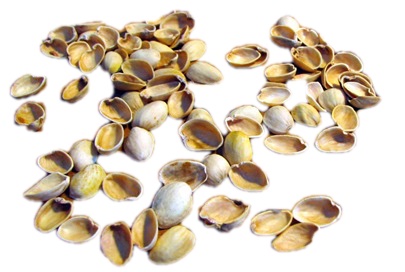 Who saves pistachio shells?
Well…ME!
I still have some that I dyed probably close to 10 years ago. You never know, they might still show up in a future project!
I have made a Pistachio People Coaster, a Pistachio Shell Bowl, and Pistachio Pendants.
Yes...that's right…pistachio jewelry I think you would be proud to wear!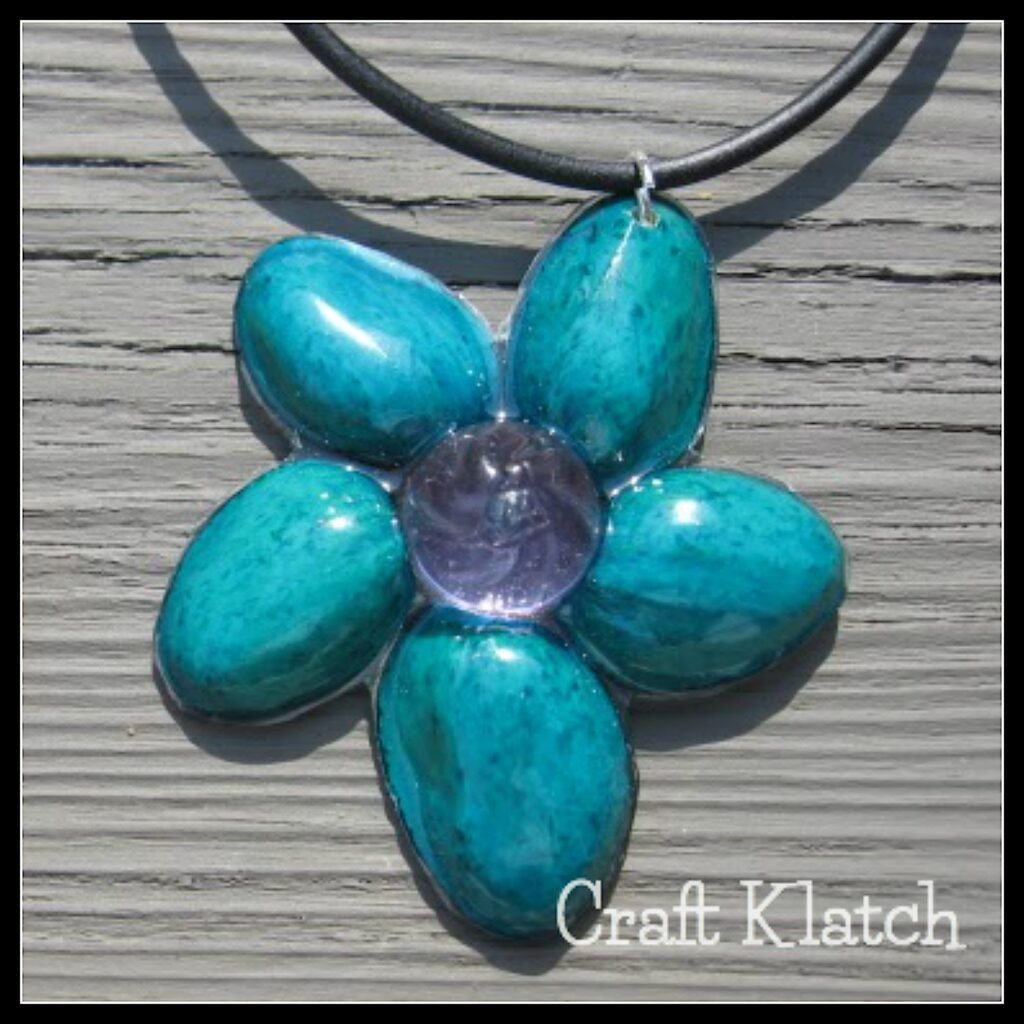 PUSHPINS
When our friend, Joe, was moving out of state, he brought over a bag of stuff that he was going to toss or donate and said, "Here…you're into that craft crap stuff. I thought you could use this."
Hmm…I looked in the bag. It really was old crap. I thought…Yeah…I'm gonna turn some of this old crap into cool stuff!
So I did!
There was a frame, an old wine bottle holder, a lot of other miscellaneous stuff, and a boatload of pushpins.
Admittedly, they sat there for a while, until I finally had a moment of inspiration. Those pushpins were going to become something really fun!
I made a Recycled Flower Art project that kind of looks like an allum. I gave it to Joe as a housewarming gift when we went to visit him.
He proudly displayed it in his yard for years and it moved to multiple homes and out of state with him.
He may still have it.
Then, I made a Sunflower Garden Art project that also incorporated some of Joe's pushpins.
After using up his pushpins, I found some pretty colorful pushpins to make a fun Pushpin Coaster.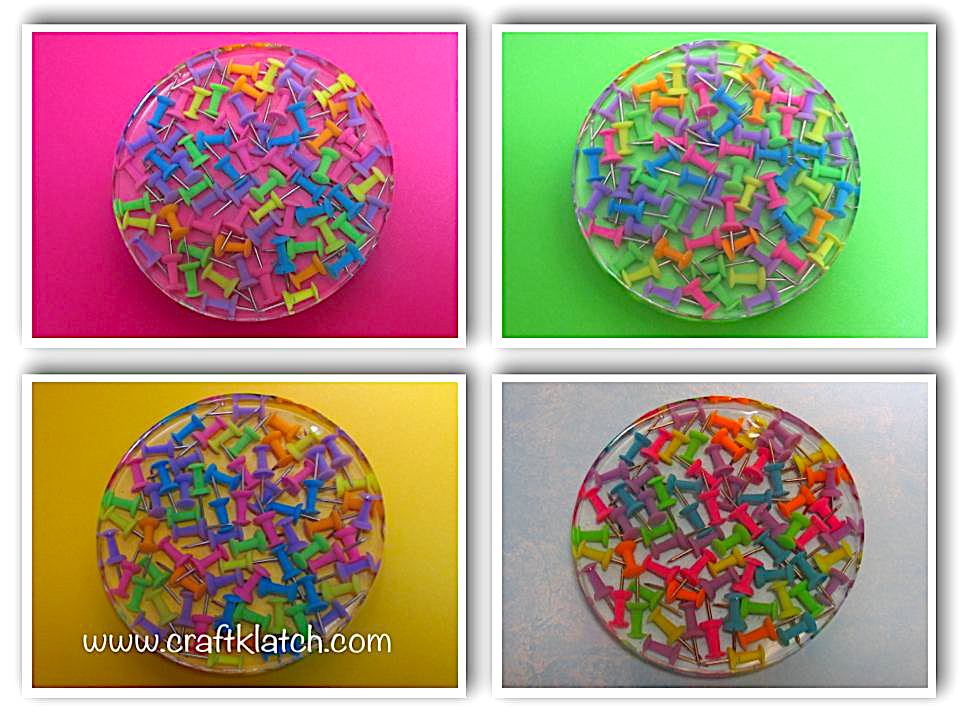 I kinda wish he had given me more!
ALUMINUM CANS
I feel like aluminum cans are a no-brainer and everyone can relate to them as items to save for crafts.
Right?
I've used them mostly as accent pieces for leaves on the Recycled Flower and the Sunflower Garden Art.
I also used them to make wings and feet for my Mixed Media Bird and leaves on my wood Thanksgiving Pumpkins craft.
There are some really cool aluminum can crafts that I've seen, including Metal Can Jewelry, an Aluminum Can Angel, and Soda Can Carolers to name just a few!
WE ARE IN THE SAVE FOR CRAFTS LIST HOME STRETCH…ONLY A FEW MORE!
PAPER BAGS
Paper bags are AMAZING to craft with!
Not a little amazing but A LOT AMAZING!
You MUST add them to your Save for Crafts list!
I just love them! Whether they are paper shopping bags…hello, Trader Joe's…or paper lunch bags. I love them both!
I made a vase…still have it…out of resin and a paper lunch bag! It is so awesome and gives a cottage casual look with beautiful flowers.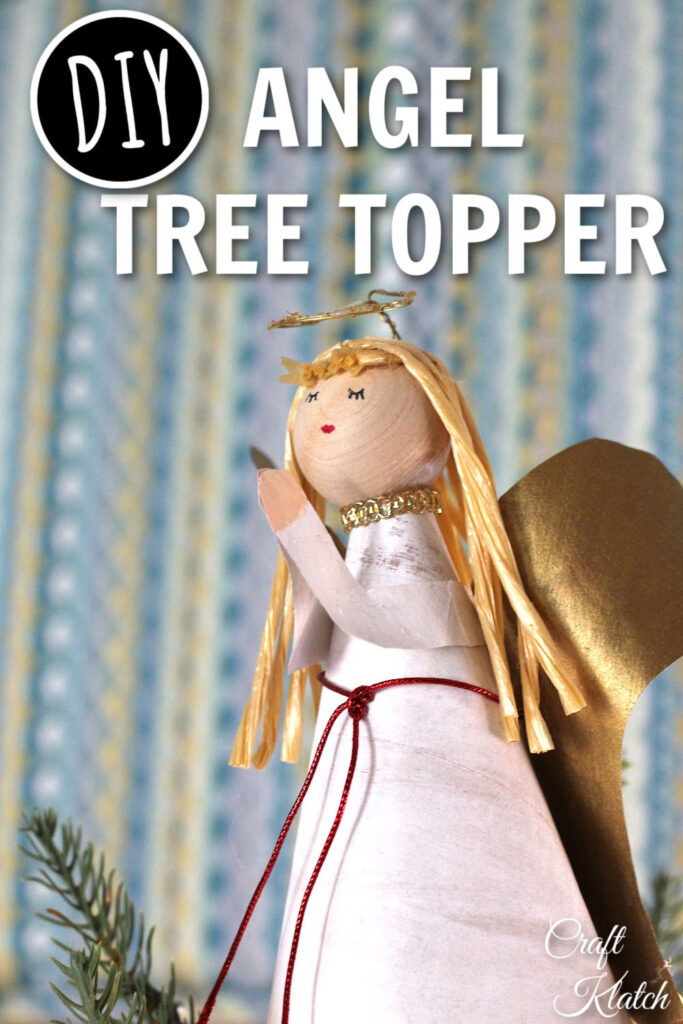 A long time ago, I had one of my YouTube subscribers challenge me to make something out of paper bags. I came up with a Scarecrow Centerpiece and my Angel Tree Topper.
GLASS BOTTLES
Most beverages come in plastic bottles now, but some beverages and other things still come in glass bottles and if they have a pretty shape to them, all the better.
So, vases are the obvious use.
I made Cottage Style Vases with glass bottles and some spray paint and I also made some String Covered Vases, which looked super cute too!
BUTTONS
Everyone has buttons lying around that belonged to clothes that you no longer own. I suggest starting a jar to hold all those orphaned buttons.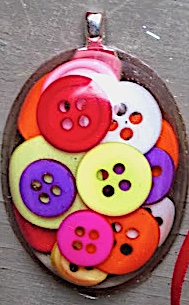 When you get rid of a piece of clothing that is not good enough to donate, cut those buttons off and add them to the jar.
I have used buttons in a ton of projects.
It might be easier if I just list them:
Those are projects where the buttons were kind of the main event. I didn't even mention the ones where I used buttons as scarecrow eyes or specialty buttons in coasters or jewelry.
CANDLE JARS
Remember how we were just talking about buttons? Well, repurposed glass candle jars make a perfect place to store those buttons!
The repurposed candle jars would also look pretty in the bathroom with cotton swabs or cotton balls or pretty homemade bath salts!
OKAY…are you ready for it?!
The last item on the list!!!
Yup! You probably guessed it…
Drumroll, please…
TOILET PAPER ROLLS
This probably doesn't come as a shock, but I have used a whole lot of them!
Some of the other save-for-crafts items might be a little harder to come by, but everyone has empty TP rolls!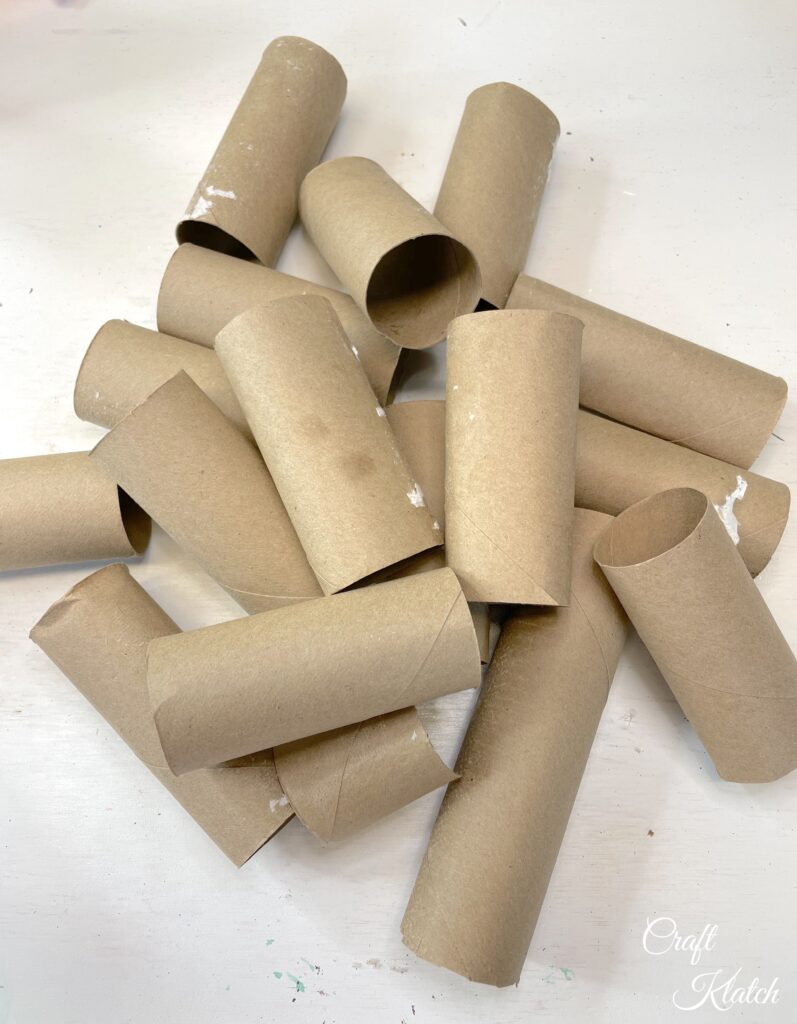 This one is also better left to a list:
As honorable mentions, I used a toilet paper roll to stamp this frame and if you collect enough of the end toilet paper scraps that hang onto the end of the roll, you can make a tie-dye coaster!
Now you know what to save for crafts but now you have to figure out how to convince your significant other that it is necessary!
Okay! Go out there and make something amazing!
And remember: Life's too short not to shimmer, so grab your glue gun and your glitter!™ Stay safe!
Mona